If regular chocolate chip cookies just aren't cutting it, then you have to try these Sea Salt & Brown Butter Chocolate Chip Cookies! When I want something a little different I will make these Milk & Cookies Popsicles if it's summer or I will make these Sea Salt & Brown Butter Chocolate Chip Cookies. The brown butter adds a nutty flavor that is pure heaven.
They are buttery, rich, and something extraordinary – outside of the norm. So let's make them!
The Chocolate
When making these cookies, you will want to use great quality chocolate. Chocolate chips are okay but chocolate chunks that you cut from a bar yourself, just to add to these cookies, will be even better. And a higher end chocolate will give these cookies a flavor that is irresistible. My personal favorite is Valhrona but Callebaut and Ghirardelli are both amazing too!
I recommend a slightly dark chocolate like 60% or mixing together milk chocolate and dark chocolate for a complex flavor.
How to Brown Butter
I bet you have browned butter before and not even realized it! Instead, you may have thought it was a mistake. Browning butter is such an easy step that has delicious consequences. All you need to do is add your butter to a small stockpot (for this recipe we are using 1 cup of butter) and bring the heat to medium, perhaps even medium high.
Stir the butter as it continues to heat up and you will see the butter start to break down and the impurities in the butter float to the top. But we're going to cook the butter past this point. Continue to stir until the butter darkens and becomes more brown. Continue to stir until small brown flecks start to build along the bottom of the pan. Once you start to see brown flecks, remove the butter from the heat and allow it to cool completely before you use it in these cookies. Using the butter hot will melt the sugar early and ruin the cookie dough.
The Recipe
Beyond making brown butter, this recipe is quite simple! It has more brown sugar than white because it accentuates the flavor of the brown butter. That is quite different than a regular chocolate chip cookie! The dough also needs to be chilled before use. That's because of the brown butter. You can chill this dough for just an hour or overnight, but it's best to use the dough within 24 hours. Because you are creating brown butter, and you must chill the dough before cooking, remember that these cookies will need to be started many hours before the time you plan to serve them!
Everything else about this recipe is just like a regular chocolate chip cookie recipe!
Sea Salt & Brown Butter Chocolate Chip Cookies Recipe
Brown butter gives these cookies a deep and nutty flavor! Use high end chocolate for a cookie that is irresistible.
Ingredients
1

cup

butter

1/2

cup

white sugar

1

cup

brown sugar

2

eggs

1

tablespoon

vanilla extract

2 1/2

cups

all purpose flour

1

teaspoon

baking soda

1

teaspoon

regular salt

1 1/2

cups

chopped chocolate or chocolate chips

use something nice, I recommend 60% dark

2

teaspoons

sea salt

this can vary based on your tastes
Instructions
If you are using chocolate bars, chop your chocolate into small pieces and set aside.

Add your butter to a small stock pot. Heat over medium to medium high heat.

Continue to stir as your butter turns from clear yellow to brown. Remove from heat once small brown flecks start to build along the bottom of the pan and the scent becomes richer and nuttier. Don't overcook!

Remove from heat and allow your butter to cool completely before moving forward. To speed this up, pour your butter from your stockpot into a bowl that isn't hot.

Once your brown butter is cool, and using a stand mixer, cream together your brown sugar, white sugar, and butter.

Once they are blended, beat your eggs until just blended. Add the vanilla and beat again.

Mix together your flour, salt, and baking soda together.

Then on low speed, blend in your flour mixture small parts at a time. Only mix until blended. Don't overmix!

Last, gently fold in your chocolate chunks.

Cover your cookie dough and lace it in the refrigerator for 1 hour up to 24 hours.

To bake, preheat oven to 350° F.

Place on a cookie sheet a couple of inches away from each other in normal cookie sized scoops (around 3-4 tablespoons.)

Bake for 9-12 minutes until the edges are brown and golden. You may need to turn your cookie sheet around halfway through your cooking time.

While your cookies are still warm and fresh out of the oven, sprinkle with sea salt.

Allow your cookies to cool for a few minutes before moving them from your cookie sheet.

Viola! Enjoy your Sea Salt & Brown Butter Chocolate Chip Cookies!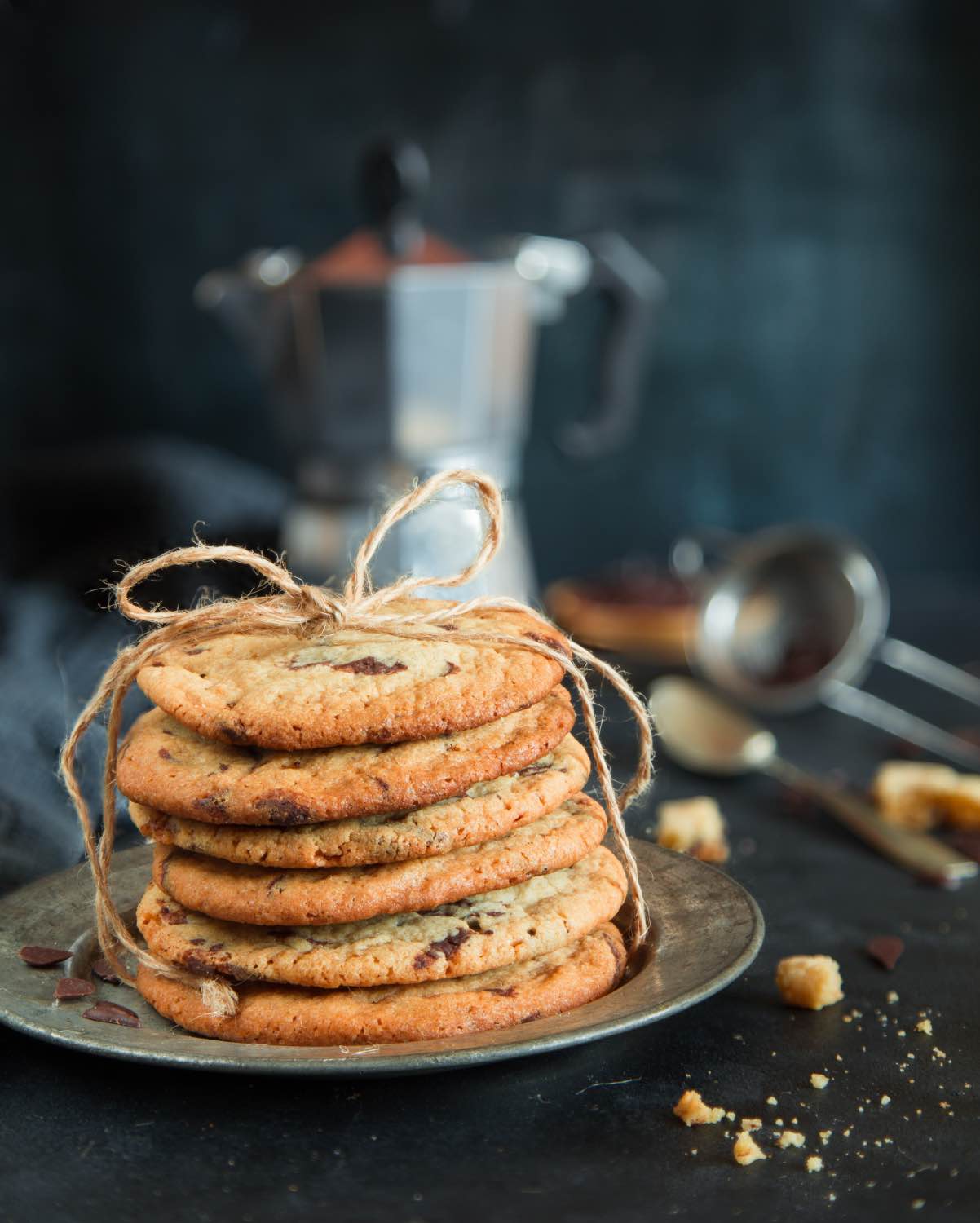 Yummmmy, right?! These cookies are amazing for any dinner party, holiday, or just for fun! Bundle them up with twine to give them as a holiday gift. So when are you going to make these Sea Salt & Brown Butter Chocolate Chip Cookies? Tell us in the comments!
Let's Stay Friends!
Insta | Pinterest | Enews | TikTok