Looking for an easy recipe that will bring you so much cheer? This dessert dip is colorful, full of sprinkles and best of all, it's easy to make!
To make this Rainbow Sprinkle Dunkaroo Dip you only need 4 ingredients and then an array of cookies, graham crackers, and fruit for dipping. That makes this dip easy enough for a weeknight and the rainbow sprinkles make it pretty enough for a party. So let's make it!
Ingredients to Make a Rainbow Sprinkle Dunkaroo Dip
All you need to make this dip is cool whip, vanilla icing, and pudding mix. That's it!
Substitutions are welcome, for example, you could use real whipped cream instead of cool whip. Just expect that your dunkaroo dip will be richer, and denser! You could make homemade icing instead of using store bought. And you could even use a different flavor of icing or pudding mix. More on those customizations later.
What Type of Sprinkles You Can Use
Even though the ingredients are flexible, the sprinkles are less so. I highly recommend that you use small rainbow nonpareils. I would not recommend using jimmies or the longer, larger sprinkles.
First of all, the color lasts longer with nonpareils. Second, the nonpareils add the most delightful crunch to the dip. Since the dip is creamy and smooth the added texture is a perfect fit. Jimmies are much softer so they don't work as well in this Rainbow Sprinkle Dunkaroo Dip Recipe.
How to Make Rainbow Sprinkle Dunkaroo Dip
Making the Dunkaroo Dip is easy! All you need to do is add your 4 ingredients: cool whip, icing, pudding mix, and sprinkles to a bowl.
Stir the ingredients together thoroughly and gently in a small bowl. To stir it, all you need is a large spoon. I don't recommend using a Kitchen-Aid Mixer because you don't want to aerate and whip the ingredients – just mix them.
Once your ingredients are mixed, stir in around 2 tablespoons of sprinkles. Just barely fold the sprinkles into the dip so they retain as much color as possible.
Then use your spoon to smooth, whip and finish the surface of the dip to make it look pretty and appetizing. Sprinkle another 1/4 cup of sprinkles across the top of the dip. Refrigerate before serving for at least 1 hour.
Last, plate the Rainbow Sprinkle Dunkaroo Dip with all your favorite cookies, fruit, and other dessert treats.
What Snacks to Dunk in Your Rainbow Sprinkle Dunkaroo Dip
The classic treat that's perfect for dipping in your Dunkaroo Dip are Teddy Grahams. But you could use so many other treats too! Such as:
Chocolate Chip Cookies
Strawberries, Blueberries & Blackberries
Chocolate Covered Frozen Bananas
Chocolate & Strawberry Sugar Wafers
Nutter Butters
Animal Crackers
Pretzels
Or just get creative! Got the perfect ingredient idea for your Dunkaroo Dip? Tell us in the comments!
Other Flavors of Dunkaroo Dip
Who says you have to make vanilla dunkaroo dip? You could swap the vanilla pudding mix and vanilla icing for:
Chocolate Icing & Chocolate Pudding Mix
Strawberry Icing & Strawberry Pudding Mix
Cream Cheese Frosting & Cheesecake Pudding Mix
Lemon Icing & Lemon Pudding Mix
Caramel Icing & Caramel Pudding Mix
There are so many other possibilities! And you don't have to choose the same flavor of icing as pudding mix. Plus you can add swirls of jam like in this Lemon & Raspberry Dessert Dip Recipe. Or swirls of marshmallow fluff.
How to Store Dunkaroo Dip
Dunkaroo Dip is best stored in an air-tight container in the fridge. It will keep longer than your average dessert – usually up to 2 weeks. That's because Cool Whip and Frosting both keep well in the fridge.
Because you will be dunking into your dip again and again, scoop a small portion of the Rainbow Sprinkle Dunkaroo Dip out of the storage container and into a serving bowl. That way you don't have to worry about fruit juice, crumbs, and cookie pieces that break off into your dip.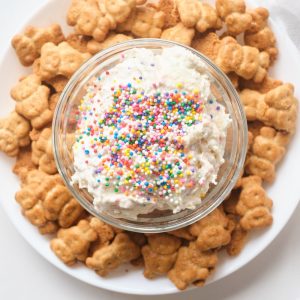 Rainbow Sprinkle Dunkaroo Dip Recipe
This dessert dip only uses 4 ingredients and is so much fun for cookies, fruit, and more!
Ingredients
1 1/2

cups

Cool Whip

1

cup

Vanilla Frosting

3

tbsp.

Vanilla Instant Pudding Mix

1/4

cup

rainbow nonpareils
Instructions
In a small bowl, mix together the Cool Whip, frosting, and pudding mix. Stir the ingredients together thoroughly and evenly.

Then add 2 tablespoons rainbow sprinkles (nonpareils) and gently fold into the dessert dip.

Smooth, whip, and sculpt the surface of the Dunkaroo Dip until it looks pretty.

Place in the fridge for 1 hour to chill.

When you are ready to serve, cover the top of the Dunkaroo Dip with the remaining sprinkles (around 1/4 cup.)

Serve the Rainbow Sprinkle Dunkaroo Dip with Teddy Grahams, fresh fruit, pretzels, cookies and more!

Store the remainding Dunkaroo Dip in an air-tight container in the fridge for around 2 weeks.
Notes
Don't miss our suggestions on different flavors, combinations and more!
Let's Stay Friends!
Insta | Pinterest | Enews | TikTok