In love with kokedamas? I sure am! In case you haven't seen these planters before, it's a type of Japanese gardening – much like bonsai. Kokedamas are plants that have had their roots encased in soil and wrapped in moss. So they are self-contained and require no planter or pot.
You can style them in lots of different ways from tabletop decor, to hanging planters, and more. Because moss is best for low light, kokedamas are wonderful to keep indoors and great for plants that like to stay moist and don't require too much sun – think ferns and bonsai. But they aren't so good for bright light plants like herbs and flowers.
If you want to get started making them, try this tutorial or the video below. They're easy!
Once you make your own or shop kokedamas, here are 15+ Gorgeous Ways to Display Kokedamas. There are so many different unique ideas and tutorials no matter what your taste. Take a look!
This spring inspired table decor is made with tulips! This is a temporary display as I would recommend planting your tulip bulbs outdoors so they can pop again and again in future years. But this display will last long enough for all your Easter brunches and springtime dinner parties.
This asymmetrical kokedama is wall-mounted and oh-so-cool. Kokedamas don't have to be just a standard sphere – they can be all kinds of interesting shapes as long as the roots are covered with soil and moss surrounds and encapsulates the roots, soil and base of the plant.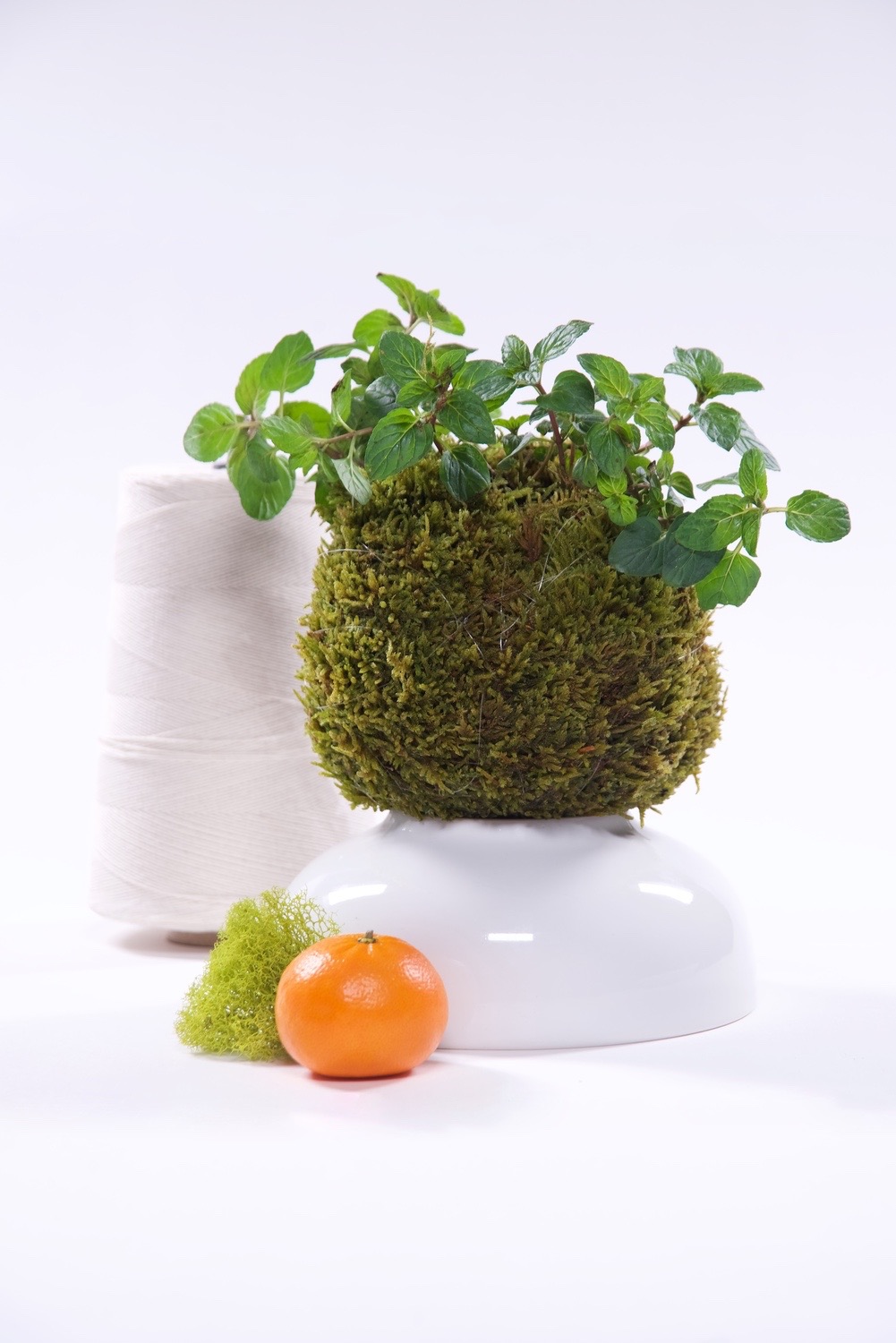 Because kokedamas are often moist, a bowl or tray is the perfect way to keep them from damaging furniture. With this display, I simply turned the bowl upside down to give the kokedama a bit of height and to prevent that gorgeous green color from being hidden by the bowl.
Kokedamas look amazing in pairs and even better in groups. It's like their social plants! If you have an open corner of a room, this is a great way to fill that space with green. The more kokedamas you add, the more you can make your indoor spaces feel like a jungle.
Another option for a tabletop is a ceramic plate like this. You can find them in every color and so many shapes but the slate gray used here is minimal and cool. Adding rocks underneath your kokedama is an easy way to prevent the plant from staying too wet, because the rocks help it dry in between waterings.
I also love this display because it shows that you can use plants that offer height too. Peperomia and ivy are the perfect plants to add a sculptural shape to your kokedama.
Orchids are one of the only flowers that I would recommend for kokedamas. Although orchids don't love to be wet, and so you would want to be extremely careful with watering your kokedama, they are the perfect low light indoor flower.
This table display is a lovely way to arrange them.
Pink, green, and white has to be my favorite color combination! Adding a plant with pink leaves and then surrounding your kokedama with other colorful planters is such a bright and cheerful way to style it! This tablescape would be perfect for a party or a wedding.
These long trailing plants are a beautiful use of space for any hanging kokedama. And don't miss the perfect string art of this kokedama – as there are tons of patterns and ways to wrap your kokedama. You could even use colored string!
Speaking of gallery walls, this kokedama gallery wall is so over the top! With these hanging plants, it's the more the merrier. Since kokedamas are affordable to make, this is the perfect way to turn your wall from ordinary to extraordinary.
If you love macrame, this kokedama planter is for you. It's perfect for hanging and is a great way to keep a neutral color with lots of style and texture.
Kokedamas can be made in lots of different sizes – large and small. To make this kokedama side table, start with a larger plant that has longer roots. Then needing a bit more soil and moss will come naturally. Last, use a wire table base and fit your kokedama perfectly inside to make your own totally unique plant stand.
Bathrooms are a great place to keep your kokedamas because the shower and tub keeps the moist. Plus, ordinarily bathrooms have low light to maintain privacy. If your shelves and walls are tiled or finished to be water resistant, it's the perfect place to set your kokedamas.
Geometric sculptures created with thin tubes are called himmeli. Much like the kokedamas themselves, himmeli can be made to hang on the wall, free float, or be set on a tabletop. And himmeli is perfect for plants!
Although I would not recommend making kokedama with succulents because succulents like to stay dry, these mini kokedama party favor gifts are so cute! Just use small plants – even ivy would work to make a gift that's dreamy enough for any wedding.
If your style is fun loving and whimsical, then you must make this Fairy Garden Kokedama! To make it, use small wood plants cut into house shapes. Paint them to signify windows and strategically place them around your kokedama.
* * *
So which kokedama style do you love the best? Tell us in the comments! And if you've got plant crazy, check out these ideas on how to display air plants and other cool houseplants below.
Let's Stay Friends!
Insta | Pinterest | Enews | TikTok