Nothing says classic like a Long Island Iced Tea! They are so boozy and so much fun! It's great for a party and great for summer too. I put a fun summery twist on this classic cocktail to try something new. I'm a big fan of modern twists on classic cocktails.
To make a Southern Peach Long Island Iced Tea, it's just as easy to make as a regular Long Island Iced Tea and only requires two additional ingredients. Don't you wanna sip on this by the poolside right now? I sure do! Scroll down to the bottom of this post if you want to get right down to the recipe or keep reading for some cocktail fun.
Well first of all, I'm a peach gal! If you live in the South, there's a time of year that peaches just get so perfect! They make great pies and they are perfect in cocktails. So a new peach cocktail just had to happen. Where I live in Texas, the best peach season is from early May to mid or late June. Peaches are so fresh and perfect during that time.
Look for them at the Farmer's Market and not the grocery store if you can. They should be heavy and just slightly tender to the touch. Carefully keep them in a fruit basket and don't put them in the fridge if you want them to taste perfect. For this recipe, you can muddle the peaches right in the glass or break the peaches down with a fork (easier inside a bowl – then add to the glass.)
The mint is just for garnish so you should not have to worry about that too much. So as far as ingredients go, its really just about the booze!
One of the most important things for this cocktail is to use nice quality ingredients. This cocktail has a lot of liquor so you want to make sure it's going to be delicious and not like silent death. I even use Coca-cola when making this cocktail instead of another brand.
The IBA calls to use Triple Sec but I replace that with a dash of orange juice instead. Since this recipe has simple syrup, it seems a tad to sweet to use that Coca-cola and Triple Sec. The orange juice gives it a nice natural taste that blends well with the lemon juice and liquor. To keep the fizz of your Coca-cola, blend this cocktail thoroughly before adding it.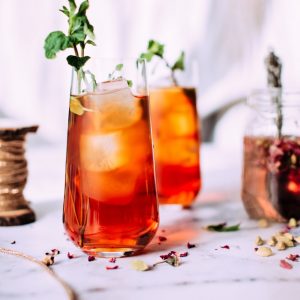 Southern Peach Long Island Iced Tea Recipe
This classic cocktail has a little twist making it a Southern Peach Long Island Iced Tea!  This is a poolside drink that you don't want to miss.
Ingredients
2

slices

Fresh Peaches

1/2

oz.

Gin

1/2

oz.

Vodka

1/2

oz.

Light Rum

1/2

oz.

Tequila

1/2

oz.

Simple Syrup

1/2

oz.

Orange Juice

1

oz.

Lemon Juice

2

oz.

Coca-Cola

1

wedge Lime

1

sprig Mint
Instructions
Add peach slices to a cocktail shaker and muddle.  You can also smash the peaches in a bowl first and then add them  to your shaker.

Add the gin, vodka, light rum, tequila, simple syrup, orange juice, and lemon juice to the shaker.  And add enough ice cubes for one drink.

Shake thoroughly - prep your serving glass by filing half-way with ice.

Strain your boozy mixture into your glass and top off with Coca-Cola.

Give it a quick swizzle to blend in the Coca-Cola and garnish with a lime wedge and sprig of fresh mint.
Let's Stay Friends!
Insta | Pinterest | Enews | TikTok