Meet Sarah Catface and her bodacious posse of supernatural, sci-fi chicks.
---
Tell us a little about your artistic background. Where are you from? Where are you meow?
I've been drawing as long as I can remember. It's always come naturally to me, so I never stopped. I grew up in all sorts of places in Colorado until my parents settled down in the middle of nowhere. I moved to Denver as soon as I graduated high school. Now I'm trying to get by doing in home pet care and art. I love it here, and for now I'm totally content.

I am so excited for your new zine collaboration! What are the details on that?
Brett and I got together a few other artists to submit drawings all based on our "boos" or ghost boyfriends or girlfriends. We're trying to do a collaborative spooky zine every year since "Babliens" went so well and we both love Halloween and autumn themes!

What is your studio/workspace like?
Well, I just moved into a new place. Catface HQ is really just my bedroom stuffed with my bed, desk, shelf full of art supplies. My walls are covered in post cards and prints from artists I admire. I've got sage, palo santos & incense, candles, music. Cups & cups of different copics, prismacolors, pens, pencils. It's pretty simple for now.
What are your favorite art supplies?
Different types of ink most definitely. My Copic marker & pigment liners are my favorite to play with. Lately I've been enjoying doing studies with cheap pens and colored pencils.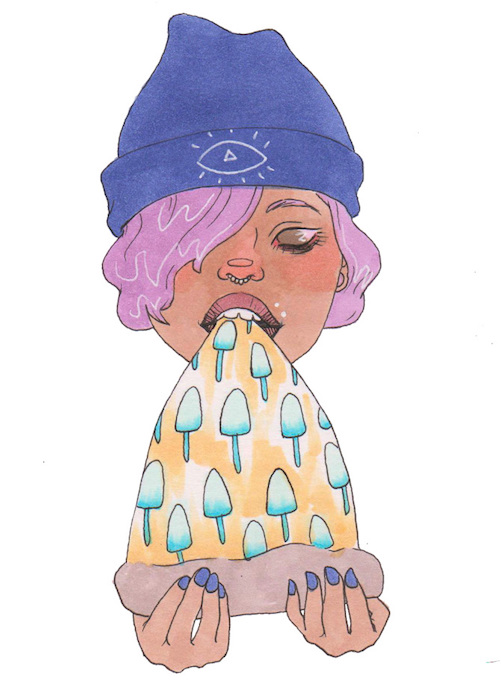 What gets you in the groove to create? Do you make a drink, do some stretches, listen to a Frank Zappa album, etc.?
The first thing I do is clean so I can't be distracted. After, I make some coffee or sometimes tea. I listen to a lot of different types of music. Psychedelic rock, electronic, some hip hop. But if I really need to concentrate, I play spacey instrumentals, no words, just good beats. It really helps me focus. Usually I'm working on a few things at once so if I need a break on one thing, I can just move onto something else. I take sketchbook breaks to draw my own thing so commissions don't drive me nuts. Or if I'm doing line art & I'm ready to color, I can move onto that, then maybe I'll start a rough sketch of something. I'm easily distracted & my mind wanders.. So it's good to have options.

Are there any big projects or goals for the future that you're working on?
I don't have any specific plans right now, just ideas. I'm kind of just going for it really & I do whatever I feel like in the moment. My goal is to be a full time artist. So far, as long as I'm always doing SOMETHING then I feel pretty good. I have so many ideas & people to collaborate with!
Do you collect anything?
Lately, I've been collecting zines. It's such a great, affordable way to collect art and support artists. So far, I have a small collection of art prints. I also collect crystals and plants for my house!
You're from outer space, right? What do you miss most about your home planet?
There's a color spectrum unheard of out there. Colors you wouldn't believe or ever knew existed.

What makes you happiest in life?
My friends and family, and of course Scrappy Doo! My people are so important to me. My personal space is also very important. Not being in a creative rut, the art scene in general. Mountain drives, mix CDs, live music, good food. The simple things really.

And lastly, what are you going to be for Halloween?
Originally I was going to be Daria but I recently chopped my hair off so I might have to come up w another idea.. I probably shouldn't be a witch AGAIN, but I might.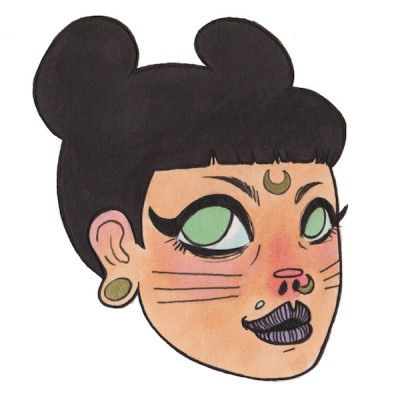 All Images by Sarah Catface
---
Shop Sarah Catface prints on her website and browse her illustrations on Instagram. 

Let's Stay Friends!
Insta | Pinterest | Enews | TikTok