V-Day is approaching quickly! You've been so busy running around to find the perfect gift to give your significant other, friends, and family. Finally, the perfect gift and the perfect card are in your possession, but you've forgotten one thing: the perfect outfit. Your internal screaming quickly becomes audible, you tear your closet apart, you are too close to ripping your hair out. What are you going to wear?!
As one of my favorite holidays, I've always looked forward to what I am going to wear for Valentine's Day. No matter what I'm doing each year, I always obsess over my outfit until it's perfect. That being said, stop worrying, loosen your grip from your hair, it's going to be okay. I'm here to help.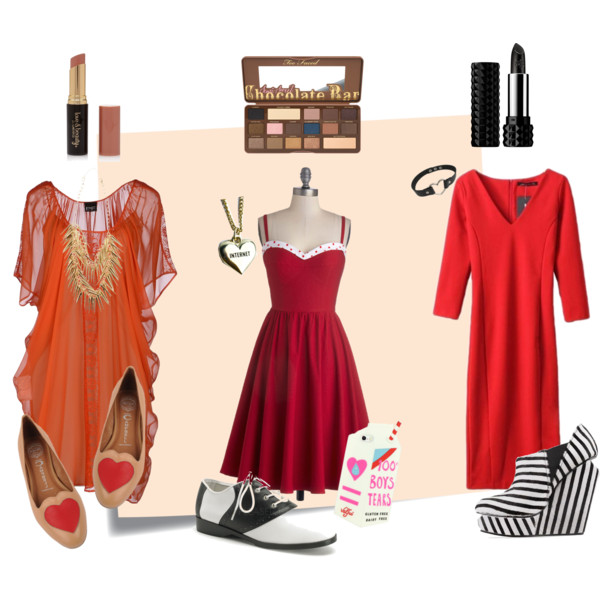 Long sleeve mid calf dress / PF Paola Frani short sleeve dress / Stop Staring red holiday cocktail dress / Senso shoes / White and black saddle shoes / AX Paris gold statement necklace, $18 / Lazy Oaf heart shaped necklace / Vintage bracelet / Shimmer eyeshadow / Kat Von D lipstick / Forever 21 lips makeup / Jeffrey Campbell Got Heart
One of my favorite things about V-Day is the kitchy-ness of it all. Whether it's the sassy candy hearts (that taste a little bit too much like chalk), the made-for-each-other color combos, or the fact that you get to spend the day letting the people who matter most how amazing they are. And let's face it, some of the anti-Valentine's Day hoopla is actually really cute.
What seems to be the most popular for women's outfit choices on V-Day is the quintessential red dress. That being said, there are so many flattering cuts made now with virtually any shade of red you could ever imagine! A flow-y bohemian dress would be an adorably comfy route for a casual date or a night of dancing. That a-line dress you have been drooling over for months might be the ideal retro direction to go for. That bodycon midi dress is the perfect combination of sexy and cute- what's not to love?
As for accessories, the possibilities are truly endless. I always love taking hearts to the extreme with my jewelry or shoes. My personal favorites have always been the heart necklaces with a quirky twist (see the internet one above). A different twist that would be a total show-stopper is a simple choker, especially with the lower cut dresses or tops. If you're not into the whole heart thing, that is totally fine. There are so many simple, but adorable necklaces out there.
When it comes to shoes it's never easy. The things to always consider is where you are going and how long will you be standing up or moving around. If you're going to a dinner or movie date, step it up a notch and wear your favorite pair of heels! It doesn't matter if they are the least comfortable shoes on the entire planet, because standing time will be minimal. On the other hand, if you plan to dance the night away, throw on a cute pair of oxfords or flats. Believe it or not they can be just as flirty as heels (and 1000x more comfortable)!
You've got the dress, you've got the accessories, now all you need is the cherry on top. That's right, ladies, I'm talking about makeup. I always love putting makeup on, because it's like painting on a blank canvas. But in this case, your face is the blank canvas and the makeup brings your whole ensemble together. For this holiday, I suggest going with either a teal eyeshadow and beige lipstick, or a nude eyeshadow and black (or dark purple or brown if you aren't that daring) lipstick will truly take your date's breath away.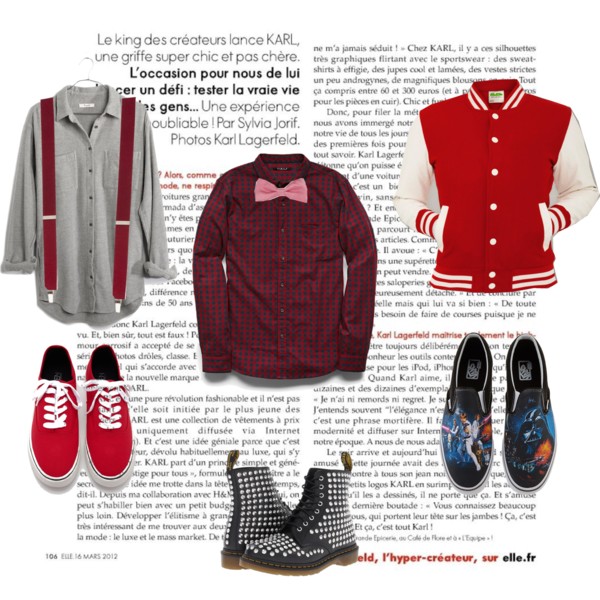 Madewell long sleeve flannel shirt / Red Varsity Jacket Scarlet College Letterman Coat Baseball Top… / Vans deck shoes / Dr. Martens black spiked booties / 21 MENS Micro-Check Plaid Shirt / 21 MENS Classic Canvas Sneakers / TOPMAN Burgundy Plain Vintage Braces, $15 /Forzieri Solid Pre-Tied Silk Bowtie
 Alright, dudes, we haven't forgot about you! Unfortunately, there are more guys who don't care what they wear- even on Valentine's Day. But that is no excuse! Treat yo'self and dress your best for the occasion. Even if you don't have a significant other to spend it with, you'll be looking your absolute best and feeling just as good (if not better). Now, I'm not saying you should go crazy, but at least have some fun.
If you're an avid belt-wearer, change it up and try some braces! They help make a basic outfit look totally polished. Are you into button-down shirts? Have you ever tried a bow-tie instead of the boring old tie? No effort required for effortless looks. Keep that boring sports coat in your closet for just a little bit longer. Try a vintage-inspired letterman jacket instead. Who said you had to stop wearing them after school?
Last but not least, what shoes are you going to wear? Instead of the basic sneakers, try a pop of color or a nostalgic print! As for something a bit more dressy, combat boots are an amazing alternative.
—
No matter what you wear, have a safe, fun and amazing Valentine's Day!

Let's Stay Friends!
Insta | Pinterest | Enews | TikTok