A true cat lady through and through, I will do anything for my cat.
She doesn't do great with other people, but she's an angel with me so she gets all the treats and toys that she wants.
I've made her a bunch of toys over the years from catnip pillows to crochet mice, but I recently realized that I should make her a toy that I can play with her with. I've been so busy and away from home a lot so I wanted to make a toy so I could play with her and spend a bit more time with my little fluff 🙂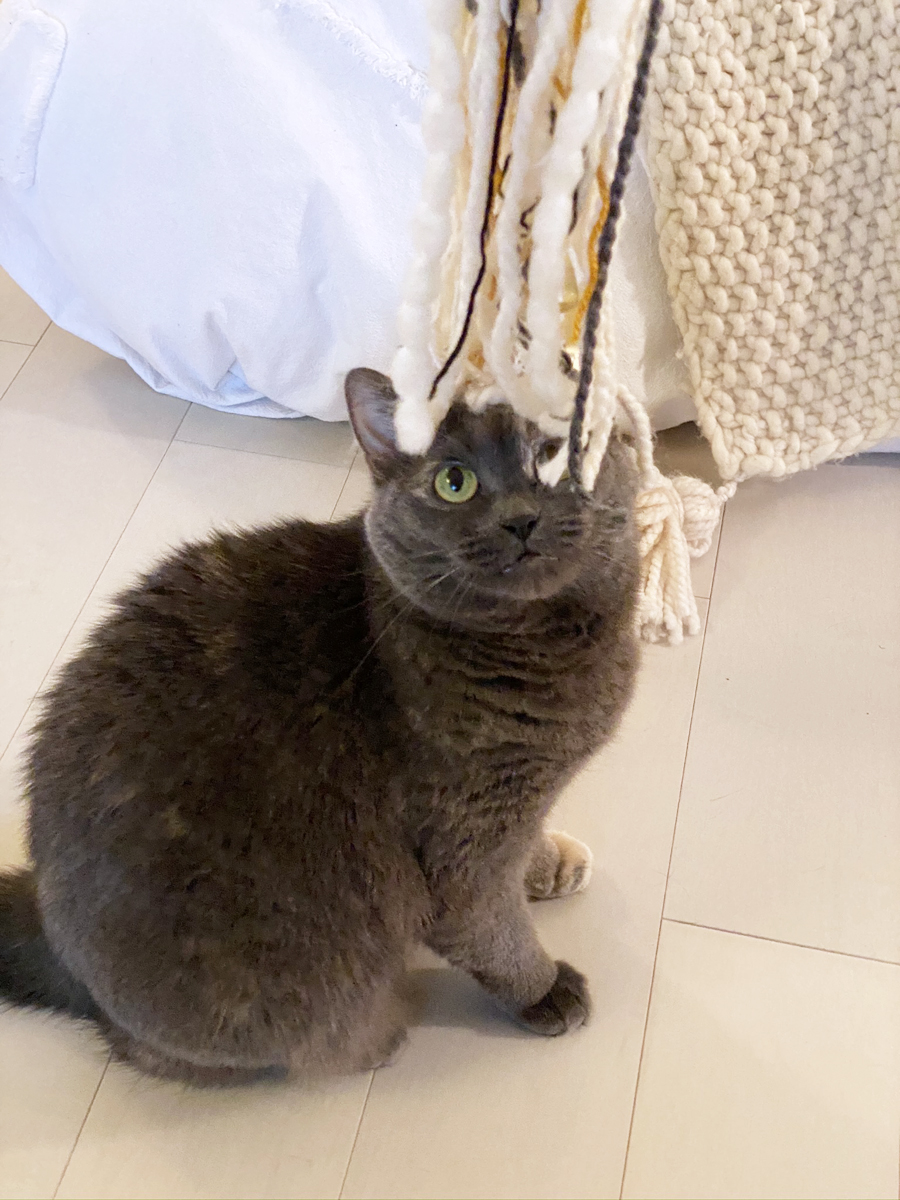 I wouldn't ever buy her a toy because I think they're so simple to make. Plus, she's very chill and loves playing with a balled up receipt, so anything I make would be exponentially better than that.
I had a gold steel rod leftover from the light fixture in my kitchen, so I thought that that would be great to use so that her toy would match the aesthetic of my apartment lol. You could also use a wooden dowel and paint it which would be just as easy to get and would work just as well!
I also had a bunch of yarn left over from a weaving I did for above my couch, and since cats love yarn, I knew I could do something with that. This is a great project for using up any extra bits of yarn, trims, crochet thread or ribbon, so if you're able to use up all those extra bits laying around and don't have to spend money on yarn then it's a win-win. The only thing I wouldn't recommend using is anything thinner than a crochet thread. I think it would just be too fine at that point and it would tangle super easily.
The colour and yarn combination is completely up to you for this DIY cat play wand. I decided to go with a white, gold, black, grey and mustard aesthetic for my cat play wand because the colours work super well in my apartment. If you wanted to buy a yarn you can absolutely do that, but I think using leftover stuff is great because you end up using a lot of different thicknesses and textures to give some dimension to your cat toy. Because all cat toys need dimension right?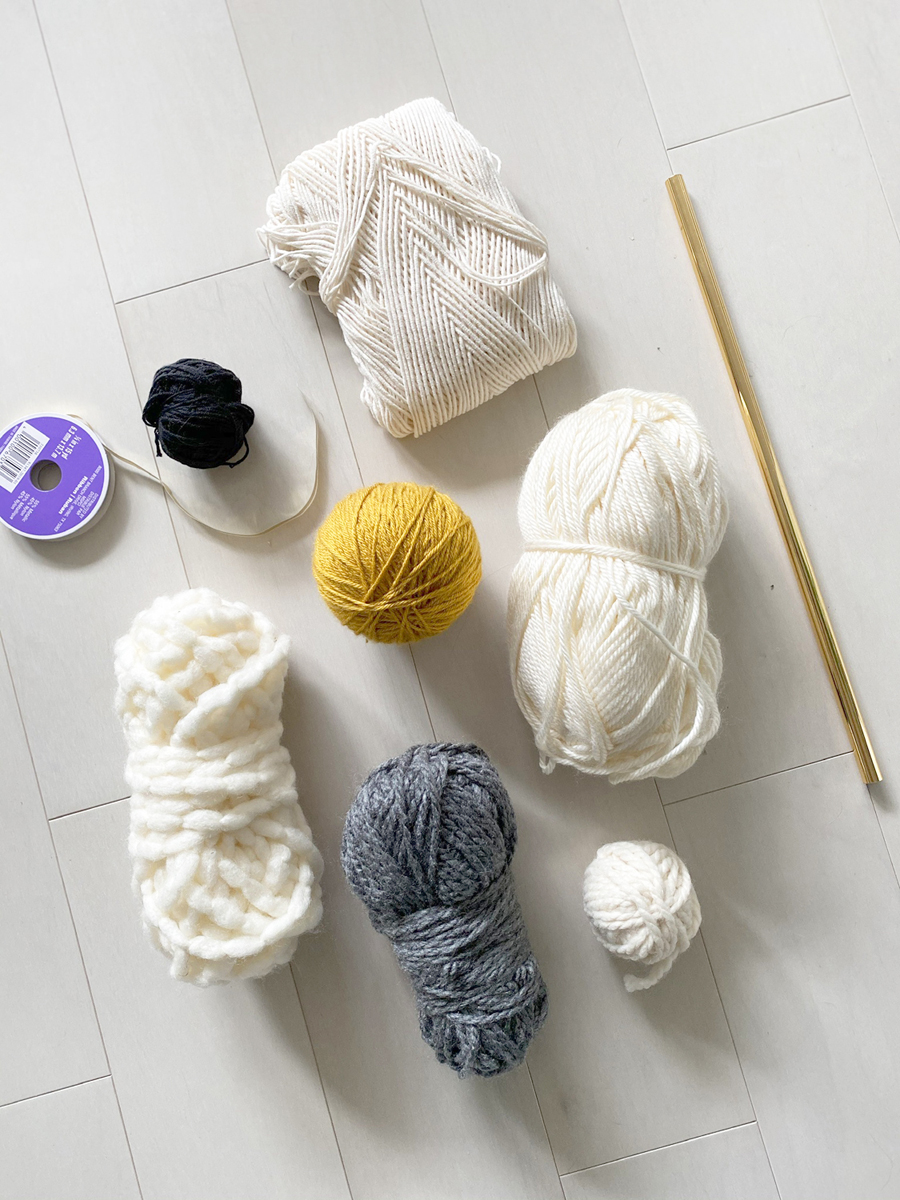 They're also super easy to put together! Here's how I did it:
DIY Cat Toy Ribbon Wand Tutorial Supplies:
yarn, ribbon, trim or crochet thread – about 50-60 feet
scissors
hot glue gun & glue sticks
a 1 foot wooden dowel or steel rod
toothpicks
Instructions:
If the stick that you're using is hollow, you're going to start by gluing 4 or 5 strands of yarn on the inside of your rod. If you're using a wooden dowel, you're going to glue these 4 or 5 strands to the flat end of the dowel.

To glue each piece of yarn on, I started with about 1/2″ dab of glue and then laid the yarn over the glue and used the toothpick to press the yarn down so that I didn't burn my fingers. I used mostly a cream coloured acrylic yarn and every other or every 3rd strand I would use the gold ribbon or different weight of cream yarn or the black or grey yarn etc.

Once the yarn was glued in place, I pulled it with a little bit of tension and cut the yarn to roughly 1 foot in length.
Continue doing the layers of yarn moving up the rod until you've done 4-5 layers of yarn.
Once you've got a nice full looking toy, start by tying a piece of yarn just above the last layer that you glued. Tie it tightly in a double knot and then start tightly wrapping the yarn around the yarn strands to keep everything in place. Also make sure to wrap over the end from the knot, Wrap almost all the way down to the start of the rod and then start going back up to where you tied the knot, gluing the yarn in place once you get to the top.

To finish up your DIY cat play wand, trim the ends of the yarn so that they're all roughly the same length and then you're ready to go!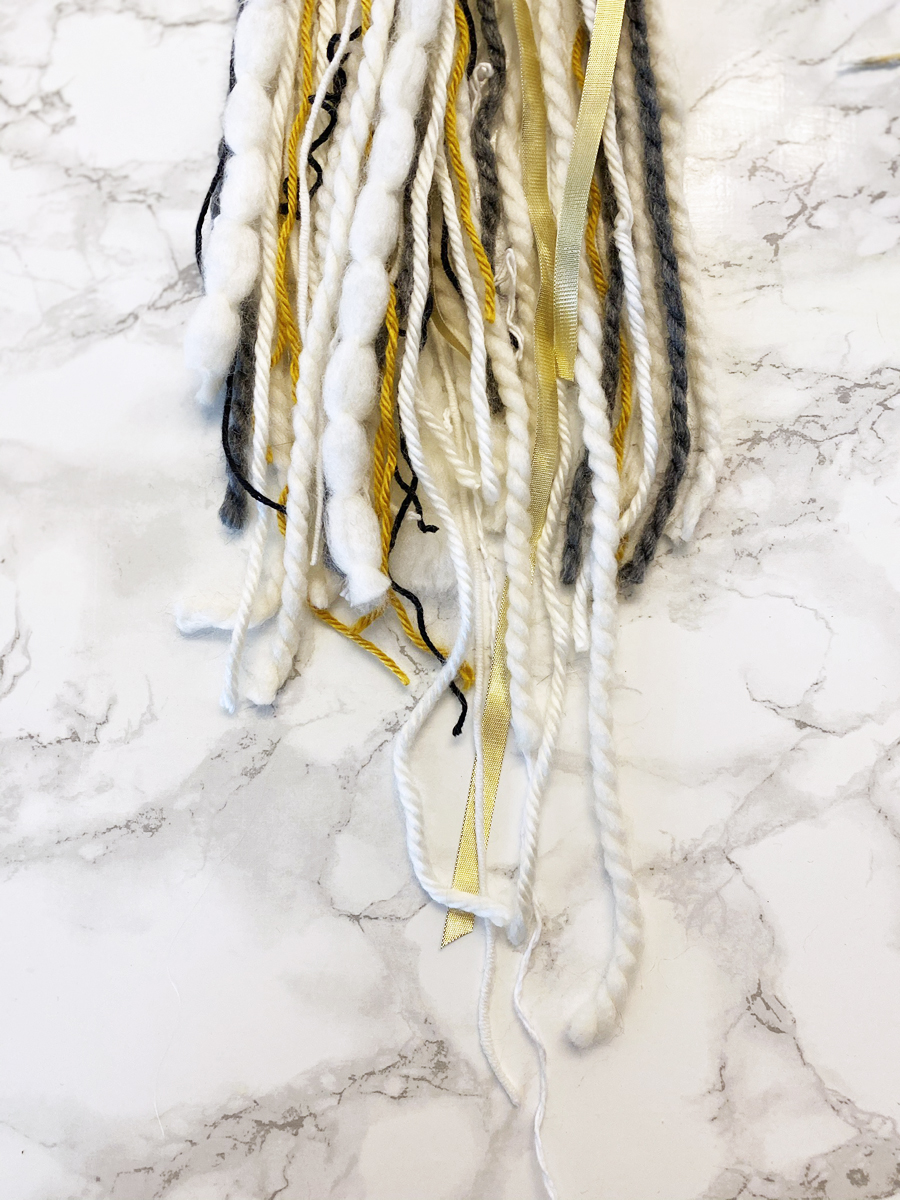 I think this came out super cute and my cat loves playing with it! Plus, I had all of these supplies on hand so it was free to make!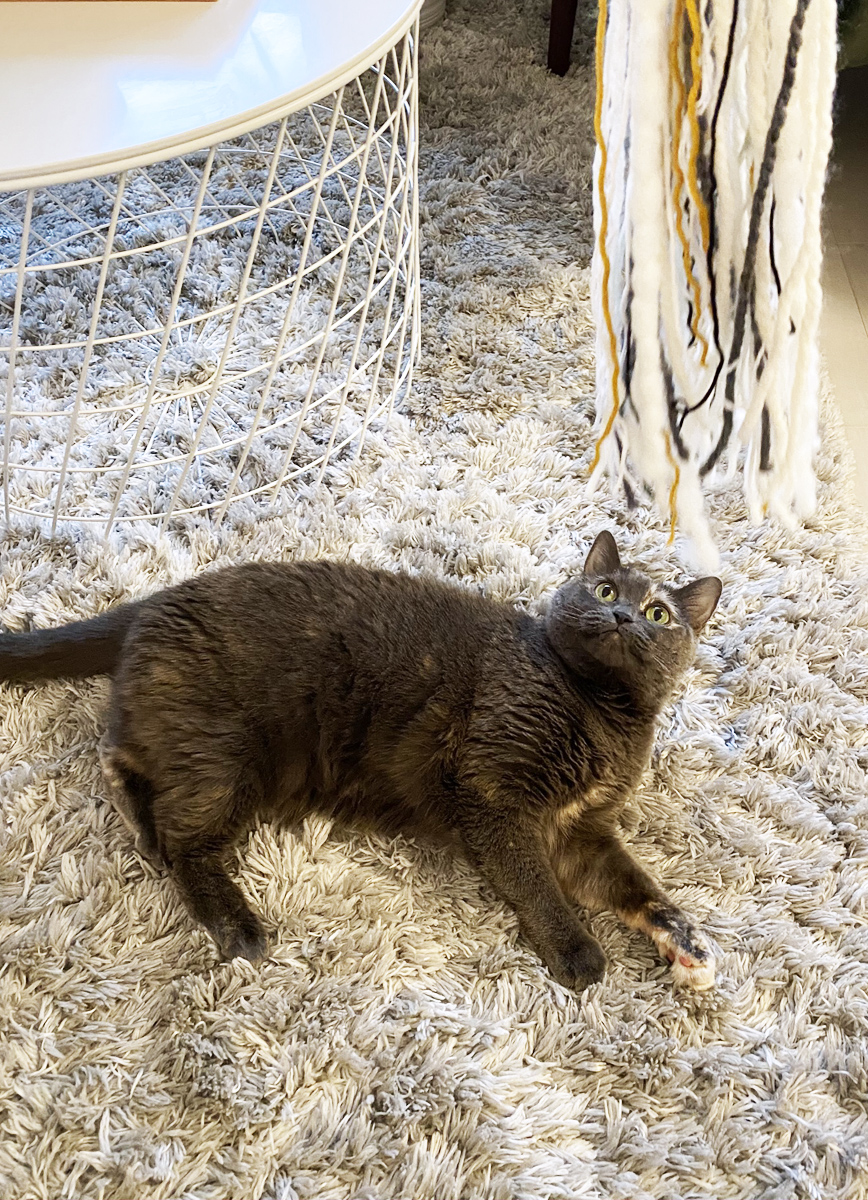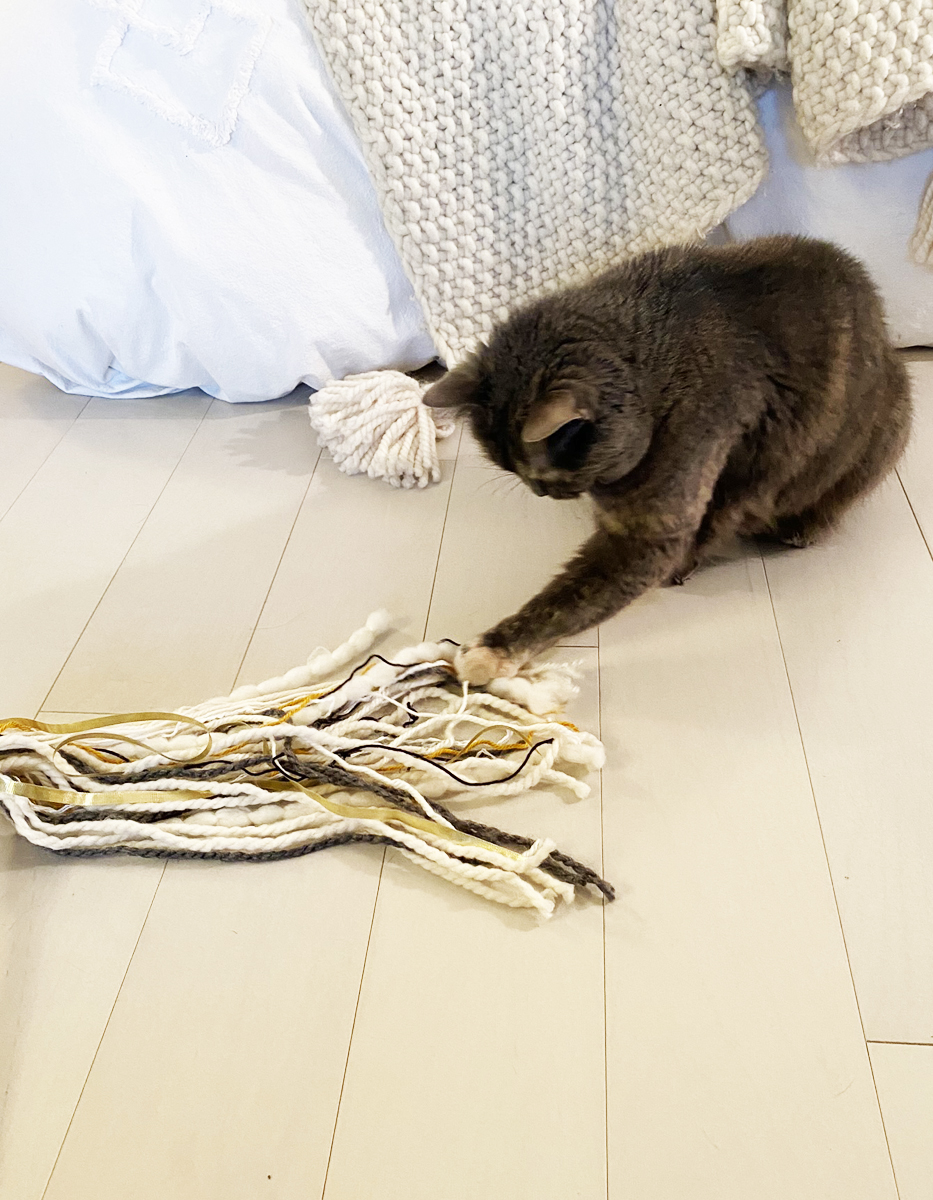 I think we could all use some fun projects to do right now given that we're spending so much time in the house so this is a great one if you have all the supplies on hand already!
She loves playing with the toy, especially the gold ribbon which reflects light and is very eye-catching.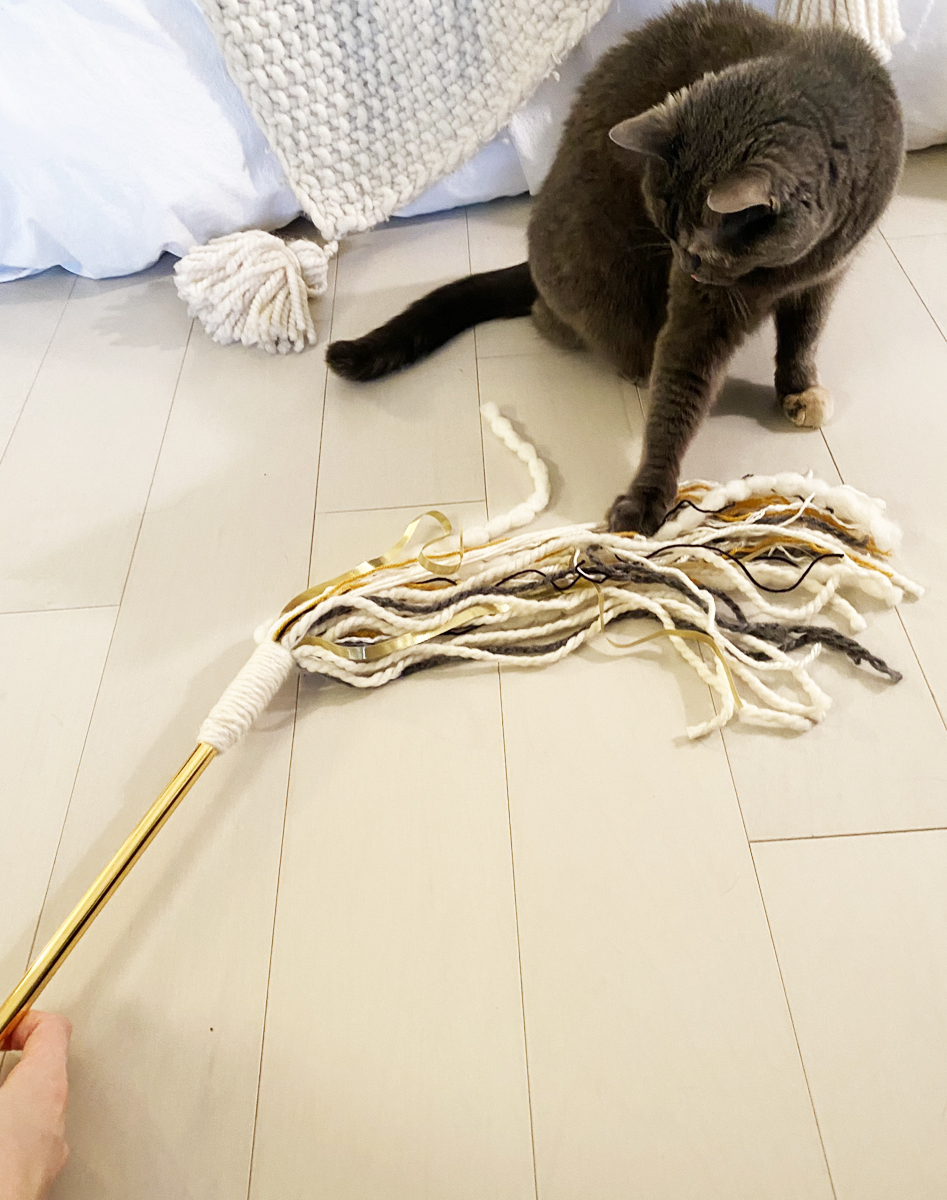 I'd love to see your DIY cat play wand if you make one!
xo, tess.
Let's Be Friends!
Insta | Pinterest | Enews | TikTok