These DIY geometric clay earrings came about like most great projects do – completely by accident. I was trying to make a geometric clay candle holder, but couldn't get the shape right. I kept cutting off triangular pieces and liked the shape of them. By the end, I had a lot of cool looking geometric shapes cut out of rather thick clay.
The real genius in turning them into earrings came when I realized that if I cut the shape in half, I could have two pieces that were exactly the same! I wouldn't have to try to cut the same shape out twice and waste time! I was thrilled to be able to find that with a little bit of finishing and painting, I could have my own custom geometric earrings.
I have been seeing geometric inspired pieces everywhere for the last couple years. There is actually a jewellery store here in Toronto that sells these gold triangle studs that I have loved for a very long time. However, they're almost $60, which is a bit out of my earring budget. So, when I realized that I could essentially create my own version of the earrings, I was delighted.
The great thing about these DIY Geometric Clay Earrings is that you can pick almost any shape that you want to create a completely custom look. If you've been lusting over a piece like me, you could probably make it for yourself. When I made mine, I did find that some of the smaller shapes worked better than longer ones. Originally, I had a long diamond shape cut out, but when I tried to cut it in half, the shape distorted a lot. It then snapped when I went to sand it 🙁 So, this tutorial would be great for triangles, hexagons, squares and any kind of parallelogram / rhombus (grade 4 math anyone?).
The air dry clay and nail polish that I used for the earrings is fairly easy to find. The only thing that may be a bit harder is the earring posts and backings. I had to travel down to the design district here in Toronto and found posts at a jewellery supply store. You can also find them online, but it may be a bit harder since they often come in bulk. But, once you've got all your supplies together, it's super easy to make your own DIY geometric clay earrings! Here's how I did it:
Geometric Clay Earrings
Supplies:
– Air Dry Clay (Colors: White, Neutral, or Beige)
– Sharp Kitchen Knife or X-Acto
– Rolling Pin
– Cutting Mat
– Nail File
– Nail Polish in any Color (optional – leave the earrings raw for a more concrete look)
– Clear Nail Polish
– Earring Posts & Backings (I found these posts that were only about 2mm in diameter, but I had to cut off a portion to make it this way – see photos below!)
– Super Glue
Method:
Take your block of clay and roll it out to about 1/4″ thickness. Then start cutting out your shapes on your rubber mat using your kitchen knife. I cut out triangles, squares, hexagons and a kind of geometric teardrop shape. If you want the shape to be perfect, try drawing it onto a sheet of paper first and then placing the paper on your clay. Cut around the paper shape to get a perfectly symmetrical piece of clay.

Once you have all of your shapes cut, you're going to want to cut them in half vertically using your knife so that you end up with 2 of each shape. When I cut mine, I very carefully placed my fingers on either side of the clay and cut down, being careful to try and cut directly down the middle.

Allow your shapes to air dry for about 3-6 hours.
Once dry (you'll know they're dry if the clay is hard and has lightened in colour a bit) take your nail file and sand the surfaces and edges of your shapes until they are smooth. Also use this time to try and correct any shapes if they aren't completely even or if an edge needs to be made straighter.
At this point, you want to take your super glue and put a small dab on the flat part of your earrings posts. Then attach it to the back of each shape. Allow the glue to dry for about 20 – 30 mins to ensure that the posts don't move around at all. My posts had a silver ball and small hoop attached to them that I just cut off with wire cutters to get a small flat surface to attach my clay pieces. It was super easy and inexpensive!

When you're happy with your shapes and they've got the posts attached, it's time to paint them! Choose any colour that you like and feel free to be creative! I used nail polish because it was easy to use and I had colours that I liked. I was also able to coat them with clear nail polish at the end to seal everything. When painting, I held onto the post and left one side unpainted with each coat so that I could rest my earrings on that side. Each earring got about 4 coats of colour plus a clear coat. Mine also had some air bubbles that popped up during painting. If that happens, just take a pin, pop the bubble and try and cover it up with your next coat. You can also paint the backs if you want, but I left mine unfinished.

Allow the nail polish to dry overnight to make sure that they don't get smudged.
Voila! You're done and now have the most adorable custom geometric clay earrings!
When I made mine, I made a set of squares since I have 4 spaces for earrings in my ears. Play around with the shapes and make some fun sets or some bolder stand alone pieces. Or, try and mix and match them to go with pieces that you already have.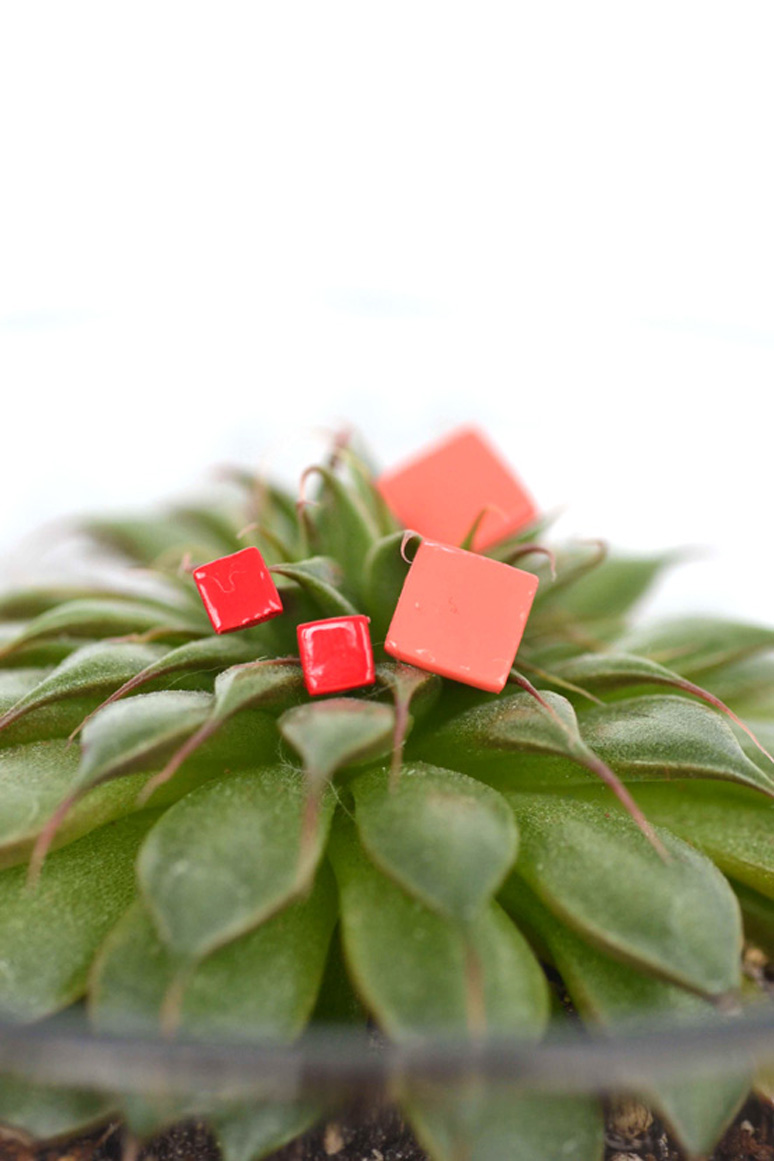 They're a ton of fun to make and I was so in love with them when they were done! I think my favourite ones that I made were the pale blue teardrop shaped earrings. So cute!
I think these geometric clay earrings are going to be my go-to summer accessories since they're so fun and bright!
I'd love to know which pair you like best!
xo, tess.
Follow Tess Ciarloni at
Angean Blog | Facebook | Twitter | Instagram | Pinterest
Let's Stay Friends!
Insta | Pinterest | Enews | TikTok