What's cuter than a couple of cacti on your lobes? Make these cute cactus earrings and you can be a southwestern cool babe!
They are fun, easy, and the perfect modern craft. You could make these into stud earrings or make them into dangly earrings too. We didn't show any here, but it would be so fun to make a succulent necklace! At Pop Shop America, we love cactus everything – like these Free Succulent Terrarium Coloring Pages or this Succulent Flower Crown here. So these DIY Cactus Earrings were irresistable to make.
All you need are a few simple supplies!
Grafix Shrink Film
Prismacolors
Sharpie (Fine or Ultra Fine)
Scissors
Jewelry Findings (like earring posts, or french hooks)
+ E6000 for Post Earrings & Jump Rings for Dangly Earrings
Oven or Toaster Oven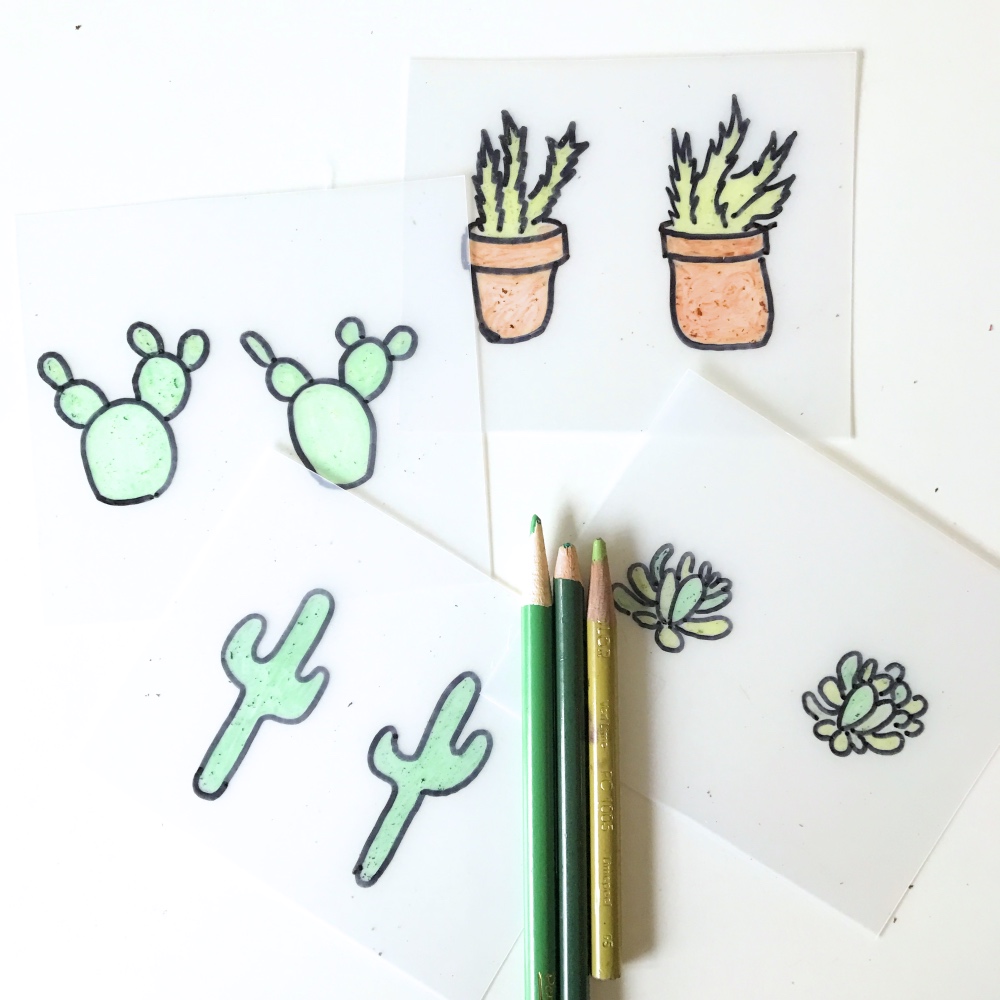 First, make a bunch of cute drawings of cactus and succulents! I search "cactus illustrations" and "succulent illustrations" on google for reference. You can make them any shape or any color! Get totally creative. The important thing is to make two if you want them to be earrings.
I drew several different styles of cactus and succulents. Most were green but I also used a pop of turquoise. Each cacti is outlined with black sharpie, to give it a bold graphic quality. The interior is filled in with Prismacolor.
Don't worry if you cacti aren't perfect and if one is bigger than the other. You will be wearing them on separate sides of your face, which makes it nearly impossible to see the imperfections.
For this project, I only used one sheet of Grafix Shrink Film. I divided them into 6 pieces. Each piece made 1 pair of earrings.
Remember, your Grafix Shrink Film will shrink to about half size, so be sure to make all your illustrations big, big, big! Dangly earrings can be super big and that's always a fun thing! If you want ultra big earrings, perhaps 4 pair per sheet will be right for you.
After you color your cacti, cut them out! This is where that graphic black outline really comes in handy.
If you want any of your cacti to be dangly earrings, make sure to hole punch them before you put them in the oven.
Your Grafix Shrink Film is safe in the oven or toaster oven. I baked mine for 3 minutes at 325ºF but Grafix Film has a range of between 300 and 350ºF.
Occasionally, you will need to put your shrinkies under a heavy book when they come out of the oven. So make sure to have one handy.
Now that you have your shrinky cactus – add the jewelry findings! For stud earrings, I use a drop of E6000 and completely coat the post and set it on the back of the cactus. When using E6000 be sure to wait a full 24 hours before you wear your accessories.
For dangly earrings use a jump ring to attach the cactus to a french hook.
Viola! Now you have the cutest dang earrings around! These DIY Cactus Earrings are perfect! Need more DIY Shrinky Dink Printables or Jewelry in your life? Check out more blogs below!

Let's Stay Friends!
Insta | Pinterest | Enews | TikTok