If you saw the title of this post and said "Pass, coasters are for old people" then I don't blame you.
BUT, coasters can also be very pretty and can protect your wood furniture. Imagine you just got an authentic mid-century modern surfboard coffee table. You'd been looking for one forever and finally found the perfect piece. It looks amazing in your living room and you can now live out your dreams of pretending as if you live on the set of Mad Men.
You just poured yourself a glass of ice water and set it down on the table. But wait! Your phone rings and it's your friend who has just stopped by to bring you some cookies. You go outside to meet your friend (from a socially responsible distance of 6 feet) and end up chatting for 20 minutes. When you come back in the house with a half-eaten cookie in your hand, your cup of ice water that's been sitting out has condensation all over the glass and has left a ring on your impeccable table.
You frantically try to wipe up the water in hopes that it will dry, but the faint outlines of the ring have marred the smooth teak surface forever and will haunt your dreams for years to come. Bet you wish you had a coaster now.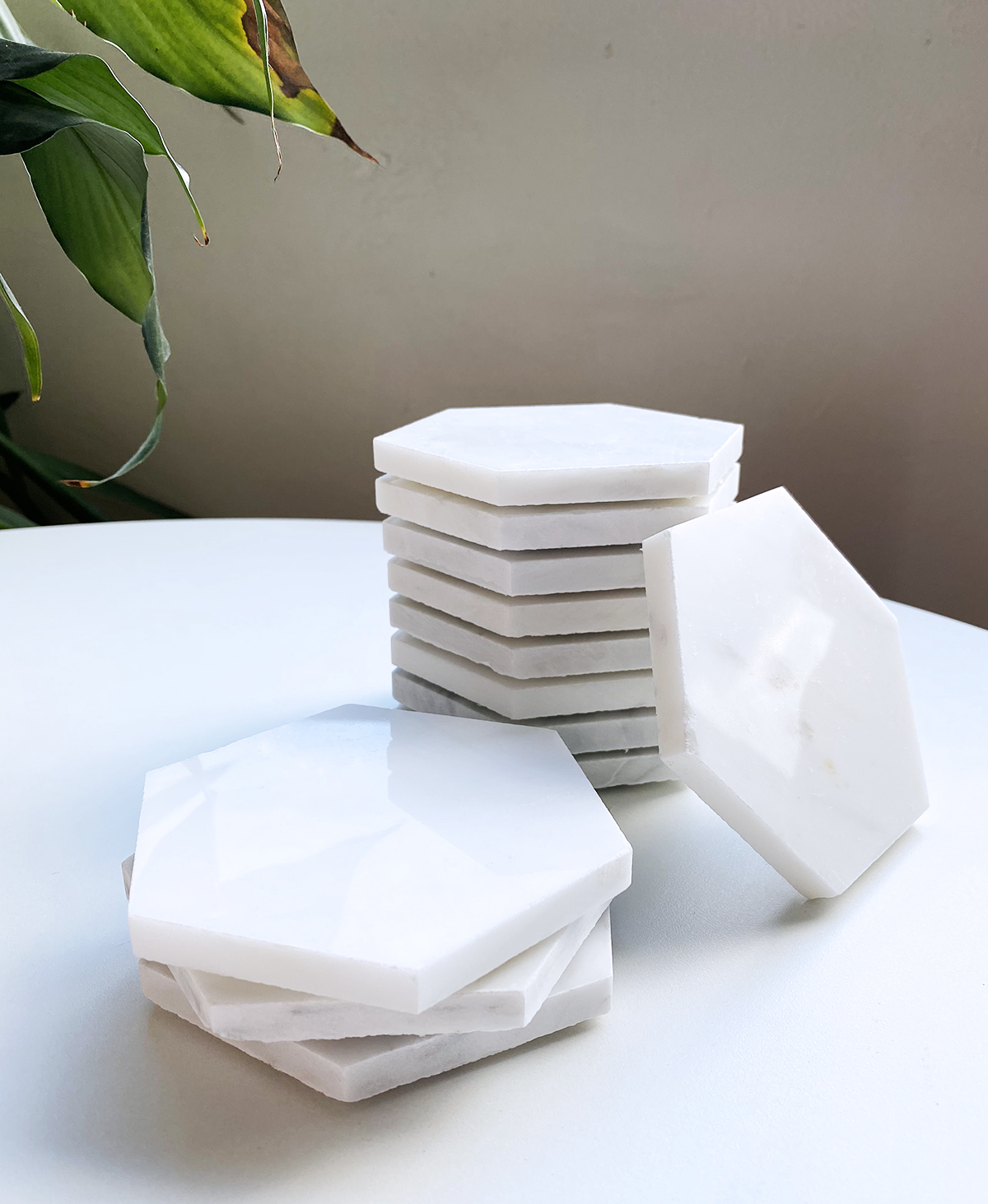 Dramatic, made-up stories aside, these coasters are actually quite beautiful and useful, plus they're super easy to make! They would pair perfectly with these Agate Gemstone Cocktail Stirrers!
This project is a great way to use up any leftover tile that you might have from a recent renovation, or maybe you've gone to your local habitat for humanity and they had a small amount of tile that you purchased. If you wanted to make these coasters to sell them, you could also purchase a box of tile that way and make a bunch!
This style of marble is a little on the pricier side, so that's something to consider if you're going to be making these to try to sell them. There are so many different options out there now that you could probably find a similar porcelain style of tile as well. I had leftover tiles from my bathroom, but if you have bigger tiles consider using the same technique to make cheeseboards and serving plates! If you have a larger tile, maybe paint the edges a fun colour for an unexpected pop or try using some gold spray paint to give them a gilded look.
I used 4″ Bianco Carrara Hexagon Marble tiles for these coasters and they vary in colour from almost pure white to small gold flecks to the classic grey vein. I think the marble material makes them elegant, while the hexagon shape gives them a more modern twist.
So if you want to protect your more precious furniture, give these super easy DIY marble hexagon costers a try!
DIY Hexagon Marble Coasters
Supplies:
4-12 polished marble hexagon tiles
24-72 3/8″ medium duty felt pads
An X-Acto knife or straight-edge razor
A damp cloth for wiping the surface of your tile

Steps:
If your tile comes stuck to a mesh backing carefully peel off the backing and remove any glue from the back of the tile. An X-Acto knife or a straight edge razor could be really helpful here.
Flip the tile over and place 6 felt pads at each point of the hexagon placing them about 1/2″ back from the edge. Repeat for your desired number of coasters. I suggest 4-12 tiles so you can make a set that falls anywhere within that number. I made 12 since I had the tile, but make less if that's all that you need!
Flip back over, give the tile a wipe so it's nice and shiny and you've got a coaster!
See? Couldn't be easier to make these pretty DIY coasters. Plus, I think the best part of any project like this is being able to use up leftover craft/home reno supplies that you have lying around so that they don't go into a landfill 🙂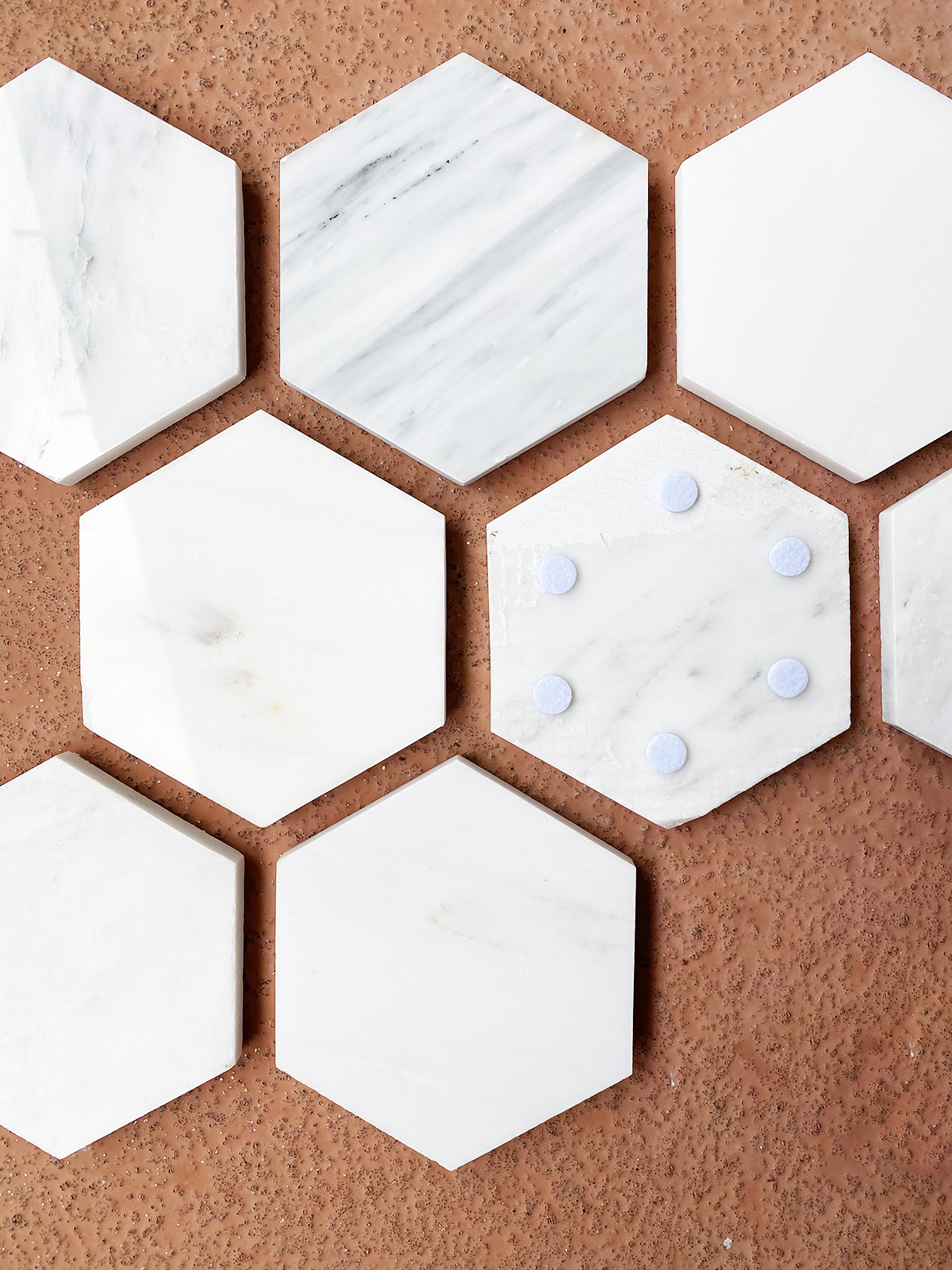 I don't personally have any priceless mid-century teak in my home, but there are some wood surfaces that I'd like to keep looking new so these coasters are the perfect solution!
Hope you're inspired to DIY some marble coasters of your own!
xo, Tess.
Let's Be Friends!
Insta | Pinterest | Enews | TikTok