This is part 1 of 3 of the August Craft in Style Subscription Box tutorials. Part 2: How to Make a Himmeli Wall Sconce can be found here. Part 3: How to Make a Himmeli Hanging Air Planter can be found here. You can find out How to Care for Air Plants here. Craft in Style Subscription Box is available here.
Do you love the look of copper and minimalist decor? Because I sure do! These geometric pieces of copper pipe assembled together are called Himmeli and they can be made into a ton of different objects like desktop sculptures, air plant hangers, and wall mounts.
Here is a simple tabletop himmeli sculpture that looks so great with books or on an office desktop too. It's the perfect himmeli sculpture when you are getting started because it's easy to create and has many less sides and thus steps than other himmeli. So what are we waiting for? Let's make it!
Supplies to Make a Triangle Himmeli Sculpture:
August 2020 Craft in Style Subscription Box
-or-
2 mm Copper Pipe (at least 24 inches total)
1 Tube Cutter (make sure to check the size)
Clear Nylon Thread
A Pencil
A Ruler
This Himmeli Sculpture Template
About the Copper Pipe
You can use brass or another material of pipe. Instead of 2 mm, you can use 2.5 mm or even larger pipe. There are a lot of variations on what size, color, and even material you use to make your himmeli sculpture. For example, if you are just getting started and want to try out shapes, you could use paper straws!
The first thing to any himmeli object is to measure and cut your pipe. You know the saying measure twice and cut once? Because it DEFINITELY applies here!
Be careful that you know how many pieces you need and what length. Follow the himmeli template and even use your pencil to check it off as you go!
This template shows you the number of pieces to cut and their length in the upper left – pieces that are each 4 inches in length.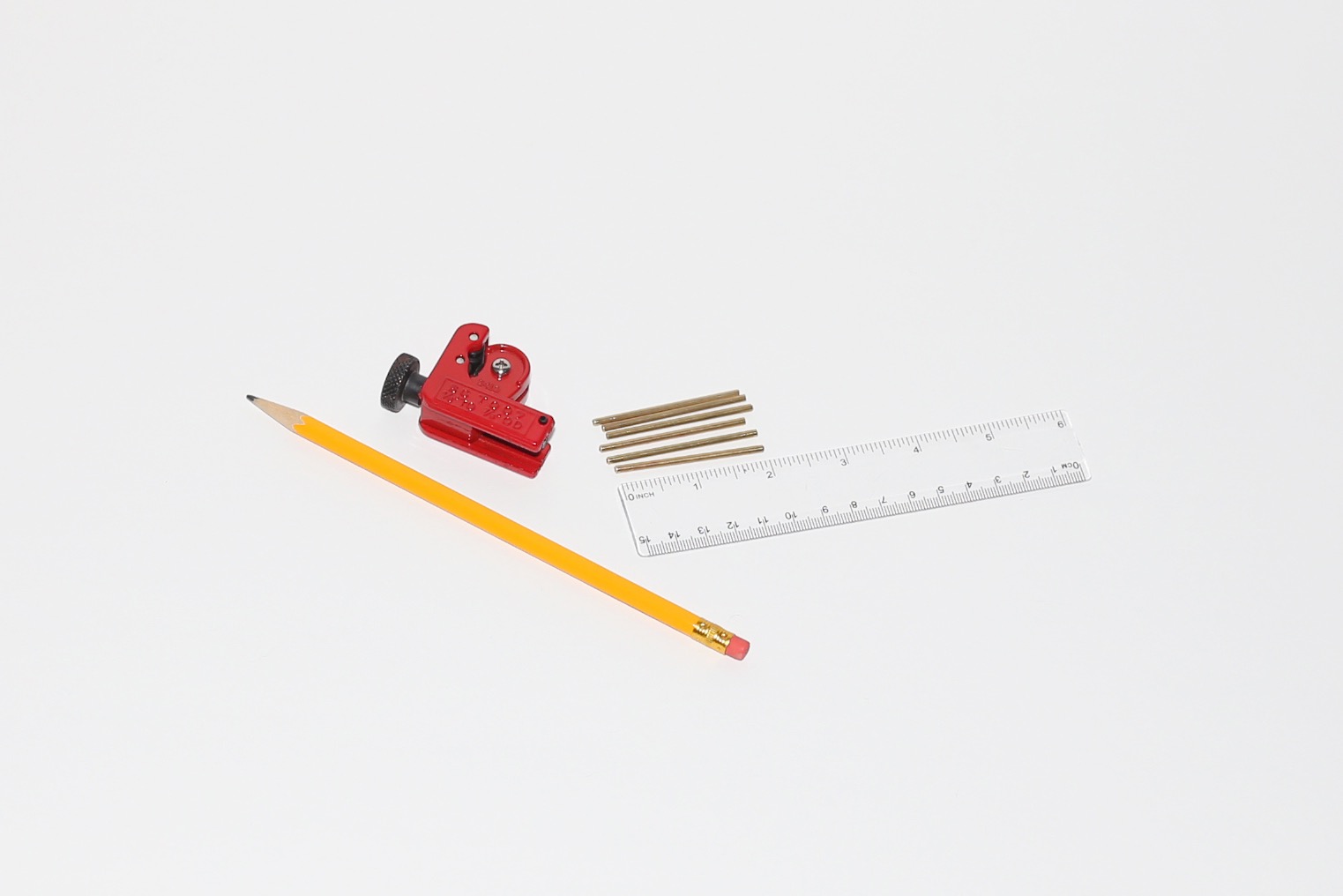 How to Cut Pipe with a Tube Cutter
To use your tube cutter, spin the knob around of the cutter in circles to open it. Place your pipe inside and close the tube cutter so that the pipe is firmly held in place. The part that slices the pipe is a dark cylinder with a sharp edge. Make sure that it perfectly touches your cut line on the pipe.
With some cutters, the cutter itself will spin. With others, the pipe will spin. Continue this motion around in circles until the pipe is completely cut or until the grooves in the pipe are so deep that you are able to break the pipe with your hands.
Be careful to not squeeze the pipe with your hands when you are breaking it. And be careful to not squeeze the pipe to hard with the tube cutter.
Once you have your copper pipe cut, it's time to string your himmeli together. This is where the Triangle Himmeli Sculpture Template will come in handy one last time.
To complete this project you will need slightly more nylon thread than pipe. I recommend using around 28 inches of thread.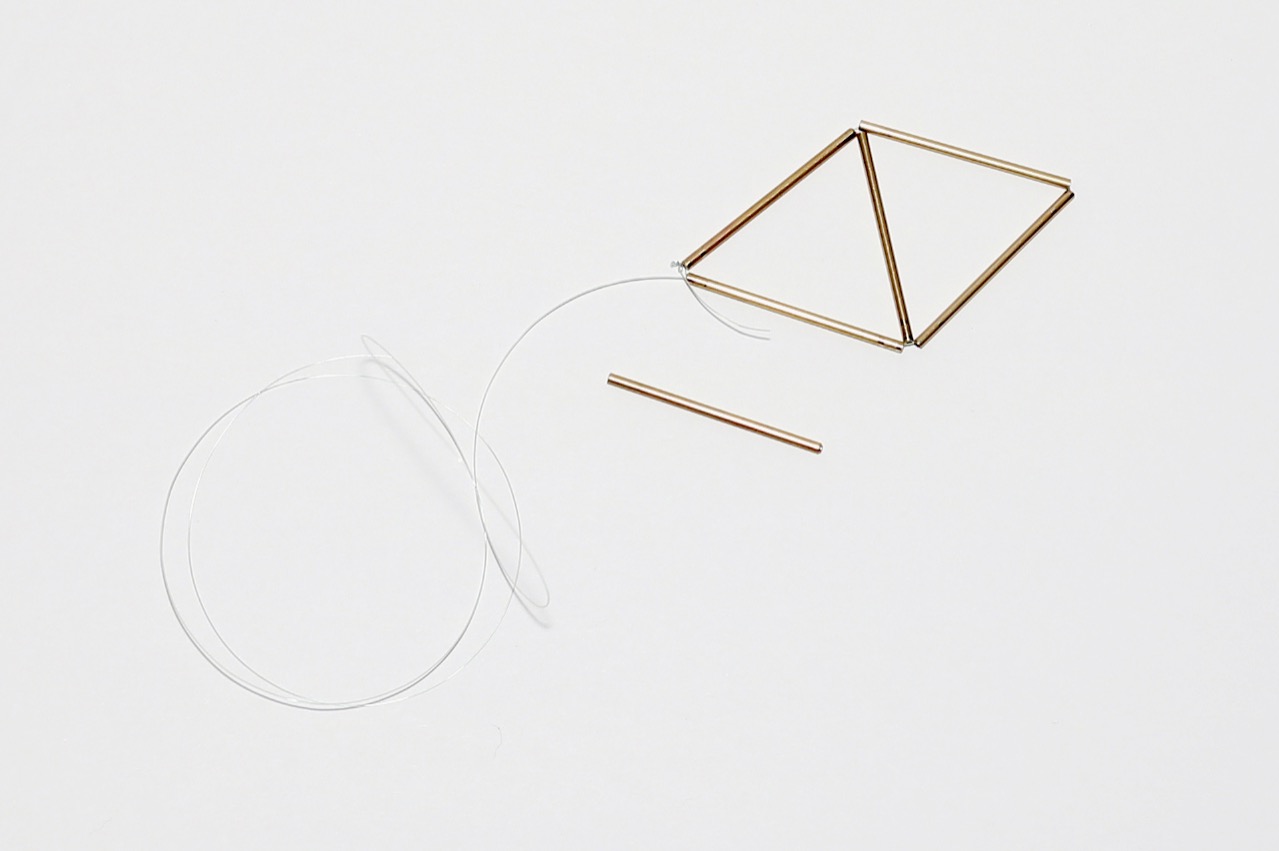 Don't tie any knots in your thread as you start. Instead, we will tie the thread together only in the end. If you need to hold the string in place as you are threading, use a piece of tape or a clothespin.
Lay out each pipe piece and thread each piece of pipe together. The threading will be 7 steps total and you can see the pattern in the template. It's shown in the center with a dotted arrow. As you thread the himmeli, the pieces of pipe will begin to pull together, and it's final shape will slowly be formed.
Once you have your string through every pipe, pull the string very hard to finalize the triangle himmeli shape. Now carefully, double knot the string holding the geometric himmeli shape together permanently. If you are concerned about your knot making, just add a dab of glue to the knot!
And viola! A gorgeous and simple Triangle Himmeli Sculpture! It's the perfect statement piece for your desk, a centerpiece for a dining table, and it would look so fabulous in an office or on a bookshelf! Ready to make one for yourself? You can get all the supplies to make your own in the August Craft in Style Box! Don't miss out.
Let's Be Friends!
Insta | Pinterest | Enews | TikTok