This blog is Part 2 of 3 of the April 2020 Craft in Style Subscription Box. You can shop the box and find out more here. Part 1: How to Make a Pine Cone Bird Feeder can be found here. Part 3: Common Birds of the US can be found here.
Oh the weather has been gorgeous and the birds are singing! Just because we are self quarantined, doesn't mean we can't take a moment to enjoy spring! And this DIY Painted Birdhouse is the perfect way.
You could hang this in your backyard or front yard and if you live in a small space, it's perfect to hang outside your window! You could even hang it indoors as the type of home decoration that will inspire you to keep the sensations of outdoors in your home and brighten your space. So let's make it!
Supplies to Make a DIY Painted Gazebo Birdhouse:
April 2020 Craft in Style Subscription Box
-or-
Wooden Gazebo Birdhouse (or any wooden birdhouse)
Acrylic Paint in 3-5 colors (I recommend neutrals and blues like house colors)
A Small Brush
A Foam Brush
Bird Seed (I used Black Oil Sunflower Seeds, Nyjer Thistle Seeds, and Safflower Seeds)
Optional:
A Pencil
All of these supplies are included in the April 2020 Craft in Style Subscription Box. That's our monthly box full of unique craft supplies to make new projects each month! And this month, it's all about spring.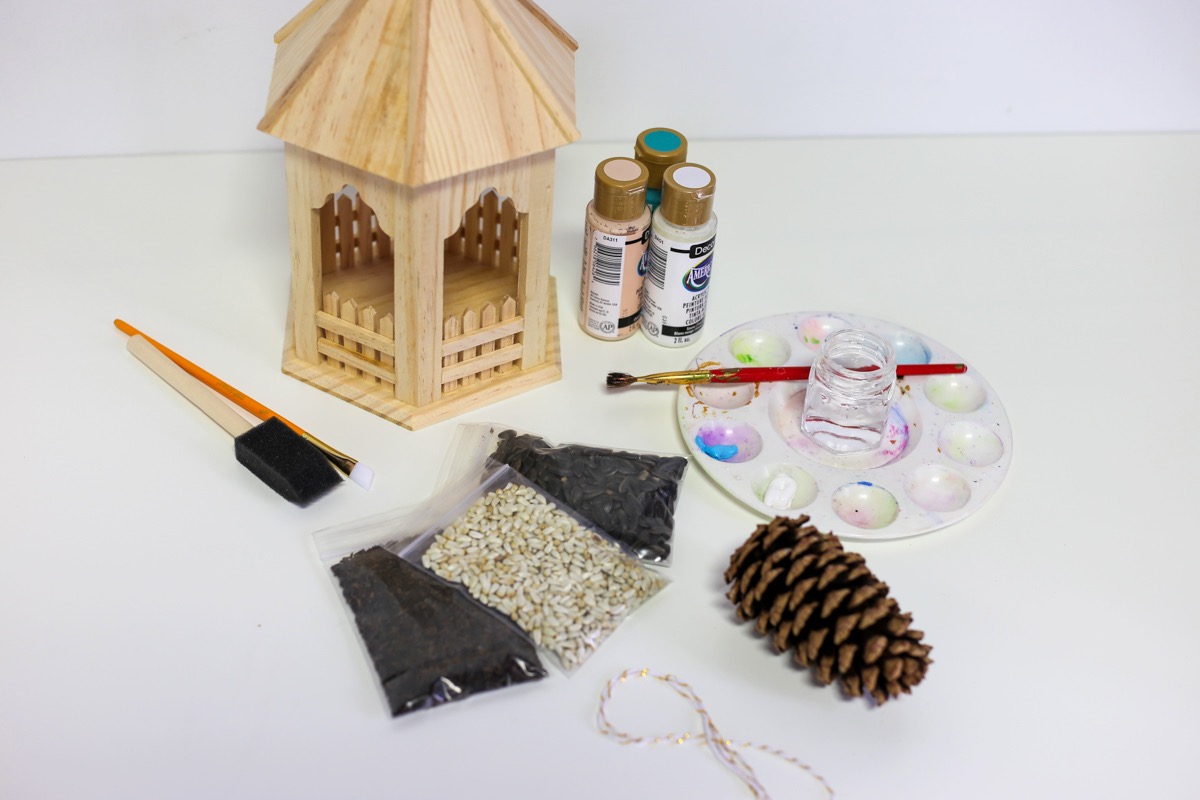 To get started, plan your approach. Unless you are really comfortable with paint, I would not recommend to just go for it. Spend some time, make some paint swatches and figure out how you want your finished piece to look.
We included lots of neutrals and blues in our Craft in Style Subscription Box, because my vision was to create something that looked like an actual house! But then once I got started, I couldn't resist and had to show you how bright, cheery and elaborate you can make this bird feeder! This is the type of diy that you can make in a variety of different styles!
If you are color blocking your sections and painting them with just gorgeous colors you can get right to the painting.
If you want to make any designs, or even do something that is more detailed, start with your pencil. You can draw your designs or you can just mark each section and what color you will paint it.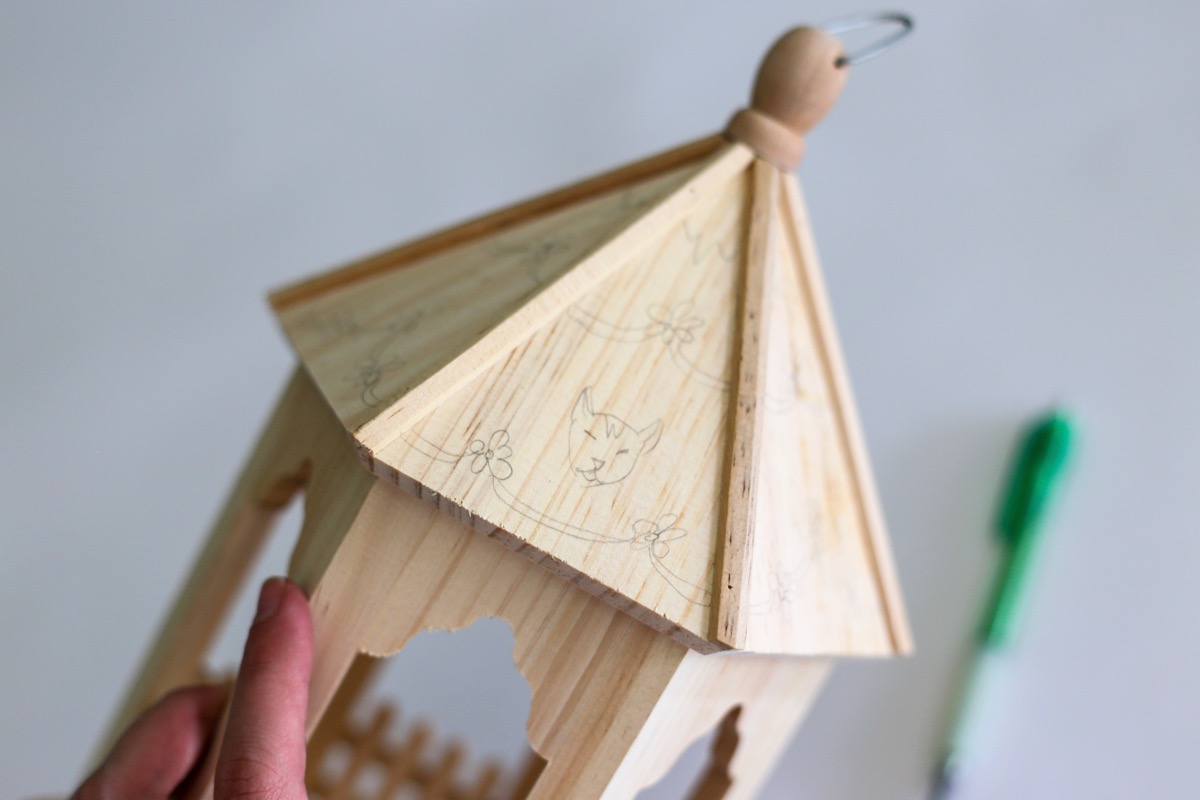 Be careful not to use too much pressure as your penciling will dent the wood and you will be able to see it in the finished piece.
Now use the appropriate brush to paint your birdhouse section by section. Your foam brush is best for big areas and you can use your smaller bristled brush for any details.
You don't need to paint the inside although you can if you like!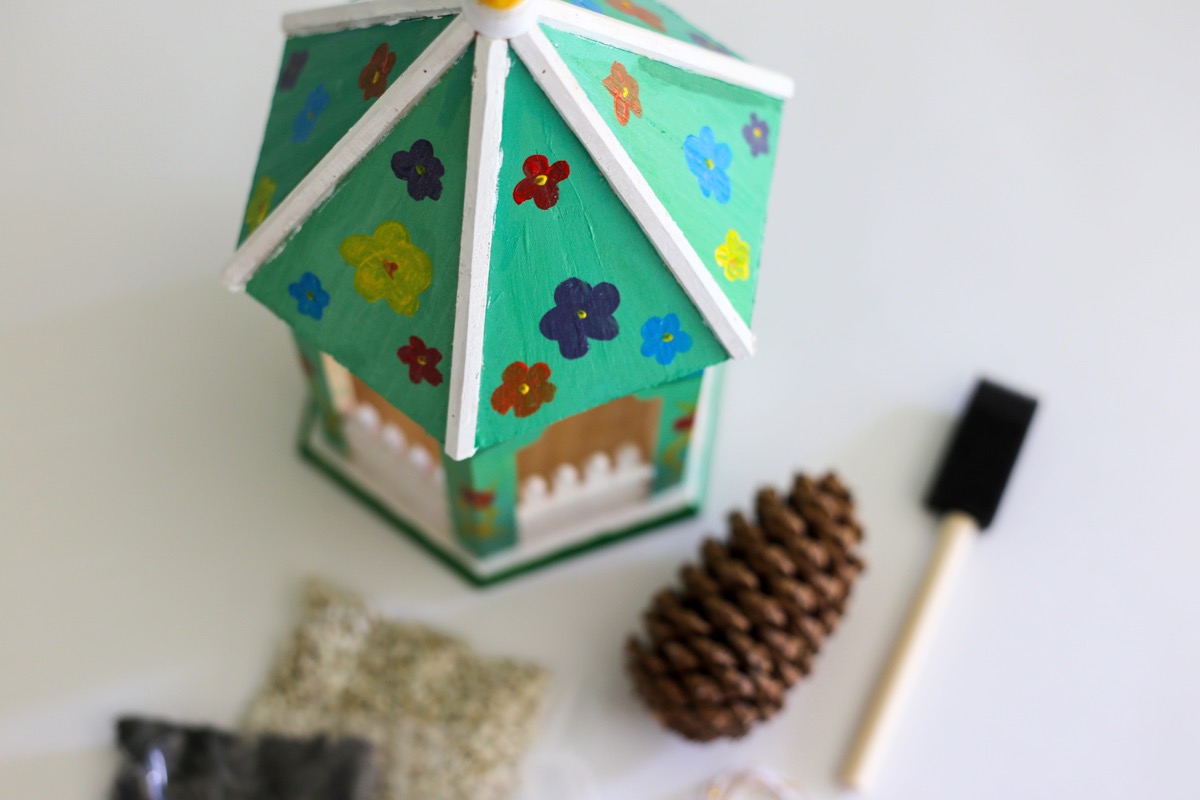 Acrylic paint is quick to dry and should take less than 1 hour to dry completely. At that time, you may want to look through your birdhouse thoroughly to see if you need any touch ups or need to fix any details.
This is also a great time to wash your brushes thoroughly with soap and water. Wash them until the water runs completely clear. Foam brushes are meant to be tossed, but you can use it a few times for this project before throwing it out.
Once your paint is dry, your birdhouse is ready to hang! So grab a piece of twine, a holiday ornament hanger, leather or something similar and hang it in a tree or up high!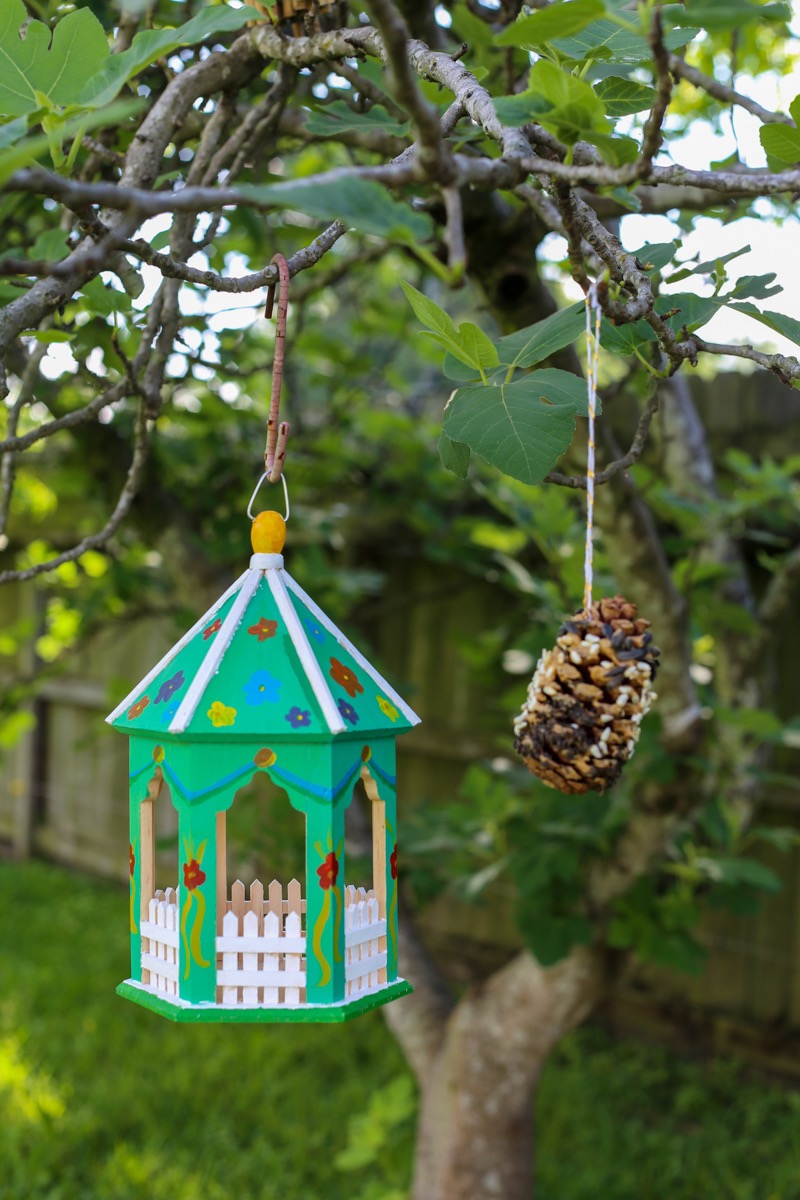 You can fill the inside of the gazebo with bird seed, like I did! But don't be surprised if the squirrels love it too! With this bird feeder, everyone wins! Now enjoy some gorgeous birds in your own space!
And if you love this diy, don't miss out on the April 2020 Craft in Style Subscription Box so you can get these supplies and make your own Painted Birdhouse!
Let's Be Friends!
Insta | Pinterest | Enews | TikTok