Confession: I am crazy for florals. I love the flavors of rose in a harissa paste. I love violet in chocolates and ice cream. And most of all, I love a lavender simple syrup for a drink, dessert or cocktail.
This Lavender Lemonade recipe is easy to make and perfect for a spring and summer day. Best of all, it's an alcohol free drink and makes the perfect accompaniment to a Sunday brunch or an afternoon tea.
So let's make it.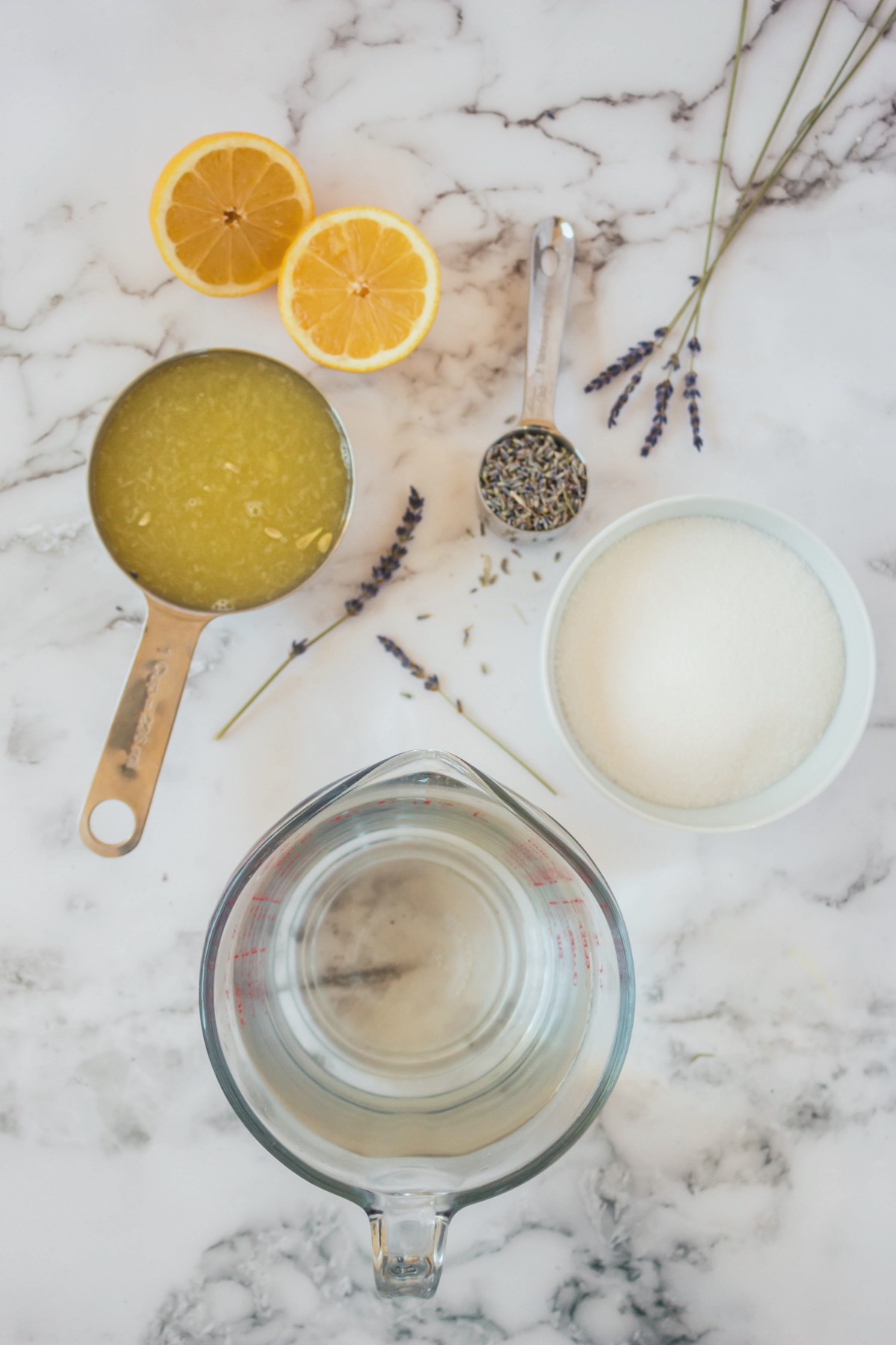 Ingredients to Make Lavender Lemonade
One of my favorite things about this recipe is that the ingredients are so simple! All you need is sugar, water, fresh lemons, and dried lavender buds. You will need a stovetop or hot plate to make your simple syrup and a gorgeous pitcher to store and serve your lemonade.
Plus, you may want additional lemon slices and lavender sprigs to dress the glasses and serve this lemonade with style.
Fresh lemons are best and garden fresh make it even better! Whatever you do make sure your lemons are juicy.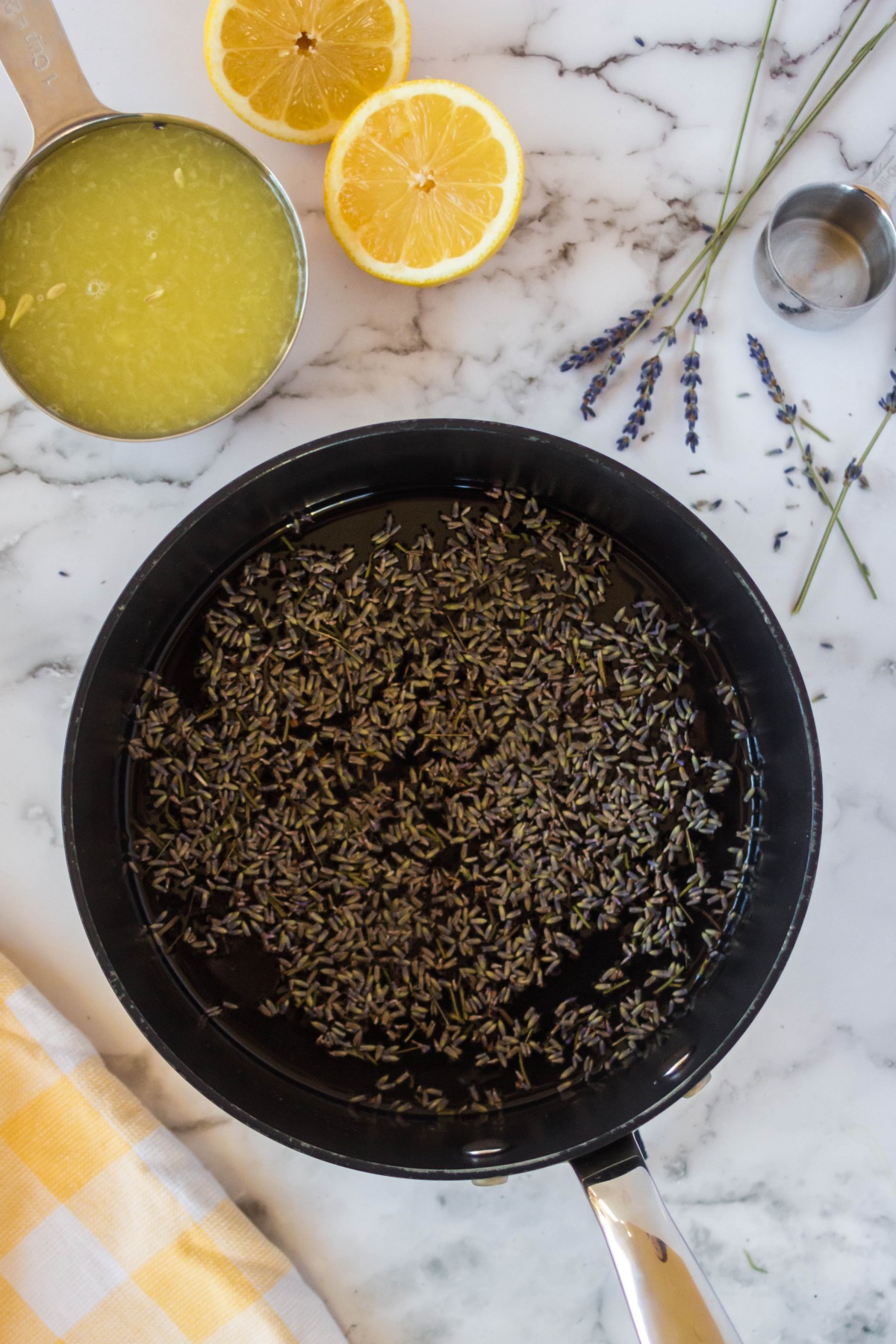 What kind of Lavender to Use
Not all lavender is made equal. For this recipe, you must have culinary grade lavender. Lavender can be treated with pesticides that you won't want to eat, so read the label carefully. If it doesn't say "food grade" or "culinary lavender" don't use it.
The more fragrant the lavender the better it will taste in the recipe. Color is for aesthetic appeal, but doesn't have any relationship to the flavor.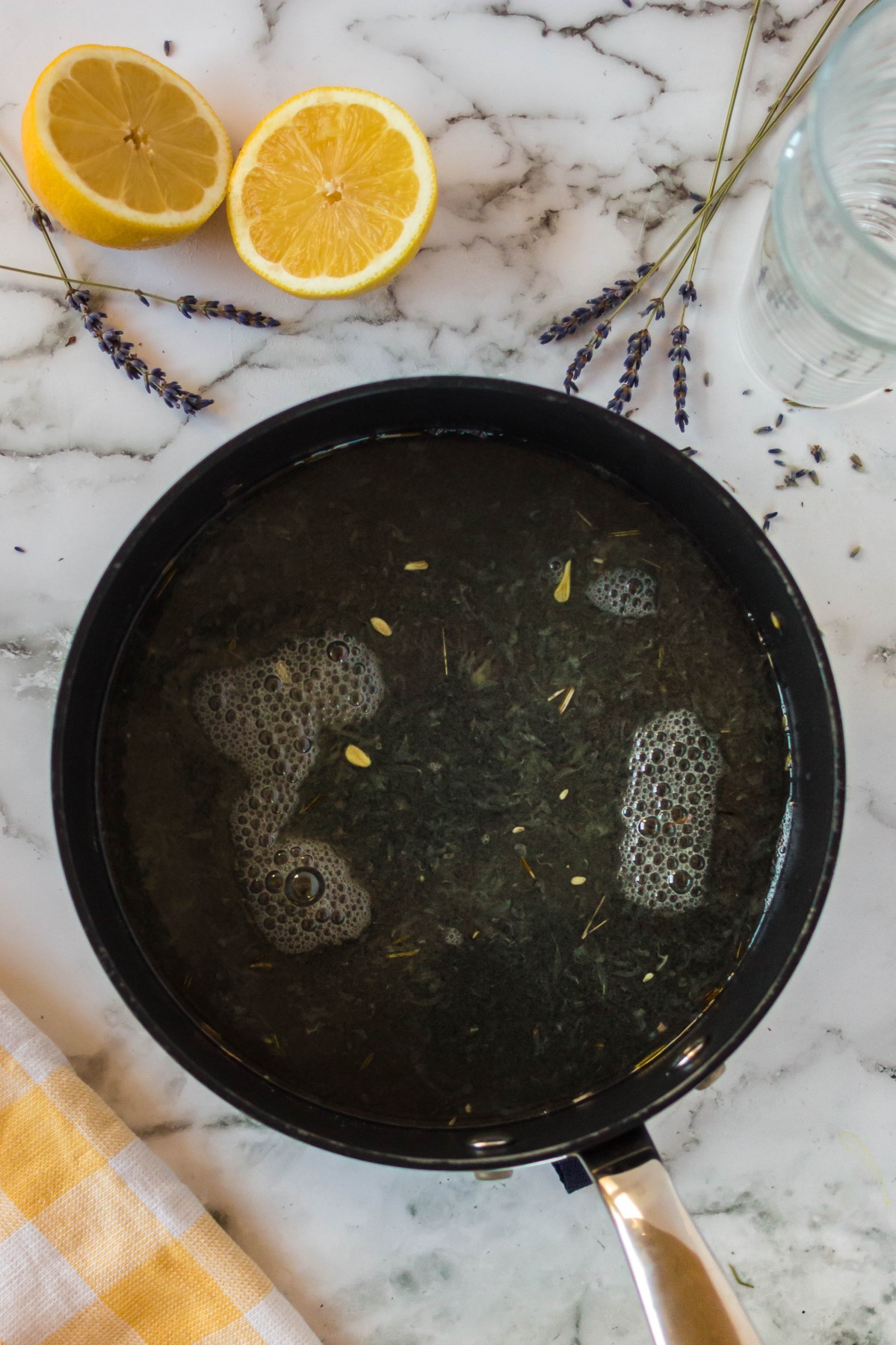 I used this lavender in my recipe. The sprigs were a little harder to find food grade, so those I got locally at the farmer's market!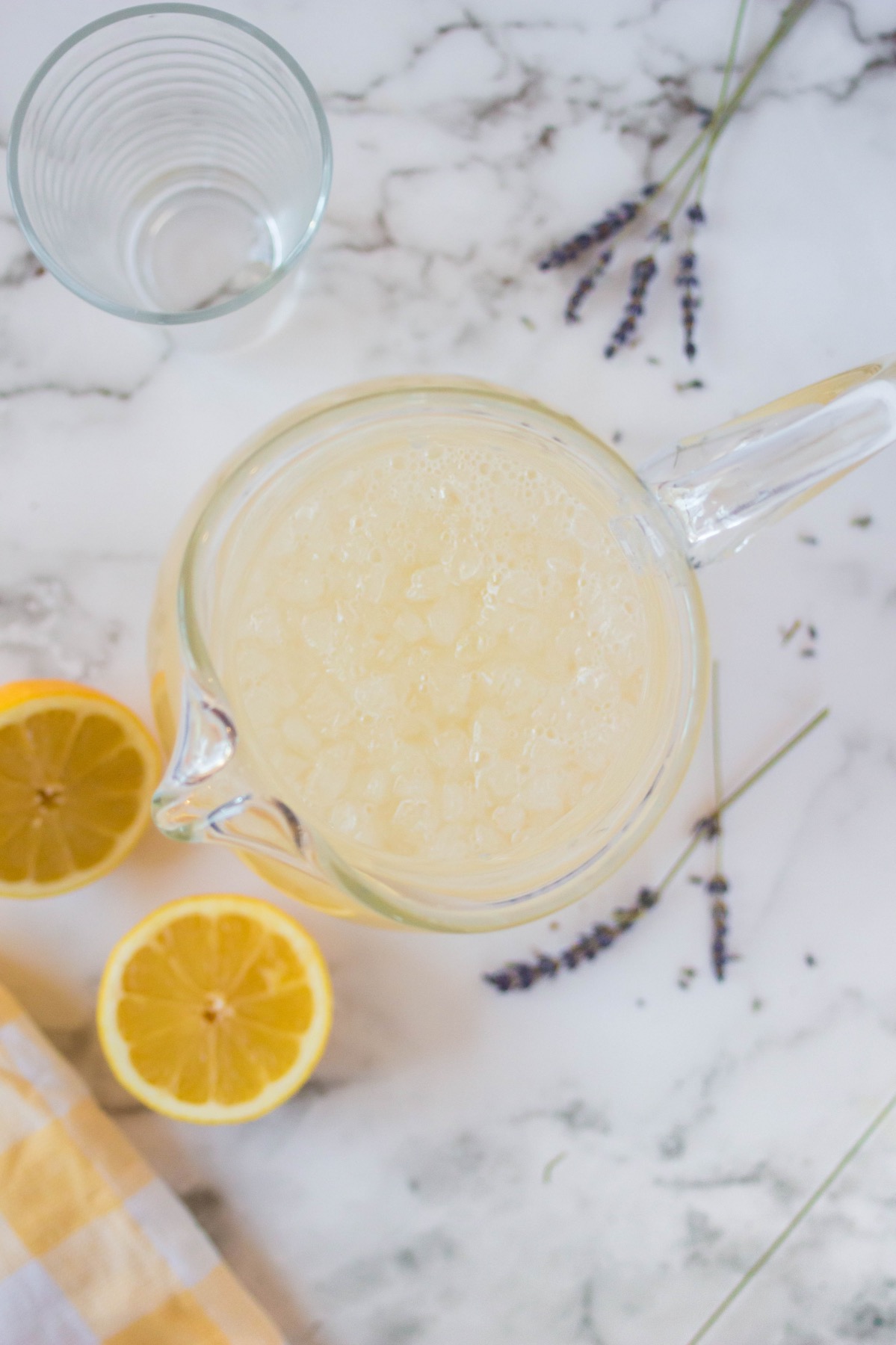 Everything You Need to Know about Simple Syrup
To make Lavender Lemonade, first you must make a Lavender Simple Syrup. You can make simple syrup in lots of different flavors. Some of my favorites are: Jalapeño Simple Syrup & Pomegranate Simple Syrup.
The trick is that you need to dissolve your sugar completely.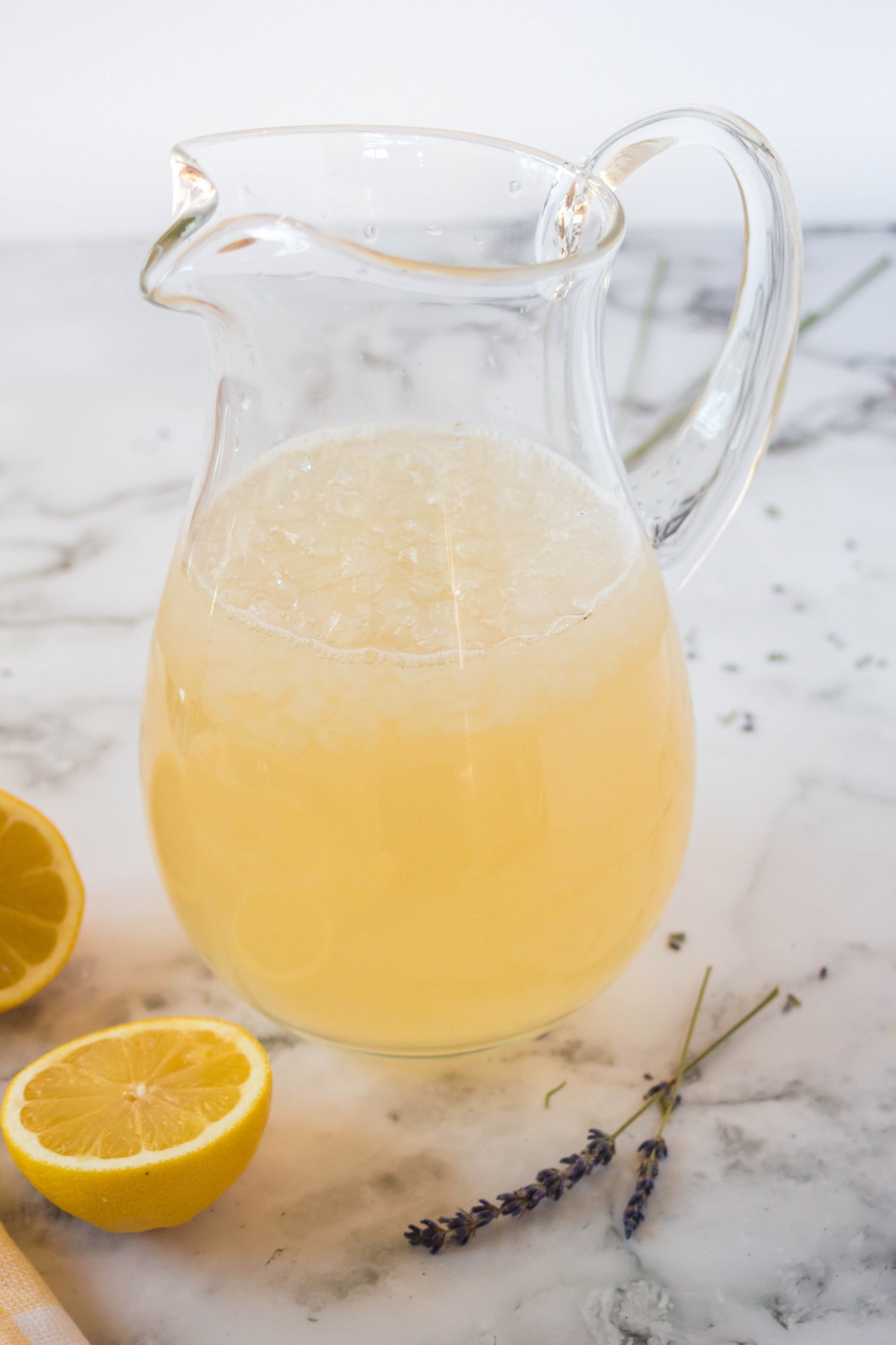 As your sugar begins to dissolve, the sugar crystals become smaller and harder to see. So it's difficult to tell when the sugar is completely dissolved into a syrup. The worst is when you don't heat it long enough, so when the syrup cools it has a gritty texture.
That's why I always heat my simple syrup just a touch longer than other recipes suggest. I heat my syrup closer to 10 minutes.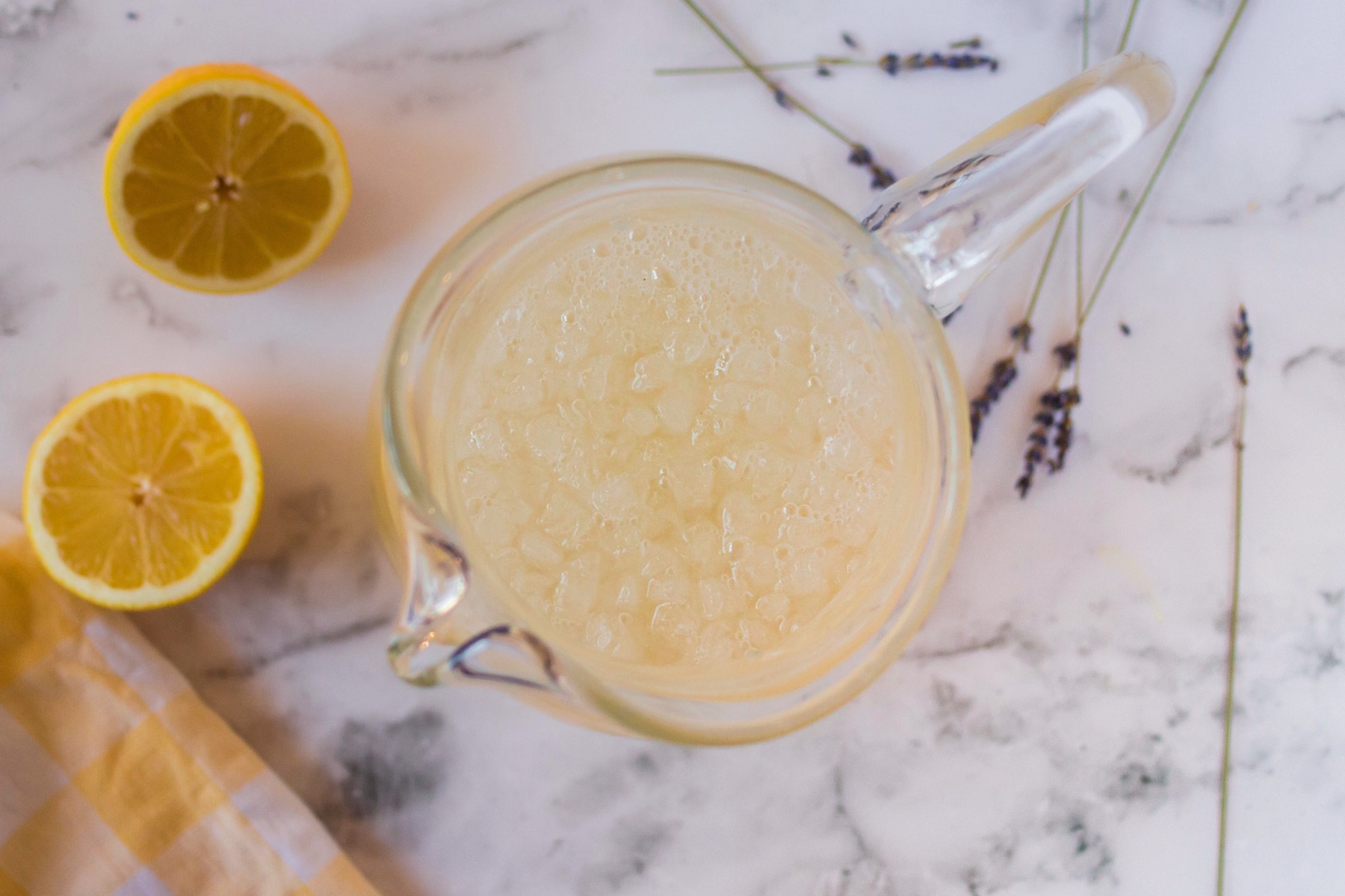 You can also make your simple syrup thicker or thinner – sugary or less so just by altering the amount of water and sugar you use. If you prefer your simple syrup to flow easily, add more water! If you prefer drinks that are less sweet, add less sugar.
Any simple syrup recipe is adaptable to your tastes.
How to Make Lavender Lemonade
So now that we've talked through ingredients, supplies, and making the perfect simple syrup, let's make this Relaxing Lavender Lemonade!
First, start by combining 1 cup of water with 1 cup of sugar. Place the ingredients in a stock pot and heat to medium high or high, just until hot. Then reduce your sugar and water to a simmer and stir occasionally. Continue for around 5 minutes.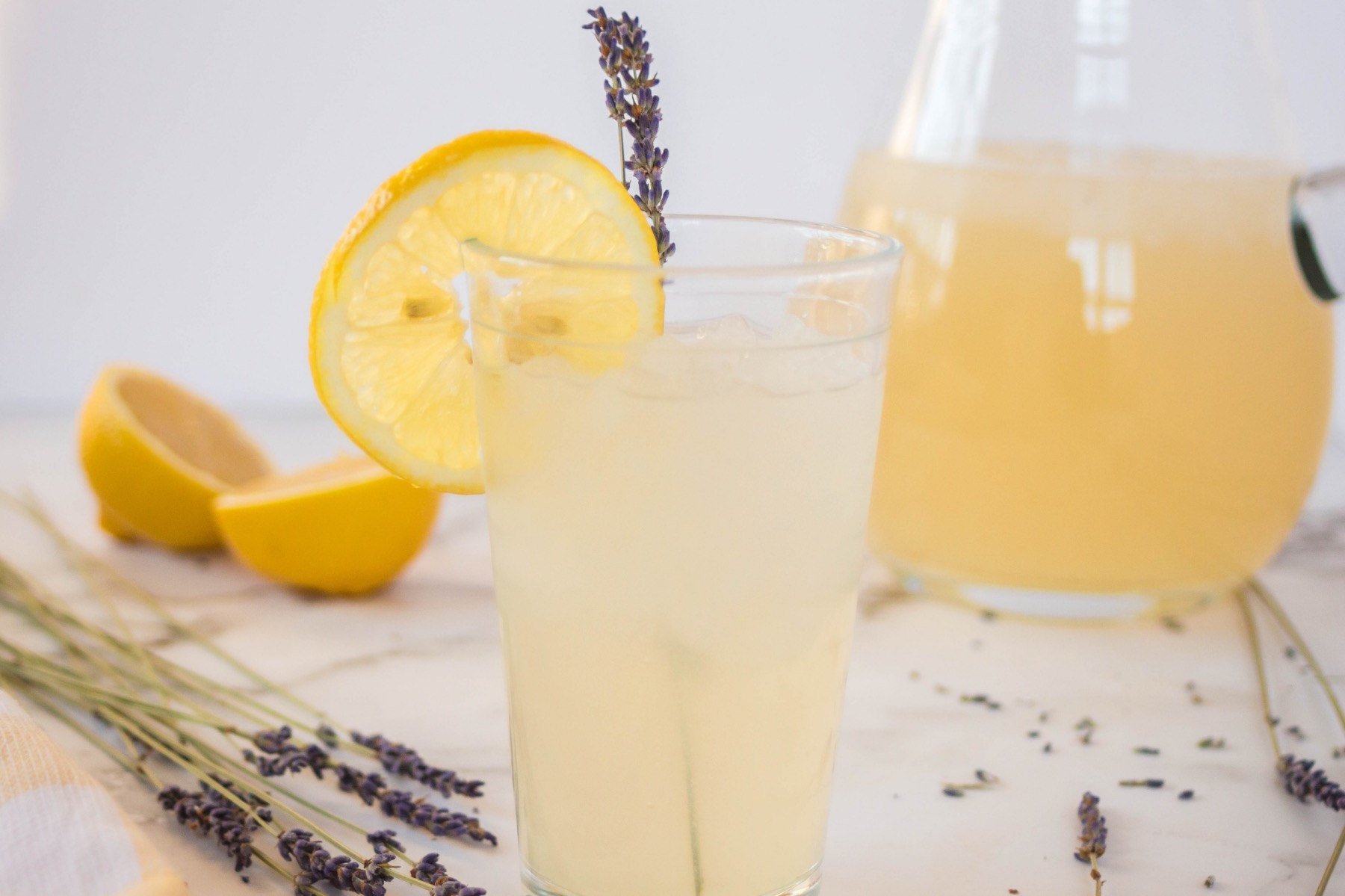 Next, add your culinary lavender and be sure that the flowers soak in and don't just rest on top of the syrup. Heat your syrup for another 3-5 minutes or until your sugar crystals are completely dissolved.
Remove your mixture from the heat and if you like, remove your lavender with a mesh spoon. You can also keep the lavender in the simple syrup as it cools. It just depends on how much lavender flavor you want in your lemonade.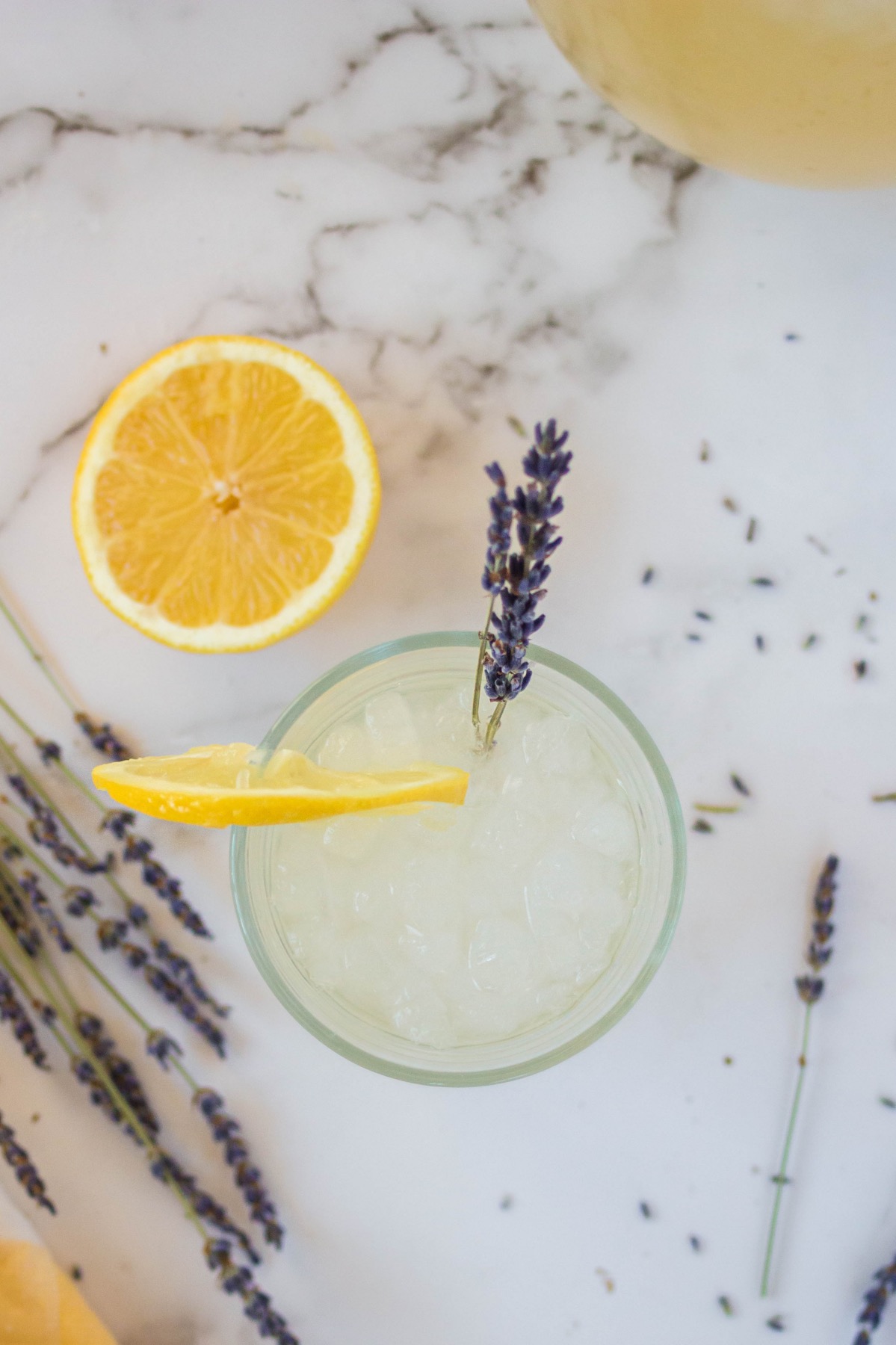 My best recommendation is to taste it as you go. Of course it will be much stronger in this form!
Once your lavender simple syrup is completely cool, squeeze fresh lemons to reach 1 cup of lemon juice. Remove any seeds and if you like, you can remove any pulp too. Of course, I like to keep mine.
In a pitcher, combine the lemon juice, lavender simple syrup, 4 cups of water, and 2 cups of ice. Stir to blend your ingredients thoroughly.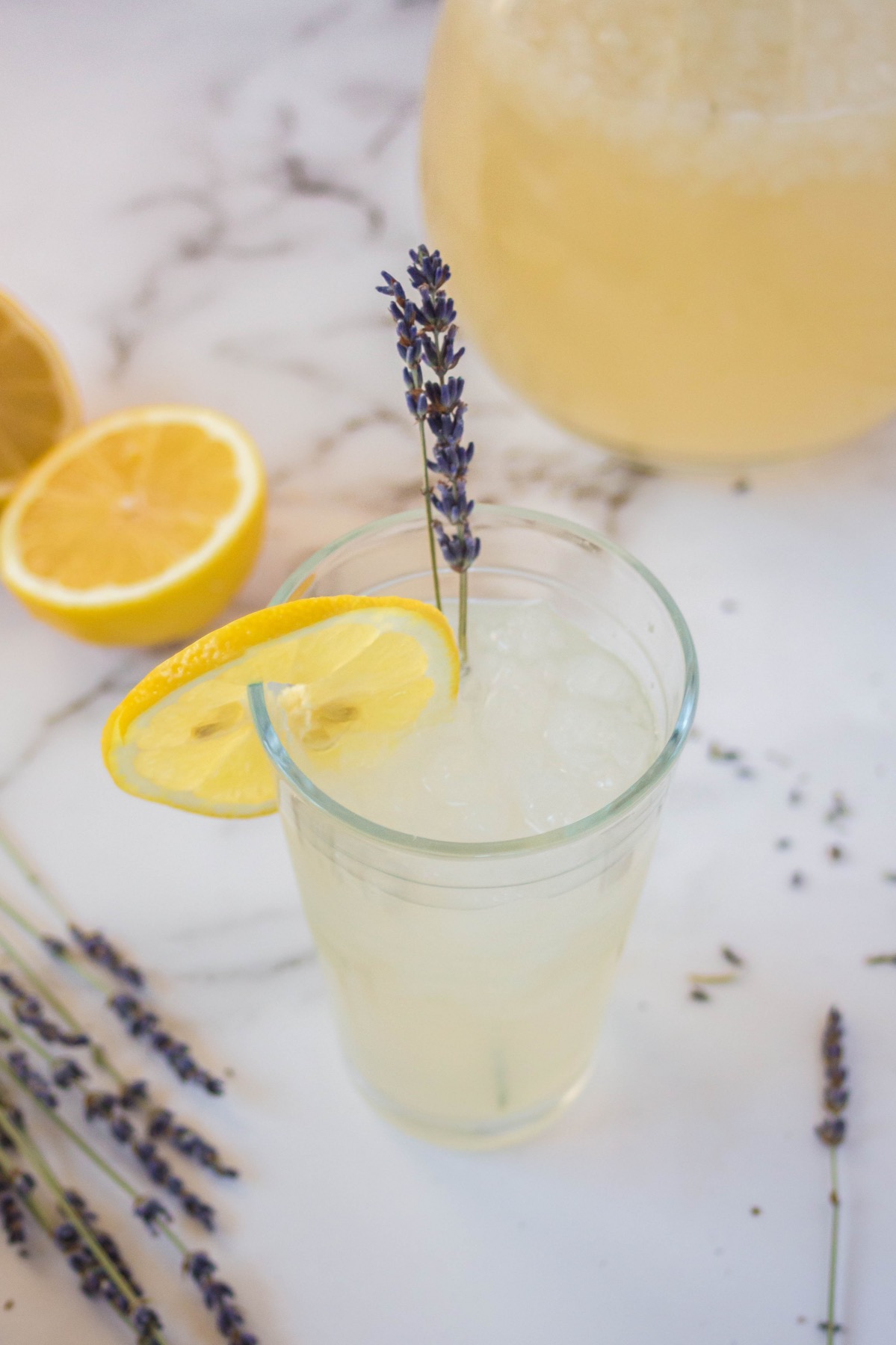 Serve your lavender lemonade over ice. For an extra touch, garnish your lemonade with a sprig of lavender and lemon slices.
It's the perfect summer afternoon treat! It's great for a hot day, a ladies brunch or anytime that a non-alcoholic drink is preferred.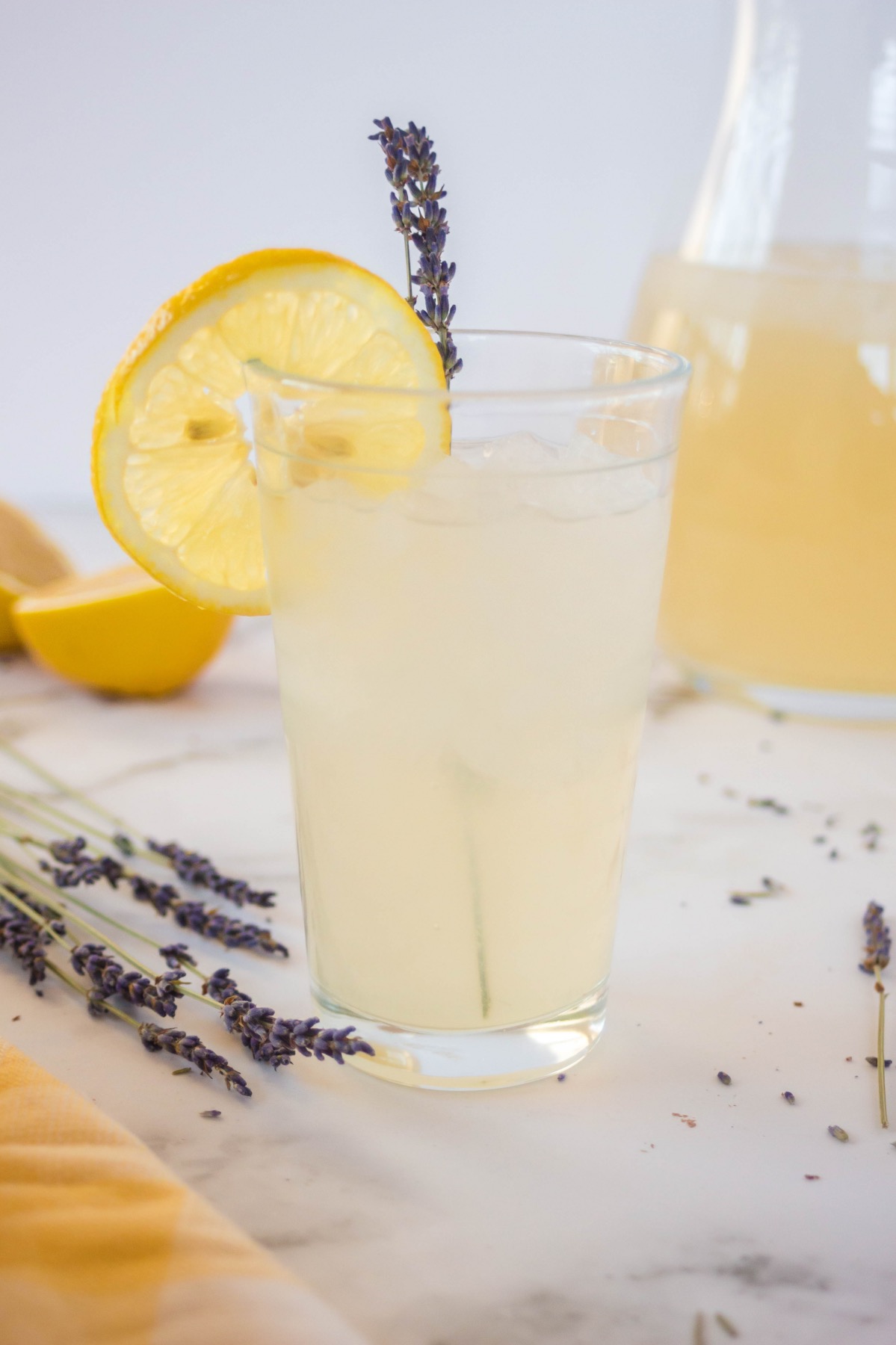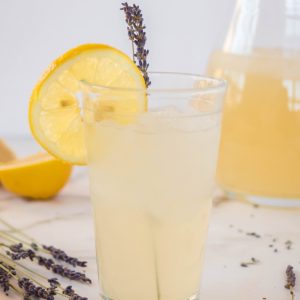 Easy Lavender Lemonade Recipe for a Lazy Sunday
This lavender lemonade is a delicious spin on a classic drink! Lavender is oh so relaxing and pairs perfectly with tart lemons.
Ingredients
1

cup

of sugar

5

cups

of water

1 cup for the simple syrup + 4 cups for the lemonade

2

tbsp.

of culinary lavender

1

cup

of fresh lemon juice

Plus: springs of fresh lavender or slices of lemon to garnish
Instructions
Start by making a lavender simple syrup. In a stock pot, add 1 cup of sugar and 1 cup of water.

Bring the mixture heat to high, then reduce to a simmer once hot. Stir occasionally. Continue to simmer for around 5 minutes.

Once your sugar mixture is reduced, add 2 tbsp culinary lavender. Continue to heat until all the sugar is melted, stirring occasionally. This step should take around 3-5 minutes.

Allow your lavender simple syrup to cool to room temperature. For a lighter lavender flavor, remove the lavender when you remove the mixture from the heat. For a stronger lavender flavor, keep the lavender in the simple syrup as it cools. You can taste it as it cools, to ensure it has the amount of lavender flavor that you like!

Add 4 cups of cold water and 1 cup of fresh squeezed lemon juice. Stir to mix thoroughly.

Add 2 cups of ice and garnish with a sprig of lavender and/or lemon slices.

Serve in a tall glass with ice and store in the fridge for up to a week.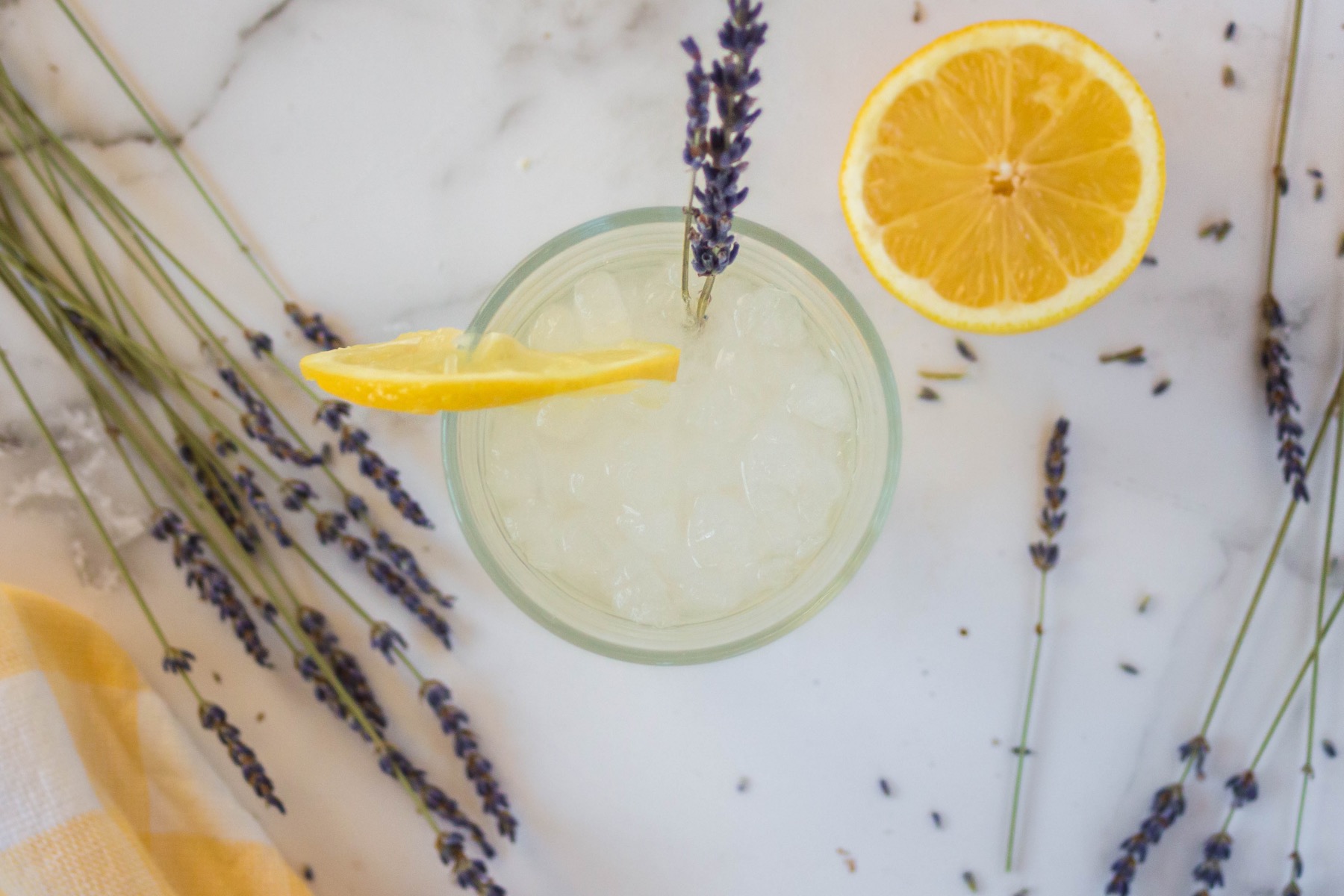 Let's Stay Friends!
Insta | Pinterest | Enews | TikTok