Why make a regular simple syrup when you could make a spicy, delicious simple syrup?!
This Jalapeño Simple Syrup Recipe is just as simple as making regular simple syrup. But it pairs perfectly with all your favorite cocktails. You could make a margarita with a little kick or a Pimm's Cup that has a bit of pizzazz.
Or you could keep it clean and classy and make your own fresh sodas with cucumber and Jalapeño Simple Syrup! Yum! So let's make it.
Everything You Need to Know about Simple Syrup
Simple syrup is a perfect ingredient for all kinds of cocktails and drinks. It's just a simple blend of melted sugar and water to make a syrupy pourable sweetener that's perfect for anything cold. Think about how you add sugar to coffee and the heat of the coffee melts it. With simple syrup, the sugar is already melted so it blends with the beverages easily.
You can make simple syrups in a million different flavors. Some of my favorites are Pomegranate Simple Syrup and Rosemary Simple Syrup! Yum.
All of these flavors are made with nearly the same steps and the same amount of ingredients. So get creative! Is there a flavor you love like Lavender? Orange? Coffee Bean? Try it!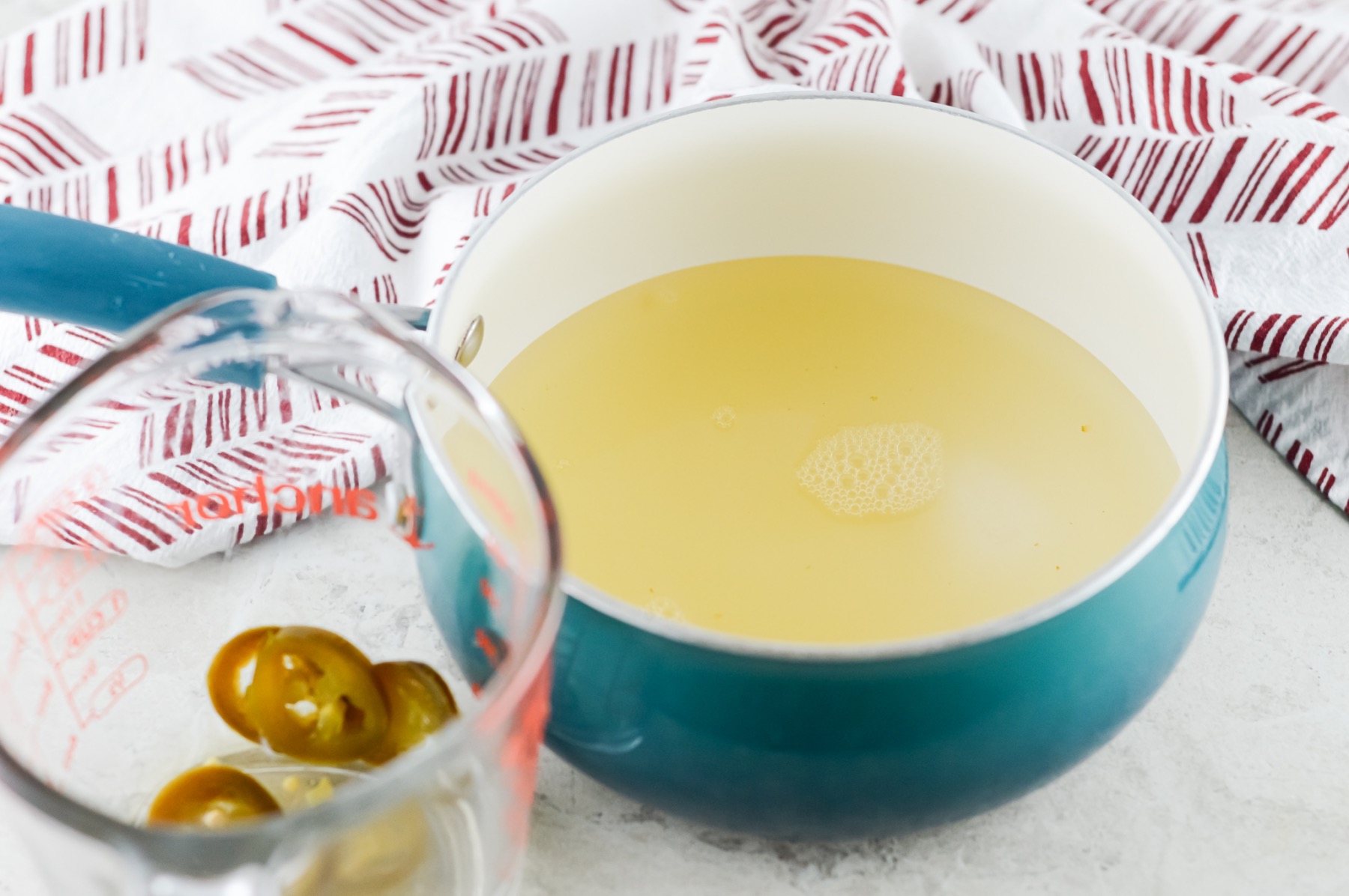 How to Store Simple Syrup
Simple syrup is easy and fast to make and shouldn't be kept too long. It's shelf life is around 2 weeks. It should always be stored in a lidded container in the fridge.
It's especially delicious within the first few days that you make it. Over time, the flavor starts to fade.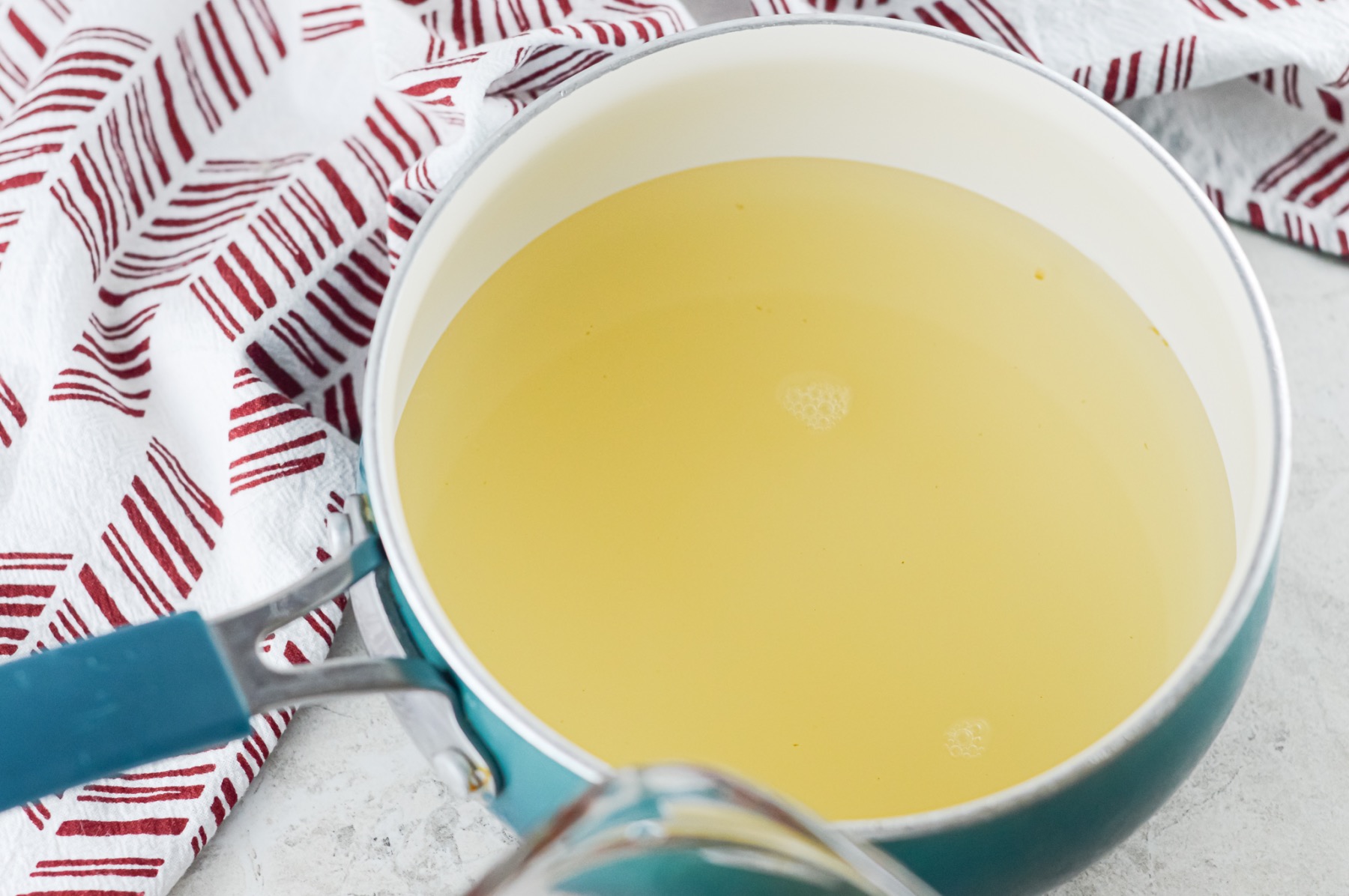 Remember when I was saying that the ingredients and recipe for this Jalapeño Simple Syrup are super simple? It's true! You only need jalapeño juice and sugar. That's it!
As far as kitchen equipment, it only requires a stovetop on a saucepan. You can't get much more simple than that!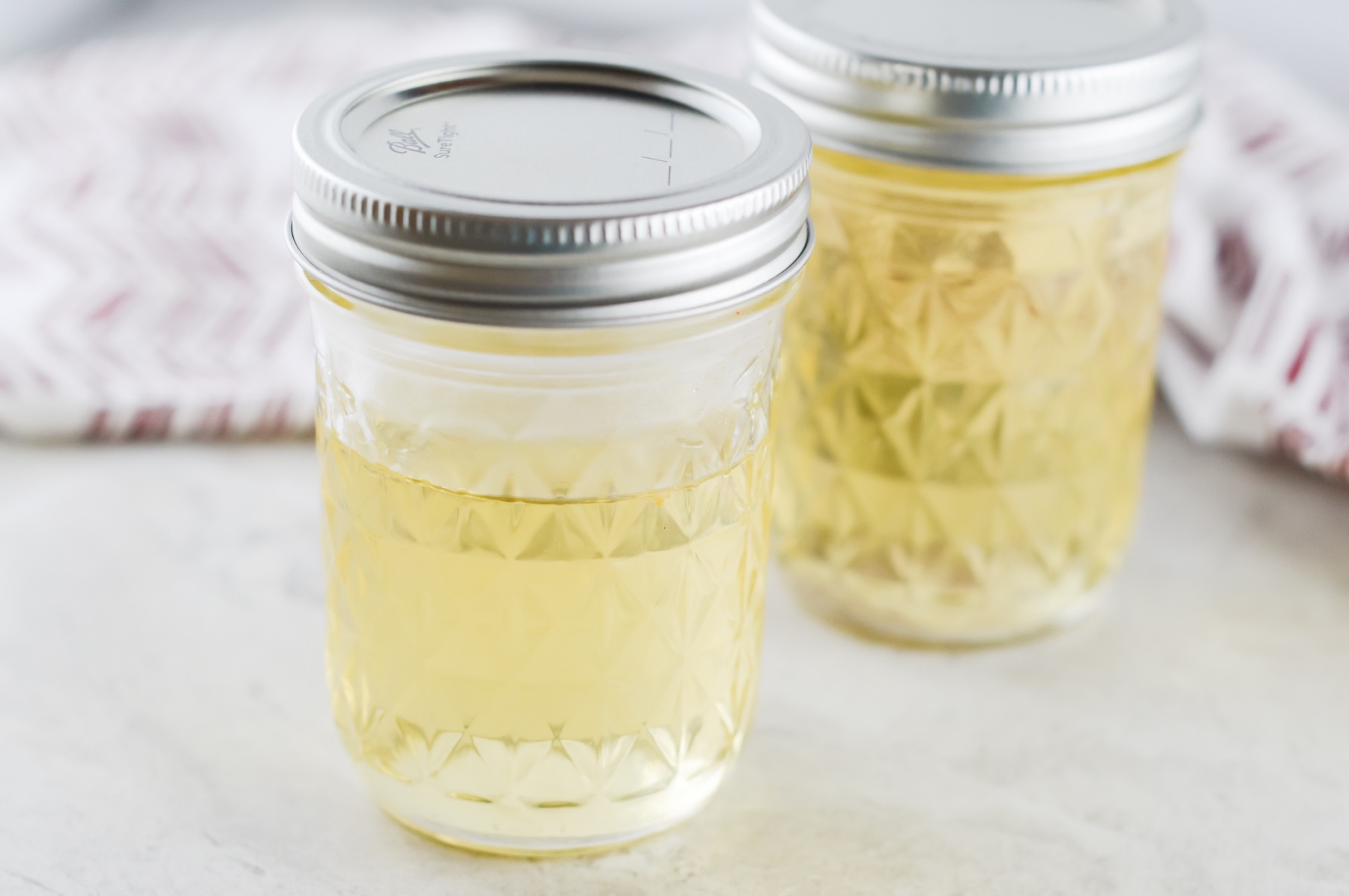 How to Make Jalapeño Simple Syrup
Measure 1 cup of jalapeño juice and 1 cup of regular white sugar. Add to a saucepan. Heat on a stovetop on medium low, stirring regularly. Some people say that sugar only takes a few minutes to melt. But the issue with melting sugar is that it looks completely melted before it is completely melted. So I always go a few minutes longer. Somewhere around 5-9 minutes.
It's okay to heat it for that length of time, as long as your heat is on medium low.
Once your sugar is melted, remove the simple syrup from the heat but continue to stir occasionally.
Once your Jalapeño Simple Syrup has cooled to room temperature, place it in a mason jar or any pretty jar with a lid. Glass is always best.
Place it in the fridge and allow it to cool completely before you use it. A few hours to chill is nice and overnight is even better. Be sure to use your simple syrup within 2 weeks and always store it in the fridge!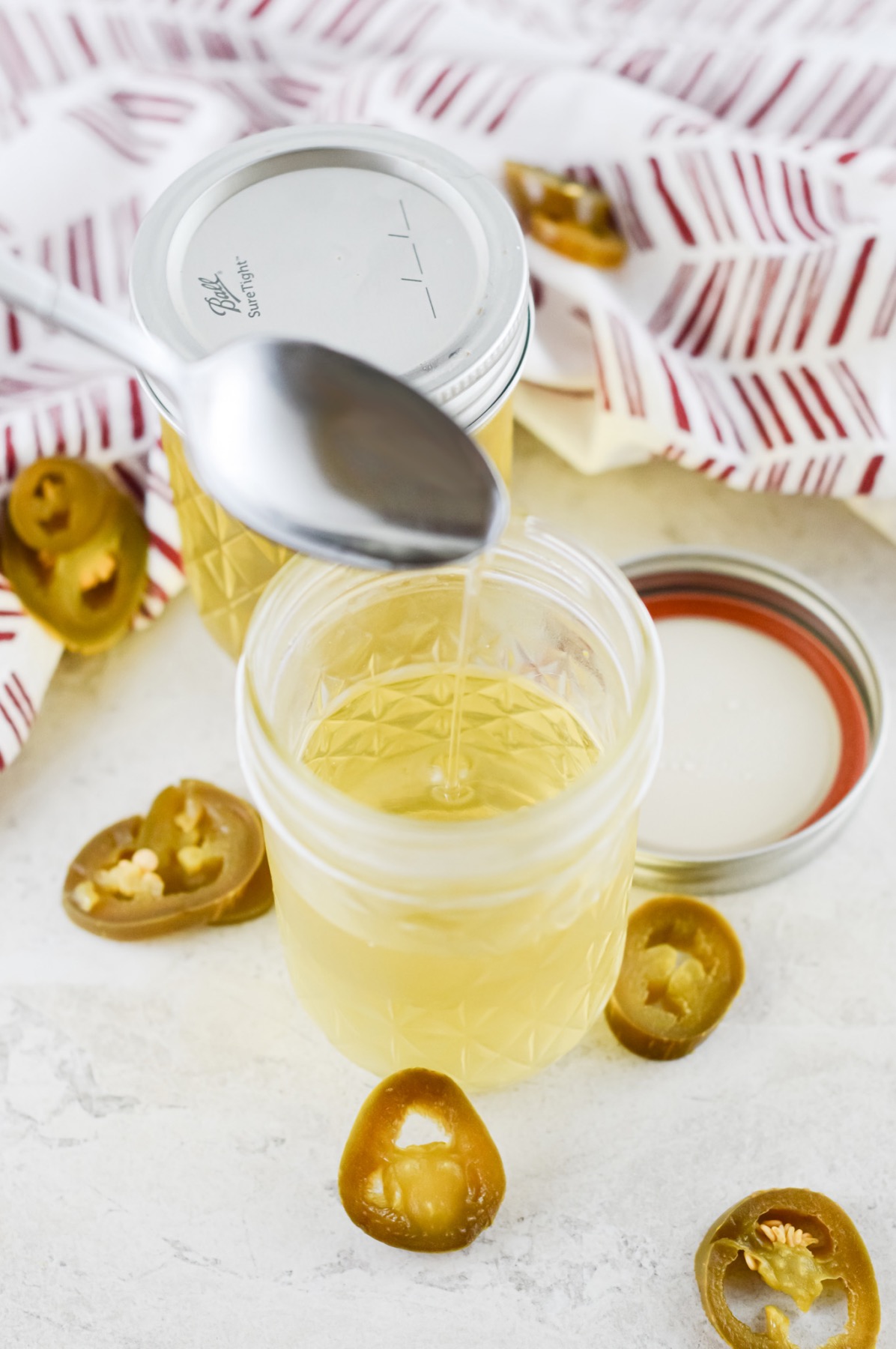 How to Use Your Jalapeño Simple Syrup
There are lots of different ways you could use your Jalapeño Simple Syrup and here are just a few:
Blueberry Limeade Margaritas
Add tequila, triple sec, fresh blueberries, limeade and a splash of Jalapeño Simple Syrup to make a spicy and scrumptious cocktail! This cocktail is festive enough for a party and is crowd pleasing enough for all your gal pals!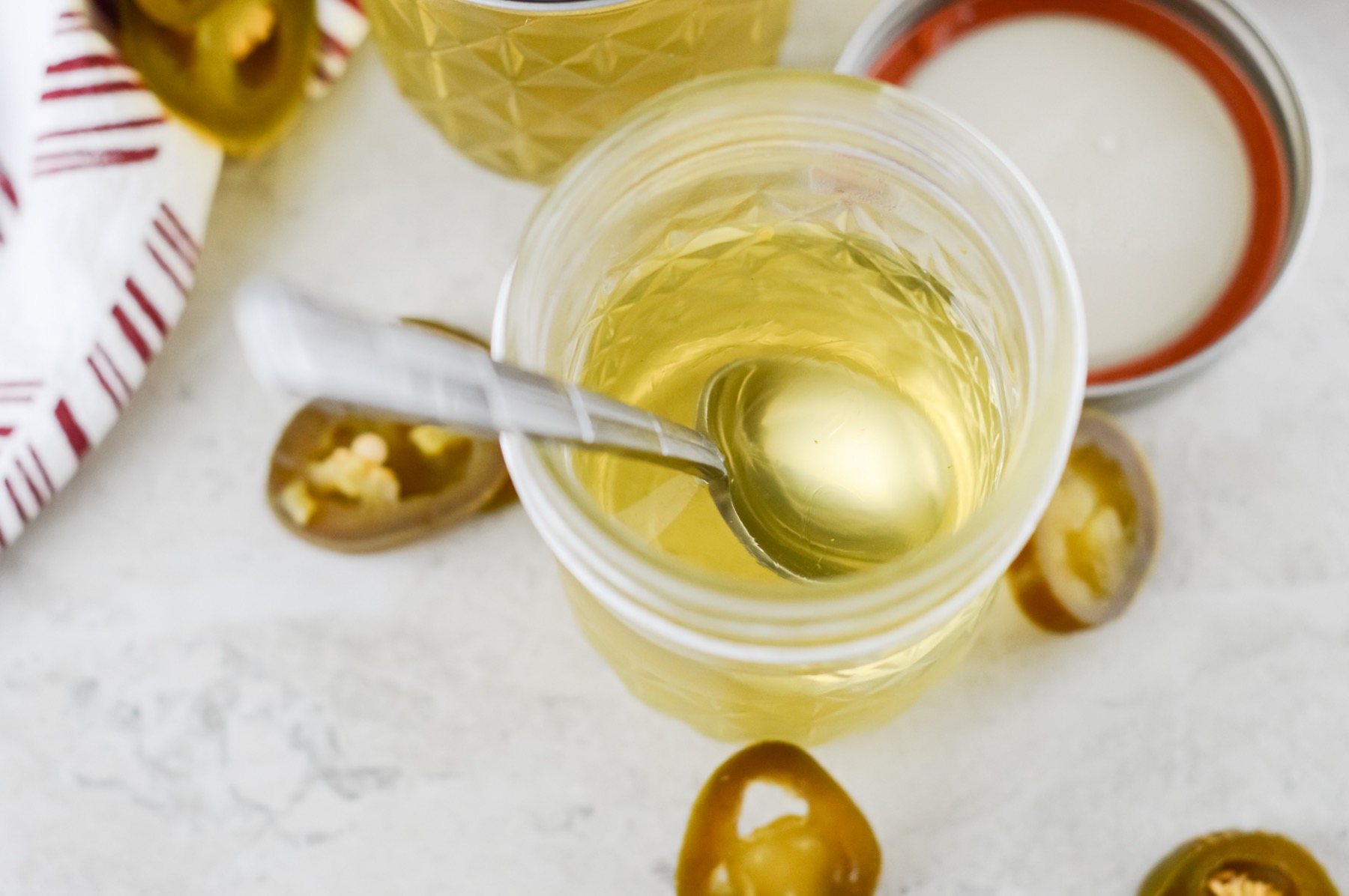 Don't want alcohol? Here's an everyday drink that is booze-free!
Cucumber Jalapeño Soda
Muddle a few cucumber slices or just slice cucumbers and pour a splash of Jalapeño Simple Syrup over the top. Then fill the remainder of your glass with a seltzer of your choice. This afternoon pick me up is warming and invigorating.
So what are you going to make with your Jalapeño Simple Syrup? Tell us in the comments. And if you can't get enough simple syrup, don't miss these other simple syrup favorites below.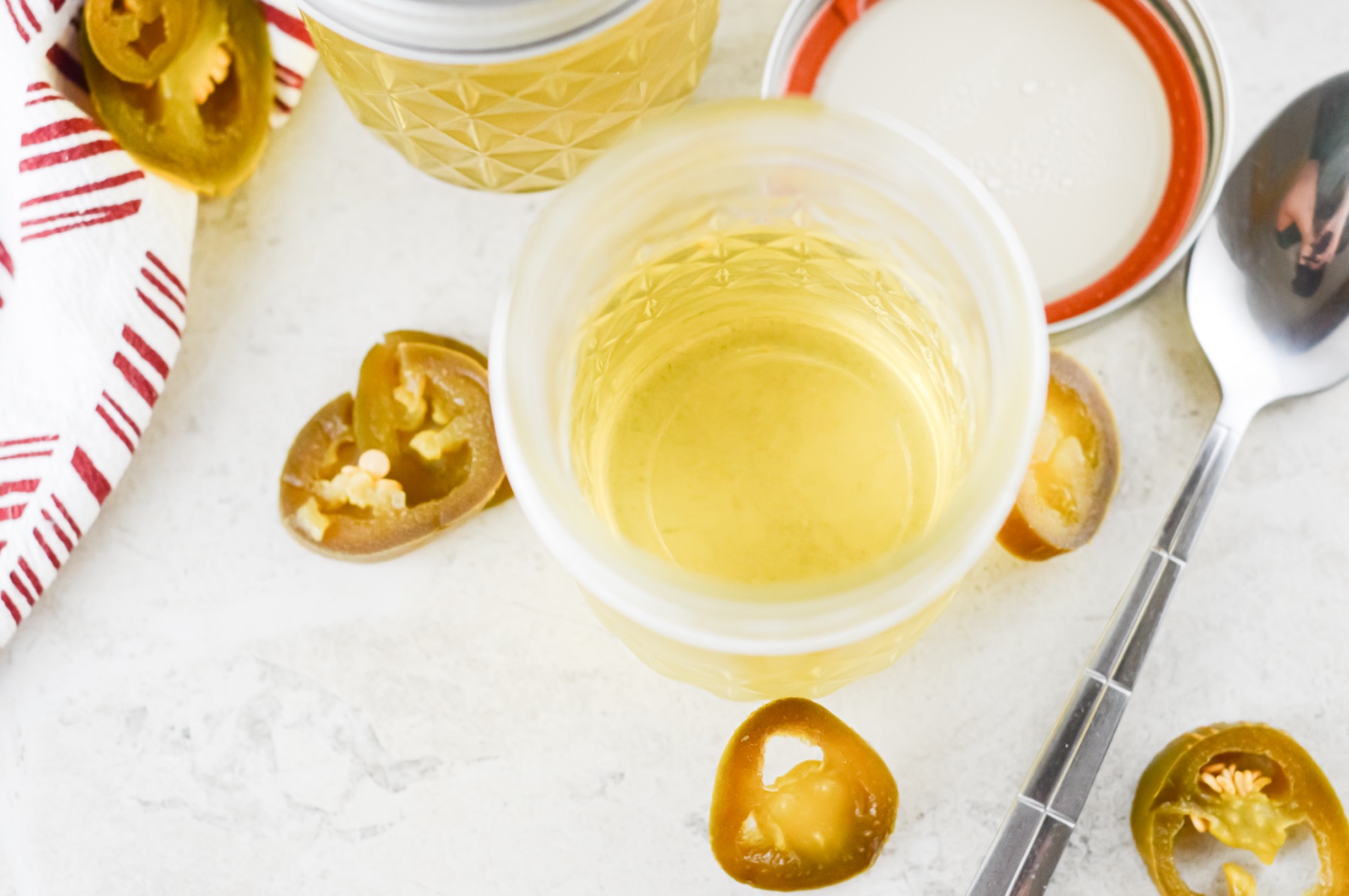 Pomegranate Simple Syrup is perfect for fruity cocktails but still has a tart flavor that isn't too sweet. Plus it's ruby red color is irresistible. Rosemary Simple Syrup is perfect for cocktails in the summertime. It's herbaceous and exciting.
Lavender Simple Syrup is an absolute classic! It's perfect with desserts, ice creams, and more.
Simple Jalapeño Simple Syrup Recipe
Spice up your cocktails and other drinks with this easy to make Jalapeño Simple Syrup Recipe!
Ingredients
1

Cup

Pickled Jalapeño Juice

1

Cup

White Sugar
Instructions
Combine the sugar and Jalapeño Juice in a saucepan. Heat on medium - low stirring regularly until the sugar is melted.

Melting the sugar will take around 5 minutes. Perhaps even up to 9 minutes depending on your temperature. 

Once you remove from the heat, continue to stir the simple syrup. Allow the simple syrup to cool to room temperature.

Place in covered jars in the fridge for 4 hours or more. Overnight is best. Use within a few weeks.

Enjoy!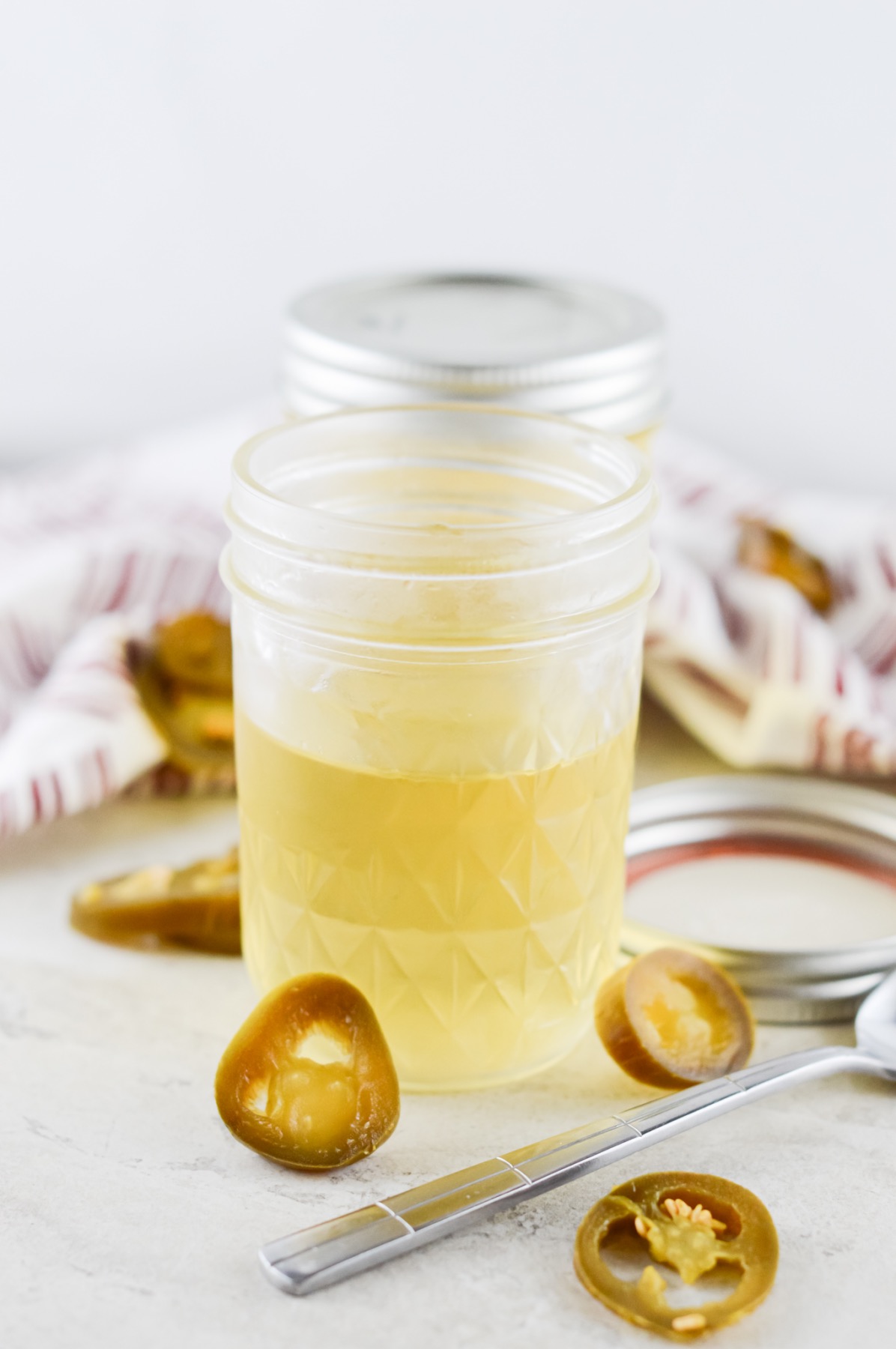 ---
Let's Stay Friends!
Insta | Pinterest | Enews | TikTok