Handmade wreaths are not in short supply at my house. Honestly, I'm starting to think they're my favorite adult craft to make. Some of my favorites have been the patriotic wreath and the ribbon wreath. But this Farmhouse Style Plaid Carrot Easter Wreath is my new all-time favorite. I'm obsessed with farmhouse style, plaid and black and white, so I love how timeless this is.
Plus, this Easter themed wreath is subtle and has simple plaid and pastel colors. So, theoretically, if you're like me and your holiday decorations get left up long after the holiday, this is a wreath that still fits as a simple, gorgeous spring decoration for the entire season!
Supplies to Make Carrot Wreath
You'll need:
hot glue gun
scissors
an 8″ or 10″ embroidery hoop frame
1 inch wide wired ribbon
That's all! I grabbed most of my supplies at Hobby Lobby, but any craft store or Amazon should have them all too!
Let's get crafting!
To start with, peel off any price tags or stickers on your embroidery hoop. Starting at the top of the hoop, squeeze hot glue onto the hoop and then firmly press on a fabric carrot. Hold for a minute to secure.
Add more hot glue and continue to glue on fabric carrots, stem side out, and carrot points toward the middle.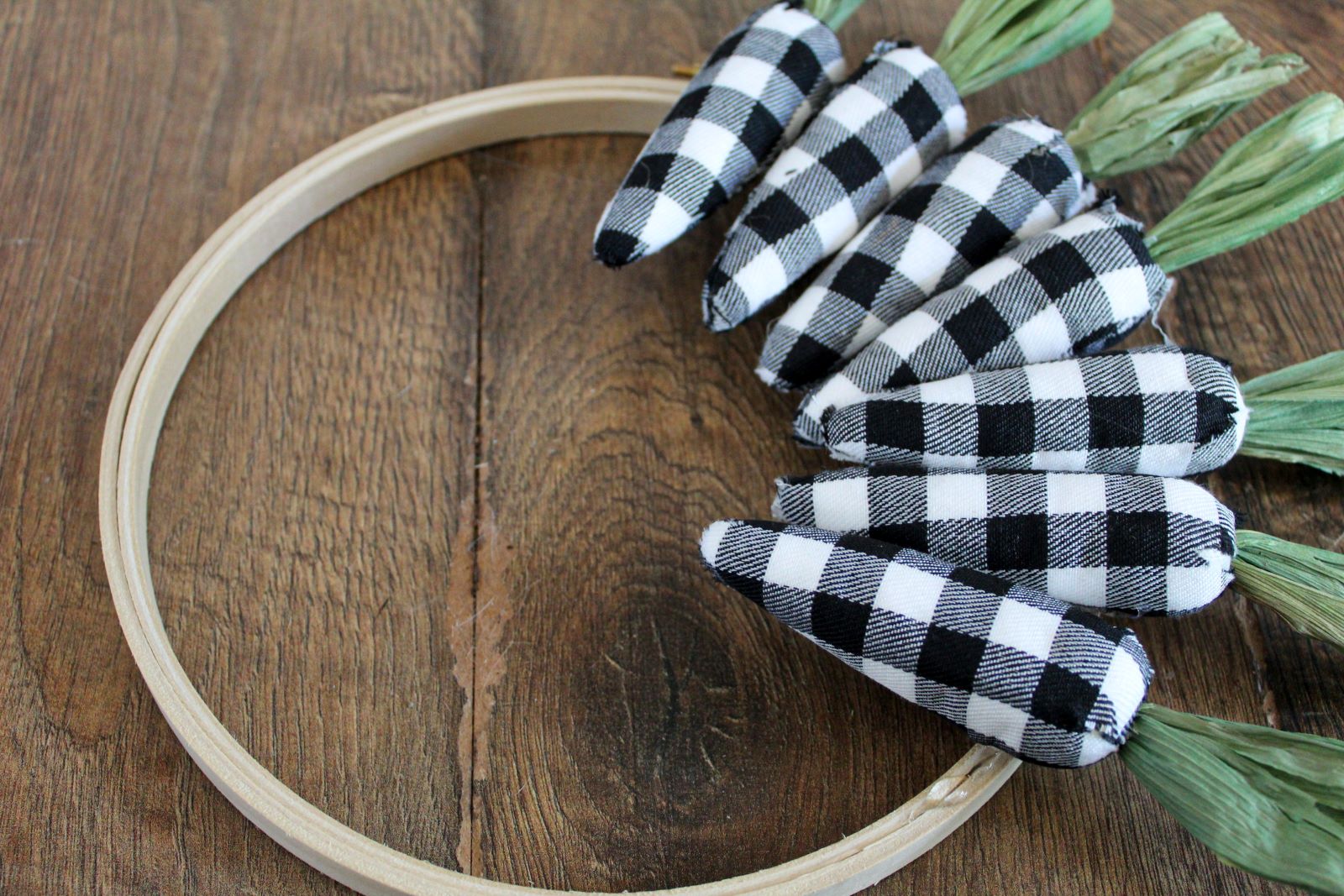 Continue hot gluing the carrots completely around the hoop, making sure to glue them close together (but not so close that they begin to overlap or turn at an angle).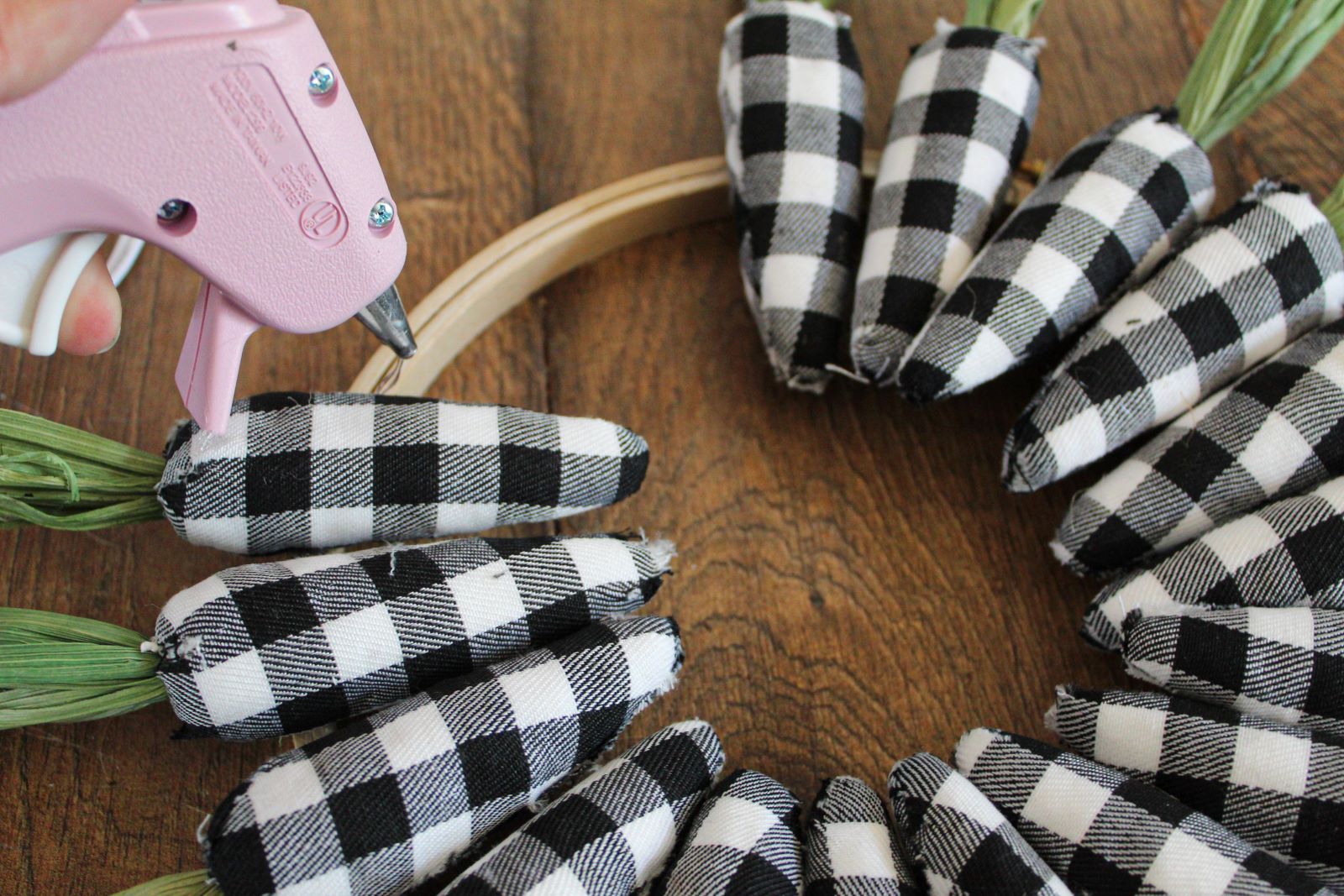 Turn the embroidery hoop over once all the carrots are glued on. Cut a length of wired ribbon and loop it around the hoop, where the metal closure is (the ribbon will help cover it). Hot glue the ends together and press gently to secure. Then carefully lift the wreath by the top ribbon loop, so the ribbon pulls up tightly against the wreath, ready to hang.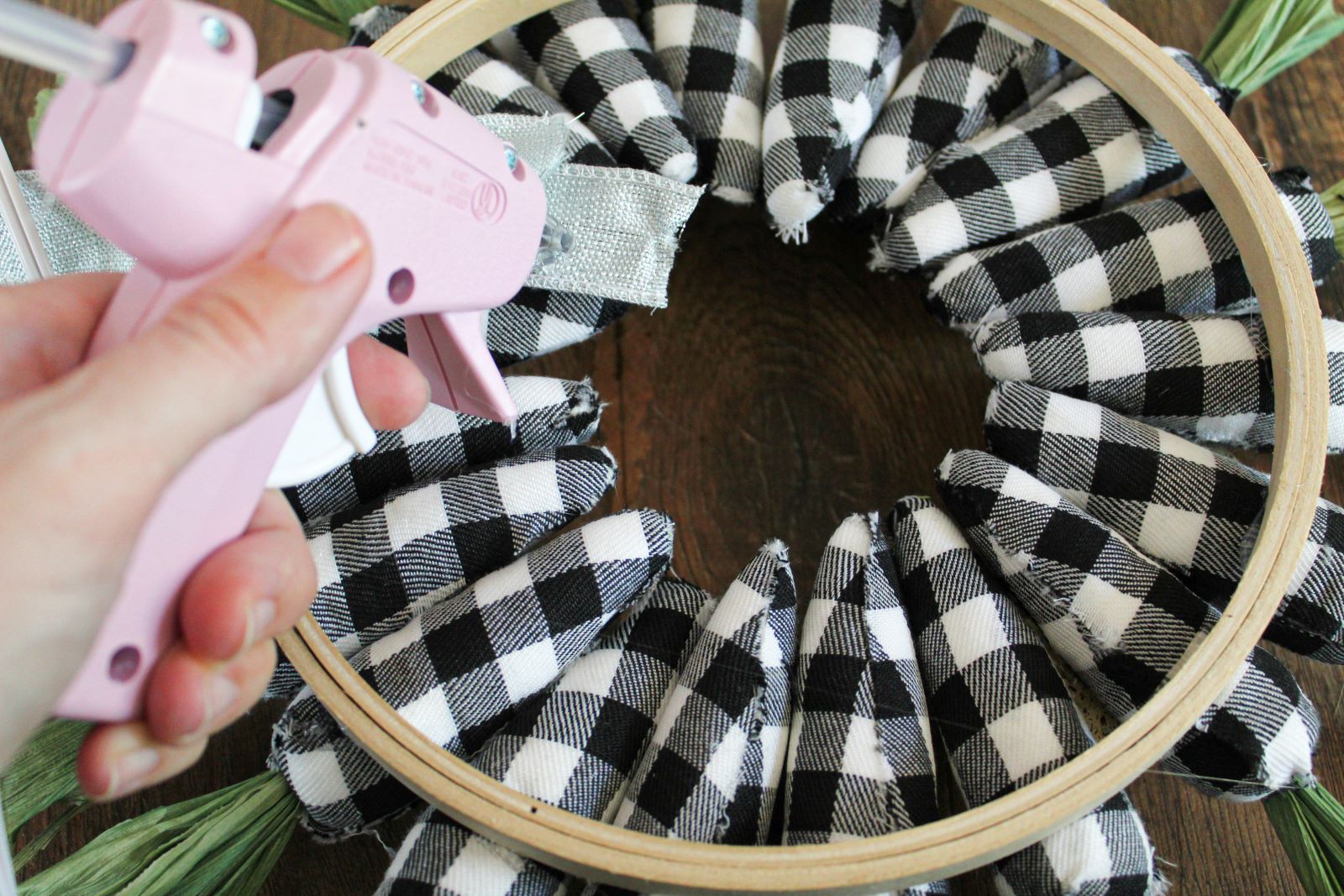 Turn the wreath back over and lay it down. Arrange your plastic or foam craft eggs around the wreath in the design or pattern you'd like. Once you've centered and arranged your eggs and are happy with the look, hot glue the eggs to the carrots on your wreath. I spaced mine apart a bit, but you can also place them closer together and use more eggs on the wreath. Play around with looks and design, and decide what you like the most. It's crafting – there's no wrong answer!
Give your wreath a few minutes to dry and set up. Then turn it over, pick it up, and find somewhere perfect to hang it! I have a bright colored bunny Easter wreath on my door already, so I ended up hanging this against a white wall in my house. The contrast of the black plaid and the pastel and darker colored eggs looks so good against a light colored wall!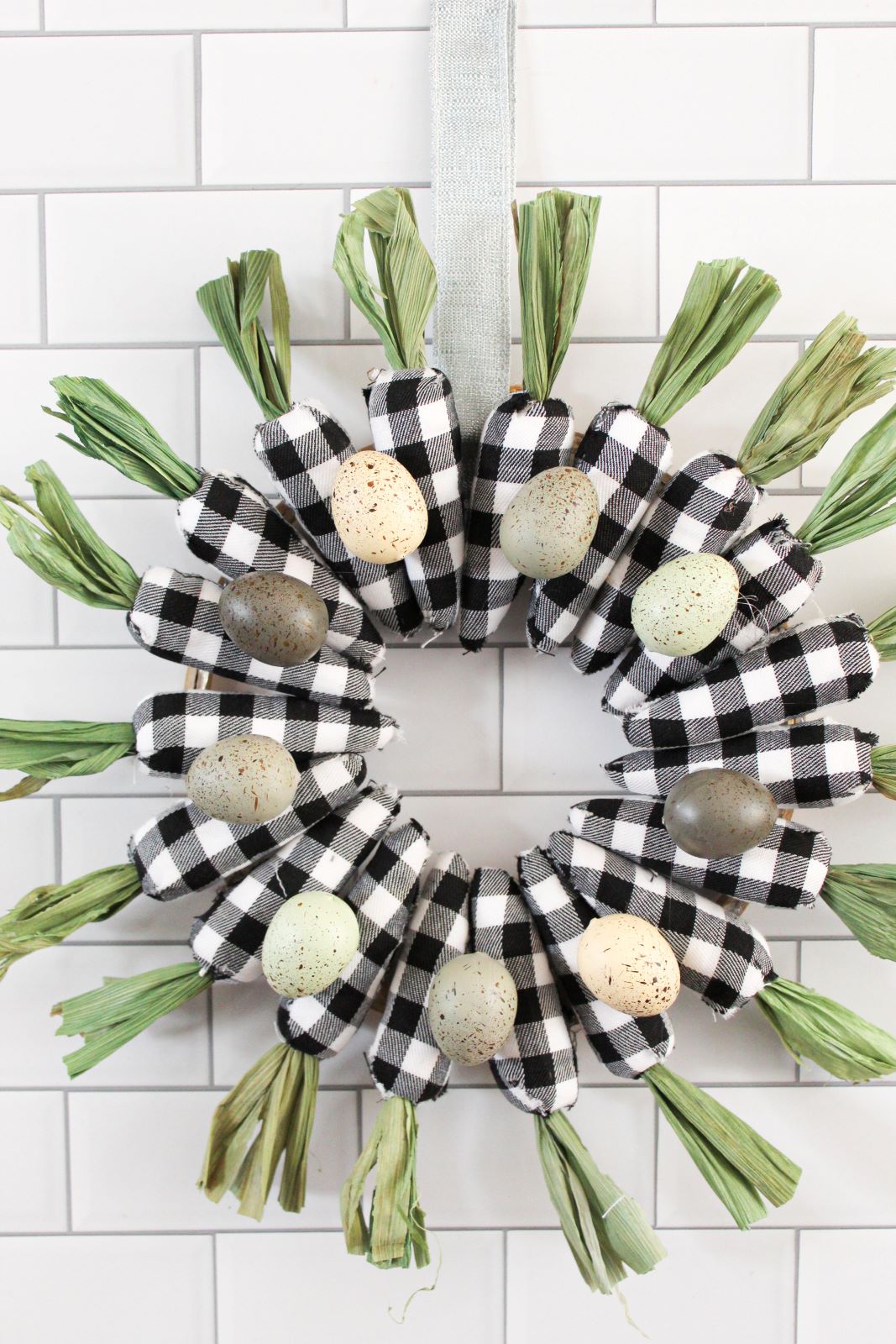 Other Ideas for Decorating the Farmhouse Fabric Carrot Wreath
The eggs and the fabric carrots are the perfect simple combination, but there are other ways to add cute touches and finishes to the wreath.
Use the wired ribbon you chose for the hanger to make a cute, large bow. Hot glue the bow onto the wreath at an angle. Here's a video for 5 different ways to make ribbon bows.
Find a cute small bunny and some faux florals to hot glue onto the wreath at about a 5 o'clock angle.
Grab a small chick and a faux nest – wouldn't those look perfect with the cute speckled eggs??
You could also order or find some laser cut wood letters that say 'Happy Easter' or 'Happy Spring' or anything festive and hot glue them across the center of your wreath. That would look so adorable!
Also, you could make a set of Easter decorations to put up together/near each other. I recommend this Moss Easter Egg Topiary DIY – it's got the same cute speckled egg look as the wreath, so they look so good together! They're both very simple and take just a short time to make so they're great partners.
What are your favorite Easter or spring decorating traditions? Have you ever made a wreath before? If you haven't, this is a perfect beginner one to try out! We'd love to see a photo if you make it!
Let's Stay Friends!
Insta | Pinterest | Enews | TikTok