Do you ever wake up in the morning and crave something clean to eat? I sure do! Especially after I've had a big feast the day before. That's why this is such a lovely post holiday breakfast treat.
It's a simple meal which makes up for all the slaving in the kitchen you've been doing before. And it's full of fresh, simple, and clean ingredients to help you in your post holiday recovery. It has a little more sustenance than this gorgeous Rainbow Fruit Tray here.
If you want the easy printable recipe, scroll to the bottom. If you want to read my tips and tricks on how to make it, read on!
Ingredients You Can Make Ahead
There are 2 things you will want to make ahead for your Rainbow Fruit Topped Bagels. One, Vanilla Infused Fruit and two, Honey Cream Cheese. The Vanilla Infused Fruit will need to be made at least 1 hour before serving. That will give the fruit time to soak in all the vanilla essence. It's amazing! The Honey Cream Cheese can be made ahead for sake of convenience. You can make it even days before and store it in the fridge. But you can also make it as you are ready to serve your Fruit Topped Bagels.
How to Make Honey Cream Cheese
The Honey Cream Cheese is simple! We are just going to sweeten it ever so slightly with honey. For 1/2 cup of cream cheese, I used about 2 tablespoons of honey. You could even use less. Just be sure to start with room temperature cream cheese, so you can mix the honey in thoroughly.
If you want to make it a little fancier, you could also add a tiny bit of lemon zest and lemon juice! Just a touch and it's just an option – it's not something that's required.
How to Make Vanilla Infused Fruit
This is the star of this recipe – Vanilla Infused Fruit. Once you try this, you are going to want to infuse every time! In addition to vanilla, you can infuse your fruit with lemon, basil, mint and all kinds of things. To make it, after you chop your fruit into bite sized pieces, place them in a unique bowl for each fruit.
Add around 1 tablespoon of vanilla extract to each bowl of fruit. Gently toss the fruit to coat them. Allow them to marinade for at least an hour. Overnight will work perfectly too.
The Best Bagels
The better the bagel, the better this recipe will be. So if you have a traditional New York style Bagel place in your city – it will be worth it! I used whole wheat bagels to keep it simple and bring out the flavors in the Honey Cream Cheese and Vanilla Infused Fruit, but you could try this recipe with Cinnamon Raisin Bagels, Blueberry Bagels or something special!
Enjoy!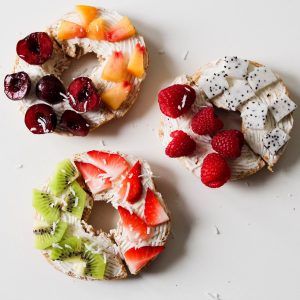 Easy Rainbow Fruit Topped Bagel Recipe
Make these clean and simple Fruit Topped Bagels with Honey Cream Cheese & Vanilla Infused Fruit.
Ingredients
4-6

whole wheat bagels

2

tbsp.

Toasted Coconut
For the Vanilla Infused Fruit:
1/4

cup

of 4-6 different types of fruit

the more colorful the better

I chose: strawberries

raspberries, dragonfruit, kiwi, cherries, and peaches

4-6

tablespoons

vanilla extract
For the Honey Cream Cheese:
1/2

cup

cream cheese

2

tablespoons
Instructions
Start by making the Vanilla Infused Fruit and Honey Cream Cheese. These items can be made the day before and the fruit should be made at least 1 hour before serving.

Select 4-6 different colorful fruits that are nice and ripe. You will need at most, 1/4 cup of each fruit. Slice them into small 1 inch or less bagel sized slices.

Place each fruit in a separate bowl and drizzle your fruit with a total of 1/4 cup (4-6 tablespoons) of vanilla extract.

Handmade vanilla extract

is best!

Let the vanilla soak for 1 hour or more. Place the fruit covered in the fridge if you are allowing them to soak overnight.

Next, make your Honey Cream Cheese. Allow your cream cheese to completely soften at room temperature. At most add 2 tablespoons of honey for every 1/2 cup of cream cheese. You could even add less to taste.

After your fruit has soaked in the vanilla for 1 hour and your cream cheese is made, it's time to assemble! Slice your bagels in half. and toast them until lightly crispy.

Then cut your bagels in half again - making each bagel into a quarter.

Spread each side of your bagel with around 2 tablespoons of cream cheese and top with a single fruit.

Sprinkle with coconut and serve!

Pair with

Grapefruit & Mint Infused Water

. Keep your Vanilla Infused Fruit for up to 2 days in the fridge. Keep your Honey Infused Cream Cheese for 1-2 weeks.
Let's Stay Friends!
Insta | Pinterest | Enews | TikTok