Looking for a cool way to add Essential Oils to your home? Make this Reed Diffuser DIY! It's the perfect way to scent your home naturally. It only requires a few simple steps and a few simple ingredients. Unlike other diffusers, this one requires no electricity.
This Essential Oil Reed Diffuser also happens to be totally pretty and look great on any table or shelf!
Supplies to make a DIY Essential Oil Reed Diffuser:
Bottle with a Small Neck
5-8 Reed Diffuser Sticks
A Few Oz. Almond Oil
A Few Oz. Clear Alcohol
Assorted Essential Oils (Find 15+ Gorgeous Essential Oil Recipe Blends Here)
A Piece of Ribbon (To Dress It Up)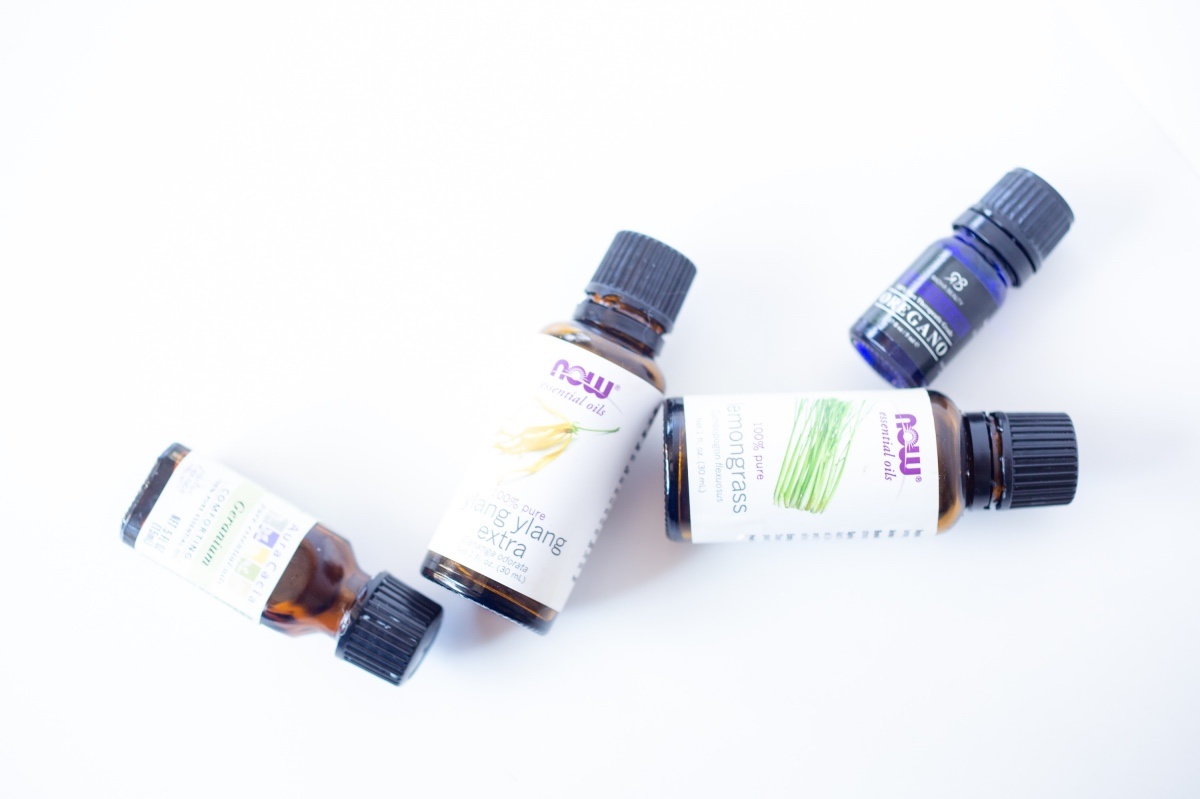 For my essential oils I chose Wild Orange, Clary Sage, and a touch of Patchouli. It's such a lovely scent for the home with a touch of citrus and earthy scents too. But you could choose any that you want! Some of my favorite Essential Oil Blending Recipes can be found here.
To make this DIY Essential Oil Reed Diffuser – it's really simple and quick! First, add the alcohol and the carrier oil. For the alcohol, any grain alcohol will do – everclear or vodka. I used gin because it's all I had! That's fine too. As long as it's a clear alcohol it will get the job done.
As for the carrier oil, I chose almond oil but you could choose a different one! Apricot kernel oil or avocado are both fine. I picked almond because it's the most affordable and doesn't have a strong scent.
Add both of these ingredients to any container that you can easily pour from. Remember that your bottle should have a slim neck so you may want to take extra precaution here!
The amount of alcohol and oil that you use here will vary based on the size of your bottle. You will want to to fill the bottle about 1/3 of the way with oil and just add a splash or two of alcohol. It's the alcohol that will carry the scent up the wooden reeds.
If you want to measure the liquid ingredients perfectly do this: first add plain water to the height level of where you would like the oil. Then pour that oil out of your Reed Diffuser Vessel and into a measuring cup to see how much liquid you would like total. Then replace it with the oil and alcohol.
Now it's time for the fun part because we're going to add our Essential Oils! You can drop in as many as you like – just smell as you go! I added about 25 or so. The thing is, the essential oil scent will diminish before your oil and alcohol evaporates. So it's nice to refresh the essential oils every few weeks. You could even change the scent each time!
The oil and alcohol will need to be mixed and remixed again! Just swirl it around anytime it needs it.
Your Essential Oil Reed Diffuser is almost finished!
Your last step is to add the reeds. First I dip in one side and allow it to soak for a few minutes. Then I flip them around to let the other side of the reeds rest in the bottle. Soaking each side of the reed helps distribute the scent even more thoroughly.
So pretty! Now all you need to do is find a good place in your home for your Reed Diffuser! Since the bottle is always left open, I recommend somewhere up high where it won't get knocked over.
So where are you going to put your Essential Oil Reed Diffuser and what essential oils will you use? Tell us in the comments!
Let's Stay Friends!
Insta | Pinterest | Enews | TikTok