This tutorial was for the Craft in Style Subscription Box Part 2 of 4 for July 2019. You don't need to have the box to create these great calligraphy pieces of art! Part 1 of 4: How to Make a Chalkboard Globe can be found here.
Do you love hand lettering and calligraphy? I do too but I do not have a natural talent for it. To be fair, I haven't dedicated as much time to it as I could. That's because I found this easy method that I love using templates. You can get 10 free templates for this tutorial here.
Supplies to Make Easy Faux Calligraphy Art
Art Paper of your Choice for your finished piece (I chose map paper- which you can get here)
Free Calligraphy Templates Here
Pencil
Pen, Paint Pen, or Thin Marker (I chose a paint pen)
Optional:
Painter's Tape
First of all, before you get started make sure you have your templates ready and printed. You can print this gorgeous 10 piece set of travel templates here.
We have another diy with additional free templates if you need more! Here is our Tutorial on Chalkboard Lettering with Free Holiday Printable Templates.
To custom make your own template, find a digital lettered graphic that you like, and reverse it along it's horizontal axis like the image above. You can do this in Photoshop or lots of other programs. Depending on your desired size for the finished piece of art, you could print the template as a 4×6, 8.5×11 – whatever size you like!
Just be sure that the letters are big enough to draw in ink.
Next, place the side of the paper with the backwards lettering up. Color in all of the black letters. Use firm, heavy pressure to be sure that there is plenty of graphite on the template.
When I made mine, I went over each letter in pencil twice.
Once you have your templates penciled, place the backwards lettering down towards you art paper. Be sure that the template and the art paper line up as you like – that it's in the exact location where you want the text to go on your finished piece. If the template and art paper are different sizes, tape the template down with painter's tape so the stencil won't move.
Using a heavy hand, color in the lettering on the blank side of the template. This will make a pencil rubbing on the art paper.
Once you remove the template, your art paper should look a bit like this.
Now use your pen or paint pen to begin to ink the letters. You may even notice a bit of muscle memory from having stenciled the templates a few times before!
When filling in the ink, make smooth, long even strokes. The letters do not need to be perfect. What will make them look best is even brush strokes.
And viola! It really is that simple to make your own Faux Calligraphy. This is a great way to get some experience before trying real calligraphy and the results are gorgeous.
So let's make another!
This artwork is a Helen Keller quote that I just love! And it's in a print font instead of a cursive font like the first piece.
I found the print font to be much harder than the cursive. But this may not be the case for you. It depends on your natural style of handwriting and which style of font comes easier.
For this print font, we repeat all the same steps as the cursive font art. First, pencil the black letters. Then place the template on top of the art paper letter side down. Then pencil the letters again to create a rubbing of the letters on the art print.
Last, using the rubbing as a guide, ink your art paper with a paint pen or brush marker. And viola! Finished again.
Now the real question is what are you going to do with your new calligraphy art?
You could do anything! You could hang your calligraphy art as it is or you could frame it. You could use it as stationery. So what will you do with your calligraphy? Leave a comment below and tell us.
And if you love this tutorial be sure to download the free templates here. You can also get all the map stationary here. And if you need even more lettering techniques don't miss this chalkboard lettering with even more templates here.
If you enjoyed this tutorial, make sure you check out our Craft in Style subscription box. We send you a whole box every month filled with all the supplies you need to make craft projects!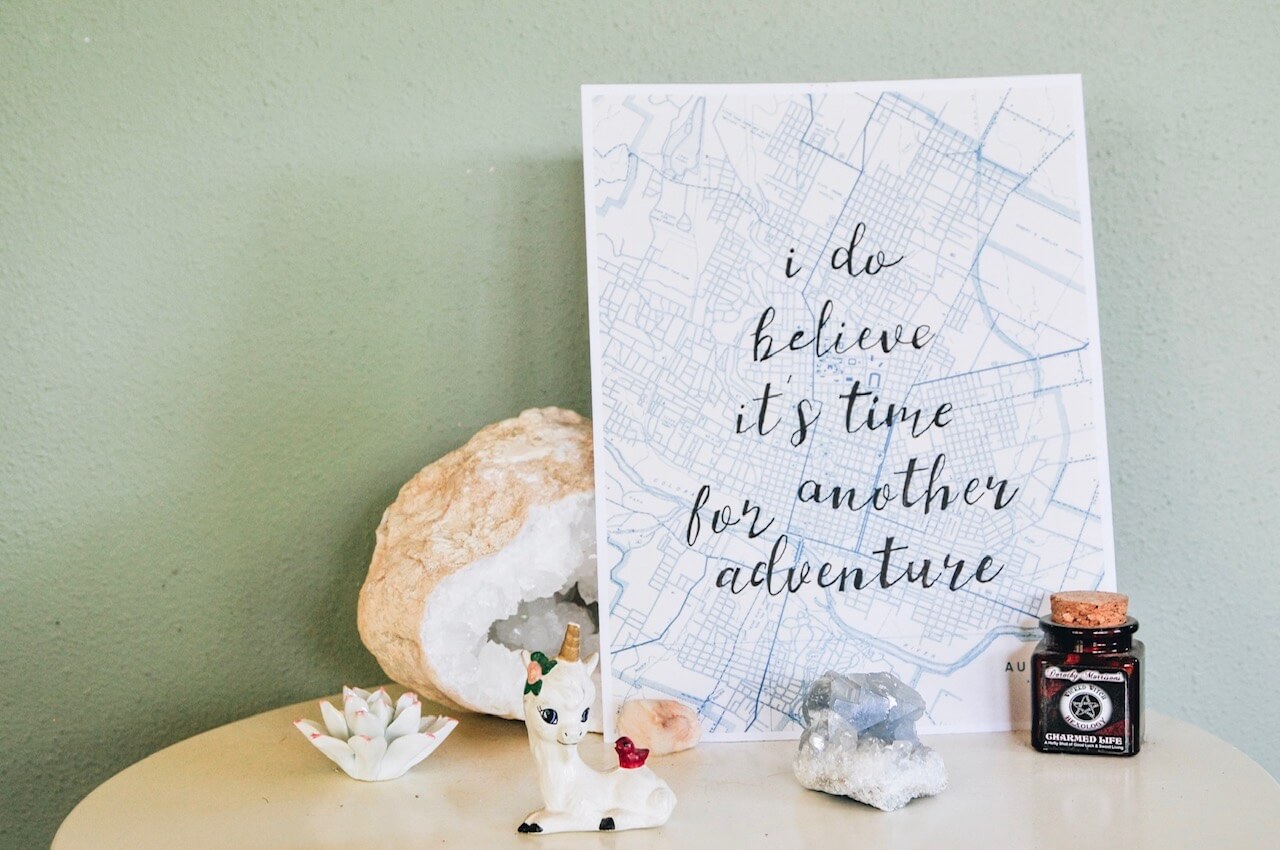 Let's Stay Friends!
Insta | Pinterest | Enews | TikTok