It's no secret around my house that I love carbs – breads, crackers, whatever carbs I can get my hands on. But pasta is probably my favorite carb, and I love coming up with fresh new ways to serve it to my family.
Lemon and garlic is such a classic flavor combination, and the addition of parmesan in this simple pasta dish brings it to a whole new level of amazing. Want all the tips and tricks? Keep reading! Or feel free to scroll down and just grab the recipe for tonight's dinner!
Making Lemon Garlic Parmesan Pasta
First, get a pot of water boiling to cook your pasta in. Add the spaghetti noodles and cook until al dente. Drain the noodles, return them to the pot and stir in a drizzle of olive oil to keep them from sticking to each other while you make the sauce.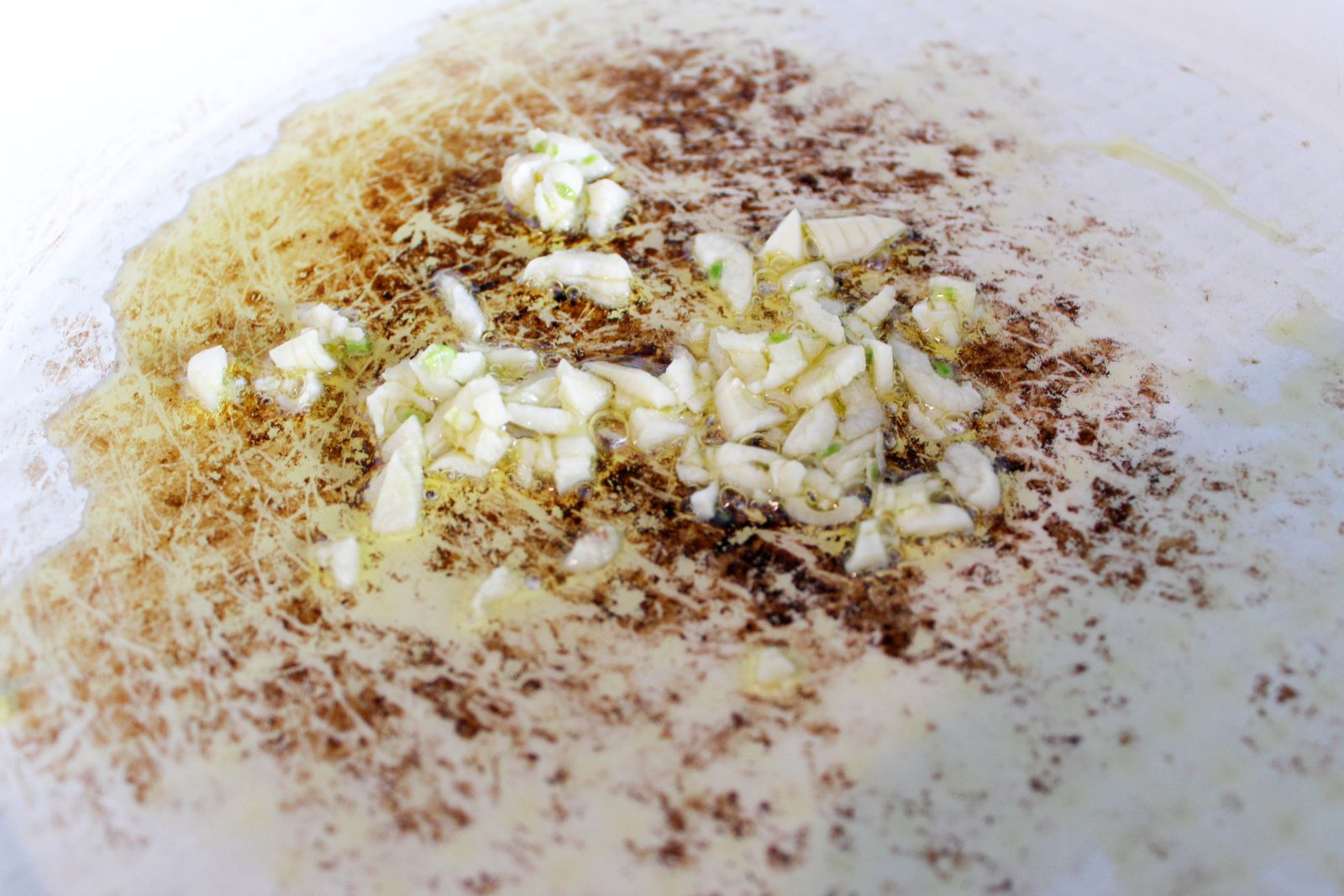 While the pasta is cooking, heat a drizzle of olive oil in a large saute pan over medium. Finely chop the 3 cloves of garlic and toss them in the skillet, cooking for 30 seconds to a minute, or until fragrant.
Add a teaspoon of Better Than Bouillon and the chicken broth/water; let mixture reduce by half. This will probably take 3-5 minutes.
Then add the cream cheese and half-and-half, stirring often until the cream cheese is melted and the sauce is smooth.
Remove the skillet from the heat and stir in the butter and lemon juice. Immediately stir in the parmesan cheese until melted, smooth and creamy. If it's not melting easily, return the pan to the heat for a minute or so while you stir in the cheese.
As soon as your sauce is smooth, give your noodles a quick stir and then dump them into your saute pan. Use tongs or a large spoon to stir the pasta into the lemon garlic parmesan sauce, until they're well-coated. Serve immediately; top with fresh parsley if desired.
Delicious Additions to the Lemon Garlic Parmesan Pasta
If you want to make this an even heartier meal, you can add some sort of protein to it. Top it with salmon, or grilled chicken seasoned with Montreal Steak Seasoning. If a vegetarian option is more your style, you can add slow roasted tomatoes, tofu or any number of vegetables you can think of. Bell peppers, peas, diced carrots, and chopped asparagus would all be delicious in this creamy pasta dish!
Pine nuts, sprinkled over the pasta dish, are a great way to add flavor and protein to this lemony meal as well.
Storing the Leftovers
If you don't have a large family, chances are you've got leftover Lemon Garlic Parmesan Pasta (and if you're like me, you make sure to have leftovers, because who has time to cook dinner every day??). To store the leftovers, just place them in an airtight container in the refrigerator for p to 4 days. If the pasta feels a little dry when you reheat it, you can add a splash of milk or chicken broth and stir to make it saucier and creamier.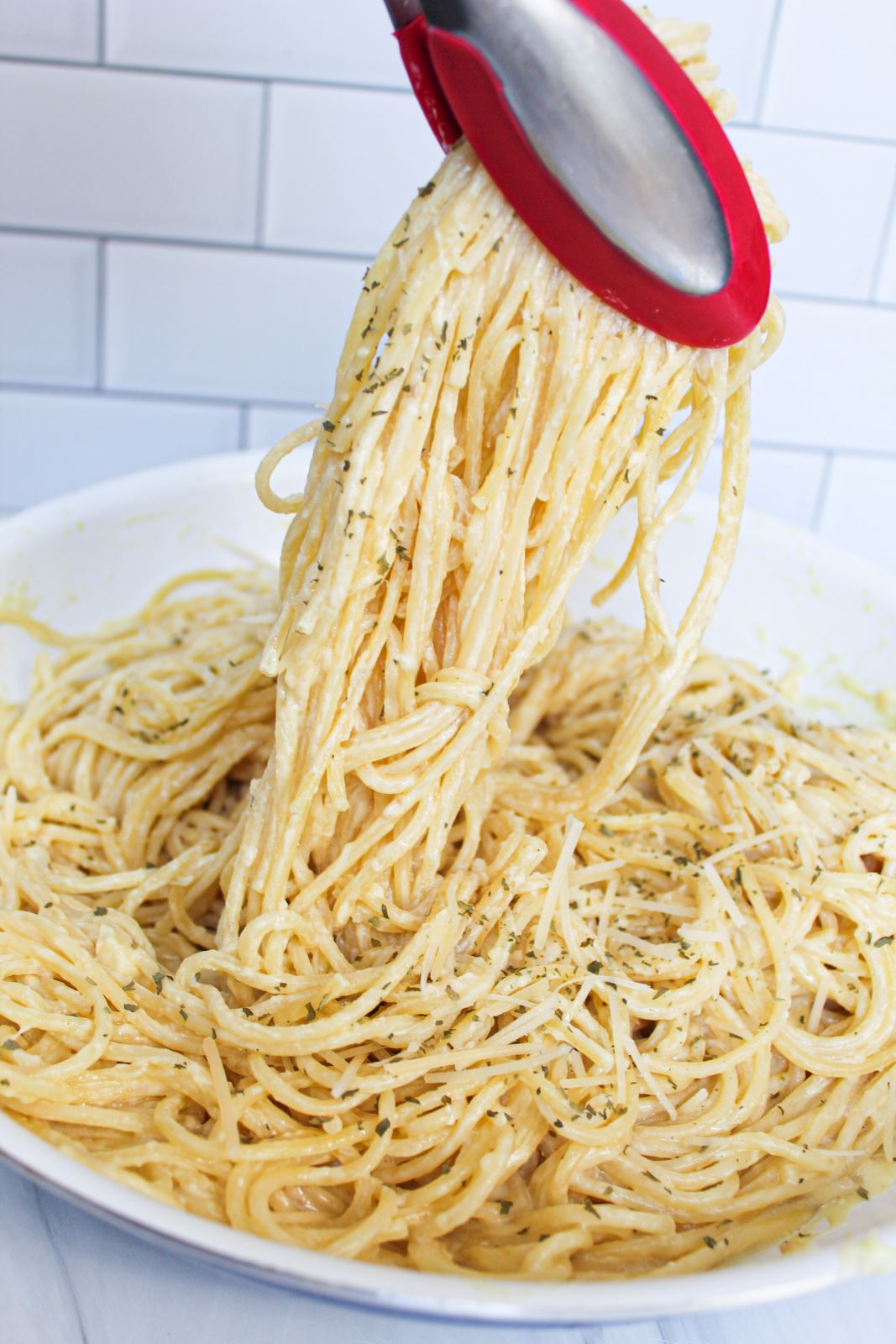 Tips, Tricks and Substitutions
Can I use any type of noodle in this recipe? You absolutely can! I originally wanted to make it with bowtie pasta, because my 3 year old can spear bowtie noodles much easier on a fork than he can scoop up long, stringy noodles. But it turned out I was out of those, so I used the spaghetti noodles I had on hand. You could use bowtie, penne, angel hair – pretty much any pasta you've got stocked in your pantry!
I don't have any Better Than Bouillon. Substitutions? If you don't have Better Than Bouillon, you can always use a bouillon cube if you happen to have one. If not, just omit it, and make sure that where the recipe calls for '1 cup chicken broth or water,' you use chicken broth. You'll want the flavor boost if you're not using any bouillon.
Pre-shredded or freshly shredded parmesan? My preference is freshly shredded, because the preservatives on pre-shredded cheese can sometimes interfere with smooth melting. That said, you can see from the photos above that, when I added the cheese, it was definitely pre-shredded parmesan cheese. That's what I had on hand, so I used it. I just had to return the sauce to the heat for a minute to help it melt (which I remind you that you can do in the directions!). So either/or works – whatever you've got!
Lemon Garlic Parmesan Pasta Recipe
Ingredients
12

oz.

dry spaghetti

3

cloves

garlic

drizzle of olive oil

1

tsp.

Better Than Bouillon Chicken Base

1

c.

chicken broth or water

1/2

c.

half and half

2

oz.

cream cheese

1

tbsp.

lemon juice

or 1 tsp. Just Lemon dried lemon

2

tbsp.

butter

1

c.

parmesan

shredded

fresh or dried parsley for garnish

optional
Instructions
Bring a large pot of water to a boil. Add spaghetti noodles and cook until al dente. Drain noodles, return to pot and stir in a drizzle of olive oil to keep noodles from sticking. Set aside.

While noodles are cooking, heat a drizzle of olive oil in a large skillet over medium.

Finely chop 3 cloves garlic. Add garlic to hot olive oil and saute until fragrant, about 1 minute.

Add 1 tsp. Better Than Bouillon and 1 c. water or chicken broth. Stir and let reduce by half, about 3-4 minutes.

Add 1/2 c. half and half and 2 oz. cream cheese to skillet. Stir often until cream cheese is melted and combined.

Remove skillet from heat and stir in 2 tbsp. butter and 1 tbsp. lemon juice.

Sprinkle 3/4 c. parmesan cheese over the sauce and stir until combined and smooth (you may need to return to heat for a minute or so).

Add pasta to skillet and use tongs to toss pasta in sauce.

Plate pasta and sprinkle with remaining parmesan and a sprinkle of parsley before serving.
Let's Stay Friends!
Insta | Pinterest | Enews | TikTok