This blog is the Part 4 of 4 Tutorials for the January Craft in Style Subscription Box. You can find the additional 3 tutorials for January, previous box tutorials, more about this box, and other Craft in Style Boxes here.
You know I love all things Moon. You can make this Moon Phase Watercolor Painting with this tutorial here. And you can make this Moon Macrame Wall Hanging with this tutorial.
But this Light Up Moon Painting on Black Canvas is a painting that's within reach. You don't have to be an expert painter to make it, and adding fairy lights to the back can help you create something that's truly extraordinary! So let's make it.
Supplies to Make a Cactus on Black Canvas Painting
January 2023 Craft in Style Subscription Box
or
2 x 8 inch Square Black Canvas
An Array of Acrylic Paint (I used White, Magenta, Crimson, Lemon Yellow, Viridian, Pool Blue, and Black)
An Array of Acrylic Paint Brushes
Gold Gilding + Disposable Brush
Painter's Palette
Water + Paper Towels
Optional: Box Cutter
Fairy Lights
The Fairy Lights are optional, and the gold gilding is optional as well. But they give so much dimension to this painting, I highly recommend both of these supplies!
Sketch Your Moon on Paper + Canvas
Before you get started painting, I recommend starting with a quick sketch on paper. Then sketch the moon and stars on your canvas.
It's a great way to test your moon shape and make sure it has a curve that you like. And it's a great way to determine your composition, or in other words, the placement of the moon, stars, and spacey wind lines.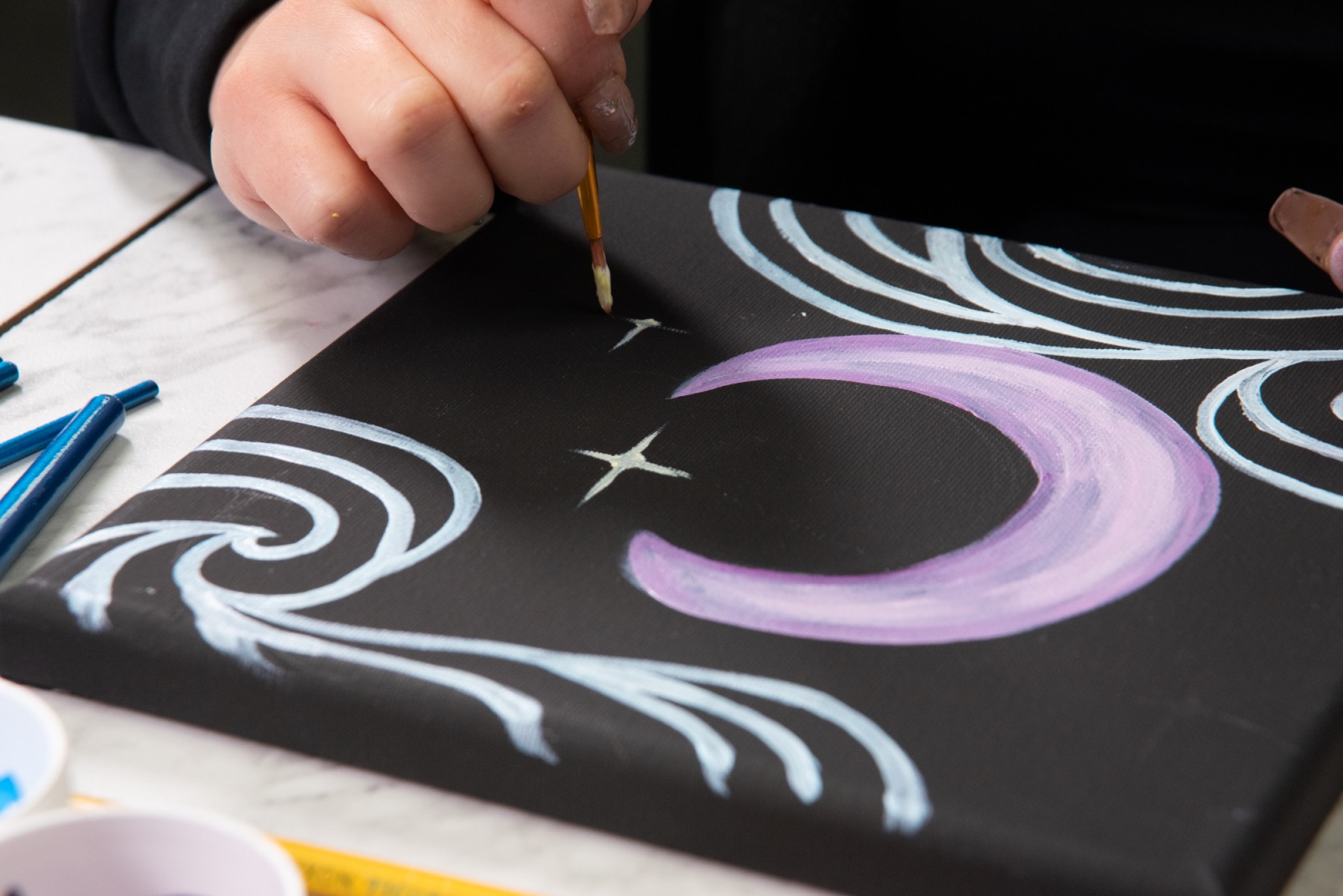 Fill the Whole Canvas
As you create your sketches, try to fill the space with your moon and wind lines. Don't leave too much of your space blank or black. When creating your composition, try to create balance and fill the space.
Filling the canvas will help your painting to feel more exciting and look professional.
Start by Making an Ombre Moon
When you are ready to start painting use a bit of purple to create your outer shape. As you work towards in the interior of the moon shape, add more and more white. Blend the edges of the moon with the interior of the moon so that you get a seamless gradient of purple that gets lighter towards the center.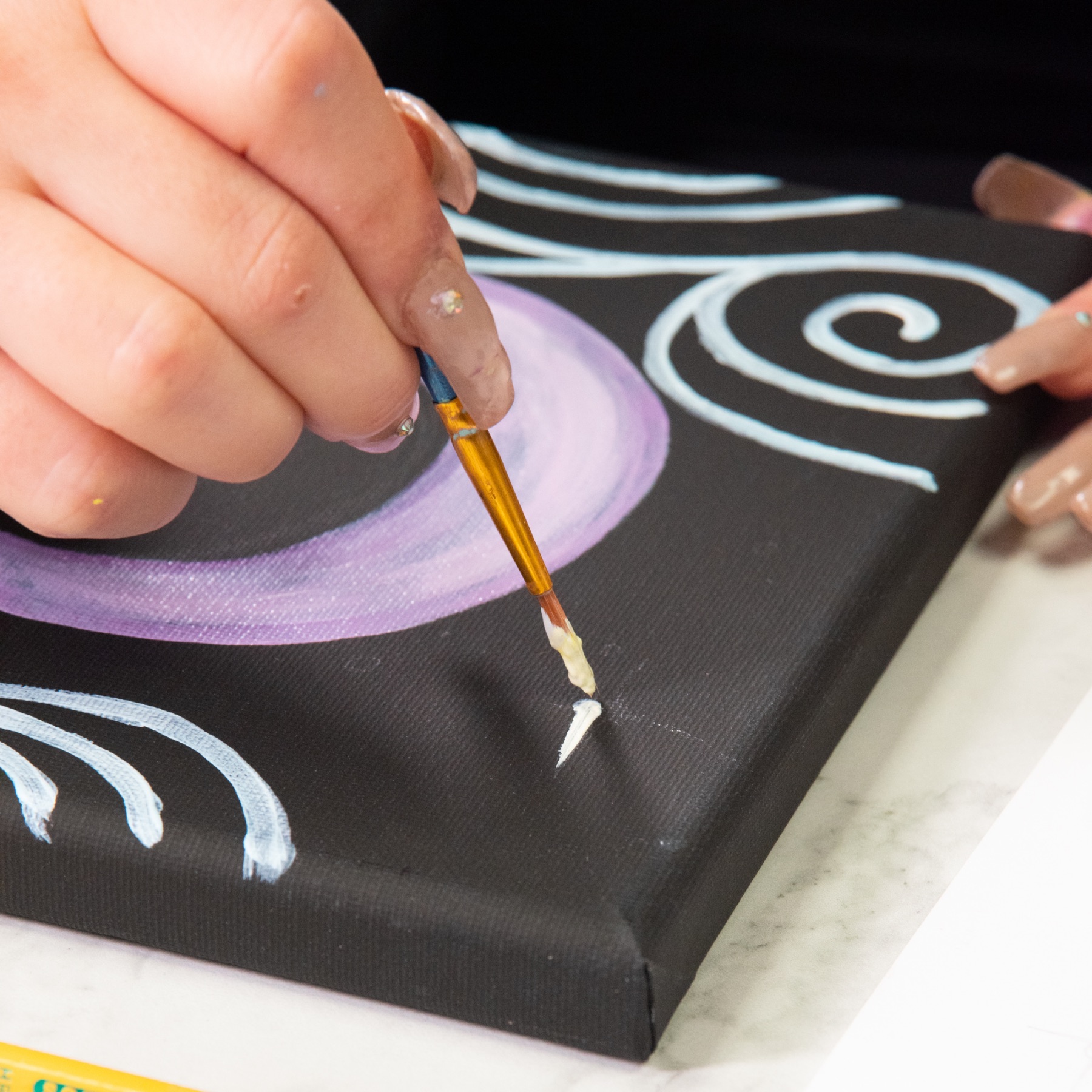 Then Make Swirls to Represent the Wind
Next paint your wind swirls in white. For this step, you will need a fairly small brush. In most of these Black Canvas paintings I recommend to start with your larger brushes for your underpaintings and continue to move to smaller and smaller brushes as you work. Make long seamless brush strokes. Once the paint is dry you can try painting the lines again to refine them.
But for this moon painting, most of your objects are small details. The wind lines are thin. The stars and quite small.
So likely you will only use a larger brush for the moon and then move on to your smallest brushes.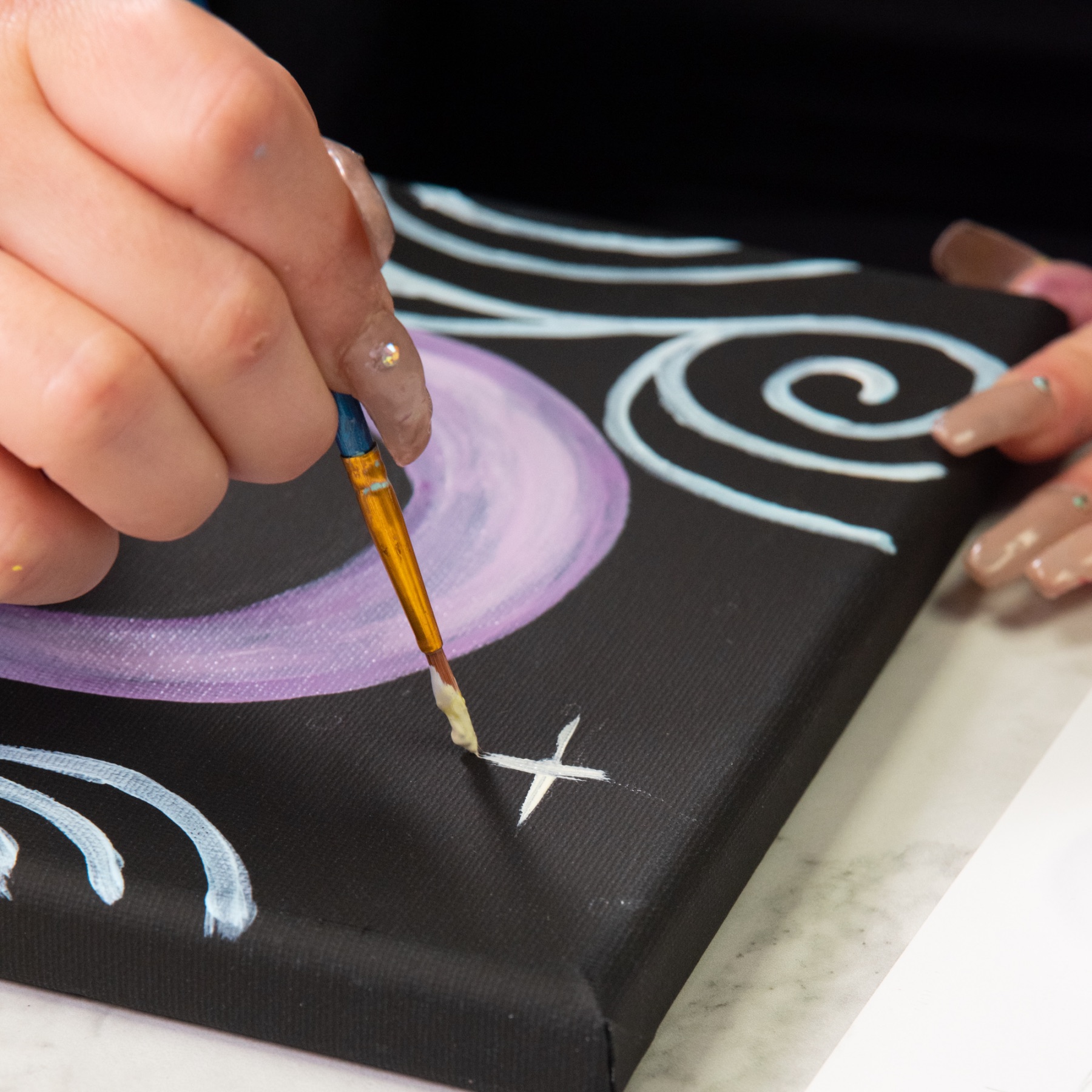 Fill in the Space with Large Stars
When making your stars, start with large stars in the shape of diamonds. These should look like a planet or like the Star of Bethlehem.
To make them, create a dot in the center and then use a flick or a wisp of paint outward up, down, left and right.
Then Make Smaller Stars
Working larger to smaller is a great way to ensure that you are happy with your painting when it's finished. It's easier to space your objects when you paint the larger objects first. And it's easier to make tiny adjustments when you paint the smallest objects last. So start with your large stars then make tiny dots across your canvas to represent your smaller stars.
You can add tiny hints of pink, blue, or yellow to your stars if white isn't what you are looking for. Remember – paint is meant to be mixed!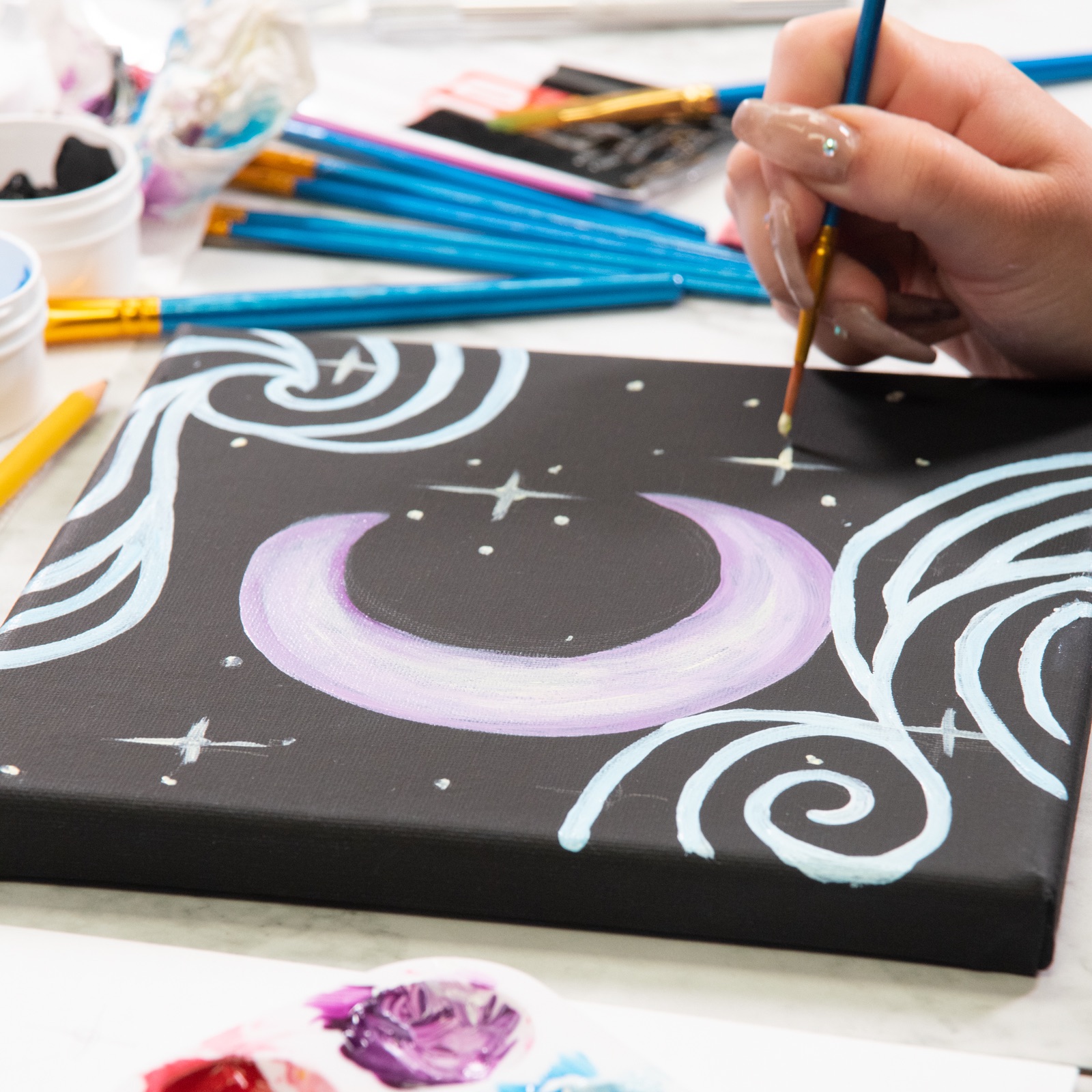 Let the Painting Dry
Once you have your initial painting finished, give you painting time to dry before adding the fairy lights. Acrylic paint dries fast and so your painting should be ready in 30 minutes or less.
Use your finger to touch the painting. If you feel any moisture, continue to wait until the painting is completely dry.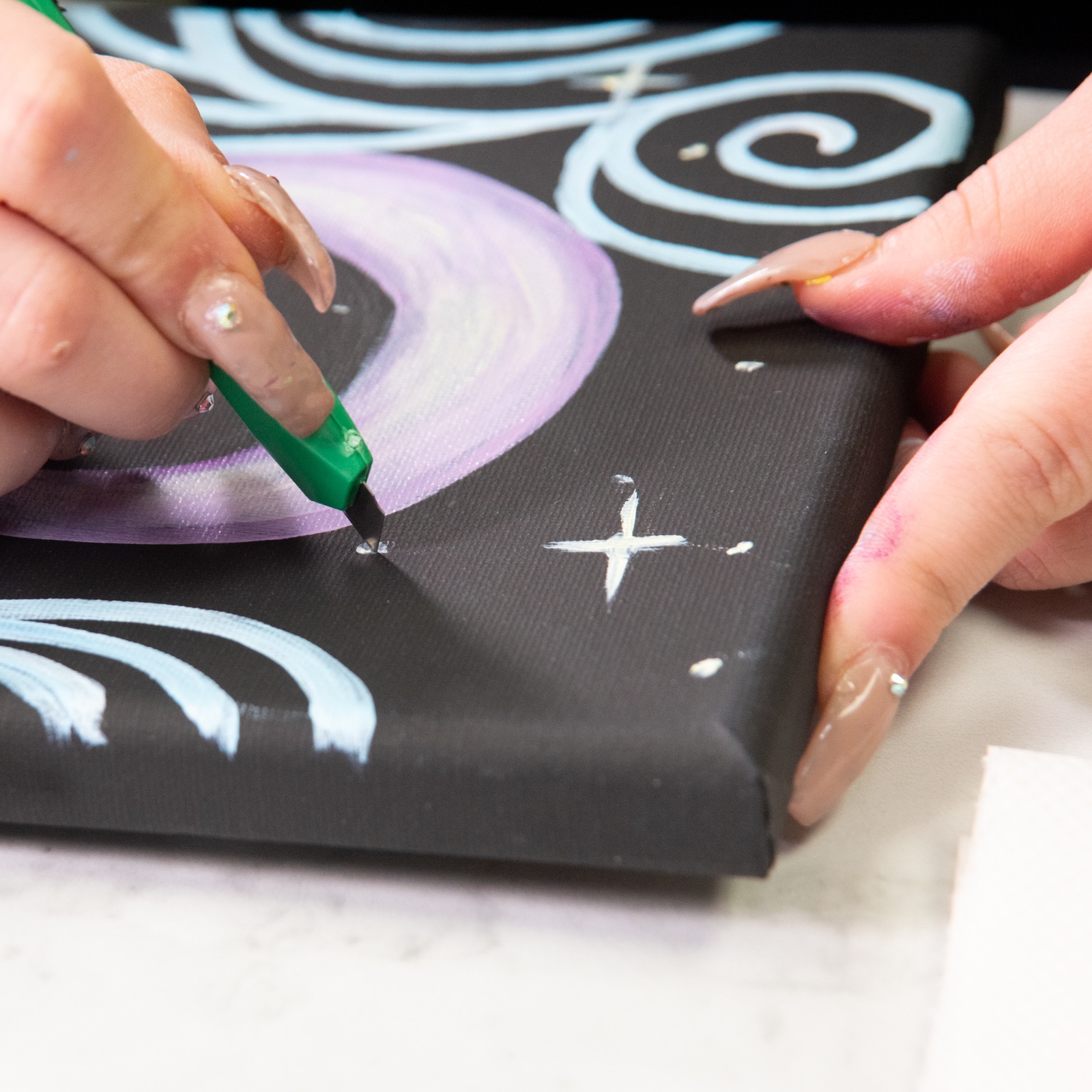 How to Add Fairy Lights: Cut the Canvas
To add the fairy lights, first keep your painting right side up. Decide the placement of your lights.
Your stars will make the perfect place for your lights to shine through. But you can choose any spot that feels brighter, like a highlight.
You can also randomly select spots for your lights to go – like the lights are an abstract painting!
How Big Should the Holes Be?
To make your holes, use your box cutter to make a small slits. The individual fairy lights on your fairy light strand should be able to fit through the holes but be held in place by the canvas.
So your holes are best small. Keep your fairy lights nearby to test the holes and make sure everything is fitting together the way you like.
Can I Use Something Other than a Box Cutter?
You do not need to use a box cutter to make your holes! I found it just as easy to use a nail to make them. You could use any sharp tool that can create the size of hole that fits the fairy lights.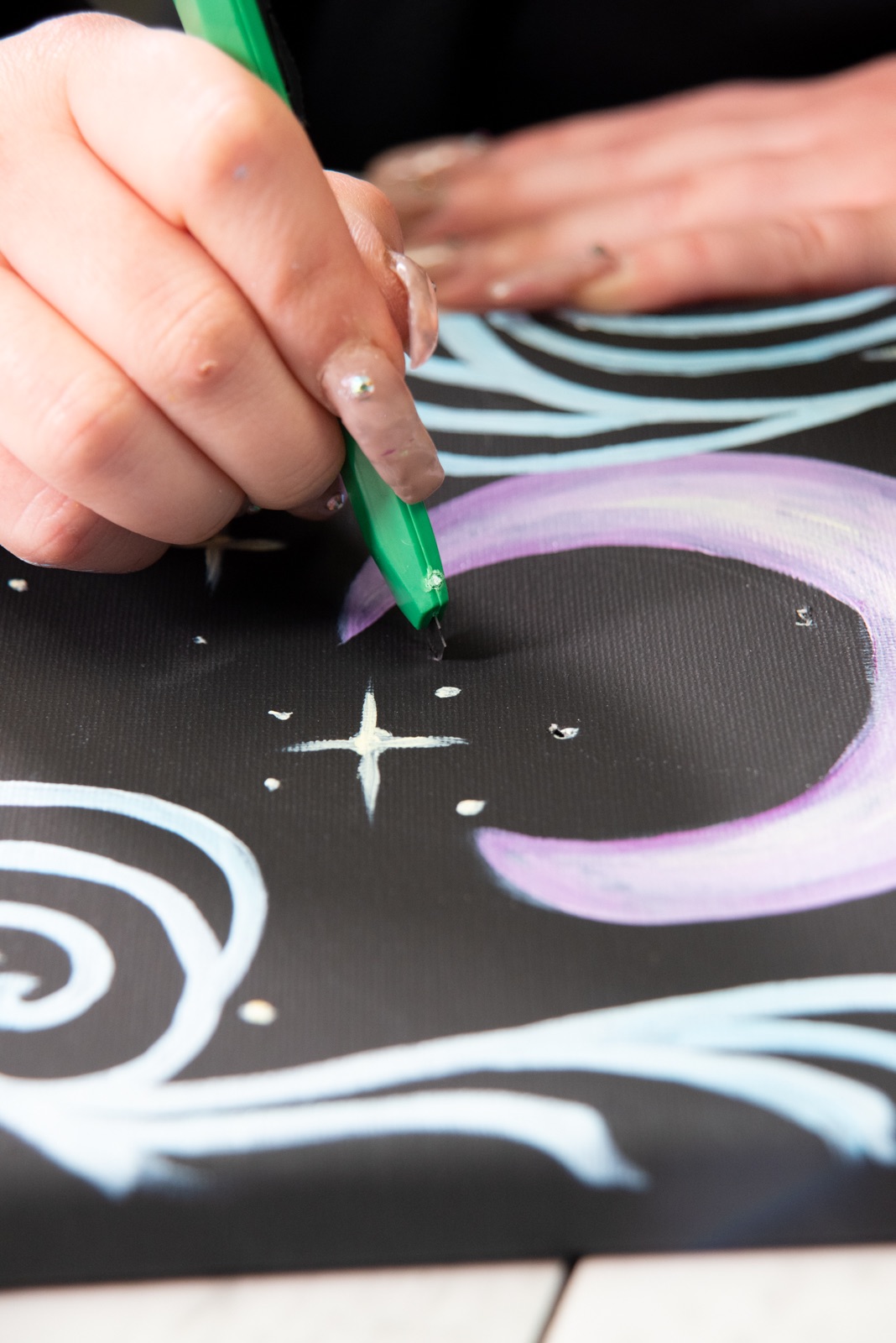 How Many Holes Should I Make?
You can make as many holes as you like, but remember you will want your fairy lights to feel special. Like a little pop of light. So there's no need to add too many. I added about 13 lights total.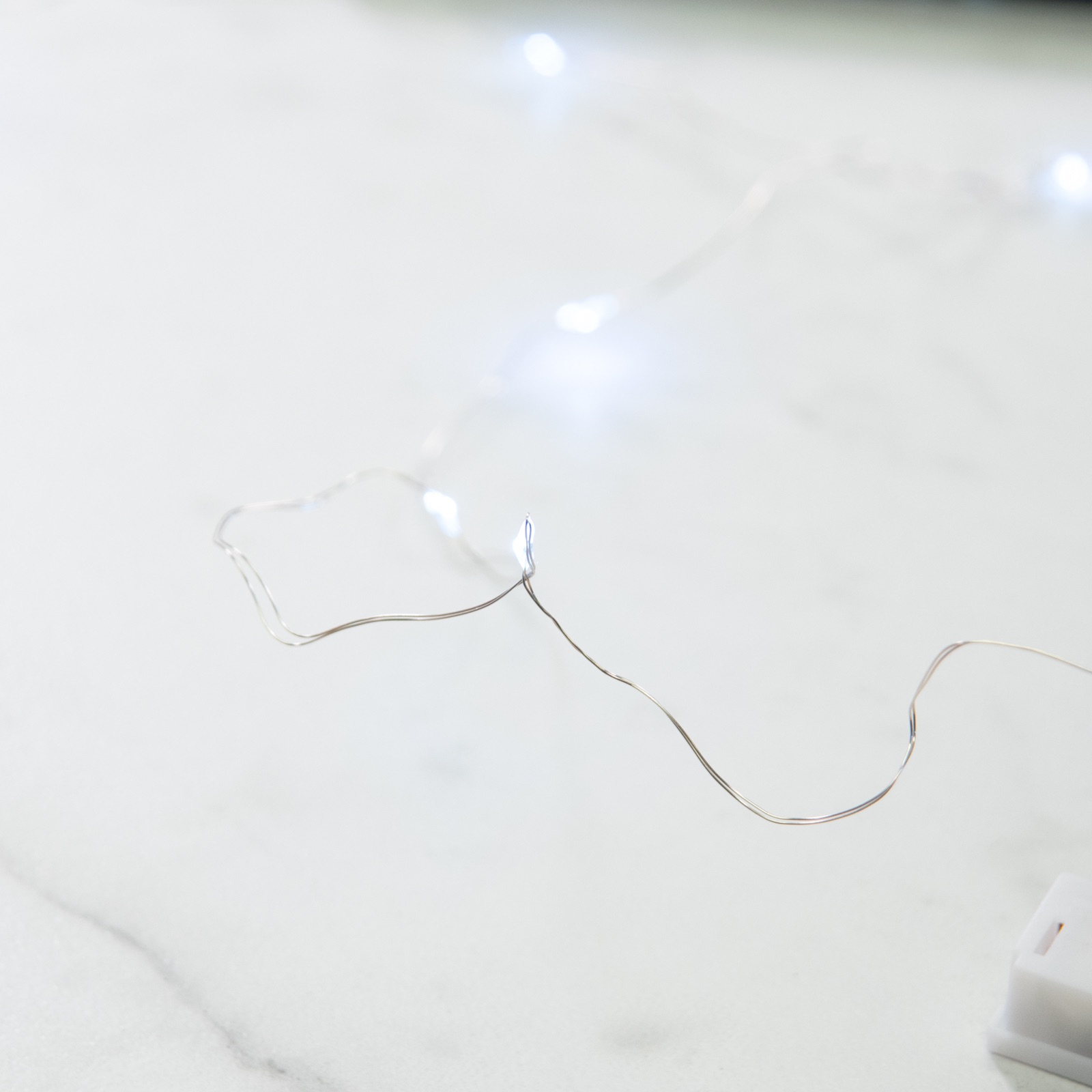 Place the Fairy Lights on the Back of the Painting
When you are done cutting your holes, attach the fairy lights to the painting itself. If you use a fairy light string with a small battery pack, it should fit inside the back of the canvas.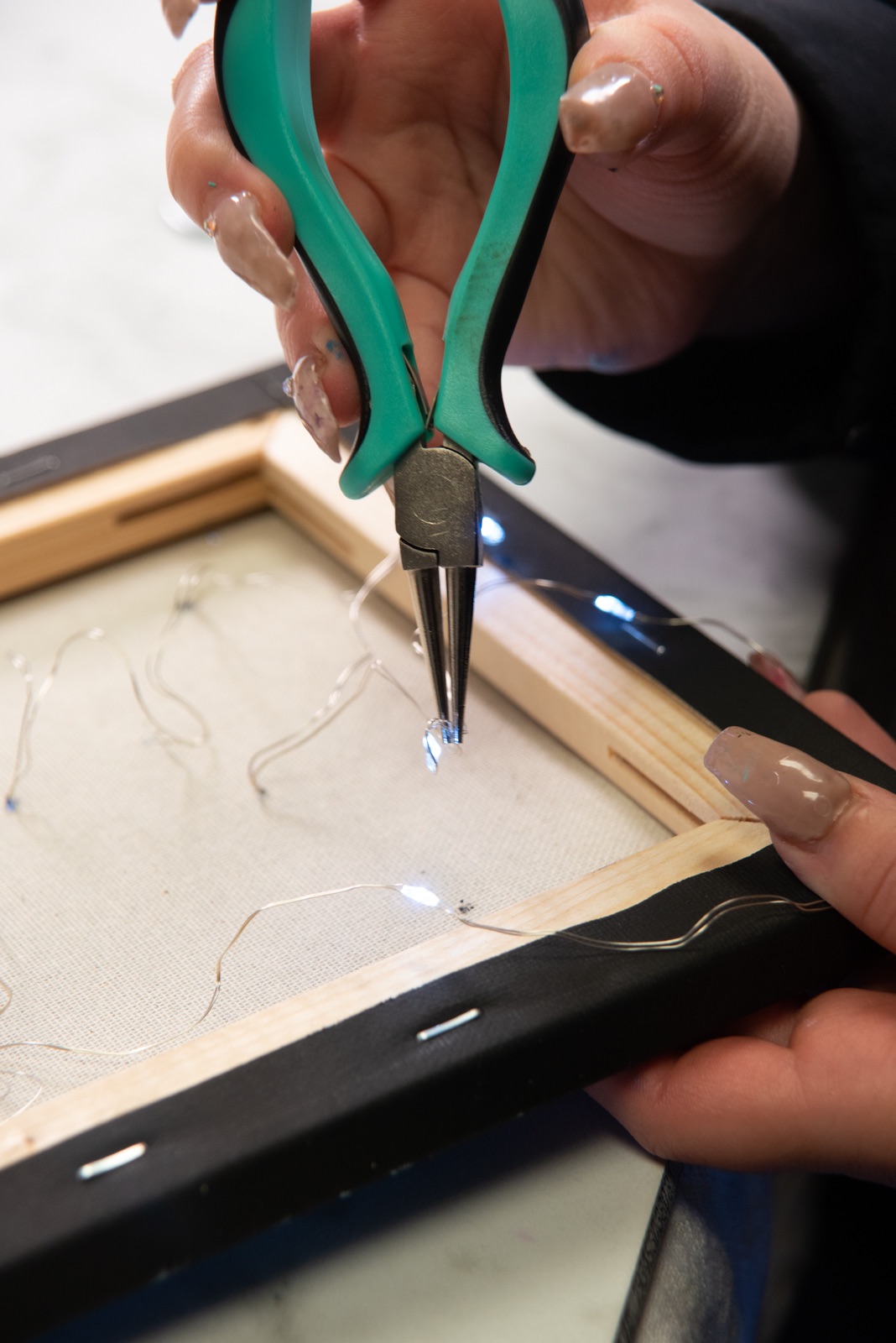 Push the Fairy Lights into the Cut Holes
Use your hands to push the fairy lights through the back of the canvas to the front so the lights will show through the front. If using your hands doesn't work for this project, try using needle nose pliers to push the lights through. You will need something small and you may need a steady hand too.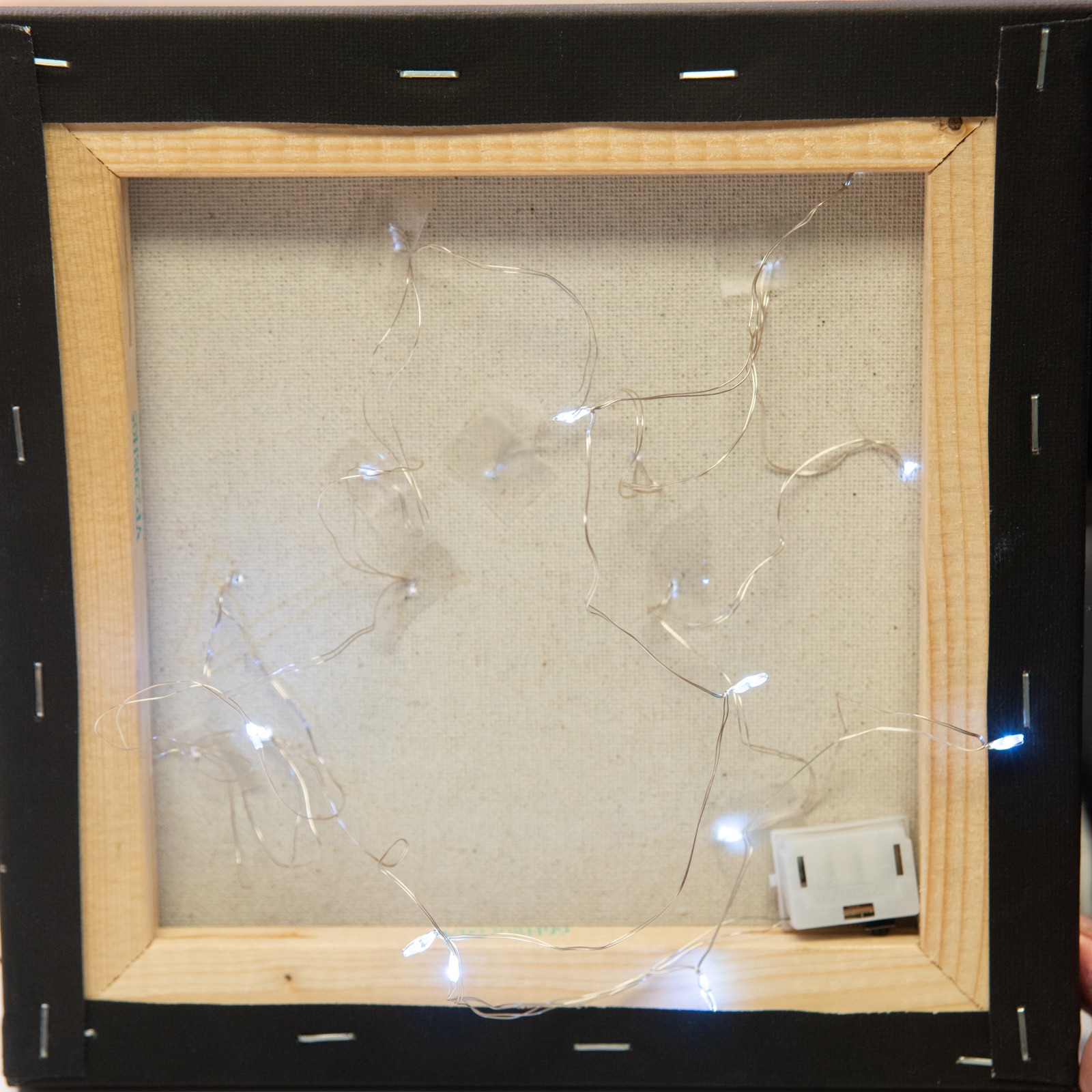 Use Tape To Affix the Lights or Battery Pack
Fairy lights or strung on a bendable wire that holds its shape well. But if your lights don't hold in place on their own use tape on the back of the canvas.
Don't use glue, because glue can damage and corrode the wires. Plus you may need to remove the lights to change the battery.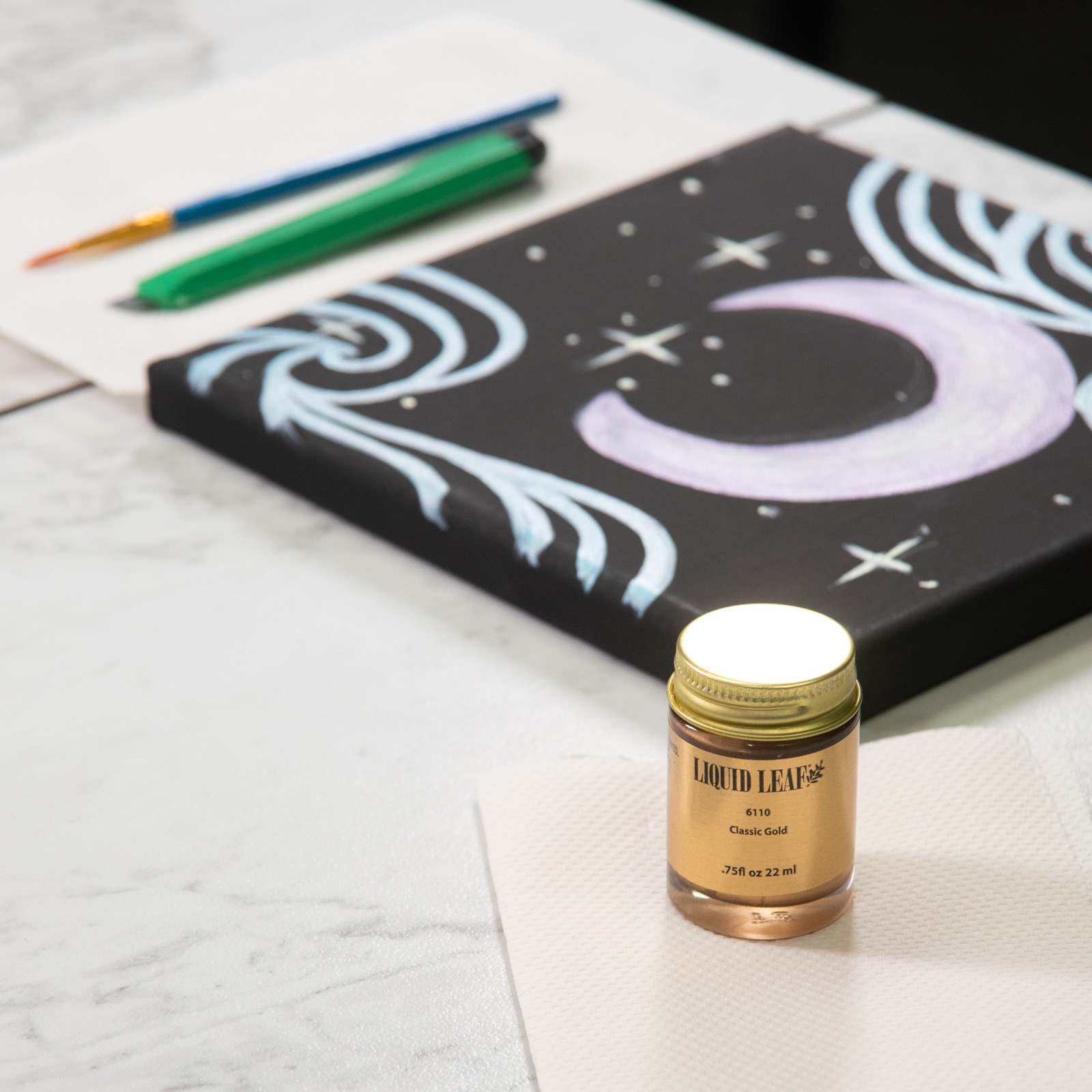 Finish Your Painting with Touches of Gilding
Once your lights are in place, give your Light Up Moon Painting some finishing touches with your Liquid Leaf Gilding! Dip just the tip of your brush into the gilding and start by making tiny stars across your Light Up Moon Painting.
I also used the gilding to create some strings that hang along the top of the moon and I created a partial outline of the moon too.
How to Use Your Gilding
You have to be careful when using your gilding! You can shake to mix your gilding before you open it for the first time, but after that you will need to carefully and slowly use a stir stick to mix.
Next, be extremely careful when opening your gilding not to get any liquid along the threads of the jar and the lid. If you do, you may not be able to open or use your gilding a second time.
Also, gilding is safe for well ventilated indoor use, but it's still quite fumey. Be sure to put the lid back on the gilding when you are done with it. Don't leave the lid off for longer than you need.
Last, gilding is best to use with disposable brushes. Don't use gilding with your acrylic paint brushes unless you plan on throwing the brushes away afterward.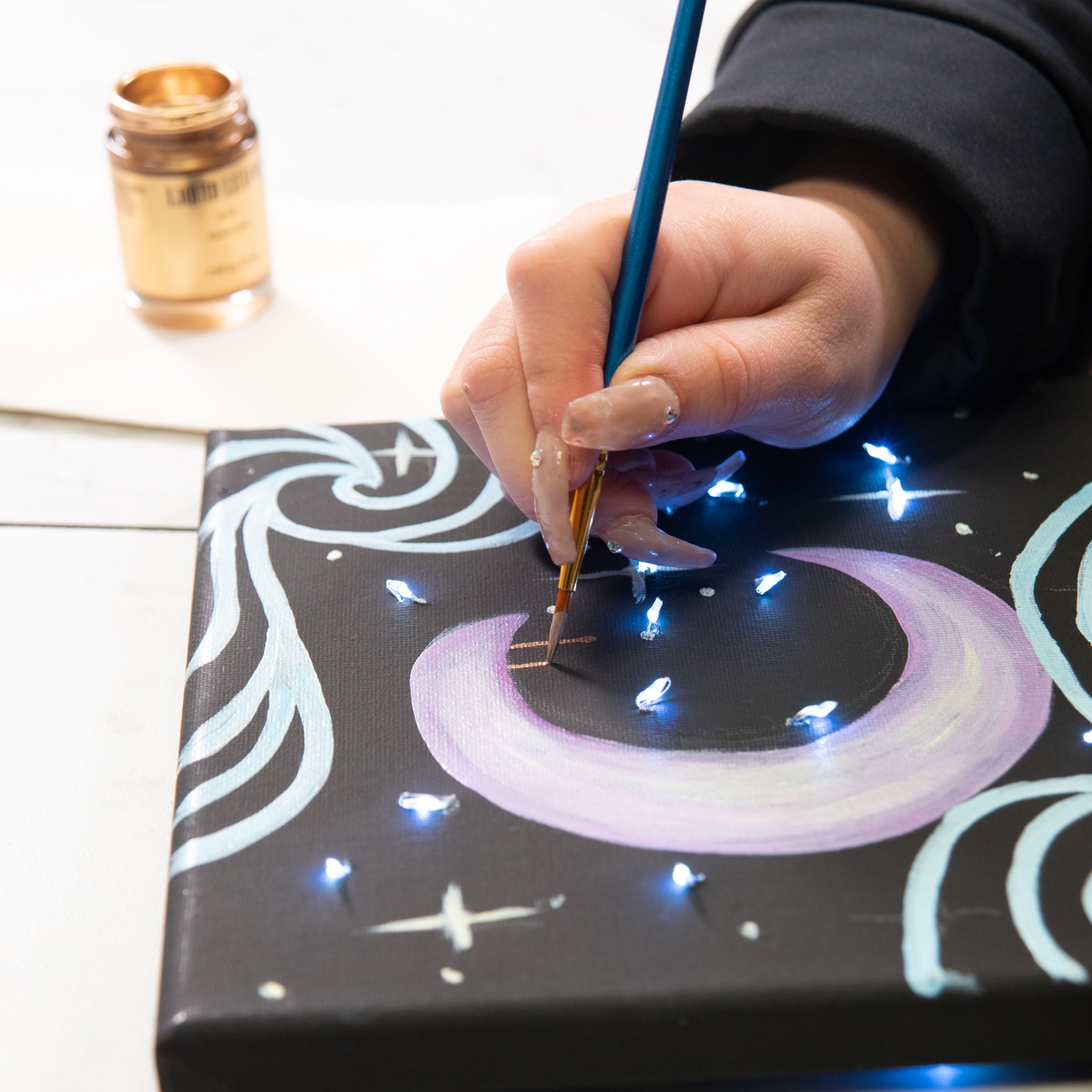 How to Store Gilding
Store your Liquid Gilding upright to prevent any gilding from leaking into the threads of the jar and preventing you from being able to open or close it. Beyond that, all you need to do is store it in your craft closet or with your other supplies. Just don't store it in direct sun or heat.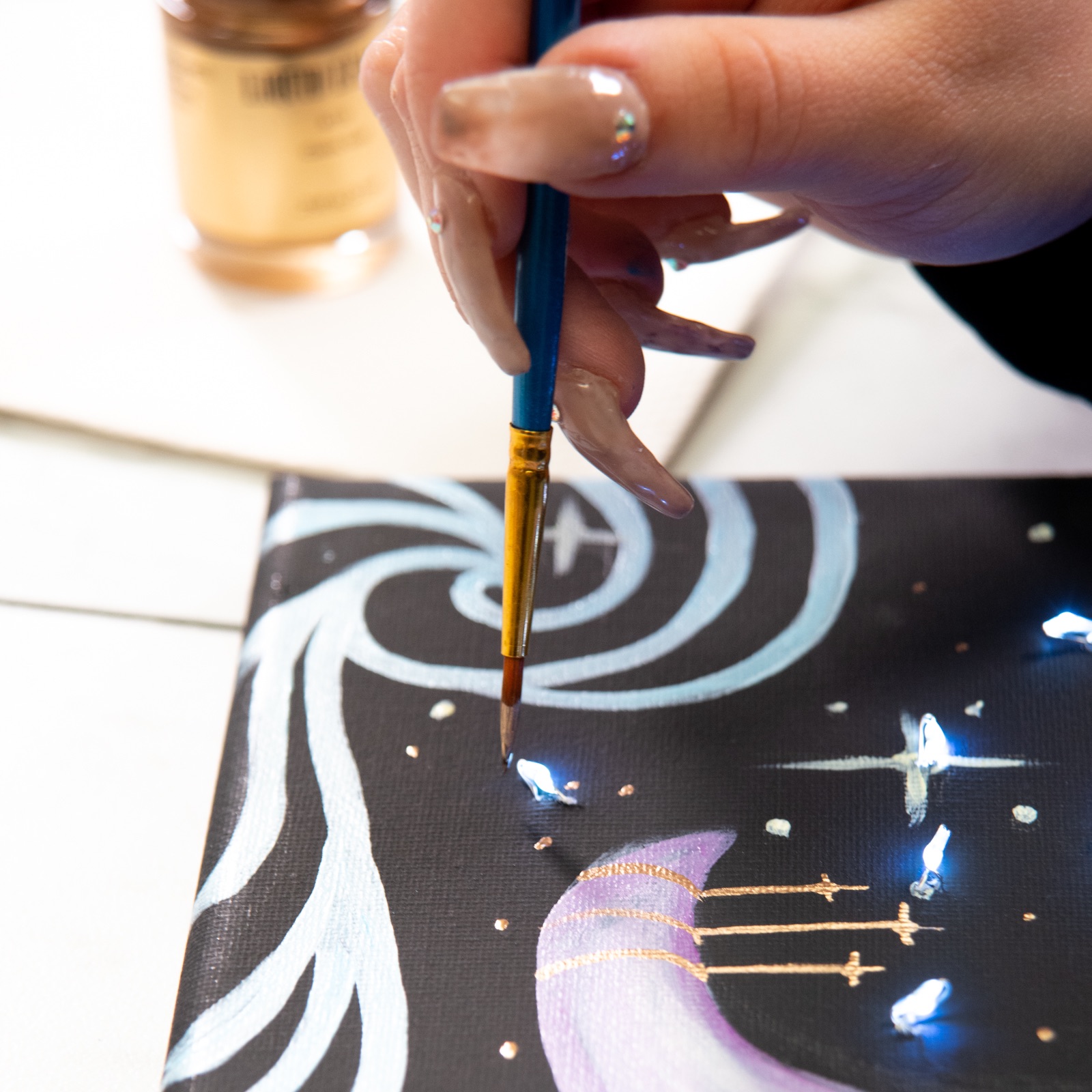 What is Gilding Anyway?
Liquid Leaf Gilding is an art supply that mimics the look of gold leaf. It's metallic, it's lustrous. It's beautiful! It's an enamel paint that's so versatile. It can be used on almost any material – glass, metal, wood, paper and more.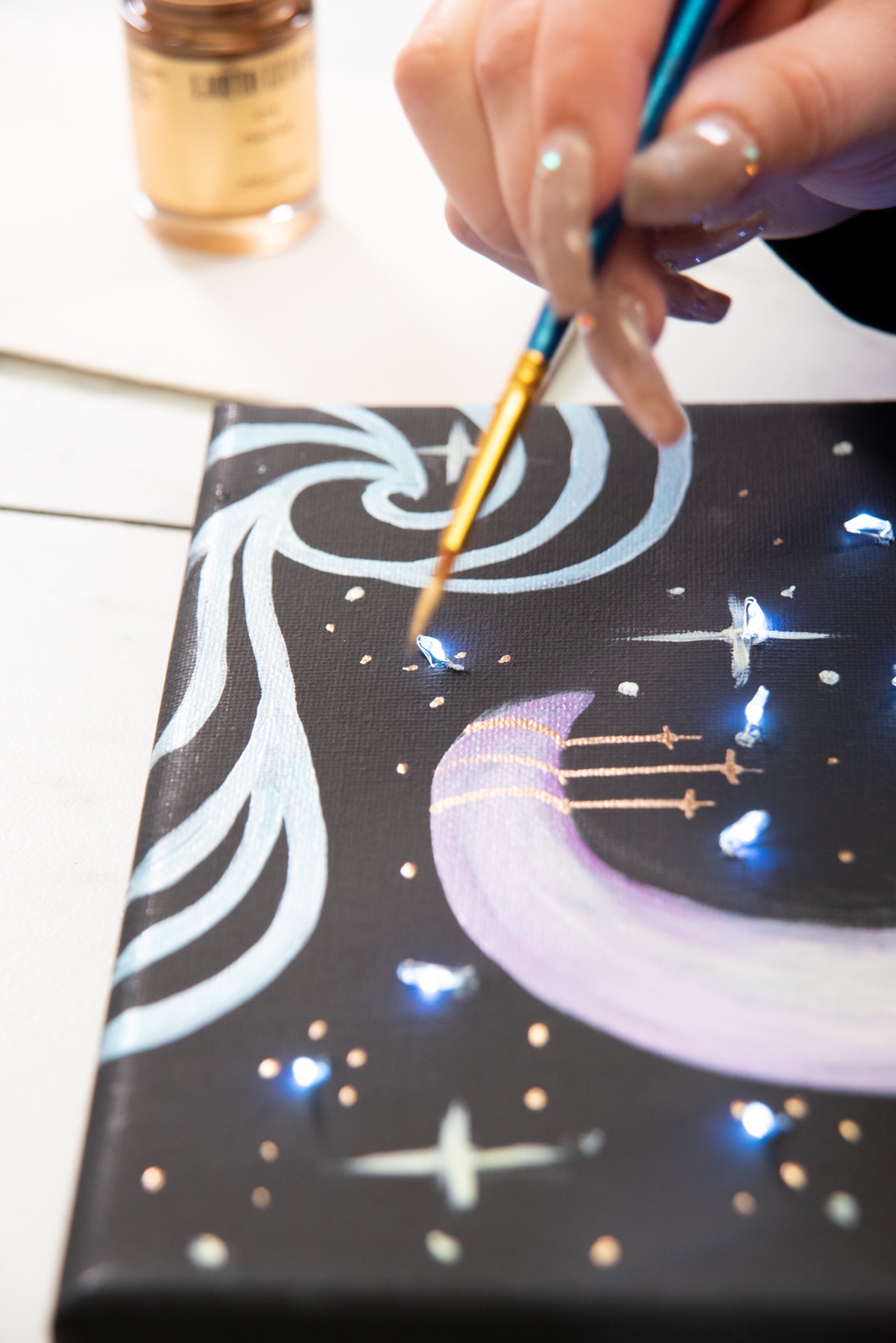 Want to see what I mean? Here are some of my favorite projects: These Gilded Dinosaur Planters are almost too much fun! And these Gilded Seashell Candles are one of our most popular candle making kits!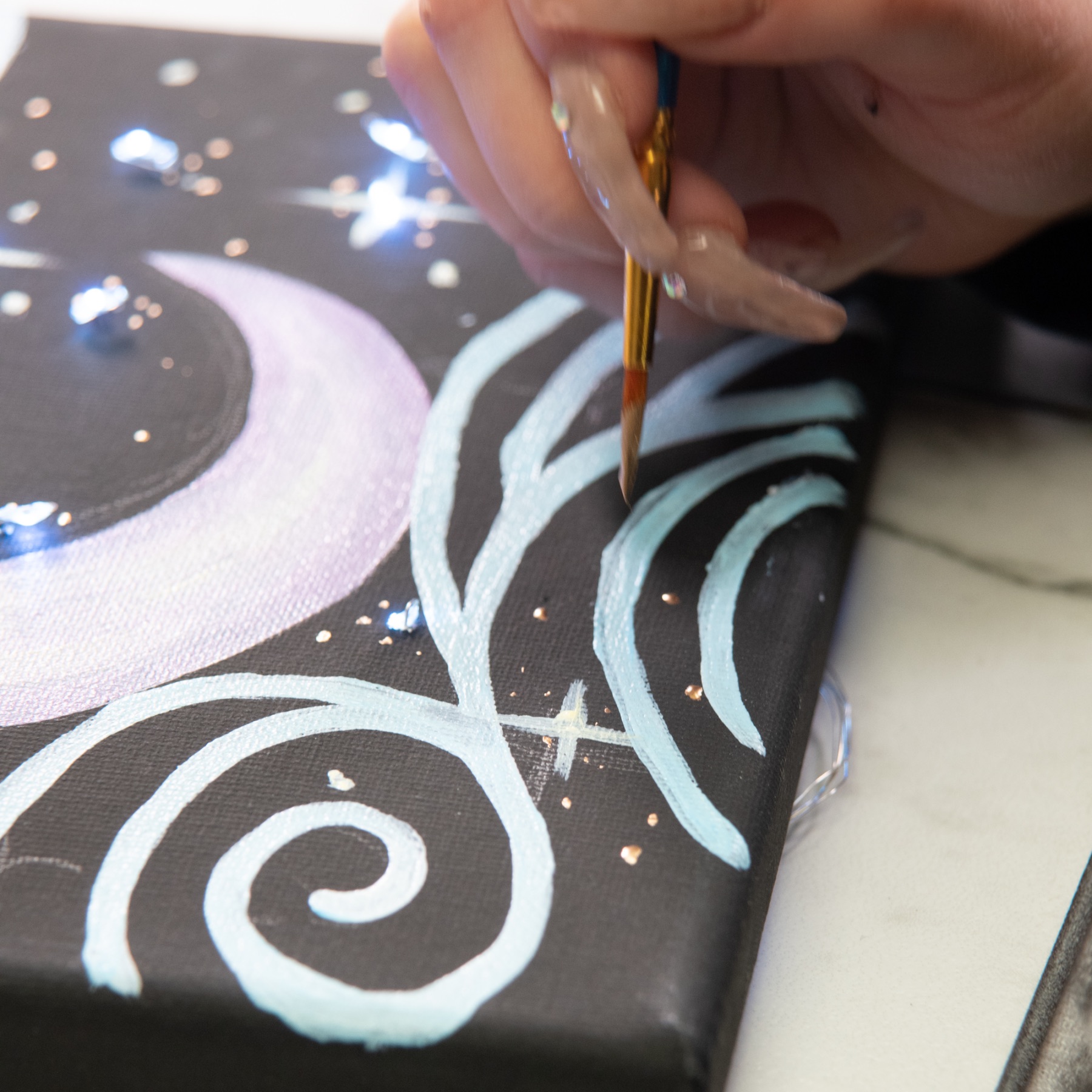 Where to Hang Your Light Up Moon Painting
What I love about this Light Up Moon Painting is that it's perfect for your bedroom. This is especially perfect for anyone that values their sleep or has trouble sleeping because it's a beautiful reminder of the night. And you can turn the lights on to give yourself just a small amount of light.
It's also perfect for a teen's bedroom too!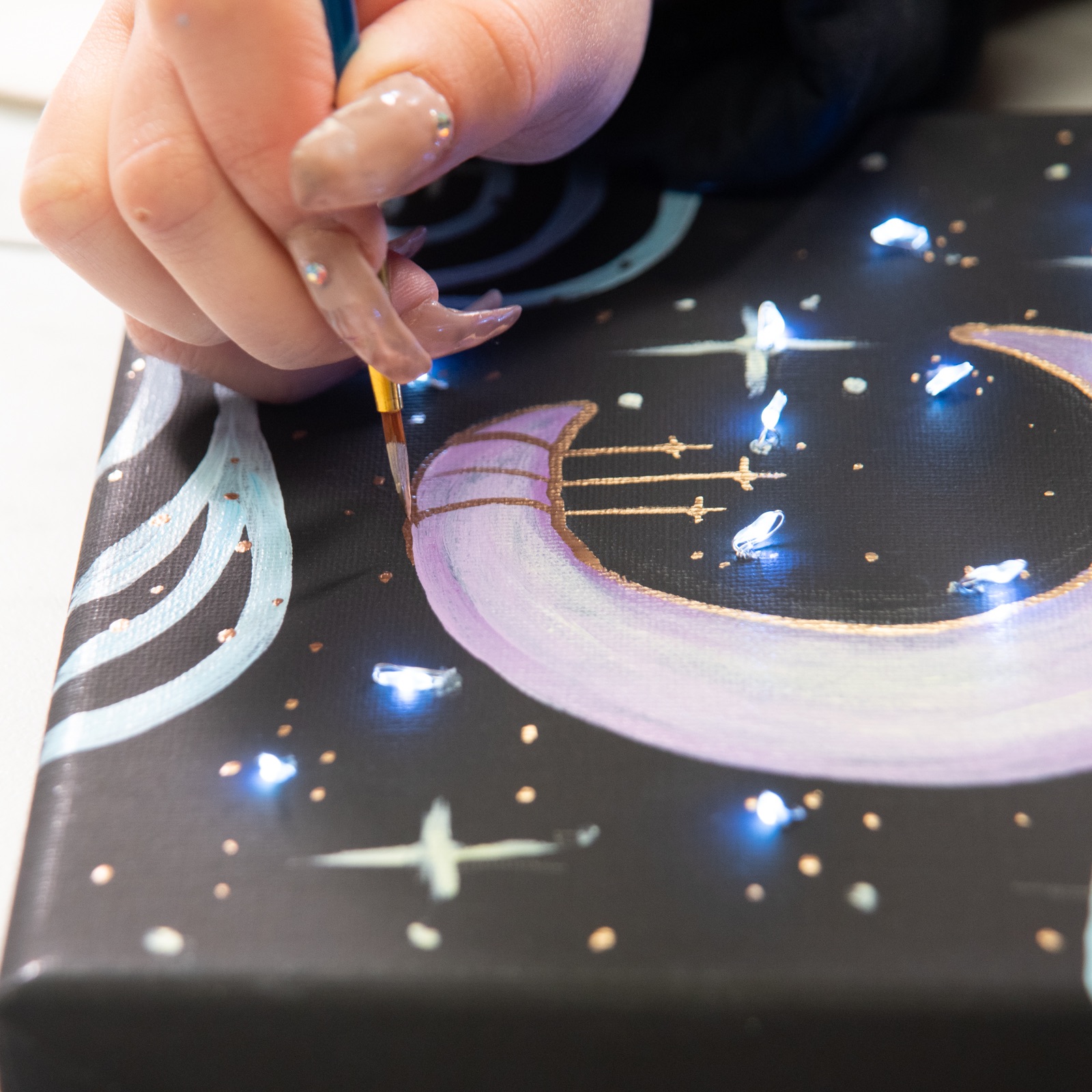 You can also hang this Light Up Moon Painting in a dark hallway or in a space where you don't have enough outlets. This would be perfect for a laundry room or a closet.
If you hang it in a place where you want to turn the light off and on a lot, just be sure to place your fairy lights in a way that you can easily access the switch.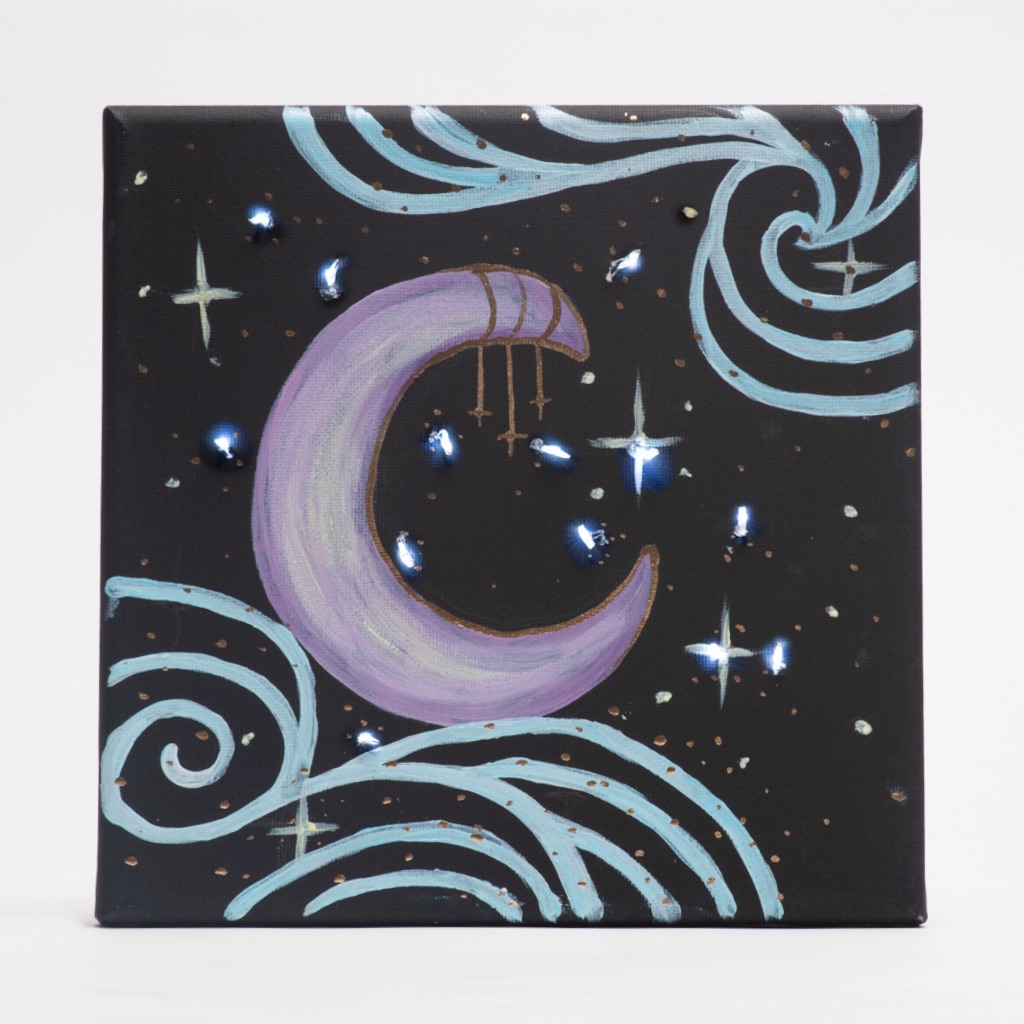 Ready to make this Light Up Moon Painting for yourself? Show me in the comments how yours turned out! And let me know below if you run into any questions! Happy crafting.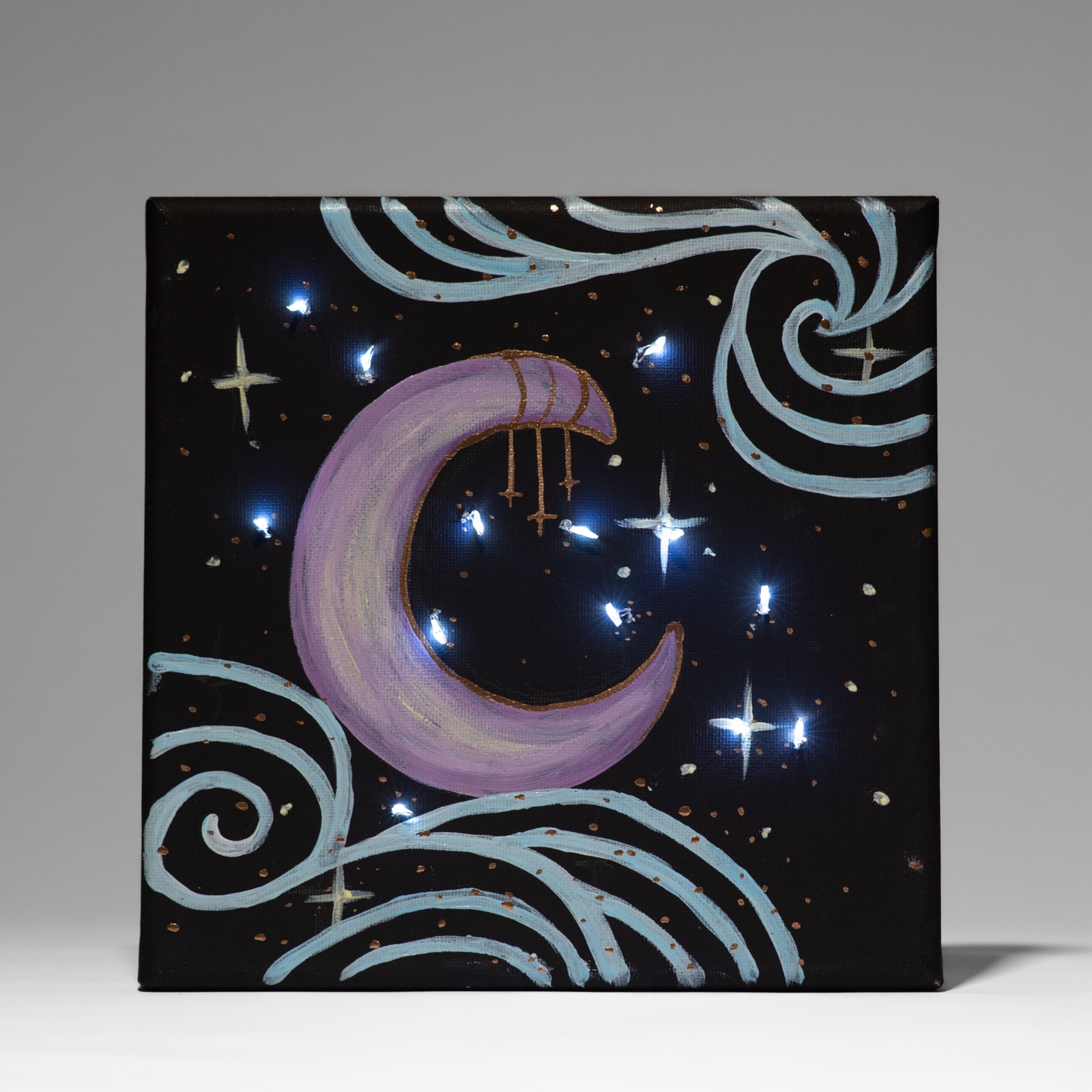 Let's Stay Friends!
Insta | Pinterest | Enews | TikTok