I admit it – until recently, I bought store-bought, pre-made pancake mix. Because it's easy. And it's simple. And it's takes almost no time.
But I'm going to let you in on a big secret: making pancake mix at home is easy. And simple. And it takes almost no time. You can even make cool twists on an simple pancake mix like this Matcha Pancake Mix. Plus, it's cheaper, healthier (no additives or preservatives), and tastes better, too. 
I gotta convince you, because it took me so long to figure it out for myself. Five minutes in my kitchen means I can have at least 4 recipes' worth of pancake mix. It literally costs pennies and I know exactly what's in it!
Do me a favor: try it one time. Make up this pantry mix once, and see if it isn't as easy and better tasting than that store-bought stuff.
Homemade Pancake Mix – the Ingredients
If you're like me, you've got every one of these in your pantry. Literally every. single. one.
Here is your handy, quick-reference grocery (pantry) list:
flour (you can use white, whole-wheat, a mixture of both, organic, whatever you want)
sugar (this can be optional)
baking powder
salt
cinnamon
That's it. Raise your hand if you have all of these things in your pantry right now!
Making the Homemade Pancake Mix
I said '5 minutes in the kitchen' earlier, but honestly, it's more like 2 or 3 minutes. Maybe 5 by the time you put everything away.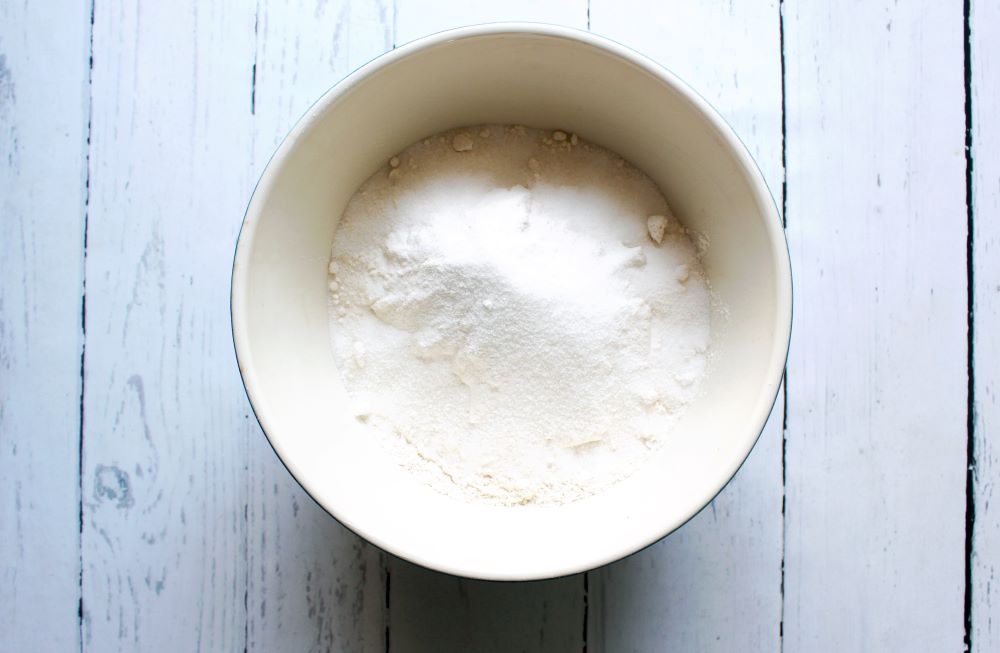 Measure 7 1/2 cups of flour into a very large bowl. Sprinkle 1/4 cup (4 tablespoons) of baking powder over the top and sift together well.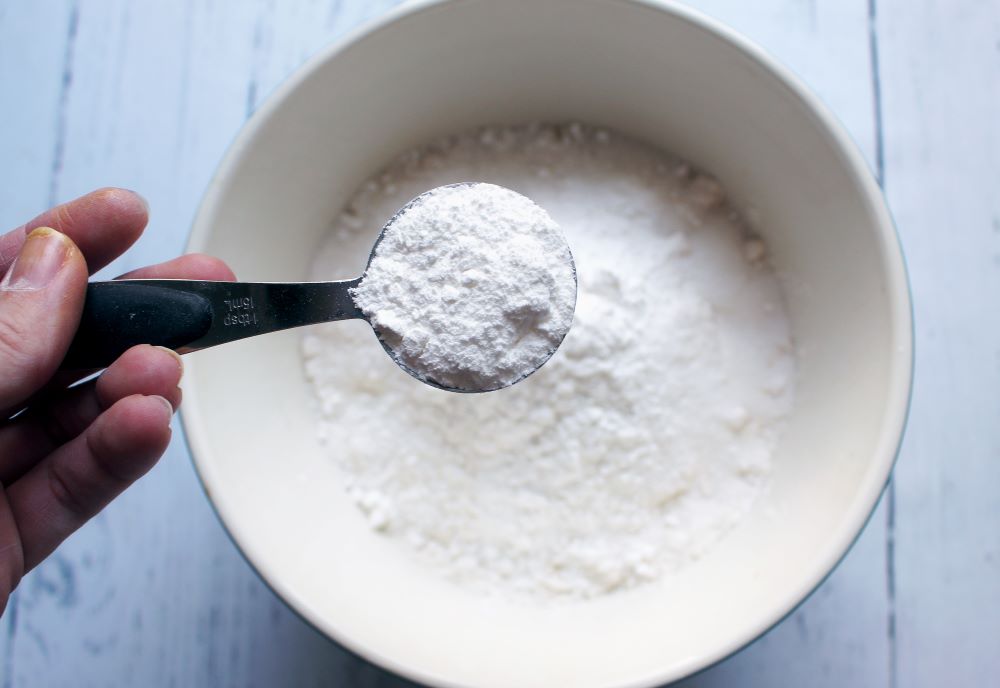 Sprinkle 3 tablespoons of white granulated sugar over the flour, and then add measure 1 tablespoon of cinnamon. Sprinkle 1 1/2 teaspoons of salt over the bowl. Stir to evenly distribute the sugar, cinnamon  and salt throughout.
Done. Done. Done. That's it! That same box of pancake mix you buy at the store for $5? You just made it.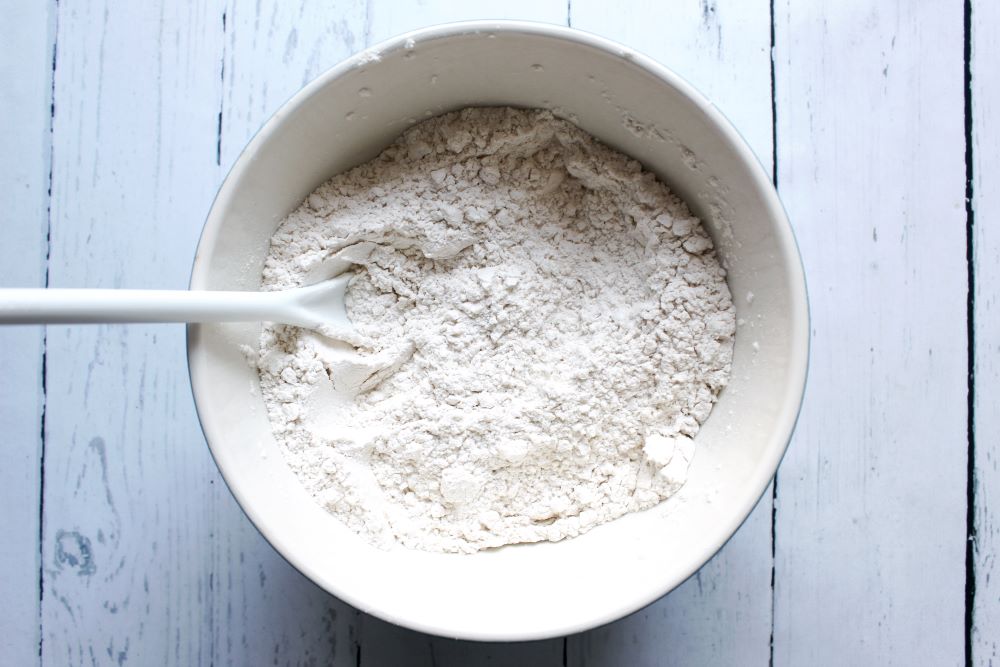 Storing the Homemade Pancake Mix
Store the pancake mix the same way you store your flour, sugar, and other dry pantry staples. I store mine in a pop-top, vacuum-sealed container. It will last indefinitely, just like your flour does.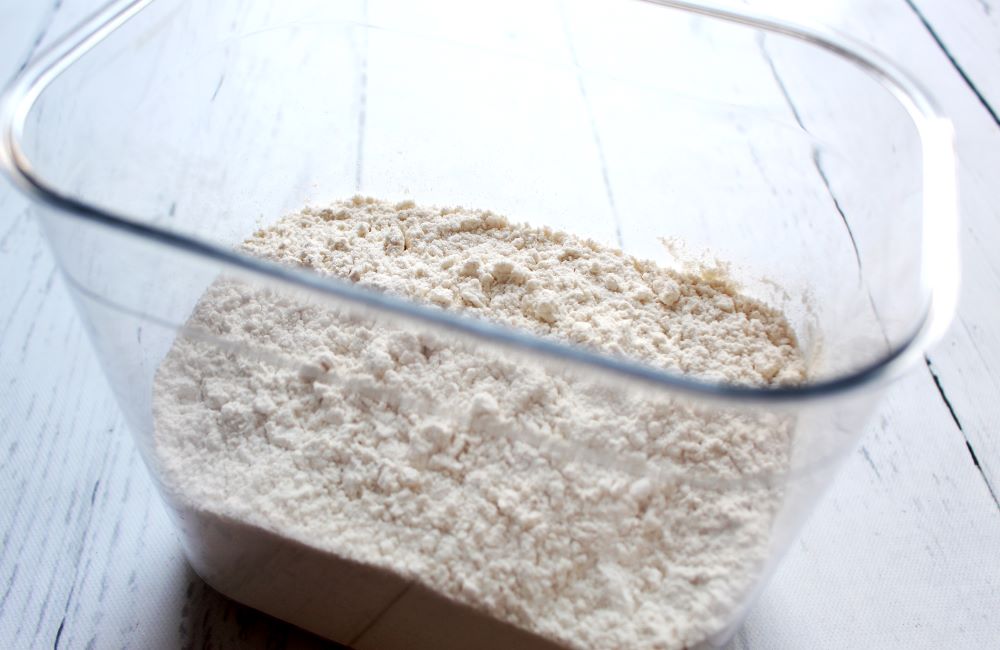 Using the Pancake Mix to Make Pancakes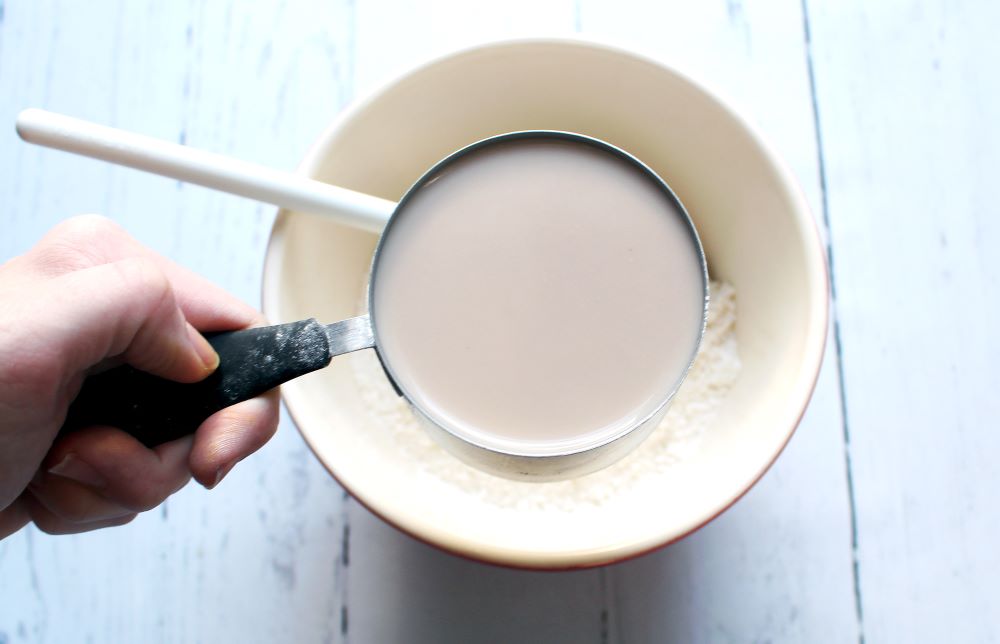 To use the pancake mix to make a batch of pancakes, add 2 cups of dry pancake mix to a medium-sized mixing bowl. Pour in 1 1/4 cups of milk of choice. Crack in an egg (or 2 egg whites) and stir to combine. Take care not to overmix; lumpy batter is what you're looking for. Overmixing will make your pancakes tough and chewy.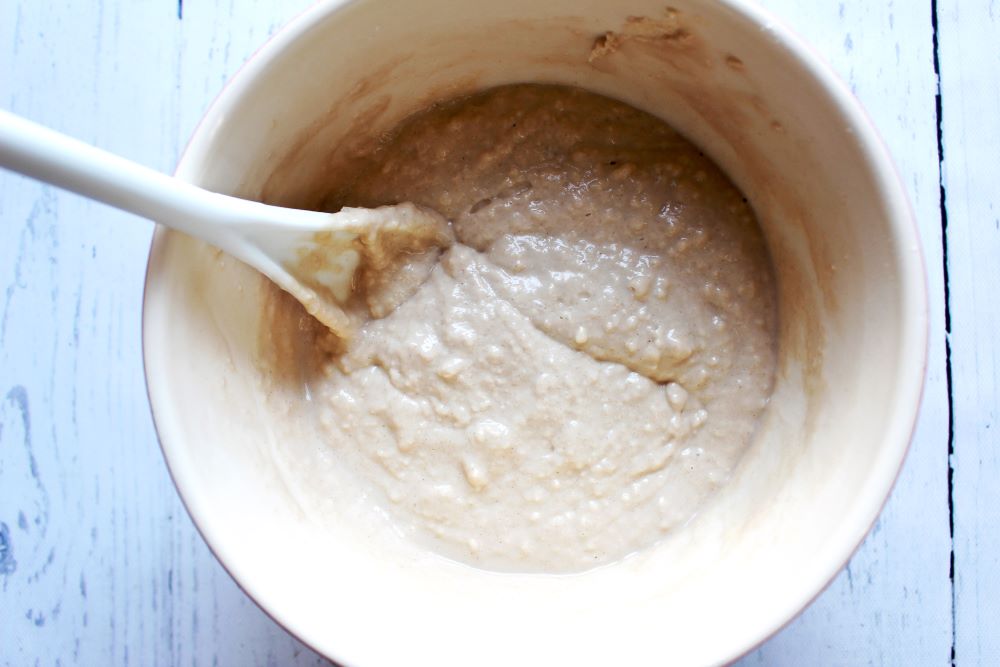 Lightly grease and heat a griddle or skillet, and pour the pancake batter on in 1/4 cup amounts. One batch makes 8-10 pancakes.
You can add in any additions before cooking as well. Check out the ideas below.
Bonus: You can make a double batch and freeze these pancakes as well! Freeze pancakes in ziploc bags; I typically put 3-5 pancakes in a bag, depending on how many I figure I'm going to use at a time.
Quick, Favorite Pancake Combos:
Banana Almond Milk + chocolate chips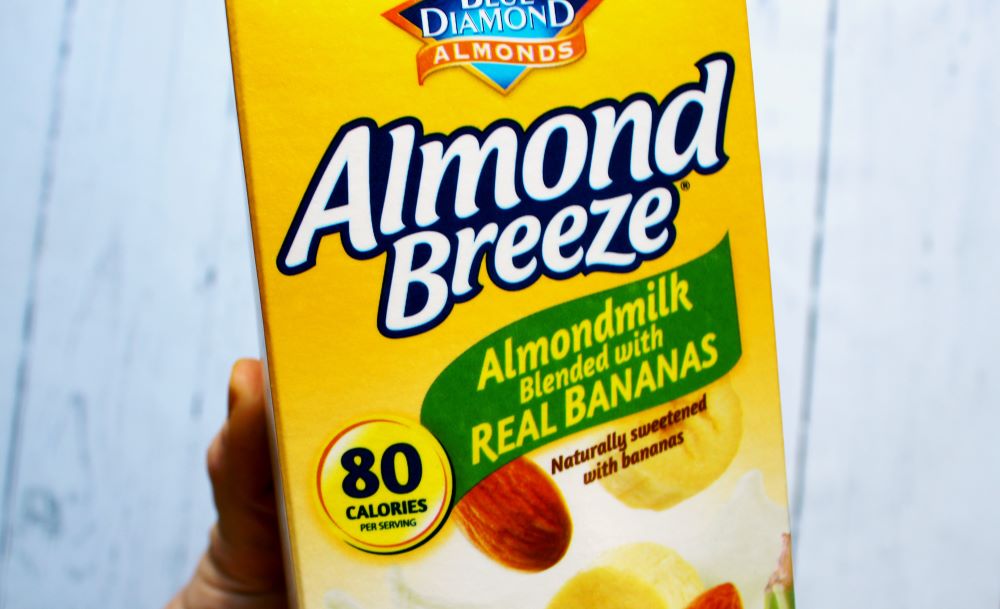 Vanilla oatmilk + dried cranberries & white chocolate chips
Oatmilk + blueberries & cinnamon chips
Basically, any type of milk, fruit and sweet baking chips are going to be delicious in your pancakes!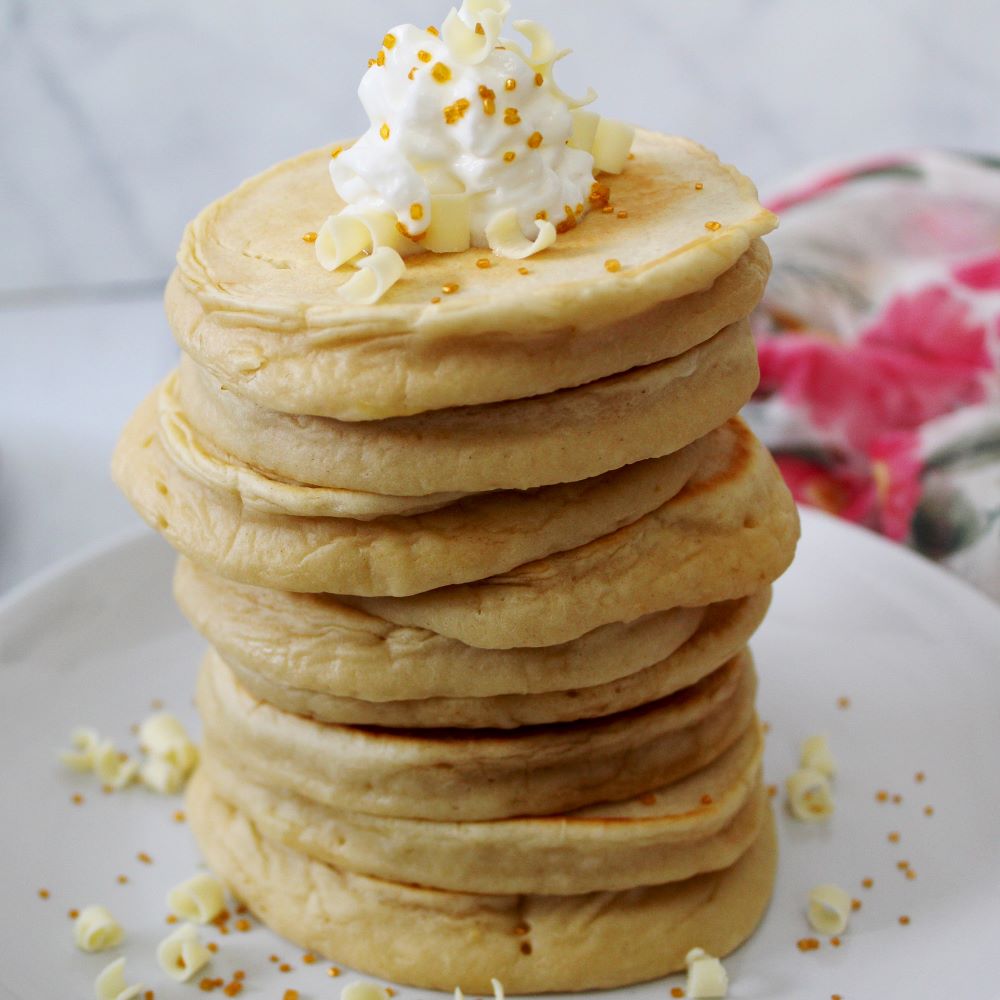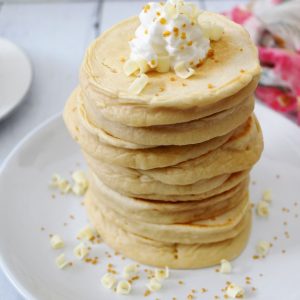 Make-Ahead Pancake Mix
Making pancake mix is cheaper and as easy as buying it pre-made!
Ingredients
7 1/2

cups

flour

3

tbsp.

sugar

1/4

c.

baking powder

1 1/2

tsp.

salt

1

tbsp.

cinnamon
Instructions
In a large bowl, measure 7 1/2 cups of flour.

Sprinkle 4 tablespoons baking powder over the flour and mix well.

Sprinkle sugar, salt and cinnamon over the top and mix completely.

Store in an airtight container.
To make pancakes:
Measure 2 cups of dry pancake mix.

Add 1 1/4 milk of choice and 1 egg. Stir.

Pour pancake mix on griddle in 1/4 c. scoops.

Cook about 3 minutes on each side, or until golden brown and cooked through.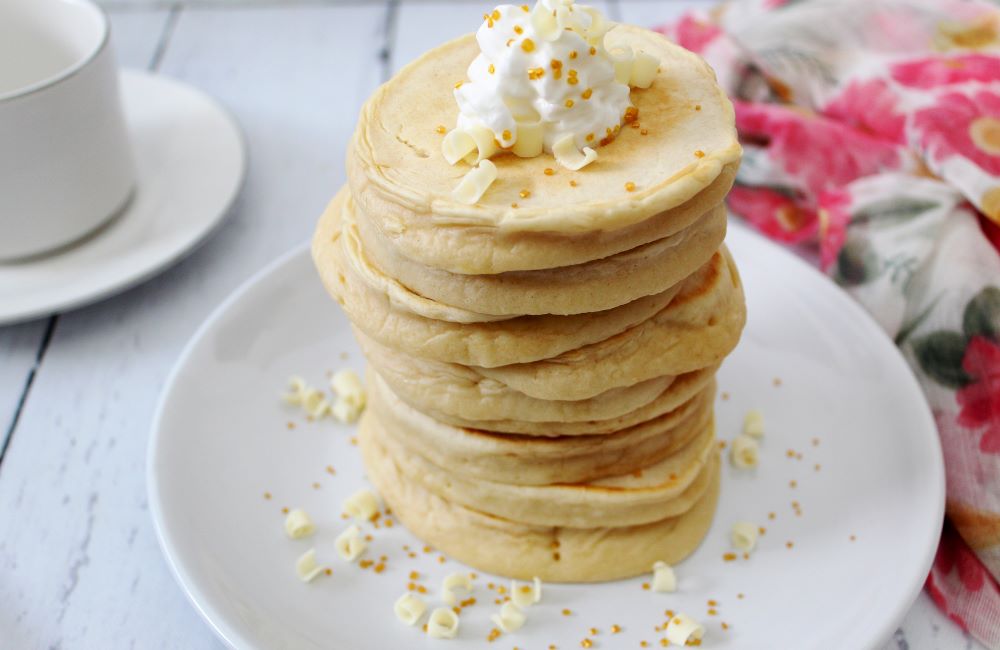 Let's Be Friends!
Insta | Pinterest | Enews | TikTok