Who's hungry? I know I am!
I'm a pie kinda gal more than a cake kinda gal. I just love a juicy, fruity baked dessert full of crunchy toppings like crumbles and crisps. This Cast Iron Skillet Raspberry & Peach Crisp Recipe is a perfect recipe because it combines peaches and raspberries into a beautiful blend. It's also the perfect dessert for a cast iron skillet.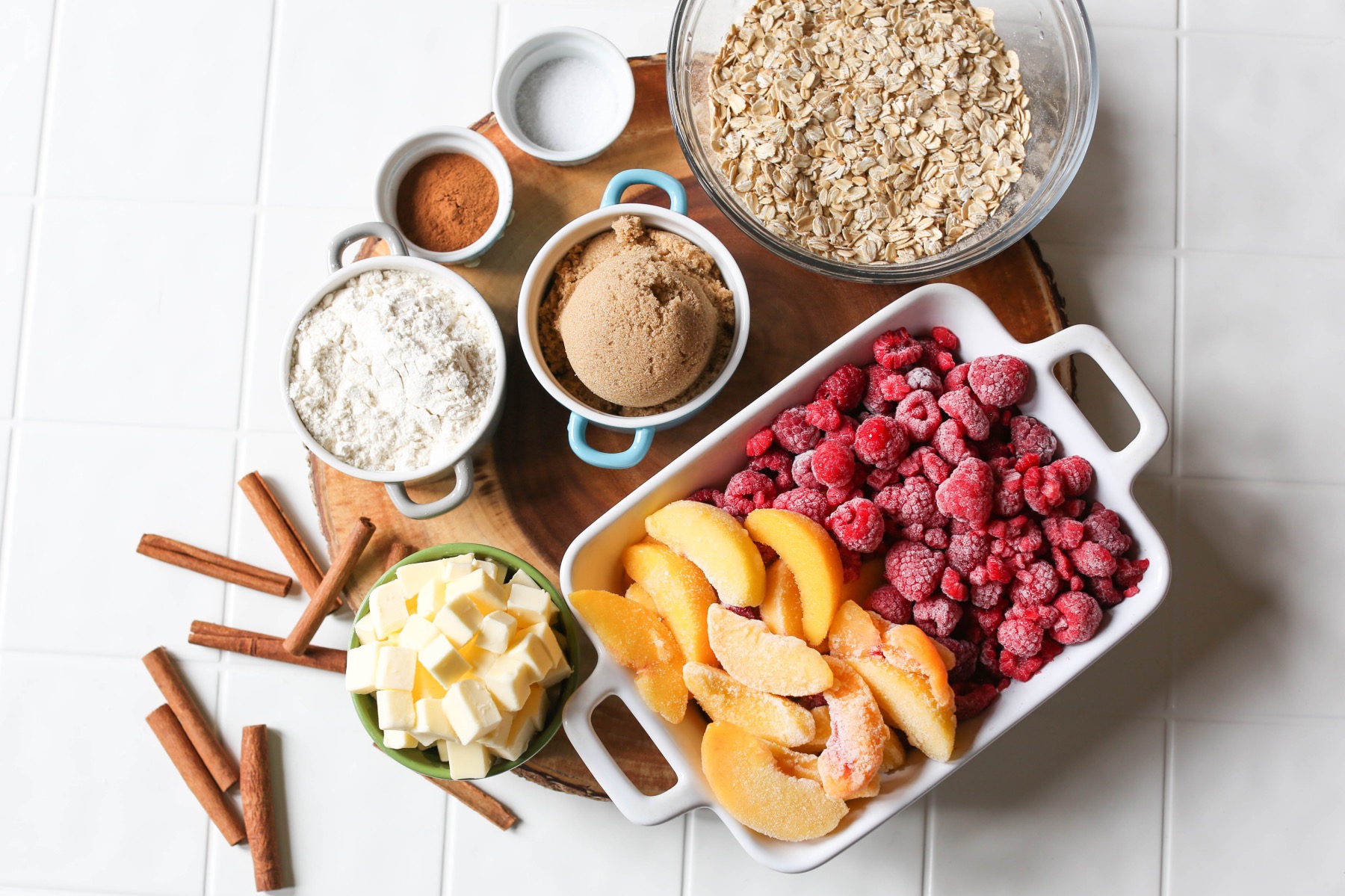 What is a cast iron skillet, anyway?
A cast iron skillet is a perfectly versatile piece of cookware. It can be used on a grill or in the oven too because it can handle higher heat than other types of cookware.
You can use a cast iron skillet to cook steaks, pancakes, and so much more. Best of all, it's nearly indestructible!
Cast iron skillets need to be seasoned to protect the surfaces and prevent food from sticking. To season a skillet, add a small amount of oil to the pan regularly. They don't need to be cleaned with soap and water. Instead just use water and a bit of vegetable oil.
A cast iron skillet makes a gorgeous palette for serving a dish like this. Plus it makes the Raspberry & Peach Crisp Recipe so easy to make. So let's get started baking!
Frozen or Fresh Fruit?
One of the most important qualities in making a cobbler or crisp is whether you use frozen or fresh fruit. Both will work for this recipe so it really just depends on what season you want to bake your Raspberry & Peach Crisp.
Since peaches have a short summer season, you may want to use frozen at any other time of the year. If you are using frozen allow your fruit to thaw before you use it. This will help the brown sugar soak in easier and will give you a more delicious result!
While your brown sugar is soaking into your fruit, make the simple crisp crumble topping by gathering your oats, flour, brown sugar, cinnamon, salt and thoroughly blend. Add your cold cubed butter but cutting it in with a pastry cutter.
You will only need the crumble topping to have a dry and clumpy texture. Once your butter is thoroughly blended into the crisp and the crisp topping is breaking into pieces that are around the size of peas, it's ready.
Now the next few steps are simple!
Layer your fruit into the cast iron skillet first. Be sure that your brown sugar has thoroughly coated the fruit evenly. You may even want to give your fruit a thorough stir before you place it in the skillet.
Next layer the crumble topping evenly across the surface of the fruit.
Now bake your Raspberry & Peach Crisp for around 45 minutes to 1 hour. You will know that it's ready by the color of the crisp – which you will want to be golden brown. Your fruit will also be bubbly, gooey, and gorgeous when you remove the crisp from the oven.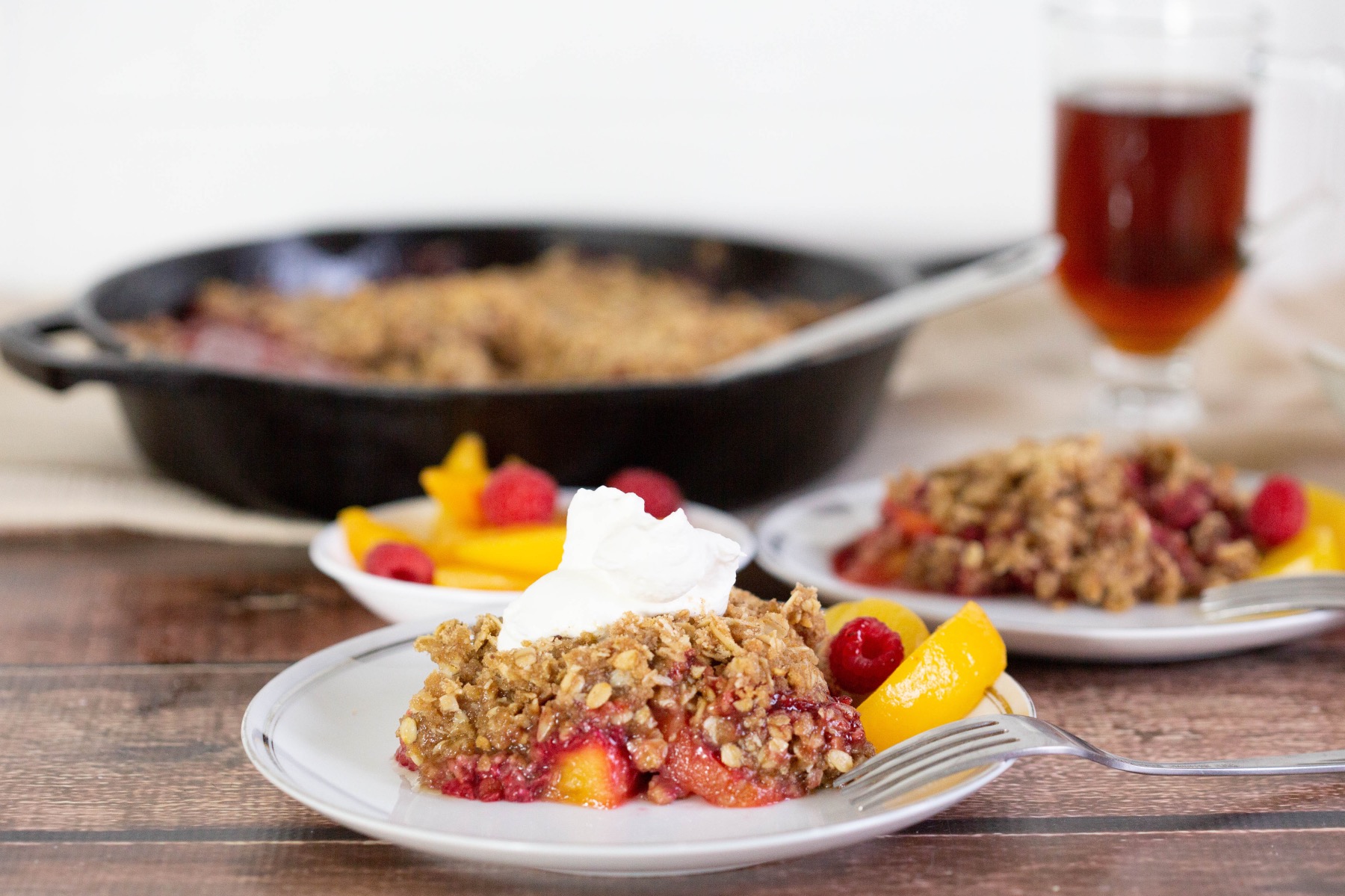 Whatever you do, allow your Raspberry & Peach Crisp to cool before you serve it. The fruit filling will be as hot as lava, so be careful!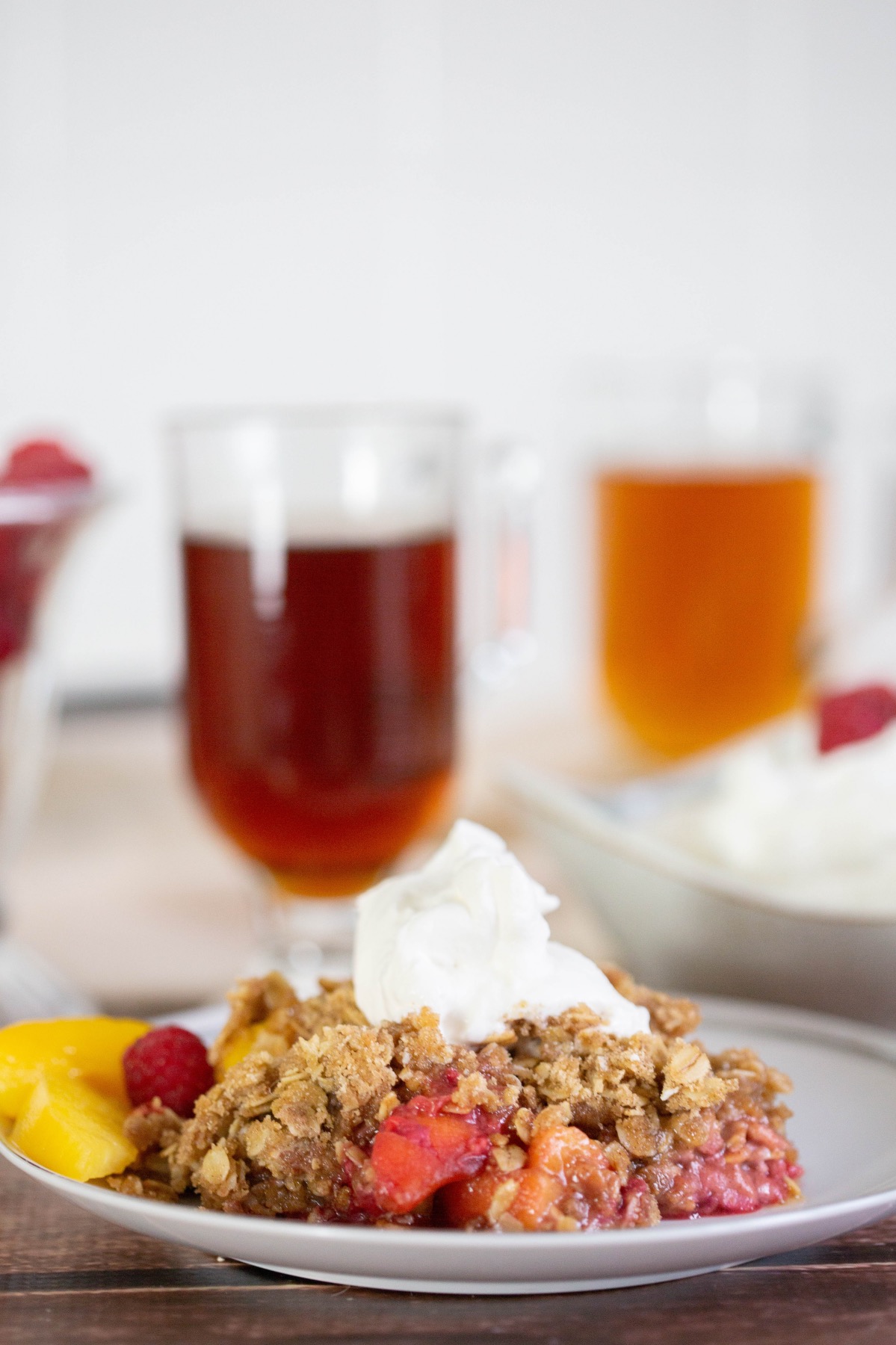 How to Serve a Raspberry & Peach Crisp
There are so many different ways to serve your crisp but my favorite is to pair it with whipped cream or ice cream!
Both are delicious choices because they add that creamy dairy to this dish. If you want to do something slightly healthier, you could also consider a tart frozen yogurt in place of the ice cream. YUM!
Pairing the dessert with fresh raspberries and peaches is a fun way to give the dessert a pop of color! It's perfect for plating and looks great at a dinner party.
What's great about making this Raspberry & Peach Crisp Recipe in a cast iron skillet is how easily you can store it and reheat it. All you need to do to store it is cover the dish with foil and keep it in the fridge for up to 3-5 days.
To reheat it, place the skillet back in the oven until warm.
You could even bake the Raspberry & Peach Crisp on a grill instead of in the oven! It's the perfect dessert for camping, or just for fun!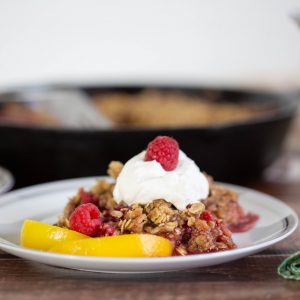 Cast Iron Skillet Raspberry & Peach Crisp Recipe
This gorgeous fruity dessert pairing raspberries and peaches is created in a cast iron skillet! Best of all, it's easy to make!
Ingredients
For the Fruit Filling:
4

cups

raspberry

frozen or fresh

3

cups

sliced peaches

frozen of fresh

1/4

cup

brown sugar
For the Crisp Topping:
2

cups

oats

1

cup

all-purpose flour

3/4

cup

brown sugar

2

teaspoons

cinnamon

1/2

teaspoon

salt

1

cup

cold butter
Instructions
Preheat oven to 350°F.

Place the peaches and raspberries in large bowl and cover with 1/4 cup brown sugar. Stir mixture and set aside while you prepare the crisp topping. This allows the sugar to soak into the fruit and releases the natural juices.

In a medium sized bowl combine flour, remaining brown sugar, cinnamon, and salt.

When combined, cut your cold butter into small pieces. Then use a pastry cutter to cut in the butter until the crumble topping is chunky and the butter is around the size of peas.

Place peach and raspberry mixture into a 10" cast iron pan. Cover with crumb topping and gently press down.

Bake for 50-60 minutes or until topping is golden brown and juices are bubbling.

Cool slightly and serve warm with whipped cream or vanilla ice cream.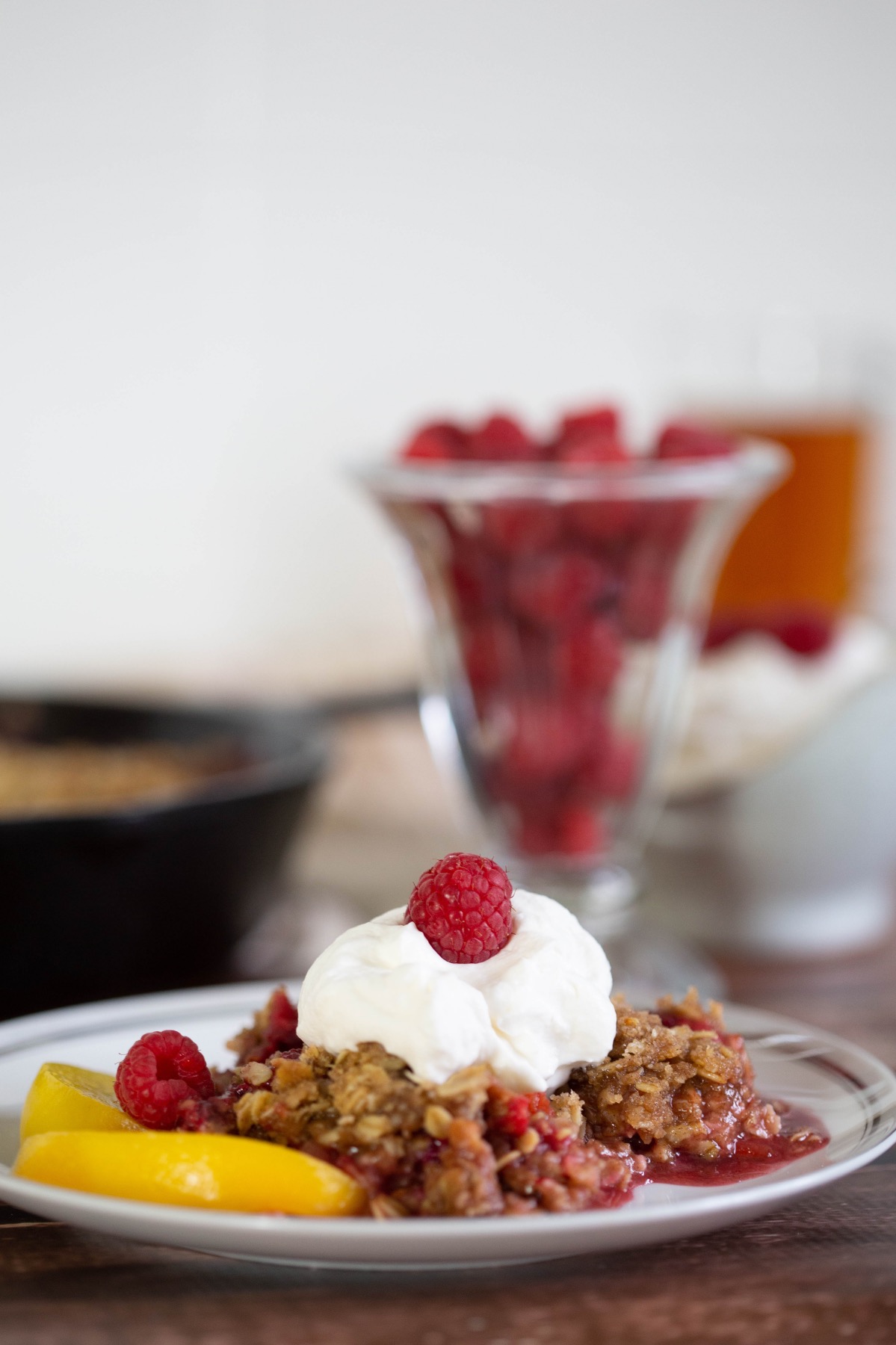 Are you hungry for this Cast Iron Skillet Raspberry & Peach Crisp? I sure am! Tell us how yours turned out in the comments. And if you need even more desserts in your life, check out our additional recipes below.
---
Let's Stay Friends!
Insta | Pinterest | Enews | TikTok