In the mood for something sweet? These chocolate chip cookies are a fun way to celebrate Valentine's Day! Using pink M&M's is festive and pretty.
Best of all these Valentine M&M Chocolate Chip Cookies are very easy to make. It's just a simple twist on a chocolate chip cookie recipe. Because this recipe is a familiar favorite you could add a twist like combining it with these sea salt and brown butter chocolate chip cookies.
Or you could drop the cookies into a Frozen Yogurt like this. So let's make them!
Ingredients to Make Valentine M&M Chocolate Chip Cookies
To make these Valentine M&M Chocolate Chip Cookies you will need all your standard chocolate chip cookie ingredients: flour, salt, baking soda, white sugar, brown sugar, butter, eggs, vanilla extract and chocolate chips.
Then you will need Valentine themed M&M's.
You could use any kind of chocolate chips you like – mini chips, dark chocolate, milk chocolate or semi-sweet. And you can use your favorite brand.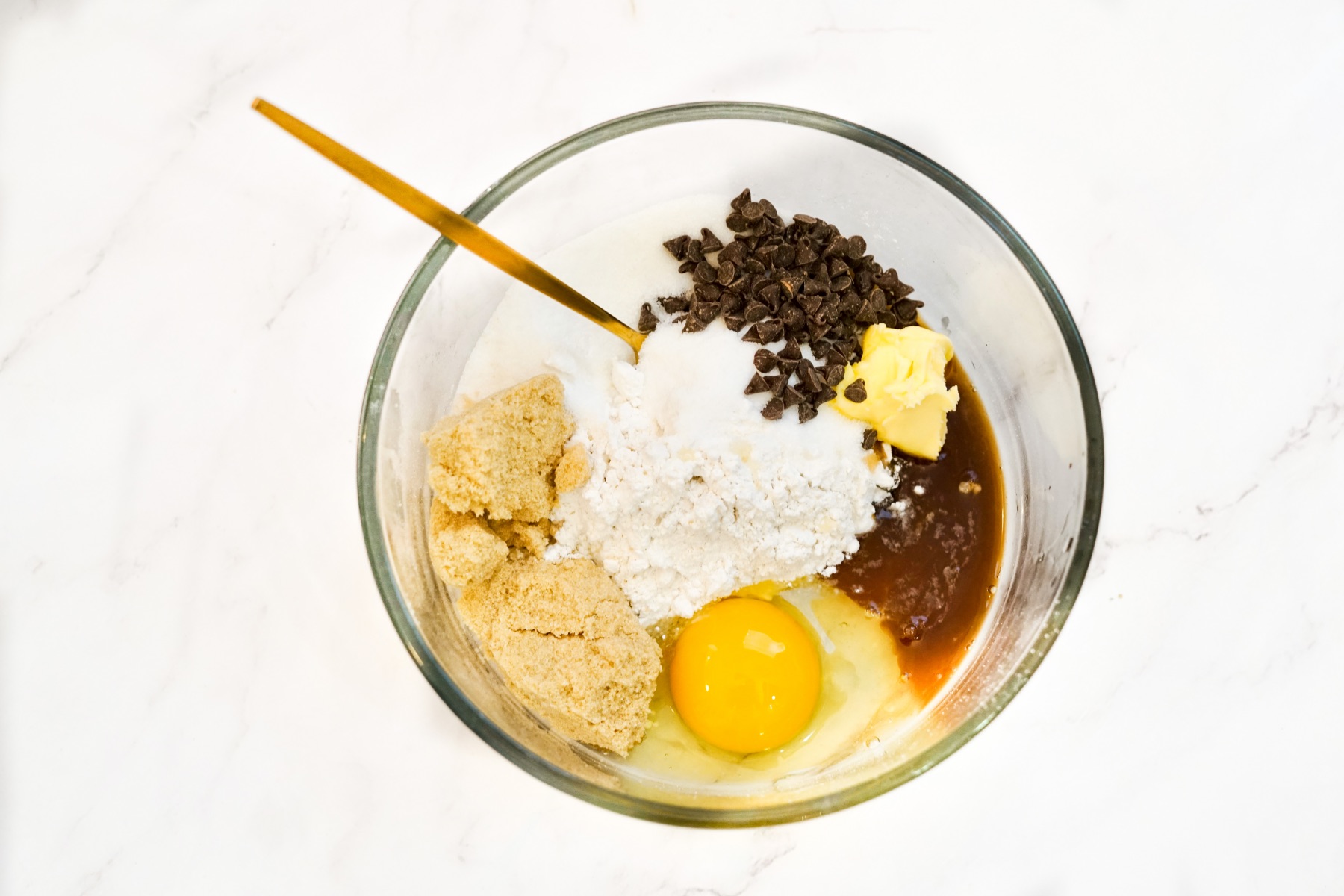 Softened Butter not Melted Butter
If you are a baking pro, you can likely skip right to the end and find the recipe card. But if you are not, be sure to use softened butter not melted butter.
To make softened butter, simply leave your butter at room temperature for a few hours. Do not place your butter in the microwave to warm and melt it – even if it's for a few seconds. Melted butter, even when tepid, can melt sugar and damage the consistency and texture of the cookies.
If you can wait for softened butter, just be sure that your melted butter is completely cool, and I do mean completely, before using.
Every Cookie Recipe is Wrong – Mix Your Wet Ingredients First
I don't know why all cookie recipes tell you to mix your dry ingredients together in a separate bowl and set aside. I think they are just trying to give you more dishes!
Instead, start with your wet ingredients – your butter, sugar, eggs, and vanilla. Then add your salt and baking soda. Last add your flour. With this method, you can use 1 bowl and you can ensure that your salt and soda are evenly distributed!
Mixing is the Secret to a Perfect Cookie
The number one mistake I see in other people's baking is over-mixing cookie dough! If you over-mix the dough, your cookies will be dryer. Instead of spreading and remaining flat, they will rise instead of spread.
This happens because you are putting more air into the dough and you are starting to break down the gluten in the flour.
All cookie dough, once the flour is added, should be mixed as little as possible. You will only mix to combine the ingredients.
When to Add Your M&M's
When you bake your cookies, you will simply be baking your chocolate chip cookies with no M&M's. M&M's will crack and break if you add them too early. They will likely loose their color from the moisture in the cookie dough.
Instead add them when they just have a few minutes left of baking. Or you can add the M&M's to the cookies straight out of the oven while the cookies are still warm.
How to Serve and Store Your Valentine M&M Chocolate Chip Cookies
Serve your M&M Chocolate Chip Cookies with a glass of milk for the kids or with a glass of wine for adults! You can add ice cream in between 2 cookies for a really fun treat. But my favorite way to serve these is to add them to a cute Valentine's themed gift box and gift them instead of chocolates!
These cookies will keep for up to a week just like any other cookies. They are best at room temperature in an air tight container. They don't keep as well in the fridge because it will make them too hard and dry.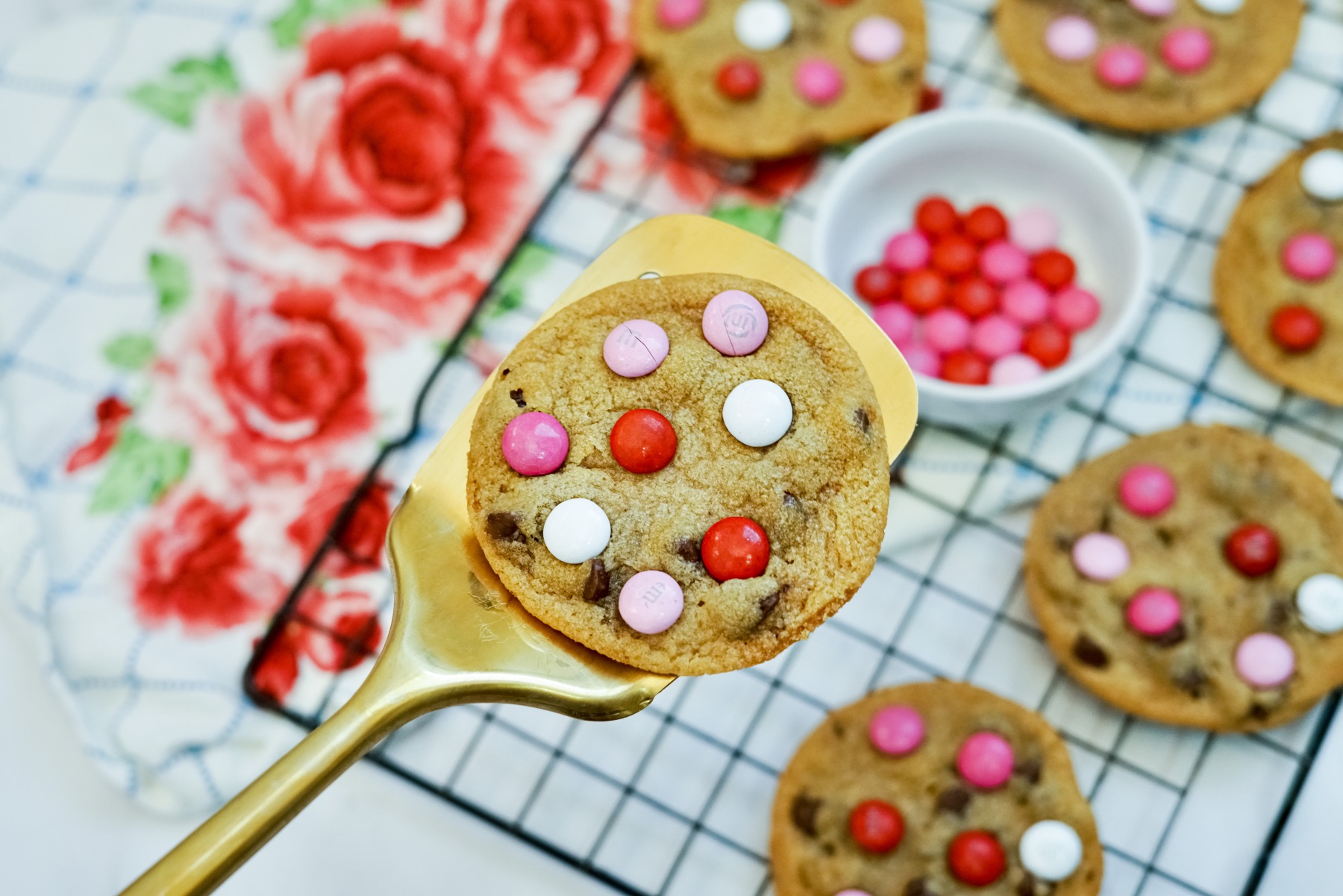 Valentine M&M Chocolate Chip Cookies
These cookies are an easy to make spin on classic chocolate chip cookies - all dressed up for Valentine's Day! These M&M cookies are giftable, adorable and full of pink candy chocolates!
Equipment
1 Baking Sheet

1 mixing bowl
Ingredients
1/2

cup

Butter

softened

1/2

cup

White Sugar

1/4

cup

Brown Sugar

packed

1

tablespoon

Vanilla Extract

1

Egg

large

1/2

teaspoon

Baking Soda

1/2

teaspoon

Salt

1 1/4

cup

All Purpose Flour

1/2

cup

Chocolate Chips

1/4

cup

Valentine M&M's
Instructions
Preheat the oven to 350°F.

In a large mixing bowl, combine your softened butter, white sugar, and brown sugar until light and fluffy.

Add your egg and vanilla extra and mix until combined.

Sprinkle your baking soda and salt across the surface of the wet ingredients and gently mix.

Add your flour in parts. Only mix until combined. Do not over-mix.

Add your chocolate chips until they are even throughout the dough.

Use a cookie scoop to make cookie sized scoops. Or use your hands to scoop and place on your cookie sheet.

Bake at 350°F for 8-12 minutes or until golden brown along the edges and slightly wet in the center.

When you remove them from the oven, immediately press 3-7 M&M's into each cookie.
Can't get enough Valentine's Day Cookies? How about these Red Velvet Cherry Kiss Cookies or these White Chocolate & Rose Water Cookies?
Let's Stay Friends!
Insta | Pinterest | Enews | TikTok