As a mini freebie in our Craft in Style Subscription Boxes (January 2019) we included Mini Dinosaur Toys!
The pair perfectly with these Gilded Dinosaur Terrarium Planters that were the feature of the January 2019 Box. And we have a few other dino surprises in the box that we haven't announced yet. Only our subscribers know what's inside!
Other than using them for terrariums, there are lots of other DIYs you can make with mini animal toys. Here are some of my favorites! When making these Gilded Animal DIY's, all you need to do is coat them in the gilding twice. If you want to give the metallic sheen a little pop, first paint the animals with a layer of white heavy bodied acrylic paint. It brightens the gilding.
These Gilded Animal Place Cards are about an easy a DIY as it gets. This is perfect for a party or event.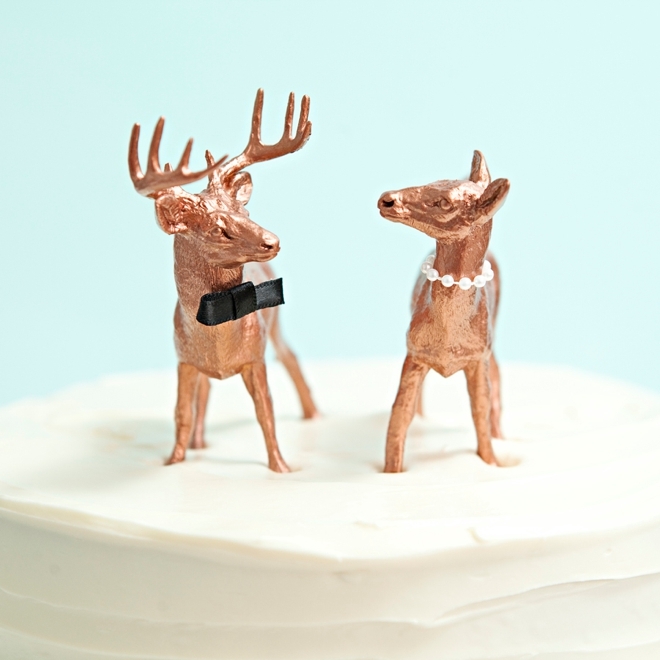 These sculptural animals are so much fun with their little bow ties and necklaces. These are super versatile as you could place them in more than just a cake!
This DIY just about broke the internet when it came out. The white candles really pop against the gold Stegosaurus.
Got a note, memo, or photo that you want to display? Here's the perfect way to make any note and photo into a whole lot of fun.
Make your skincare supplies look like a dream! This would also be perfect for any kitchen or craft supply room.
*swoon* Am I allowed to have a favorite on this list? Because I am in love with these dino knobs! This would be so fun in any room of the house.
This glitter makes this sculptures party perfect! These DIY Animal Globes give all kinds of disco vibes.
Are you an avid reader? Glam up your books with these DIY Wood & Animal Toy Bookends.
Need a cool place for rings and bracelets? All you need is a ceramic plant, an animal toy, and some liquid gilding! These plates are perfect for any small object.
Here's a gilded animal DIY that's totally wearable! This dino is going to make any outfit pop with a bit of stylish fun!
I love the silver of these DIY Cake Toppers! This would make any cake feel totally special.
What are you going to DIY with the Mini Dinosaurs included in your Craft in Style Sub Box (January 2019)? I hope it's one of these! And if you need even more inspiration, check out these Rainbow Painted Animal Toy DIYs on the blog here. It's just like these gilded animals but instead of being in a shimmery copper, gold, and silver palette, you can find animals that are painted all different colors of the rainbow and made into all kinds of cool DIY's like Wall Mounted Jewelry Holders and Taxidermy Art.
Let's Be Friends!
Insta | Pinterest | Enews | TikTok