One of my favorite ways to celebrate the New Year is to grab a fresh notebook and get organized! It's a productive way to prepare for returning back to work after a long holiday. And journaling is a great tool for self care.
Creating a journal collage is wildly creative and has endless possibilities. If you are thinking about creating a journal for yourself, here are 11 Ideas for Creating a Stylish Journal Collage that will make your notebook fun and one that you can keep for a lifetime.
1. Stick to a Theme and Color Scheme
First, start out by creating color scheme to give it a coherent look and feel. The paper in the notebook will help set the tone – you could even look for a journal with unique colored paper! Next, pick 5 main colors that you will stick to throughout the notebook. My favorite way to create a new color palette is to find an image that you like and reuse individual colors from the image.
2. Block Designs into Sections
Then start to build sections on your pages by breaking up the page into smaller pieces. Be sure that different pages have different compositions. If you add your photos in the same place on every page, it may start to feel redundant. Instead, creating unique layouts of text, photos, and memorabilia will help the notebook feel fun and lively.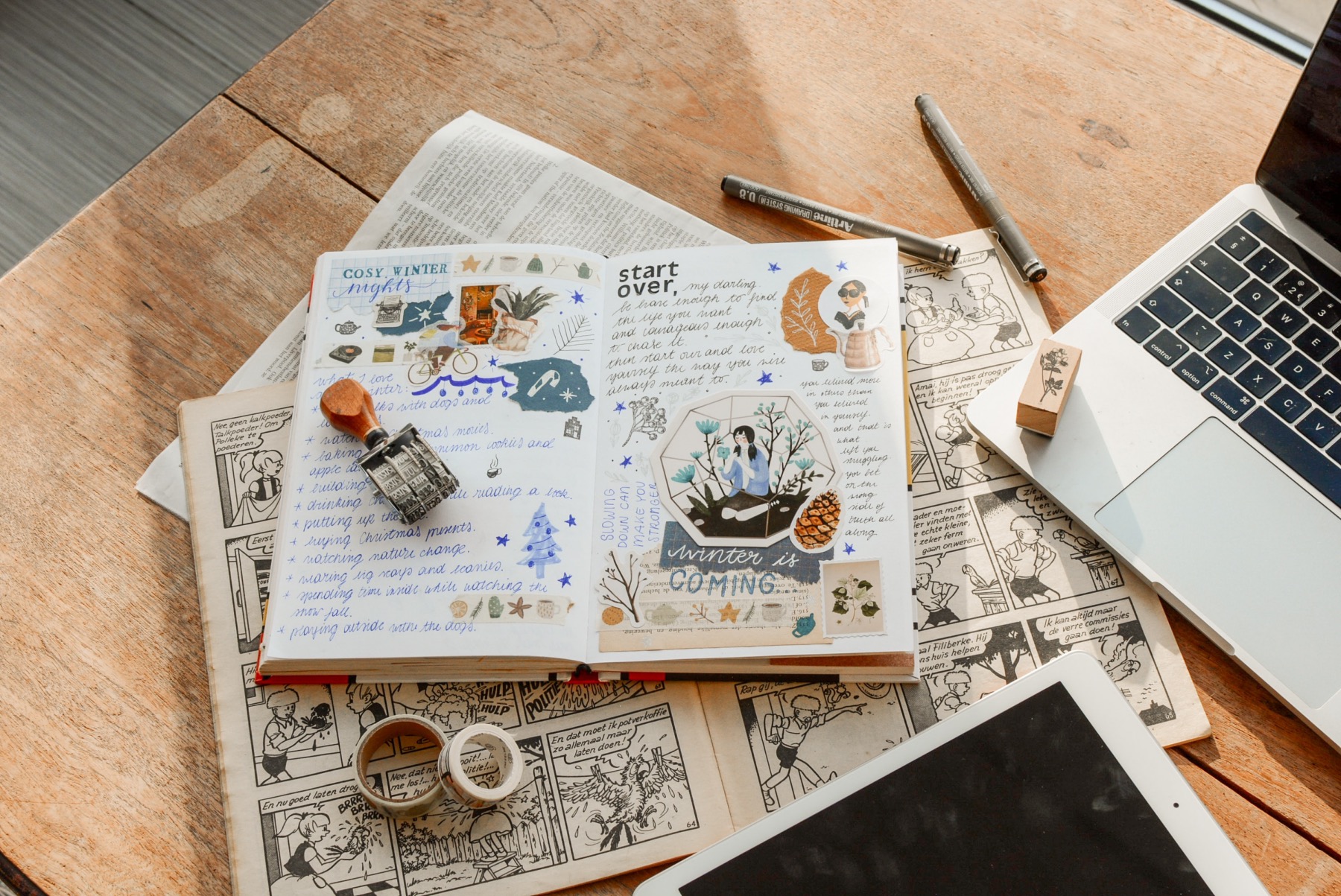 3. Use Colored Paper to Section the Page
The best way to break up the page is to create large sections of color that you can still add scrapbooking and writing on top of. Thin copy paper works better than card stock, because it lays easier on the page. You could also tear out pages of books you love or include pieces from previous journals.
4. Combine Art & Writing on Each Page
When your page is full of words it's a journal and if it's full of art it's a sketchbook. But magic happens when you start to combine the two together. You can make your journal collage even more gorgeous by blocking sections of the pages uniquely, like I mentioned above. Don't always put your images in the same spot. Don't always put your words in the same spot. Mix it up!
5. Try to Stay Positive
It is a journal and expressing our thoughts should be raw and real. But this time of notebook is something that you may want to keep forever. In fact, looking back on previous notebooks can be part of the joy. That's why I always think it's best to try to keep it positive. Be sure to write about your goals, dreams, and day to day accomplishments.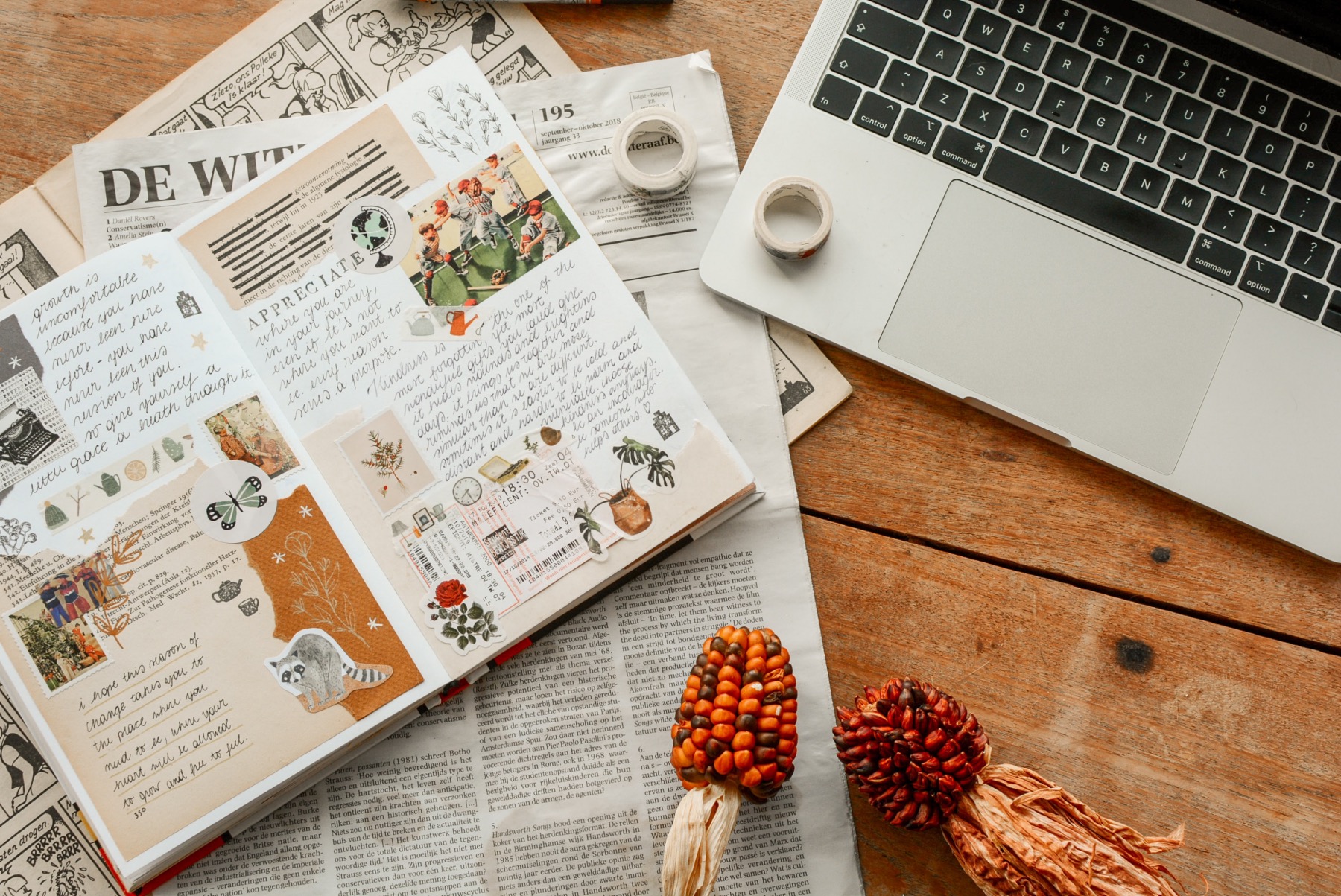 6. Layer in Your Personal Memorabilia
Nothing evokes memories better than trinkets, tickets, and items that have meaning to you. Your Journal Collage is a great place to keep your old airline tickets, concert tickets and movie passes. It's great for photos, like these polaroids. You could even add dried flowers from your favorite gardens to walk through.
7. Use Cool Materials like Magazine Clippings and Stamps
Just how layering colored paper and sectioning your page into unique blocks will help your Journal Collage feel unique, using unique materials will breath life into your notebook too! Some of my favorites are using stamps like alphabet stamps, magazine clippings, pages from previous notebooks, art paper, and vintage fabric.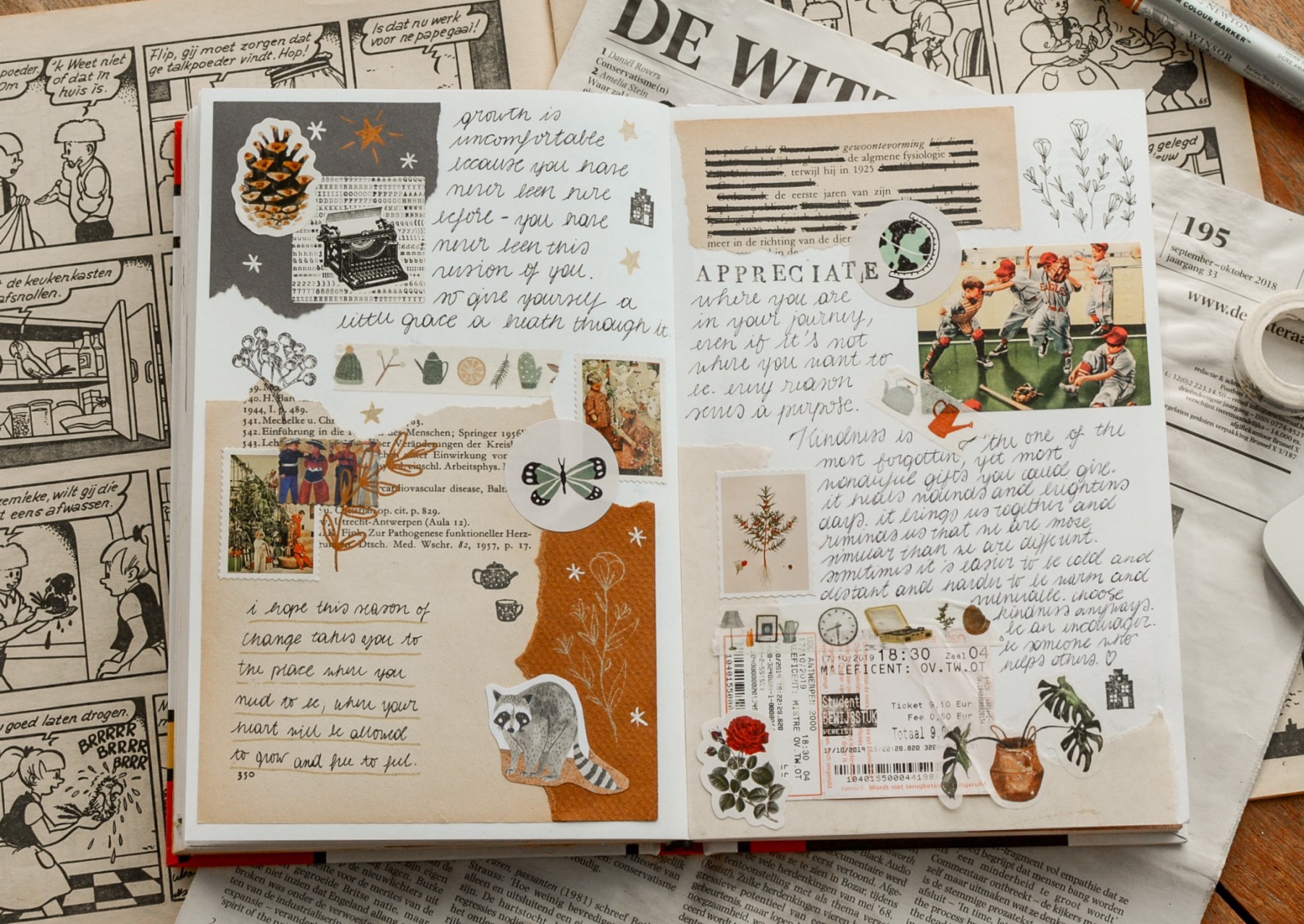 8. Use Stickers and Washi Tape
Anything with a sticky back is so helpful too. Washi tape and stickers are perfect. You can even make your own stickers by drawing and doodling on Cute Sticker Paper like this.
9. Make Original Doodles
You don't have to be a perfect artist to make cool doodles in your journal. Stick to what you know. Again, color palette is a great way to create a sense of continuity. Doodles are a great choice too! If you use colored paper and unique shapes to break up your page, you could keep your doodles to a theme. Think flowers, plants, or cool shapes like hearts and stars.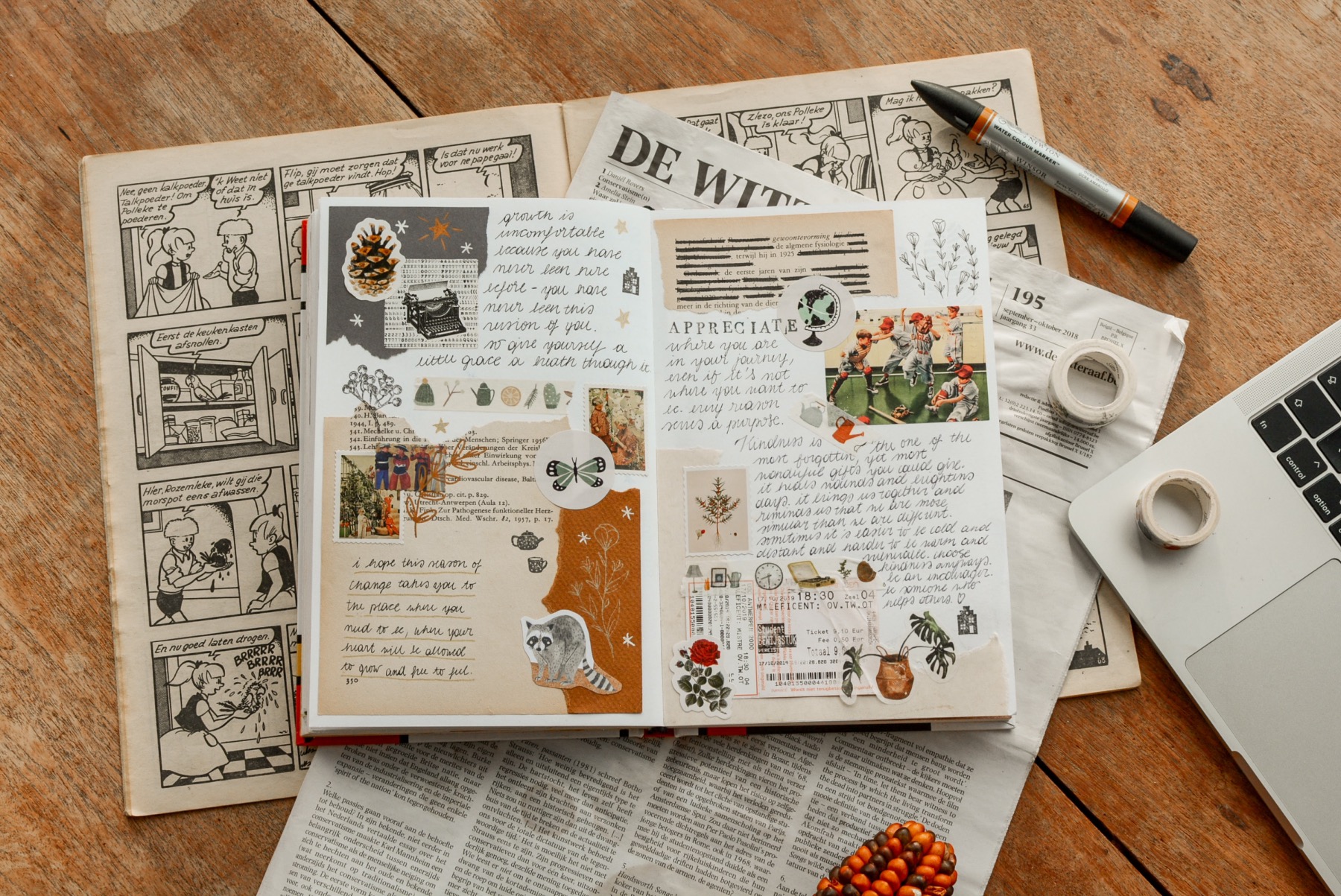 10. Learn Calligraphy
I know… I know… It's sounds hard. But there are some great calligraphy techniques like this one that are perfect for people like me and don't have a natural ability. It turns out you can use templates and tracing to make hand lettering that's stunning!
11. Keep it to Revisit Later
One of my favorite things about journaling is keeping it to revisit later! It can help show you how far you've come and be an amazing window into how you were thinking and feeling when you created it. Best of all, looking at your previous journals can help you create new ones that are better written and more stylish.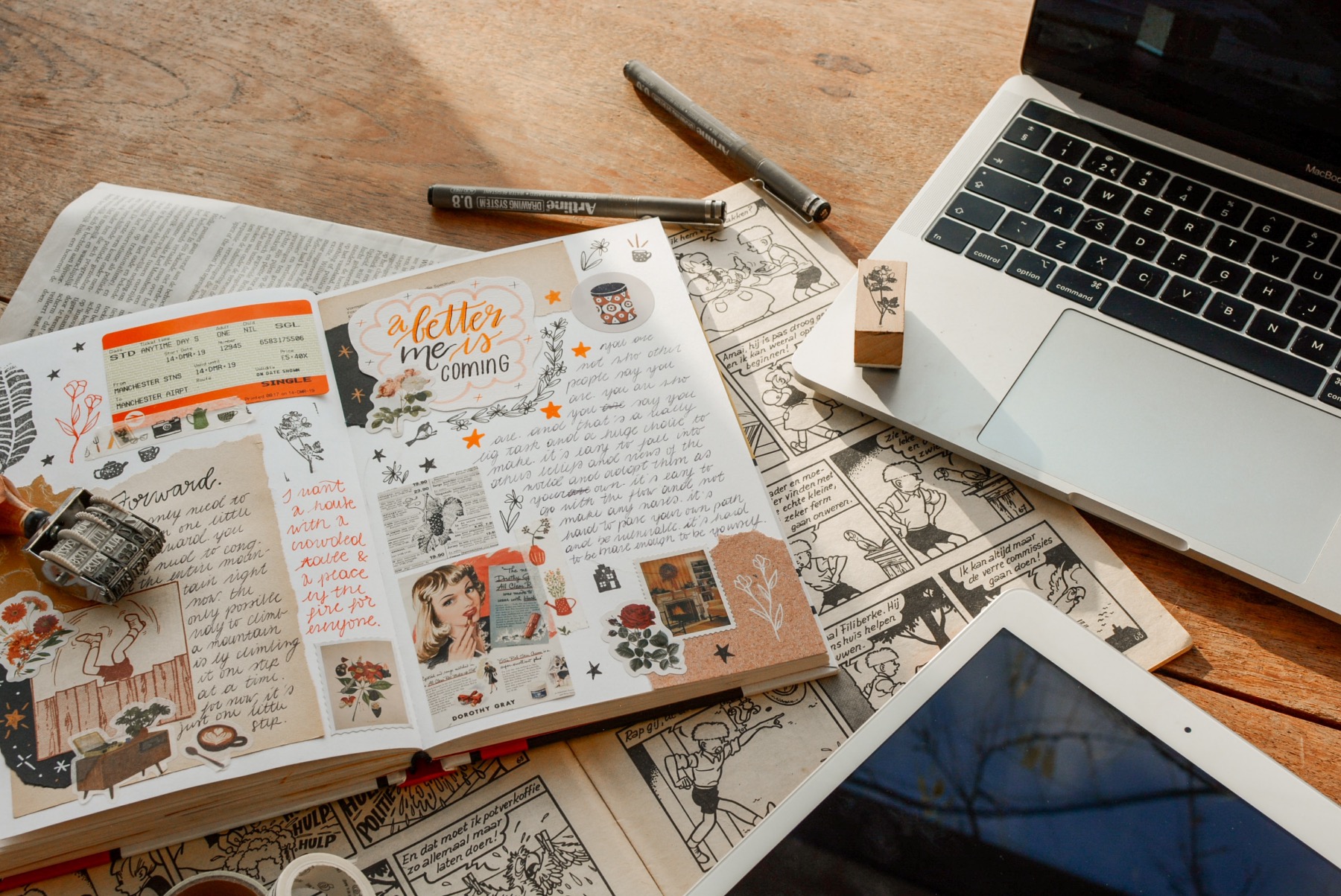 So are you ready to start your own journal? Do you have a tip that you are definitely going to use? If so, tell us in the comments. And if you are ready for even more ideas – this is one of my favorites – 7+ New Fall Bullet Journal Ideas.
Let's Be Friends!
Insta | Pinterest | Enews | TikTok