I love cheese, my husband loves bacon and my toddler loves ranch. So, these three items get consumed in our house on the regular, but not usually together.
Then, the other day, I finally had the idea to start fancy-ing up our grilled cheese. The first foray into fancy grilled cheese was grilled cheese and pickles, which – if you've never tried it – is so simple and so amazing. But after I made a Bacon Cheddar Ranch Dip, I thought, hey, wouldn't these flavors be amazing on grilled cheese? And, unsurprisingly, I was totally right! Give it a try – it's an easy, delicious weeknight meal.
Need a more complete meal? Make yourself a slow cooker full of homemade tomato soup to go with your Bacon Cheddar Ranch Grilled Cheese – a classic comfort-food combo!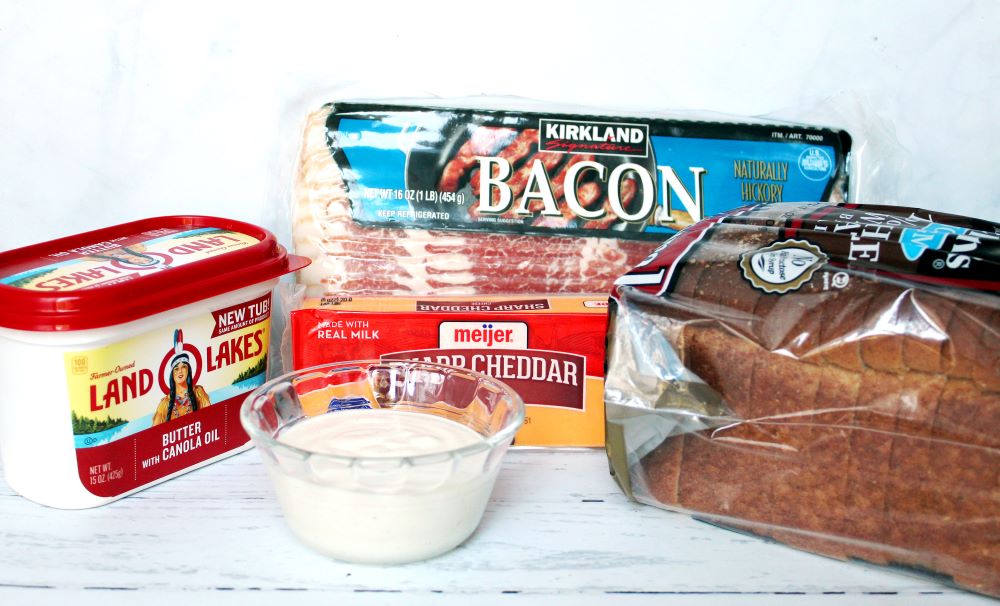 Bacon Cheddar Ranch Grilled Cheese – the Ingredients
There's just a handful of ingredients to make this fancified grilled cheese. You'll need:
your favorite thick cut bread (I chose whatever brand of Texas toast I could find)
8 slices of thick cut bacon
an 8 ounce block of sharp cheddar cheese
bottled ranch dressing
a bit of butter for toasting the bread
Grab your ingredients, and get ready for some amazing grilled cheese.
Note: see my tips, tricks and substitutions below for more in-depth ingredient information.
Making the Bacon Cheddar Ranch Grilled Cheese
Start by seasoning your bacon with a liberal amount of pepper (and a bit of salt if desired). Cook your bacon on a hot griddle or skillet until it's crisped to your liking. Remove the bacon from the skillet and place it on paper towels to allow the grease to drain. Once the bacon is cool, tear it into bite sized pieces.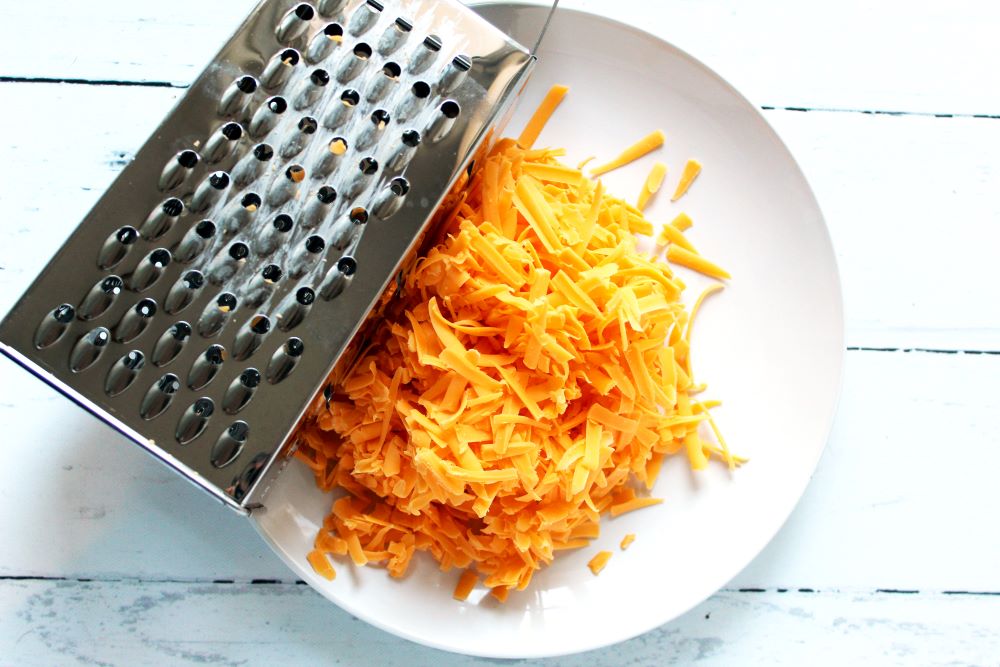 Grate the entire block of cheddar cheese. In a medium bowl, mix the cheddar cheese, bacon pieces and 1/4 cup of ranch dressing.
Divide the mixture to top four slices of thick cut bread. Top each piece of bread with another slice of bread to sandwich the ranch mixture in between. Butter the top slices of bread.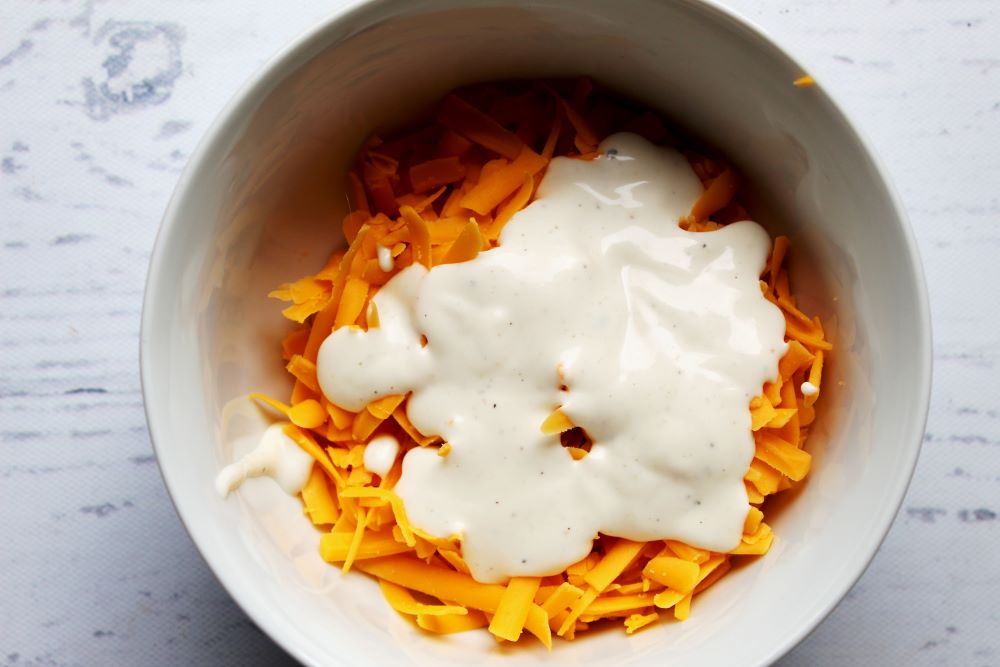 Wipe the bacon grease out of the skillet or off the griddle. Place your grilled cheese buttered side down on the griddle or skillet. Butter the other pieces of bread. Cook your Bacon Cheddar Ranch Grilled Cheese over medium heat for about 4-5 minutes, or until the first side is crisped and golden brown. Flip the grilled cheese over and continue cooking until the second side is crisped and golden brown and the cheese inside is melted and hot.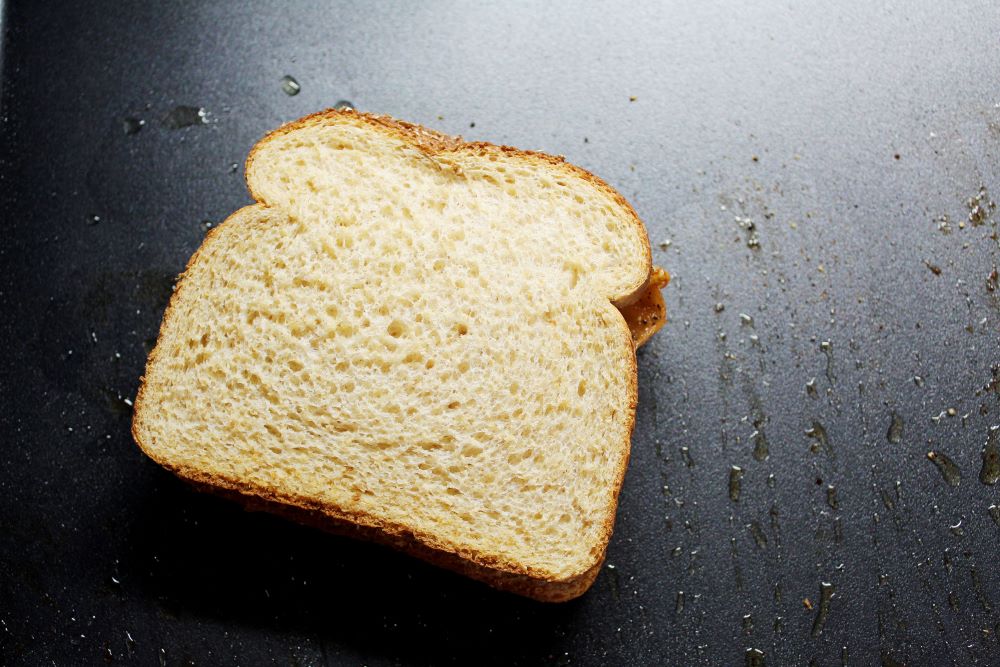 Remove grilled cheese to a plate and cut diagonally (or into rectangles if you're a heathen. Ha!). Serve the Bacon Cheddar Ranch with a side of soup for dipping (or with a side of ranch dressing for dipping and more intense ranch flavor).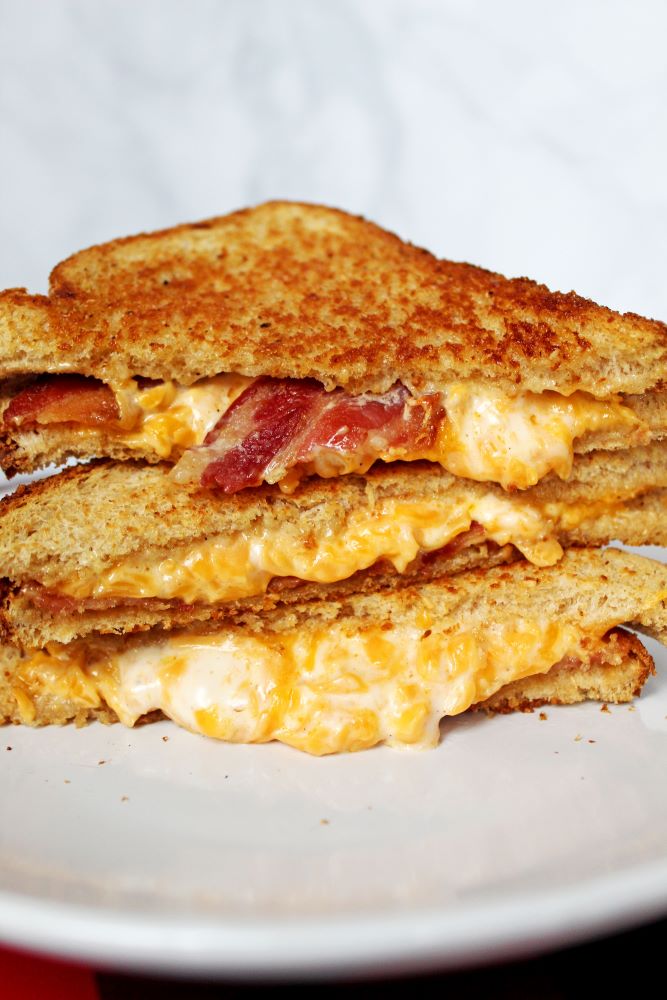 Tips/Tricks/Substitutions
Can I use pre-shredded cheese? You can, but be aware that the bags of pre-shredded cheese are coated with preservatives that prevent the cheddar cheese from melting well. Shredding a block of cheese is a better option if you want your cheese to be nicely melted and to hold your grilled cheese together.
Can I use homemade ranch dressing? Sure! I used bottled, because that's what I had, but you can definitely make your own. Just make sure that it's about the consistency of your typical bottled dressing, because that's the consistency you want to mix into the cheddar cheese.
I don't eat pork bacon. Can I use turkey? Yes. The type of bacon you use is all about preference. I used a thinly sliced pork bacon the first time and found that my husband preferred the thick cut pork bacon instead. But I actually prefer turkey bacon whenever I can use it!
Additions to Enhance the Bacon Cheddar Ranch Grilled Cheese
slow roasted tomatoes – the juicy tomatoes go great with the tang of the ranch!
guacamole – spread some guac on the top slice of bread. You won't regret it (I mean, who ever regrets guac??)
fried egg – when you cook the bacon on your griddle, fry an egg as well. Then add it to your sandwich for some extra protein and flavor!
liquid smoke – brush the bacon with a tiny bit of liquid smoke before cooking for a smoked bacon flavor. Yum!
Bacon Cheddar Ranch Grilled Cheese
a simple combination of ranch, cheddar and bacon, sandwiched between crisp, seared bread - utterly amazing!
Ingredients
8

slices

thick cut bread

I used Texas toast

8

slices

of thick cut bacon

1

8 oz block sharp cheddar

1/4

c.

ranch dressing

butter

for toasting bread
Instructions
Season your bacon with pepper (and a pinch of salt if desired) Cook the 8 slices of bacon on your griddle or skillet. Remove bacon to paper towels and let drain.

Grate the block of cheddar cheese.

Rip bacon into bite-sized pieces.

In a medium bowl, mix torn bacon, grated cheese and ranch dressing.

Divide mixture on top of 4 slices of bread. Make a sandwich by topping each with another slice of bread.

Butter the top slice of bread and place in skillet/griddle butter side down (heated to medium-low). Immediately butter other side.

Cook grilled cheese for 3-5 minutes on each side. Watch it carefully so that it doesn't burn.

Cut into triangles and serve hot with soup on the side.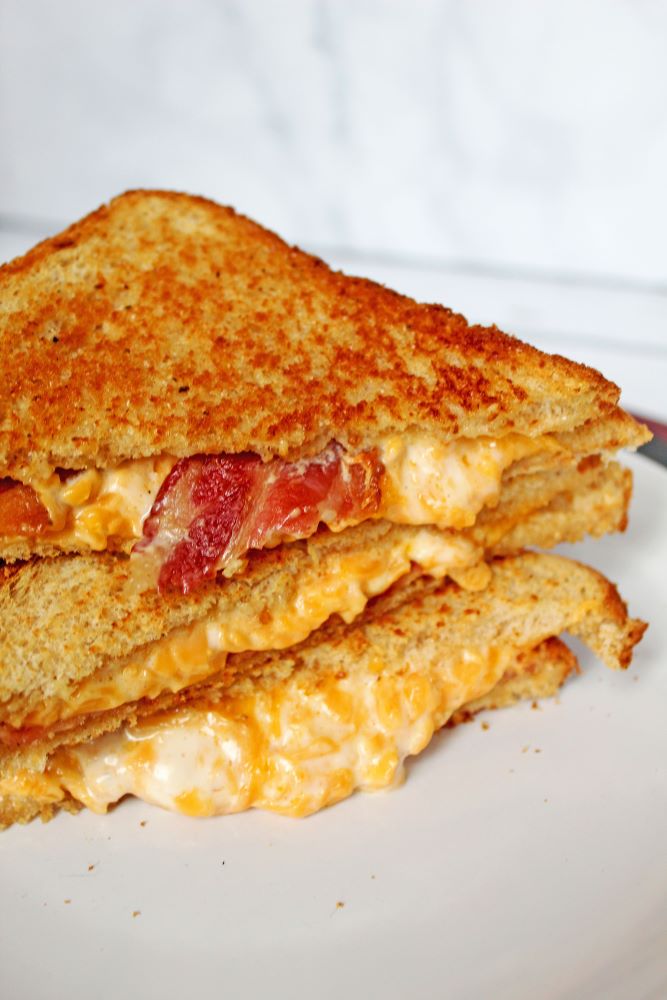 Let's Be Friends!
Insta | Pinterest | Enews | TikTok