Pink ombré perfection! Are you looking to make a cake that's as gorgeous as it is delicious? Then you must make this 3 layered Pink Ombré Cake! It's a Strawberry Cake with whipped cream frosting that is light, flavorful, and fruity.
Plus who can resist that color! This cake is easier than you think to bake and may be even more fun than these bright pink recipes here.
So are you ready to make it? If you want to go straight the Pink Ombré Strawberry Cake with Whipped Cream Frosting recipe, scroll to the bottom. And if you want tips and tricks to make the perfect cake, read on!
Pink Layered Strawberry Cake Ingredients
To make that gorgeous pink ombré, you are going to need a couple of items. One is strawberry jello. Now you can absolutely make a cake with fresh strawberries instead of jello. But adding strawberry jello is a class way to make a strawberry cake. It's delicious and easy! It has that punch of fruity flavor. A fresh strawberry cake will be a bit more subtle.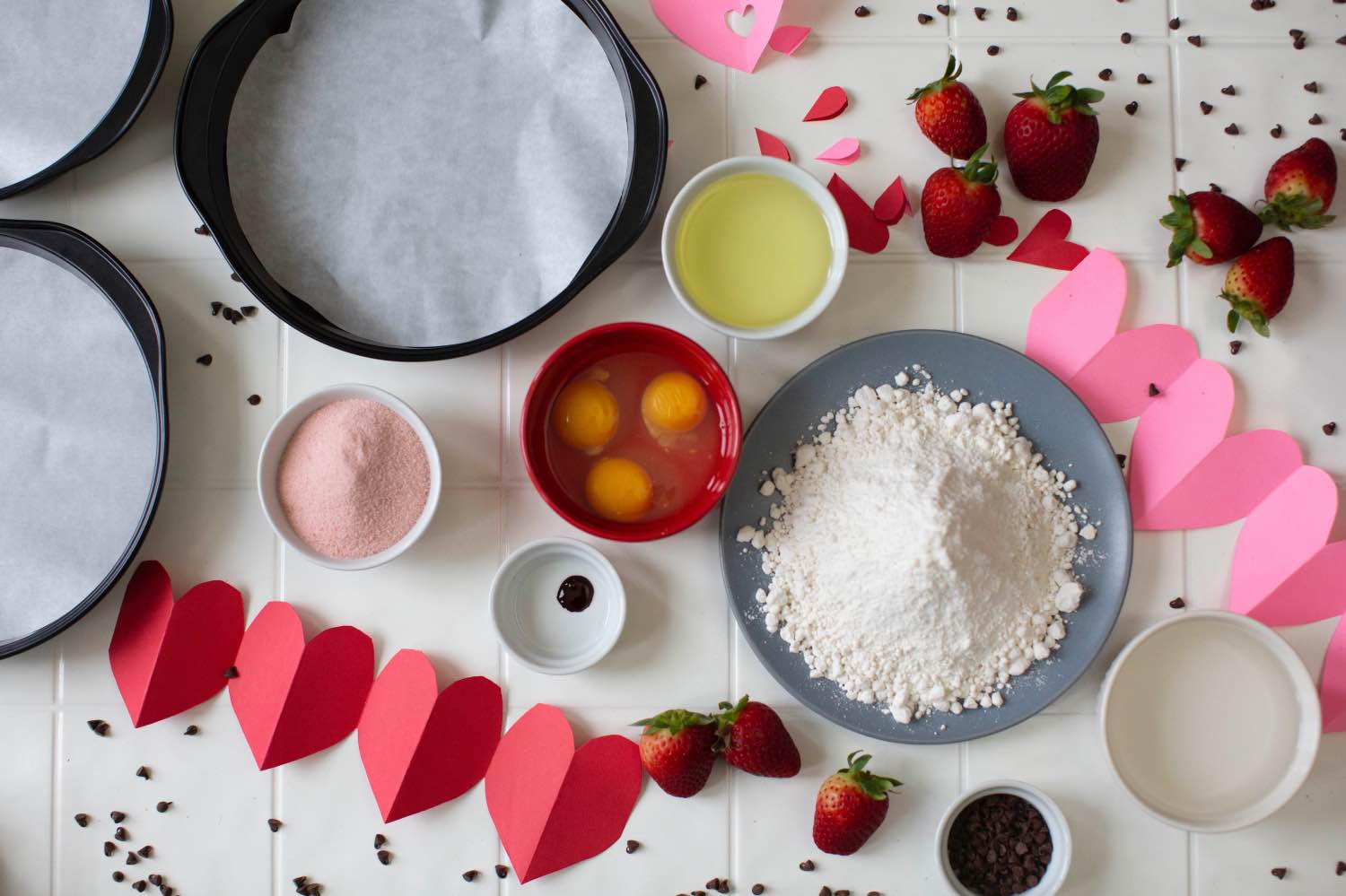 Then you will use red food coloring to darken 2 of the 3 layers. When you are adding the food coloring, don't go for subtle. Be sure that all 3 layers have a distinctly different shade of pink!
Blending Cake Batter
Blending cake batter is the opposite of blending cookie dough or muffin mix. With those, you want to only mix until the ingredients are blended. No more.
With cake batter, you want to keep whipping and blending, at medium speed instead of low until all lumps are removed. Cake batter should be to be perfectly smooth.
The Easiest Way to Color Your Cake
The easiest way to add the food coloring is to follow this guide. While all your batter is in your Kitchen-Aid Mixer, pour 1/3 of the batter into 1 of your 9 inch round pans. Next add a small amount of red food coloring to the remaining 2/3 batter until you get a distinctly darker shade of pink. Then pour another 1/3 of the batter into another 9 inch pan. Last, color your remaining 1/3 cake batter until you reach a 3rd and even darker shade of pink. Last, pour that remaining 1/3 into a 9 inch pan.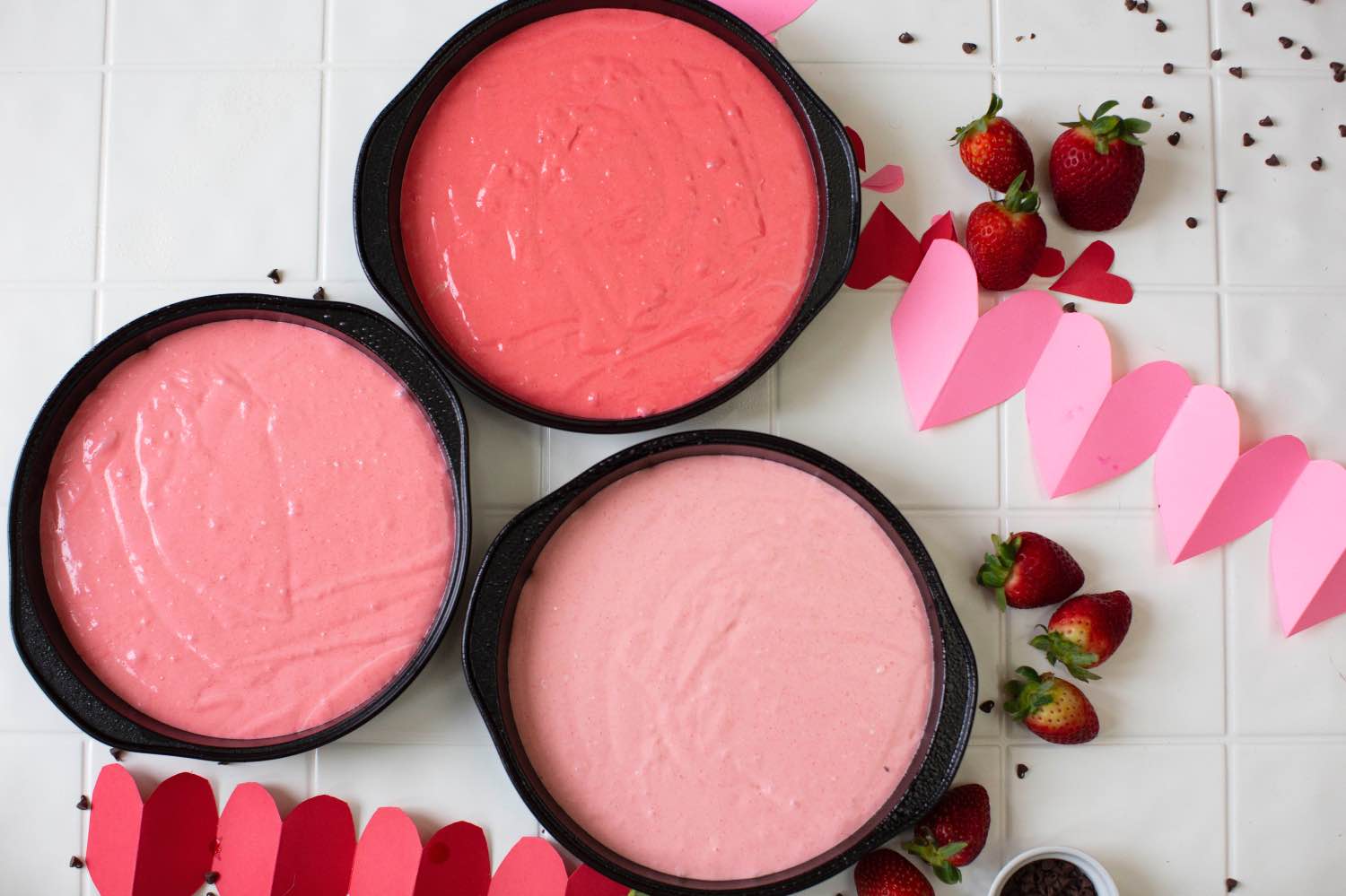 The pink cake batter is so gorgeous! It's almost a challenge to put it in the oven!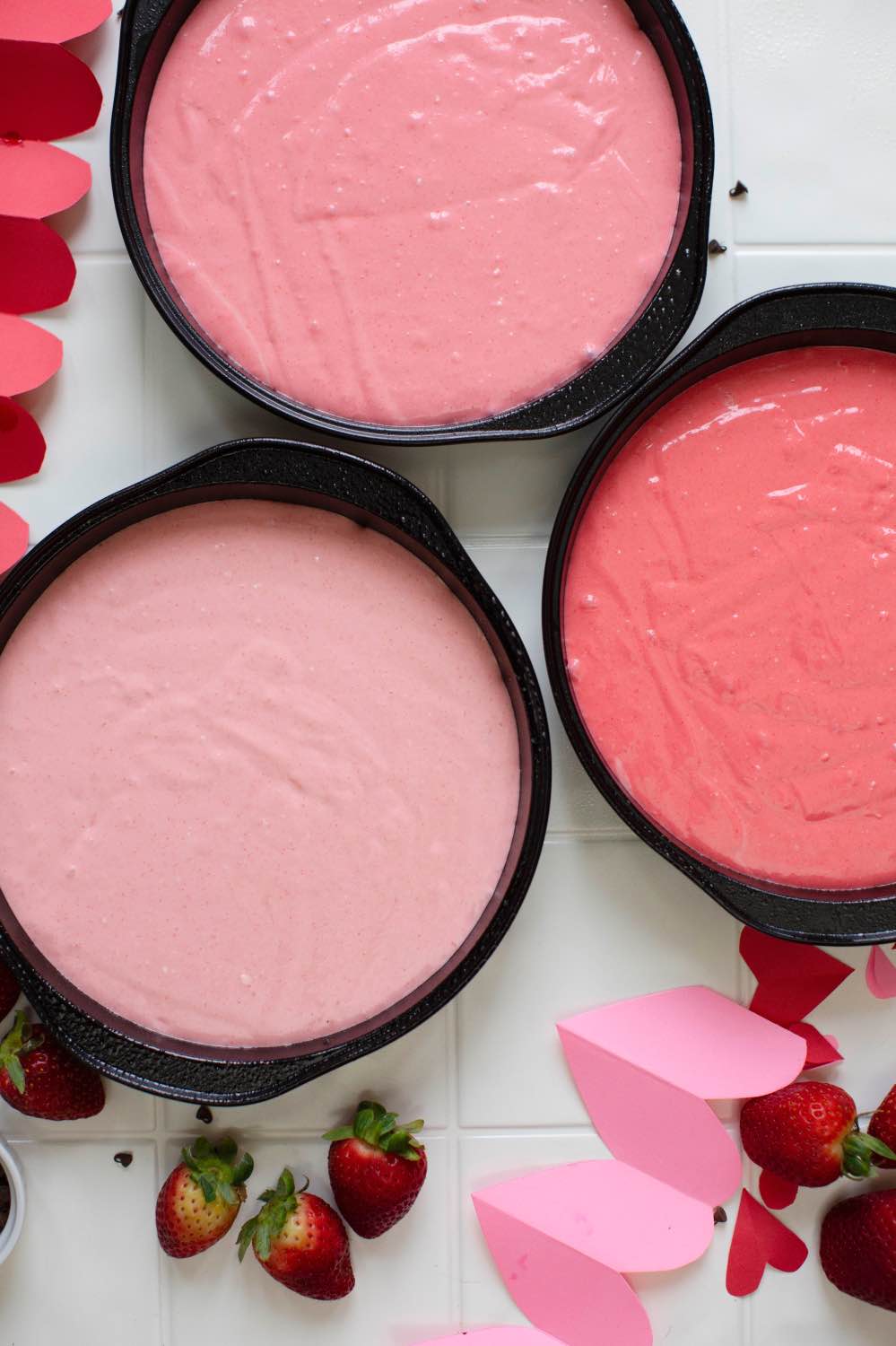 Before you bake it, do yourself a favor and smooth the surface until the cake batter is nice and even. Although it will likely still rise more in the center than on the sides, creating a curve, smoothing it will make the process of adding the 3 layers on top of each other easier. Curves are the enemy of stacking cake layers.
After your cakes are out of the oven, after the layers cool and before you frost them, be sure that the cake layers are flat enough to stack. If they have risen too much in the center, you will want to use a cheese wire to cut each cake layer flat.
Whipped Cream Frosting
Fun facts about me: I love whipped cream as an alternative to frosting! It's light and bright. Sometimes buttercream frosting is just a bit too much for me. This recipe is just a standard whipped cream with no frills. But if you want to add some pizzazz, you could consider just a touch of strawberry flavoring.
The only ingredient that is unusual is the tiny bit of unflavored gelatin. Blending it into your whipped cream frosting will help it hold the heavy cake layers on top without the cake layers weighing down the whipped cream and pushing it out through the sides.
I recommend making your layers of frosting thick and messy! You will love it once you slice and serve your cake.
Decorating the Strawberry Cake
I chose some simple mini chocolate chips and strawberry slices. But in reflection, I wish I had added some edible flowers to the top! That would have been stunning.
With decorating the cake, it could be anything goes. Or you can always keep it simple and leave the cake plain!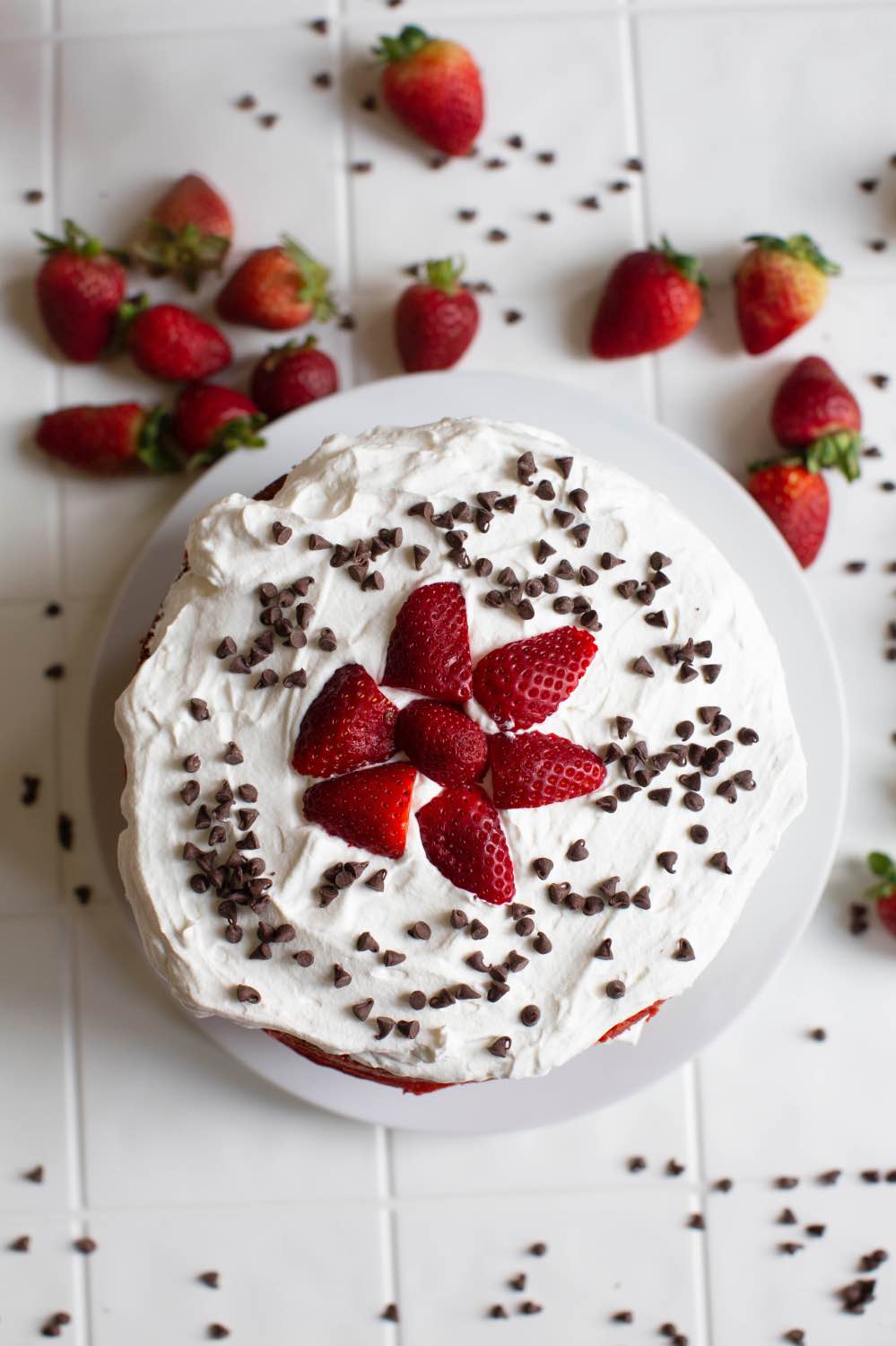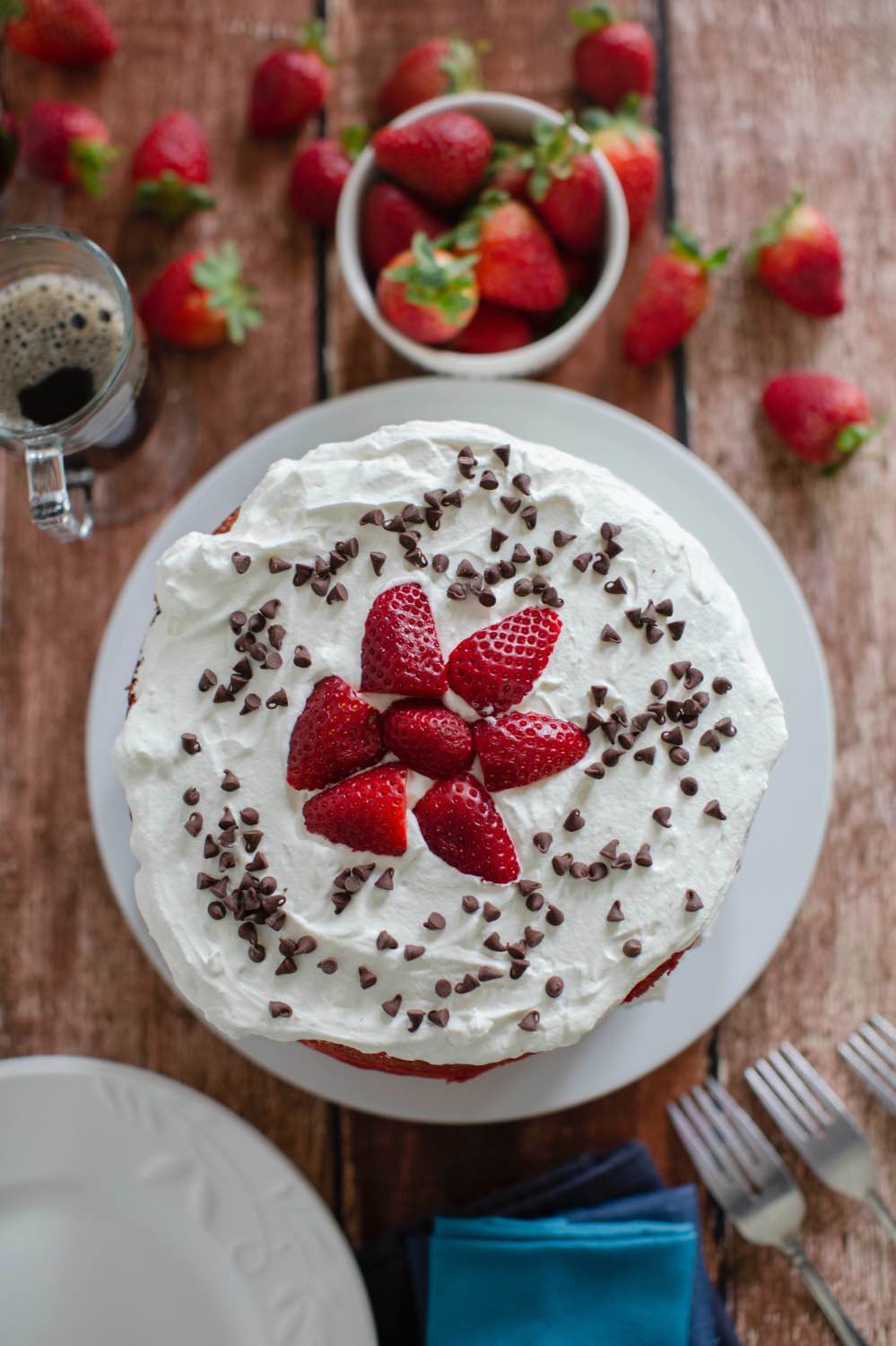 How to Serve the Pink Ombré Strawberry Cake with Whipped Cream Frosting
Adding fresh strawberries to the cake when serving it is a must! I love adding fresh fruit to everything and this cake is just perfect with it. Adding the strawberries makes this cake a great alternative to a strawberry shortcake.
It's perfect for Valentine's Day, for a summer soirée, it pairs well with tea, and with an Arnold Palmer.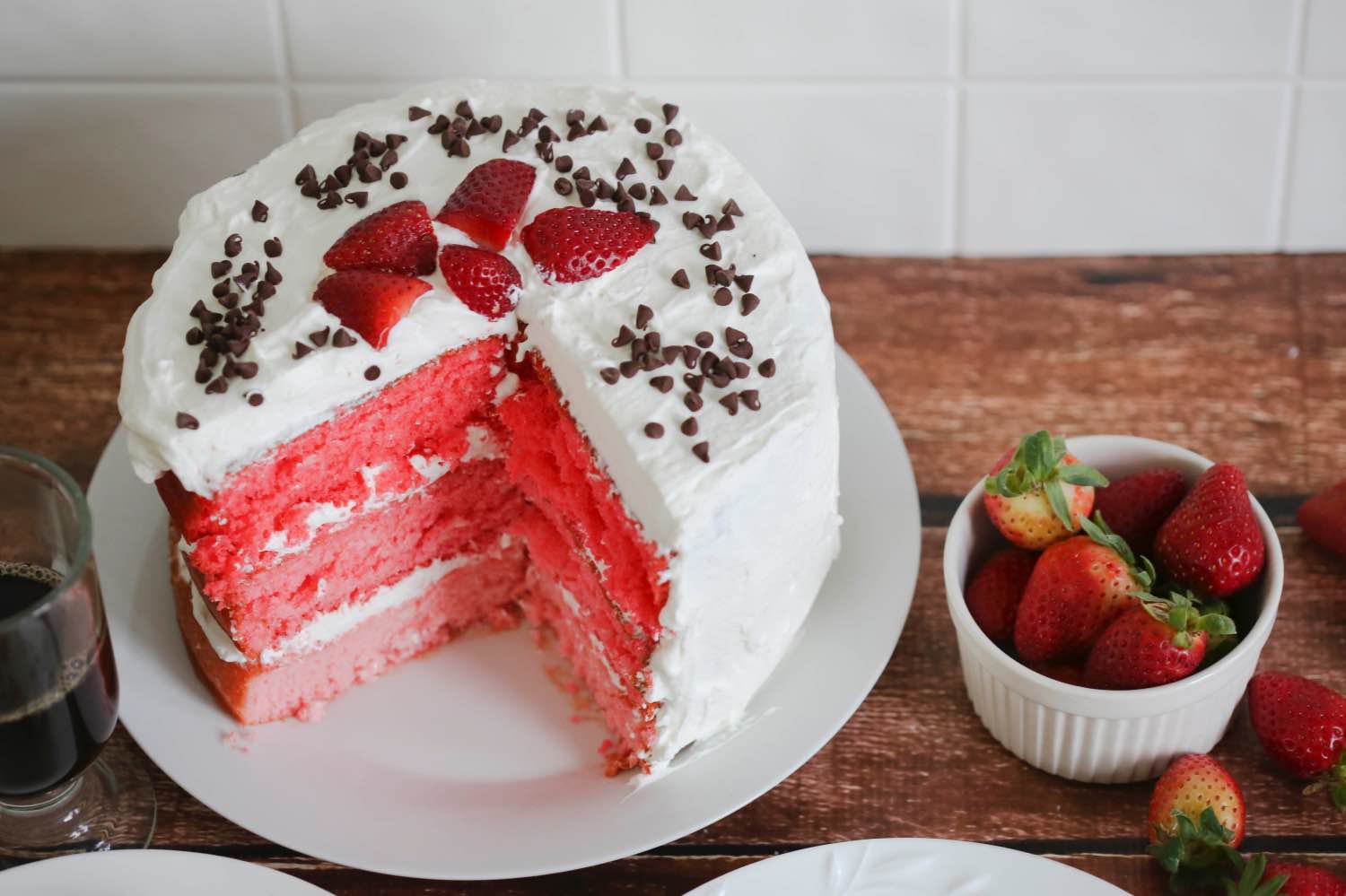 How to Store a Pink Ombré Strawberry Cake
This cake should be stored in the fridge once it's frosted. If the cake is left unfrosted, it can be stored at room temperature while the whipped cream frosting is stored in the fridge. Whether you store it at room temperature or chilled, it can store for around 3 days.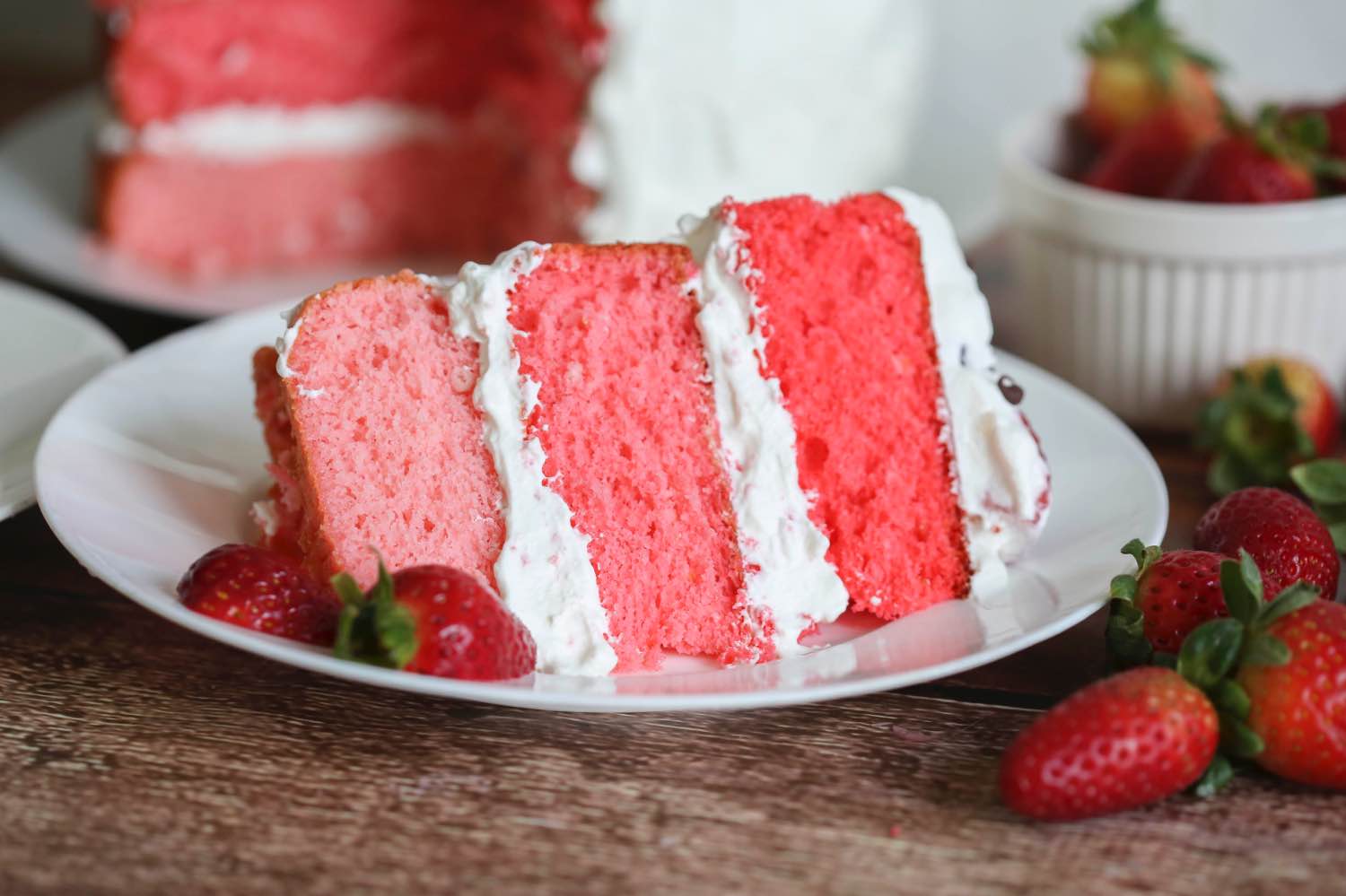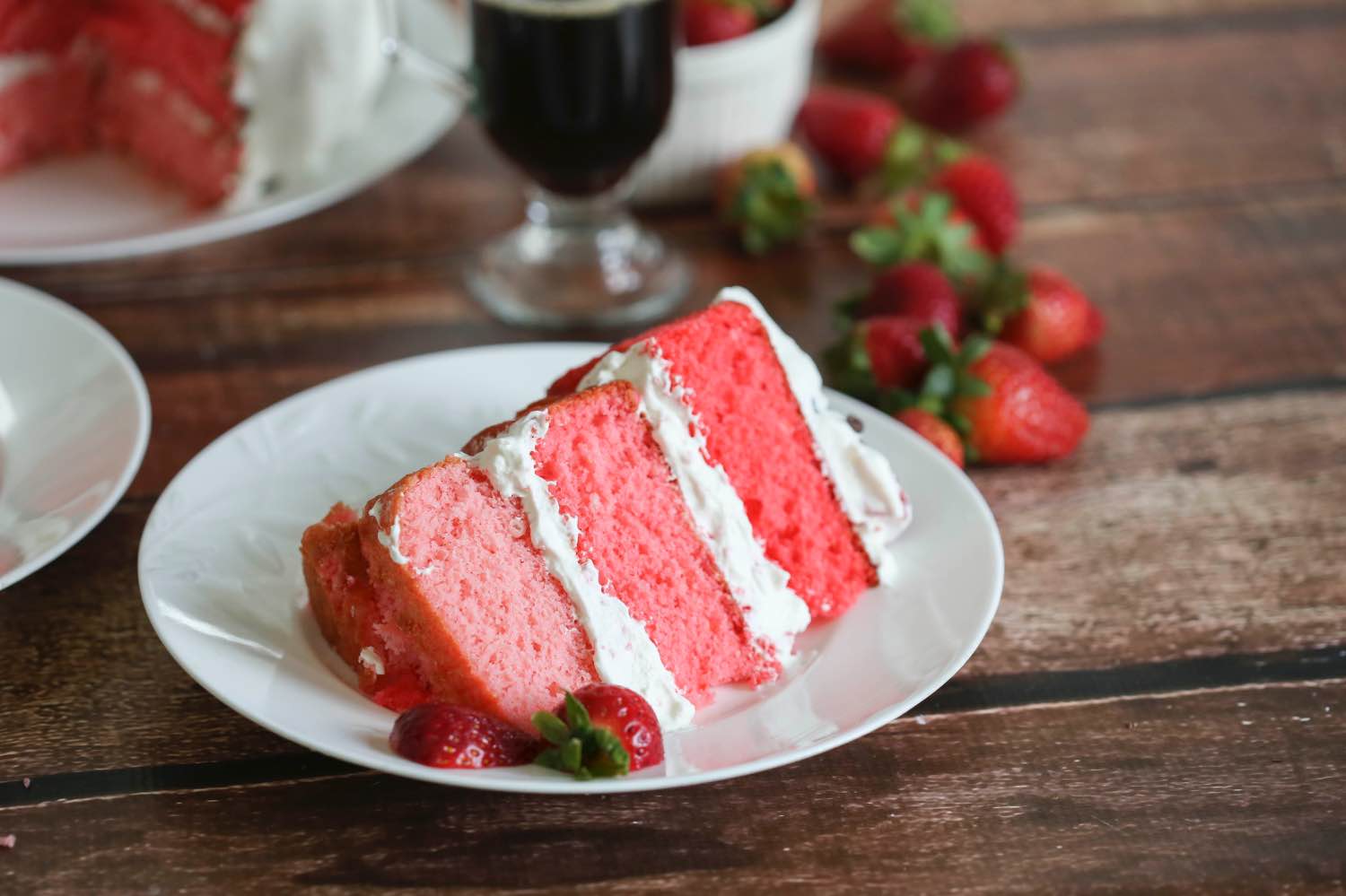 Let's Be Friends!
Insta | Pinterest | Enews | TikTok