This is Part 1 of 3 of the Craft in Style Subscription Box Instructions for June 2021. Find the Craft in Style Subscription Box here. Read Part 2: How to Make a Painted Rock Tic-Tac-Toe Game Set here. Read Part 3: DIY Rainbow Yahtzee with Printable Yahtzee Score Cards.
It turns out: it is all just fun and games! You can turn any day into a party with these gorgeous and remarkably easy to make Stone Dominoes. The supplies are simple and these dominoes can be used again and again. It's the perfect accessory for a social gathering like a picnic or a day at the beach.
These DIY Painted Rock Dominoes are made for the outdoors, traveling, and having fun anytime. So let's make them!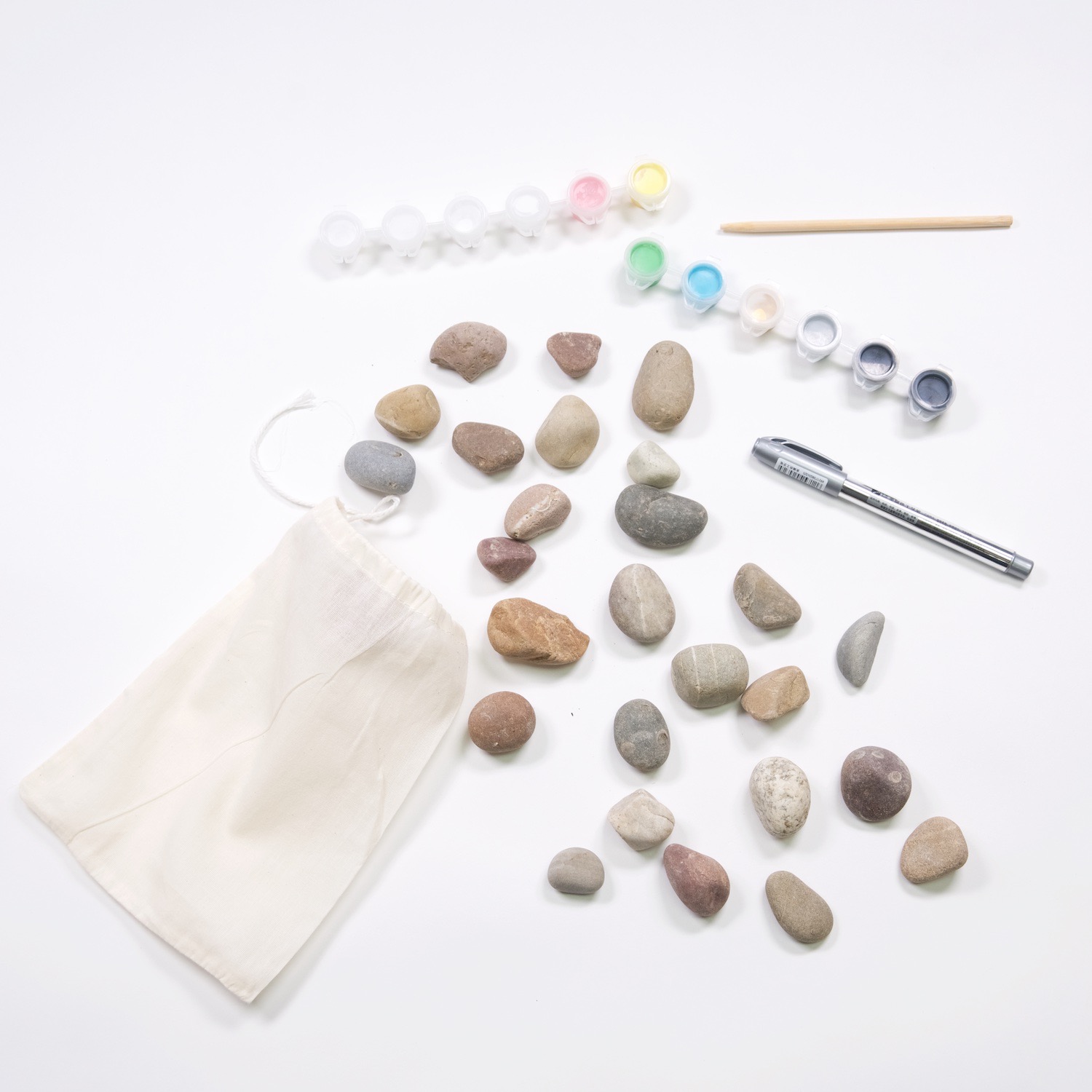 Supplies to Make DIY Painted Rock Dominoes
June 2021 Craft in Style Subscription Box
-or-
28 Smooth Beach or River Stones (at least 1.5 inches or larger each)
Paint Pen
Acrylic Paint in 5 or More Colors
A Wooden Skewer
A 6×8 Muslin Bag
Plus You Will Need: Access to Water, Paper Towels are helpful but optional
About the Acrylic Paint: Sometimes cheaper is better. For this tutorial, thinner bodied paint is best. Heavy body expensive paint won't work as well. Craft paint like Folk Art is best to create perfectly even and smooth dots on the stones!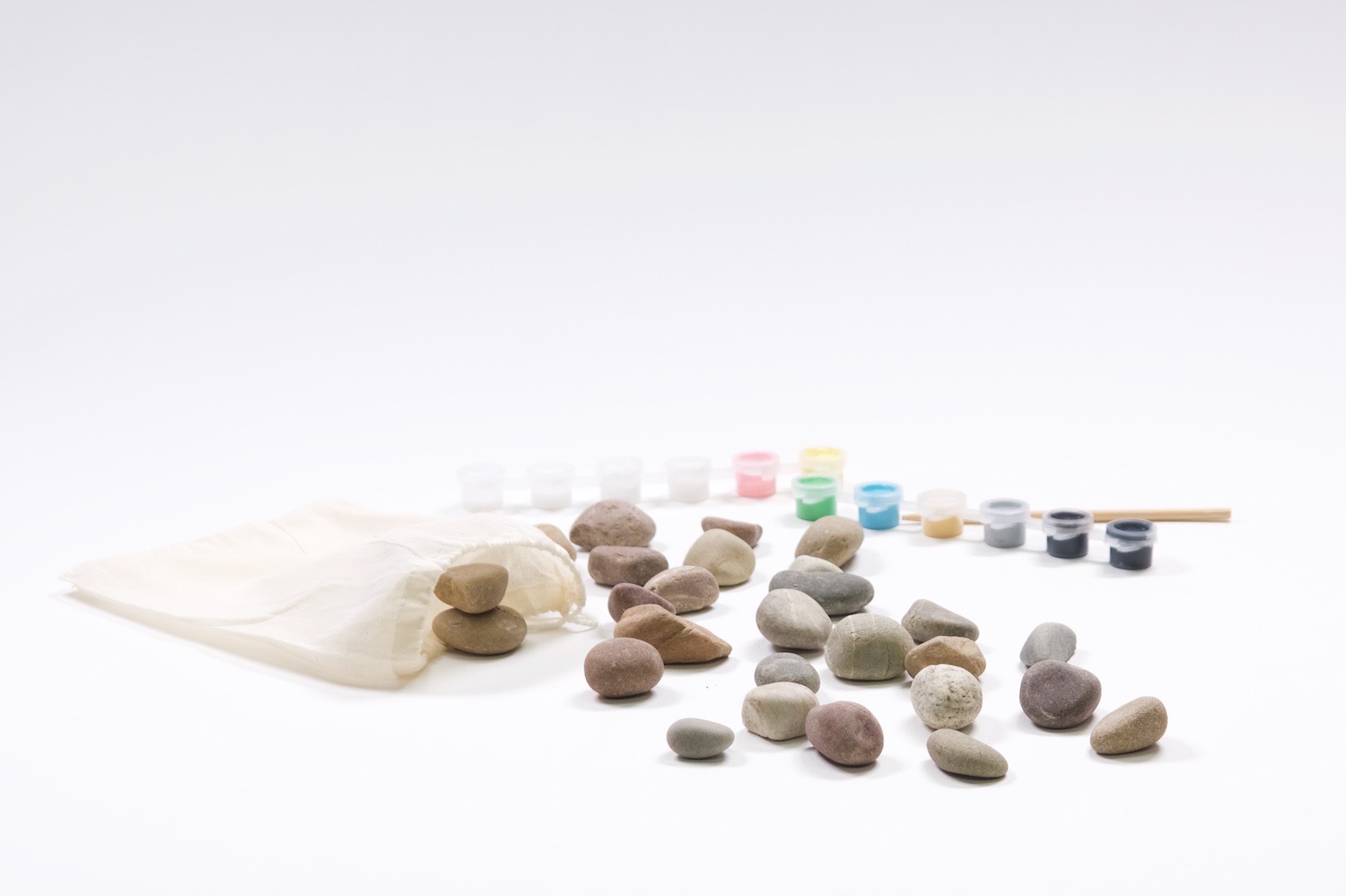 For this domino set, we're making double sixes. Double sixes are the most common version of dominoes and have a total of 28 tiles. All the tiles have a unique number sequence and no two are repeated. When making this domino set, I started with my 0|0, 0|1, 0|2, just like the chart shows.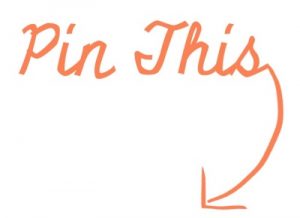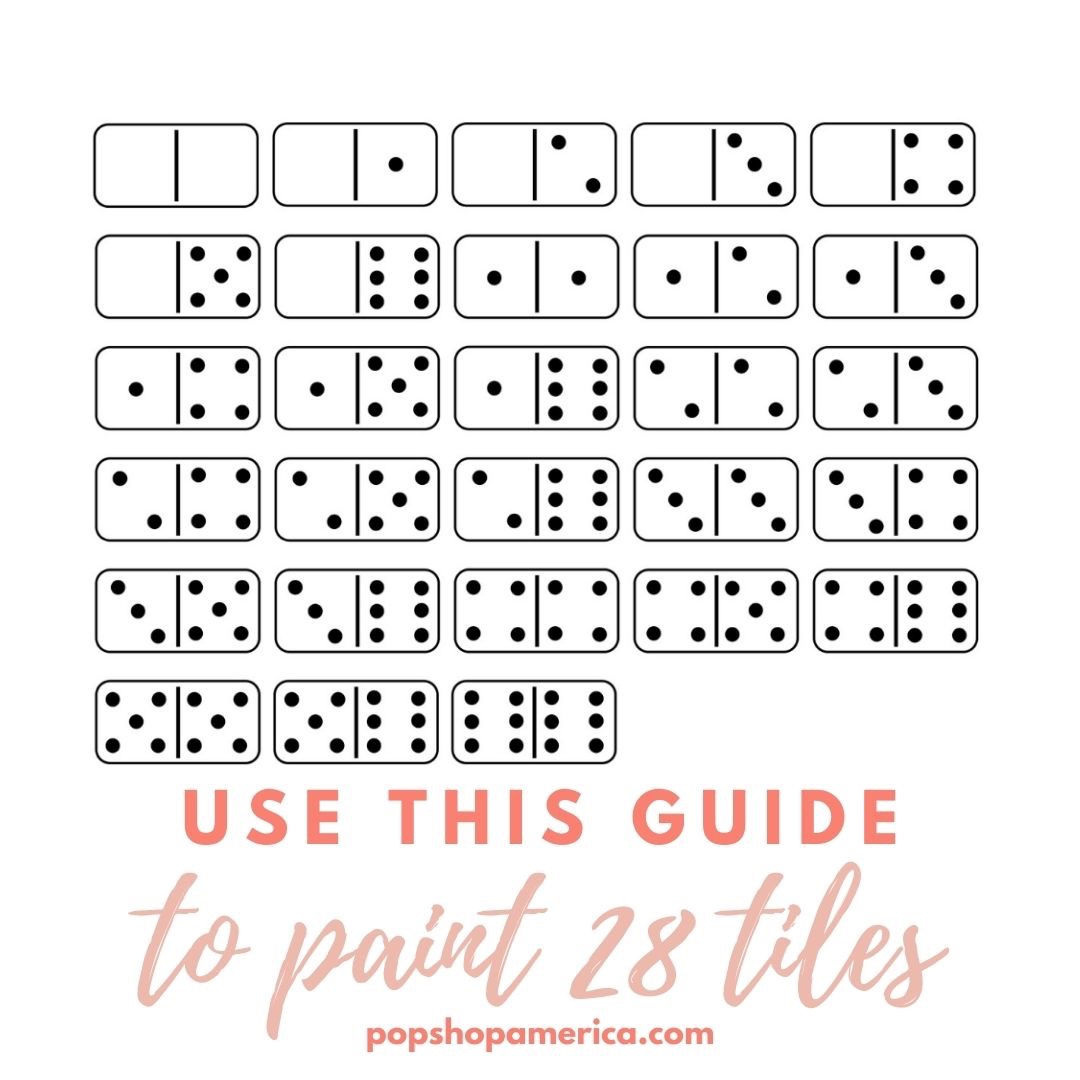 How to Begin Making Double 6 Dominoes
To get started, prep your rocks by flipping every single one so the largest and flattest side is face down. It will make your dominoes easier to play later. All your rounder sides of the rocks can be face up.
Start with your paint pen and make a small stripe as a halfway mark in the center of the rock. Imagine your rocks as a little tennis court and you are drawing in the net. Add a stripe to every rock.
You may find some rocks have curves, bends and edges and not a clear middle. It's okay to just do your best. These rock dominoes look gorgeous as a set and are made pretty by the colors of paint you use and the rocks themselves. So they don't need to be perfect.
For my stripes, I used a silver paint pen. But black, white, or gold would be a great choice too! Whatever you choose, a fresh paint pen is best because an older paint pen may not create clear, crisp lines as easily. Your paint pen dries instantly so once your lines are finished, it's time to make the number sequences of the tiles!
How to Make Polka Dots with Acrylic Paint
To make the number sequences use your acrylic paint and a wooden skewer. A wooden skewer is a pretty strange tool for painting, but it's a great way to make dots! Your acrylic paint should be a lightweight paint. This will not work as well with a heavy body paint.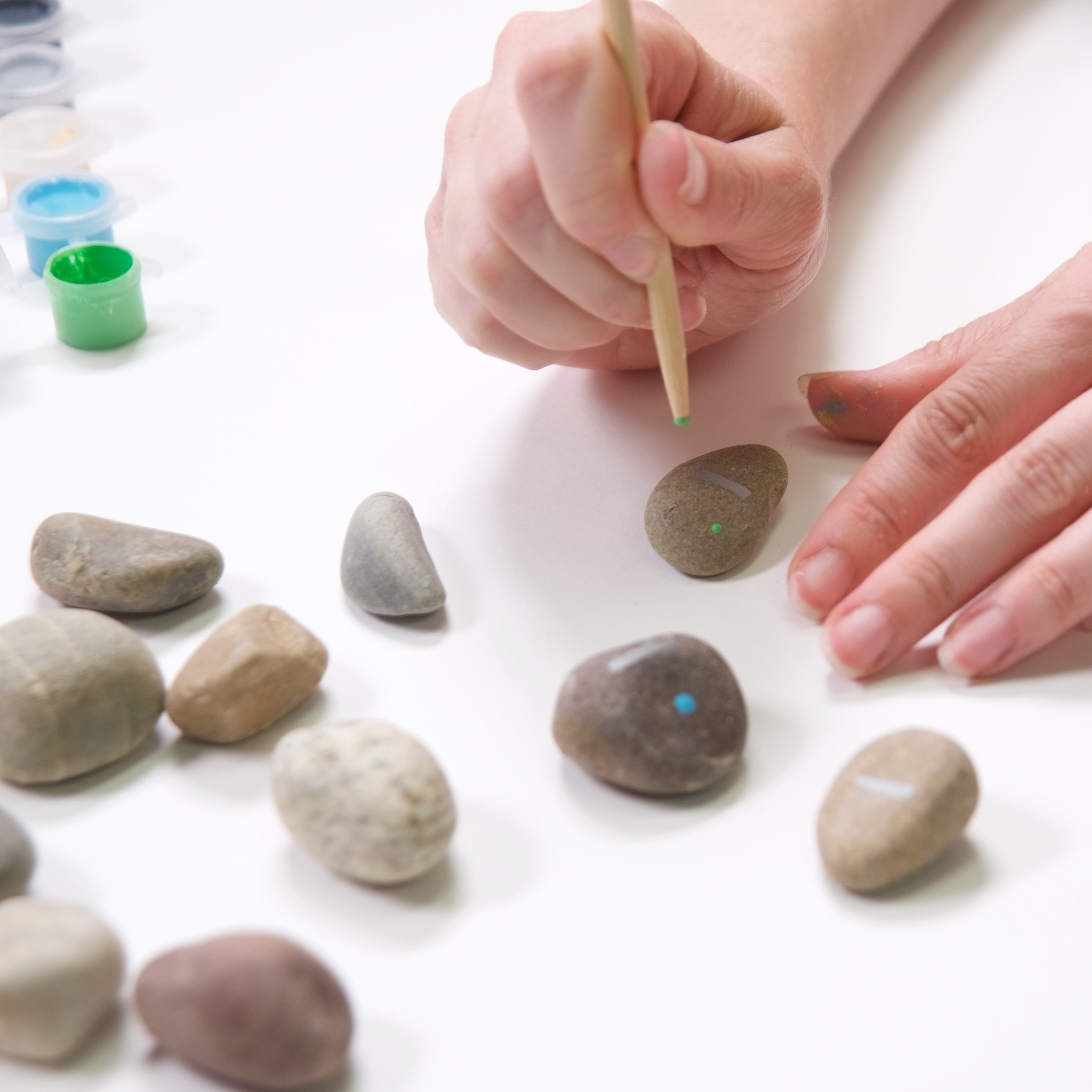 To start, dip any flat end of the wooden skewer into your paint. Just dip the end. Too much paint will turn your polka dot into a potato shape! When you press the paint onto the rock, use an up and down motion without twisting or tilting. The up and down motion will help you make a perfect circle.
For every dot, dip your wooden skewer into the paint. You will need a fresh dip every time.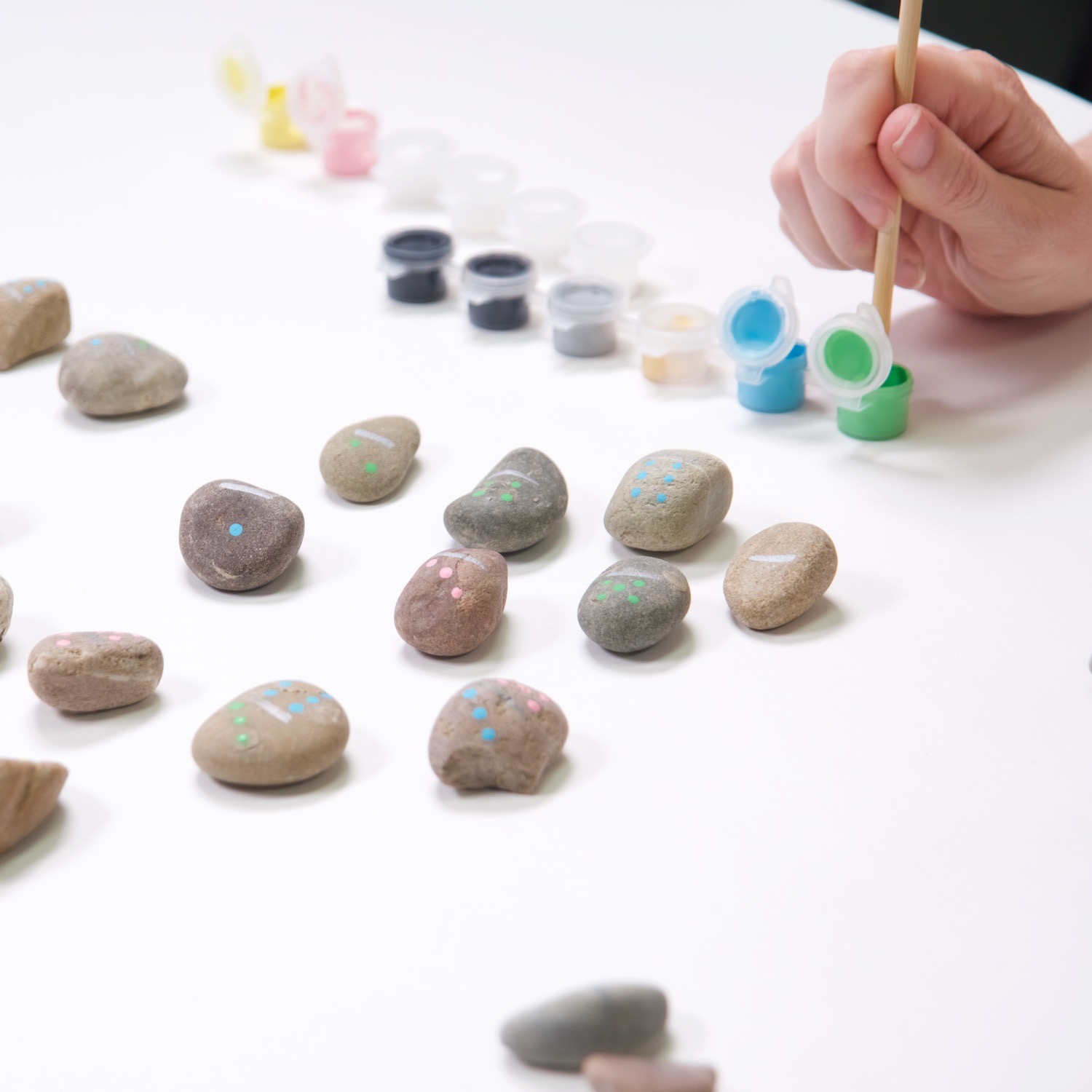 You don't need to use a rainbow of colors like I did. You could use all blue. Or create a cool ombre effect with a dark blue, light blue, and turquoise. Black and white is always lovely too. Whatever you choose, you will need to completely and thoroughly clean and dry your brush between every color.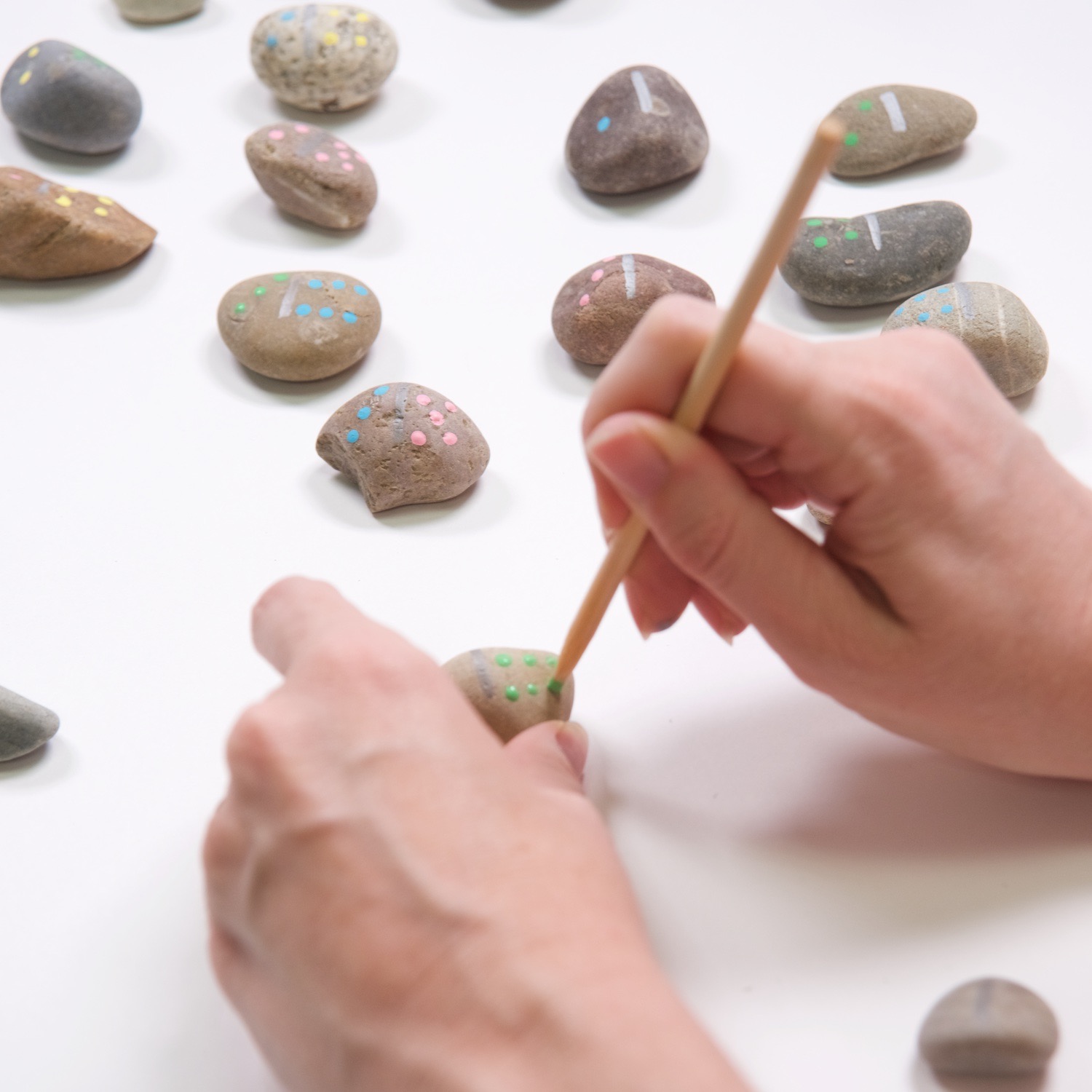 I always start with the lightest colors first, just in case you accidentally end up with a bit of paint still on your skewer. So I start with colors like yellow and pink. Then I do the blues and greens last. If trace amounts of your lightest colors bleed into your darker colors they won't show as much.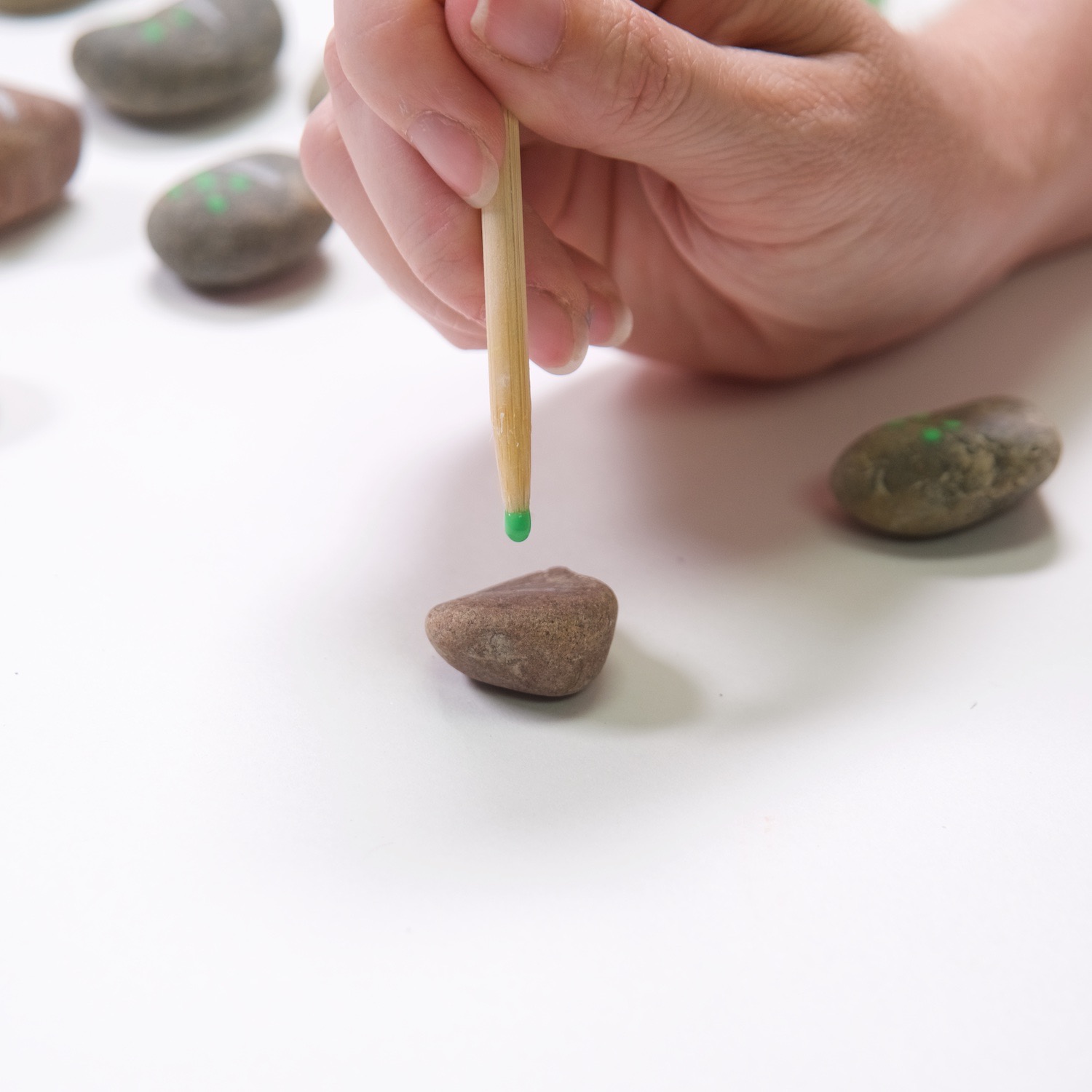 If you are using multiple colors like I did, and adhering to the 28 tile sequence, it may get a little confusing. To prevent this, you could section your tiles into groups. Organize them by placing all your 0 tiles together. Place all your 1 tiles together. You can even line them up in their pattern of 0|0…0|1…0|2 so you don't get them mixed up.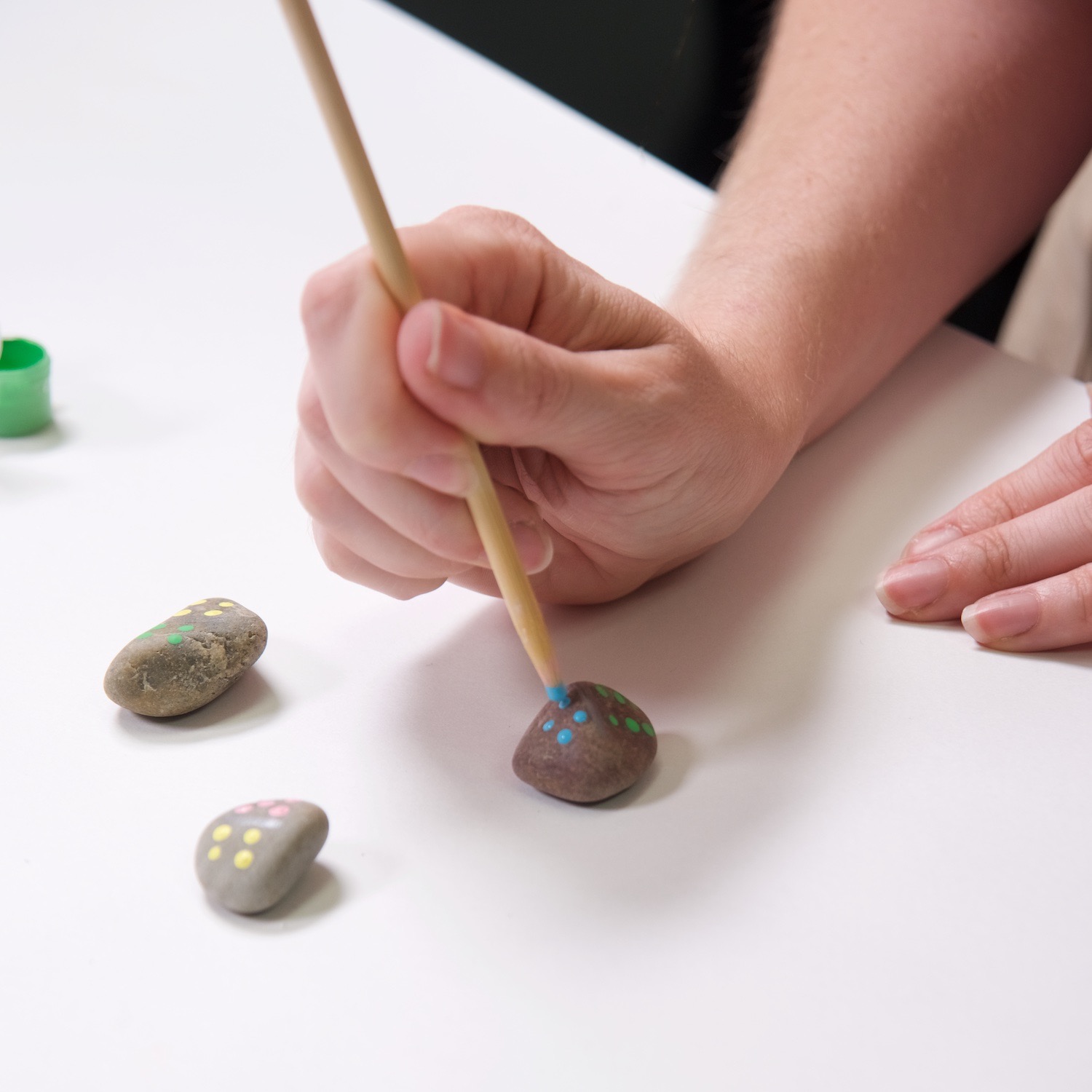 Once all your numbers are painted, allow the paint to dry thoroughly and completely before using your DIY Painted Rock Dominoes. That should just take an hour or two.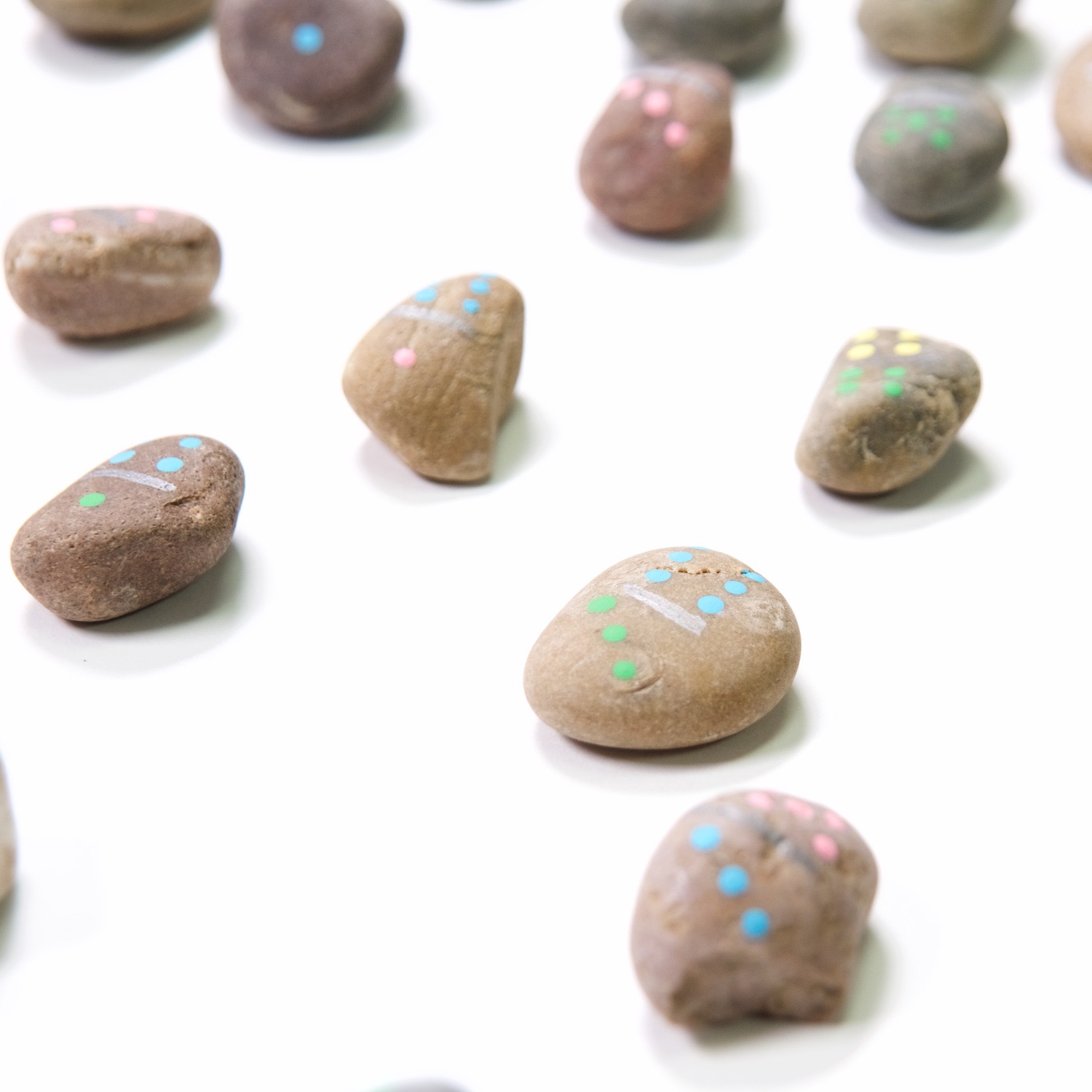 How to Store Your DIY Painted Rock Dominoes
Use your muslin bag to store your dominoes in between games and during your games too. Instead of shuffling the dominoes upside down across as table, like you would with a regular set, shuffle your tiles in the bag before you play.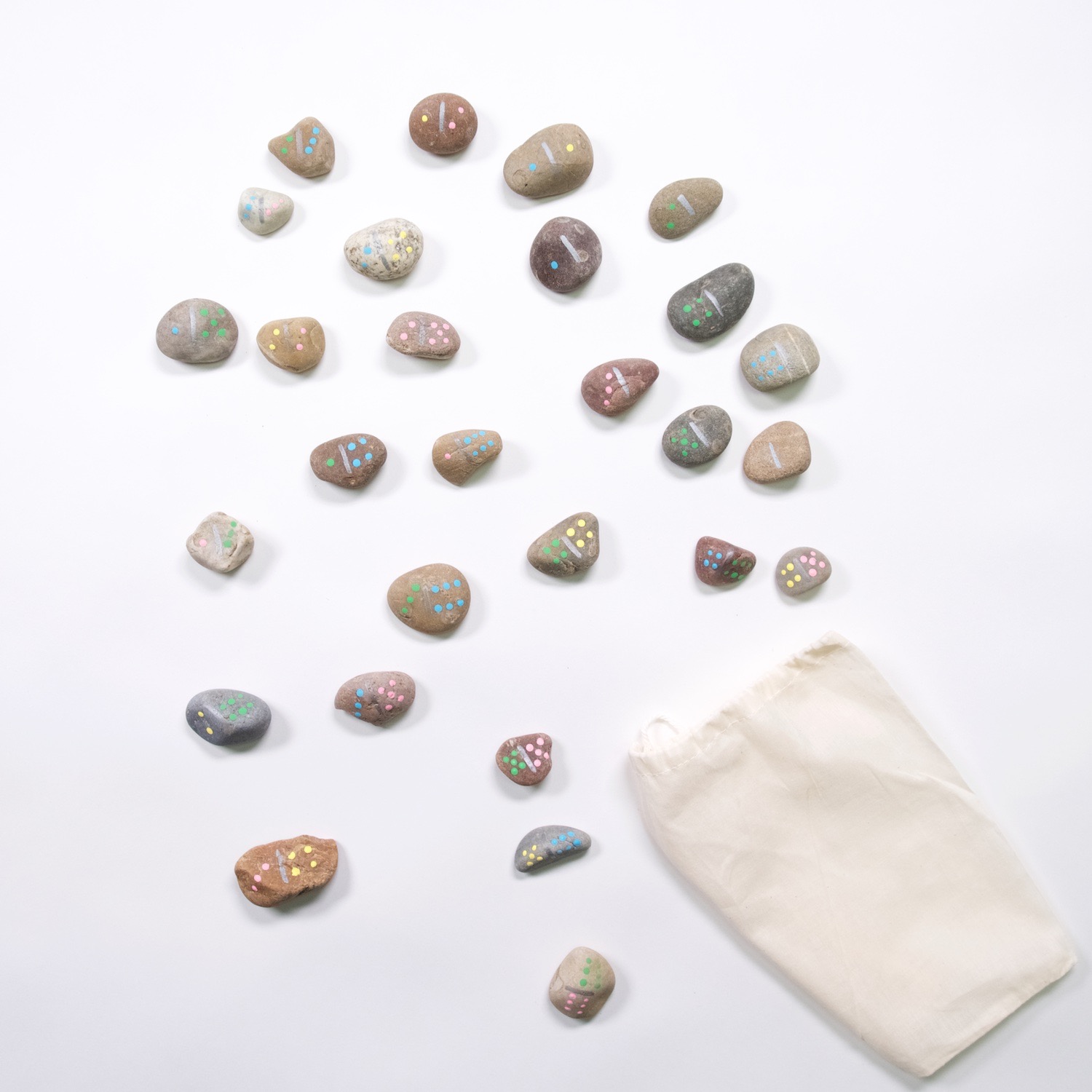 How to Play Double 6 Dominoes
After your dominoes are shuffled, start by passing dominoes to all players. For 2 players draw 7 dominoes each. For 3-4 players, draw 5 dominoes each. The player with the highest double (6|6, 5|5, etc.) will play first. If no doubles have been drawn, the highest domino starts. From there, the action moves clockwise.
On their turn, each player can place one domino on either end with a matching number from their hand. Thus, to play a 6 it has to touch another 6, a 4 has to touch a 4. Doubles, such as 5|5, can split the board into different directions. Doubles are always placed cross-wise to the end they match, which gives two new directions to place dominoes.
If a player cannot match any of the dominoes in play, they must draw from the extra dominoes or "the bone pile" until they can play. If they draw the last domino and still can't play, the player must pass and try again on their next turn. A player must play a domino if they is able to do so.
The object of the game is to score points by making the ends a 5 or multiple of 5. For examples of scoring, these instructions for Muggins are good. The game ends when all the tiles that can be played are. With the tiles that remain in your hands, count all the numbers and that will be subtracted from your total score. Highest score wins!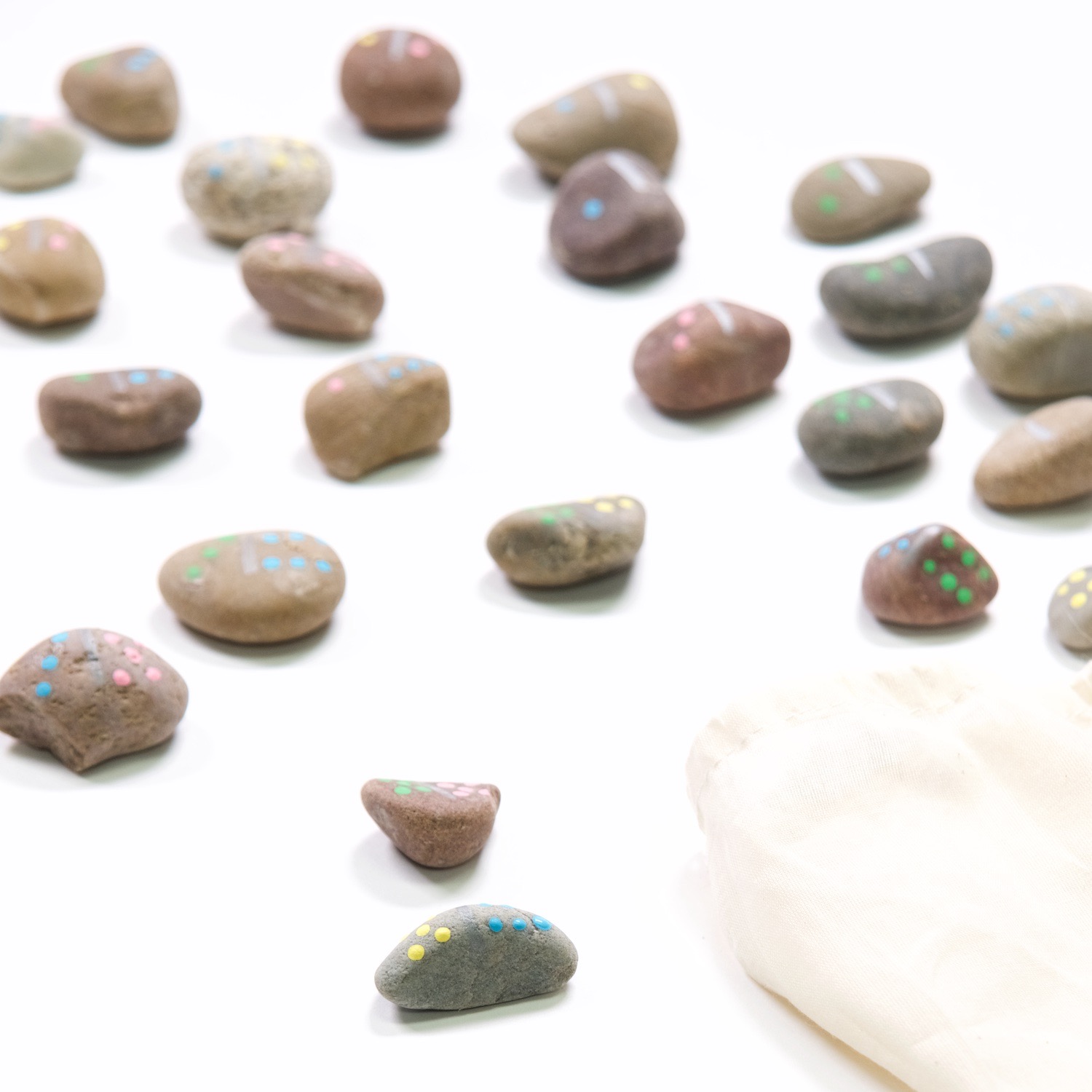 Ready to make your own domino set? Then don't miss all the supplies to make it all in one kit. Find in in the June 2021 Craft in Style Subscription Box. That's our subscription box that brings you new cool projects every month so you can stay crafting year-round!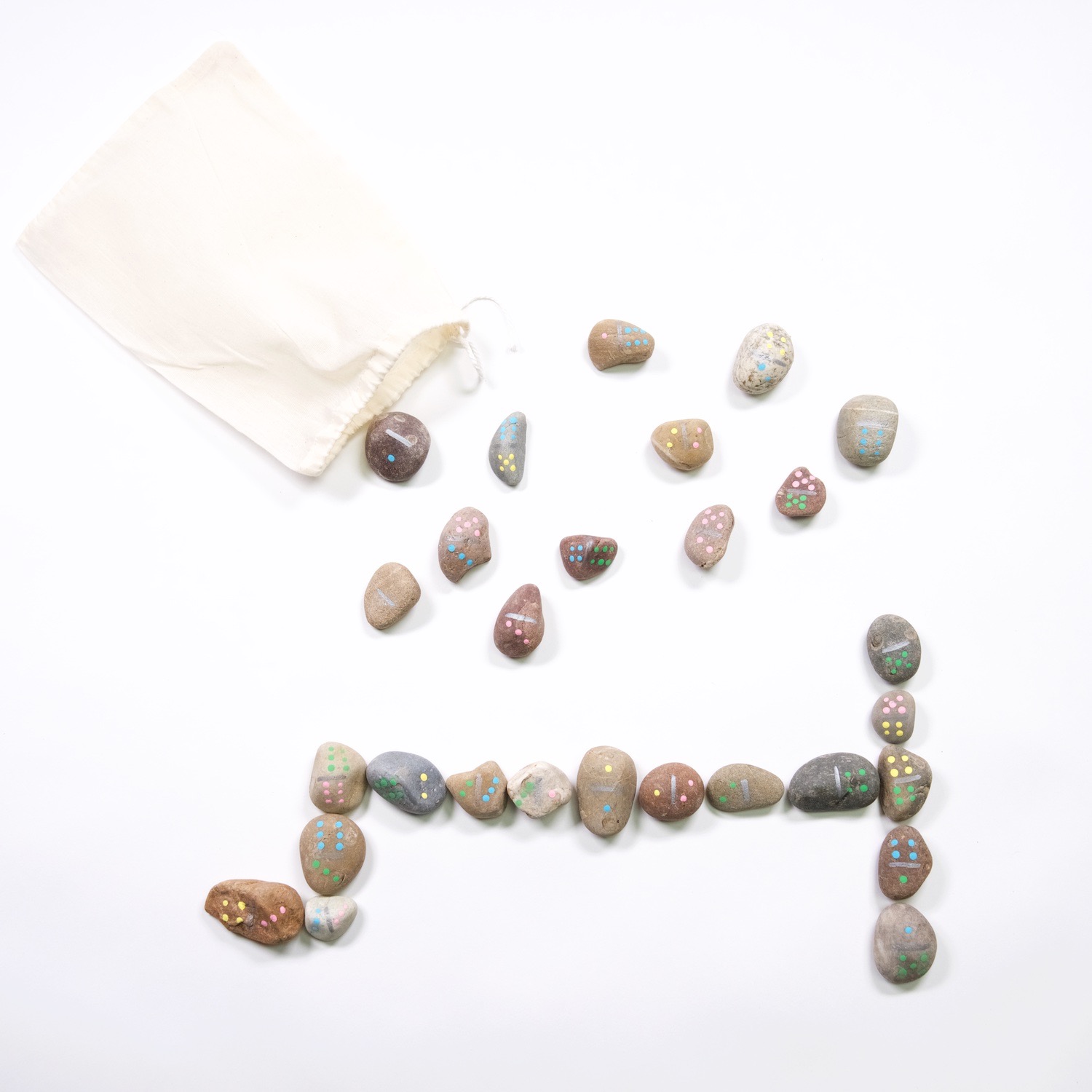 Let's Stay Friends!
Insta | Pinterest | Enews | TikTok