Could it be that it's almost fall? You know in HTX our summers are hot, hot, hot! There's nothing I look forward to more than a cool 89° down from the usual 100°! Ha.
One of my favorite things about fall are the flavors & colors.
I love those spicy, crisp, cool, fruity flavors. That's why I recreated them as these roller ball scents that are fun to make, colorful, and perfectly giftable.
The flavors are: Blueberry Cake, Peach Harvest, Citrus Lift, and Apple Spice, and Cold Protection. Don't those all sound lovely? Peach Harvest and Apple Spice are so perfectly fall, but Citrus Lift may sound a touch summery. But it's exactly what you need to get you through the fall and winter too!
Citrus is the perfect winter fruit!
Supplies to Make Roller Ball Blends
A Set of 1-2 Ounce Roller Ball Containers
A Carrier Oil like Almond Oil or Avocado Oil
A Pipette
An Array of Essential Oils Listed Below
Note: You could also add these 5 Fall Recipes to a home diffuser, just use add the Essential Oils straight into your diffuser without any alterations!
To make roller bottle blends that you can wear on your skin, first thoroughly wash and dry your roller ball containers. This will help preserve your blends and keep them fresher longer. And it will also ensure that they smell amazing!
Fill the bottle about 80% full with the carrier oil of your choice. That could be: almond oil, avocado oil, or jojoba oil. I used avocado oil because it's thick, rich, and feels amazing on the skin.
Almond oil has a light scent, so that is a great choice too. Whatever oil you choose, be careful that the scent will not overpower the essential oils that you add.
I used a pipette to add the oil to the bottle which made this task easy!
Once your bottles are mostly filled with your carrier oil, drop the essential oils in. You can use the pipette again. Or if your bottle has a built in dropper, carefully allow the essential oils to drop out by holding the bottle upside down.
Whatever you do, don't shake the bottle to drop the oil. It doesn't help, it actually just causes the essential oils to be uncontrollable and end up everywhere except inside the bottle.
If you want to add something special, you could also include dried flowers like chamomile or add tiny gemstones. It makes the roller ball blend so pretty and totally giftable!
Now add pop the lid of the roller bottle into place and be sure that it's perfectly in place. You want to make sure that there are no gaps, no misalignment or no seams that could cause the essential oils to leak.
Essential oils and your carrier oil can separate, so I always shake mine before applying it to the skin. Add a little oil to your wrists, neck, behind the ears or behind the knees and breathe deep when you apply the oil. That's the best part!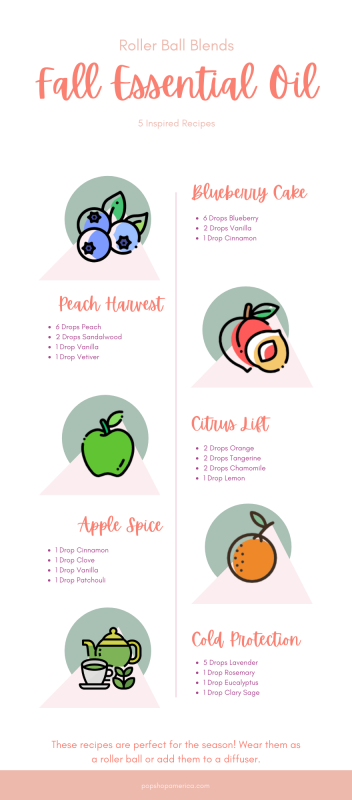 Blueberry Cake Essential Oil Blend
The Blueberry Cake blend smells just like a donut shop! For this Diffuser Blend, add 6 Drops of Blueberry, 2 Drops of Vanilla and 1 Drop of Cinnamon. If you want it to be fruity and less sweet try changing the Vanilla and adding lemon instead! It gives it just a hint of tartness.
Peach Harvest Essential Oil Blend
The Peach Harvest blend may be my favorite because it smells like a touch of spring and a touch of woodsy goodness. For this blend, combine 6 Drops of Peach with 2 Drops of Sandalwood, 1 Drop of Vanilla and 1 Drop of Vetiver. Vetiver is one of those subtle, earthy scents that blends well. It goes with everything.
Citrus Lift Essential Oil Blend
The 3rd Diffuser Blend Recipe is Citrus Lift! It's everything that the name implies. It's a tart and fruity blend of all of my favorite citrus scents. For this recipe, combine 2 Drops of Orange, 2 Drops of Tangerine, 1 Drop of Lemon, 2 Drop of Chamomile, and 1 Drop of Vanilla.. You won't be able to get enough of this crisp clean scent. It's perfect for everyday.
Apple Spice Essential Oil Blend
The 4th, may be the most fitting for fall! It smells like Apple Pie and the turning color of leaves. First, add 1 Drop of Cinnamon, 1 Drop of Clove, 1 Drop of Vanilla, and last add 1 Drop of Patchouli. Now you have fall heaven in a wearable scent anytime.
Cold Protection Essential Oil Blend
This essential oil blend is practical and is going to make you feel so cozy when your immune system is dragging. First, add 5 Drops of Lavender, 1 Drop of Rosemary, 1 Drop of Eucalyptus, and finish it with 1 Drop of Clary Sage. This is the perfect blend when you feel congested at night. It's like Vapor Rub in an essential oil blend.
Are you ready to make these essential oil blends? Which one will you choose? If you know, tell us in the comments or tag us on social! And if you are ready to learn more about essential oils and how to use them, read this post here.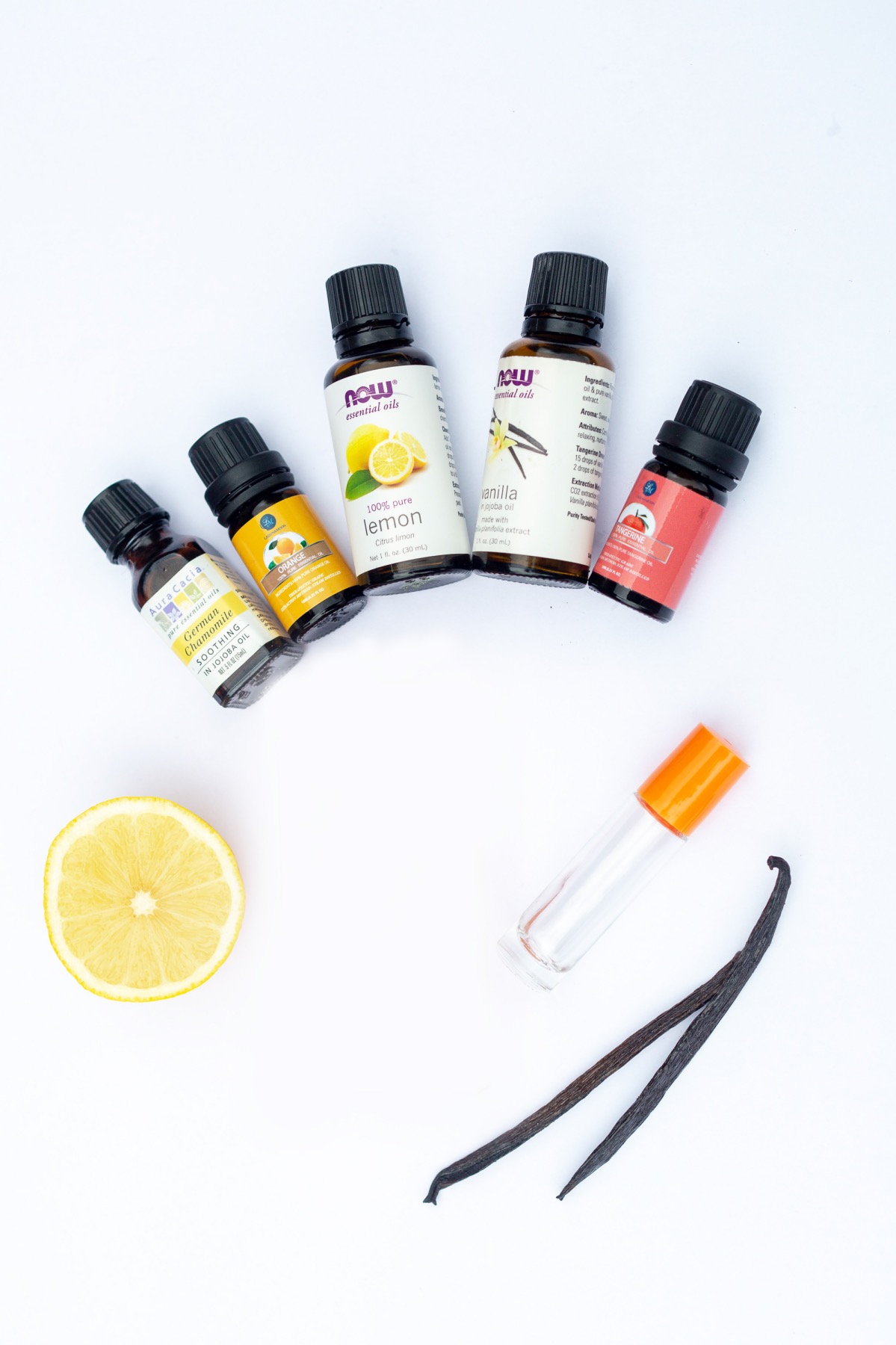 Let's Be Friends!
Insta | Pinterest | Enews | TikTok