This is Part 2 of 3 of the July 2020 Craft in Style Subscription Box. Craft in Style is a monthly box of craft supplies that features new projects each month. You can find the box here. Find Part 1: How to Make Mermaid Bath Bombs here. Find Part 3: How to Make Sea Glass Painted Glass Jars here.
Do you ever have this feeling?
[Tweet "💪🏽 I don't need to buy it. I can make it. DIY Sea Glass Paint → https://bit.ly/2ZnP5pC"]
Well you are in luck! Because Sea Glass Paint is just one of those things you can make instead of buy! Although some of the pre-mixed sea glass paint brands you can purchase are lovely, you can achieve stunning results with very simple craft supplies.
So what are we waiting for? Let's make DIY Sea Glass Paint!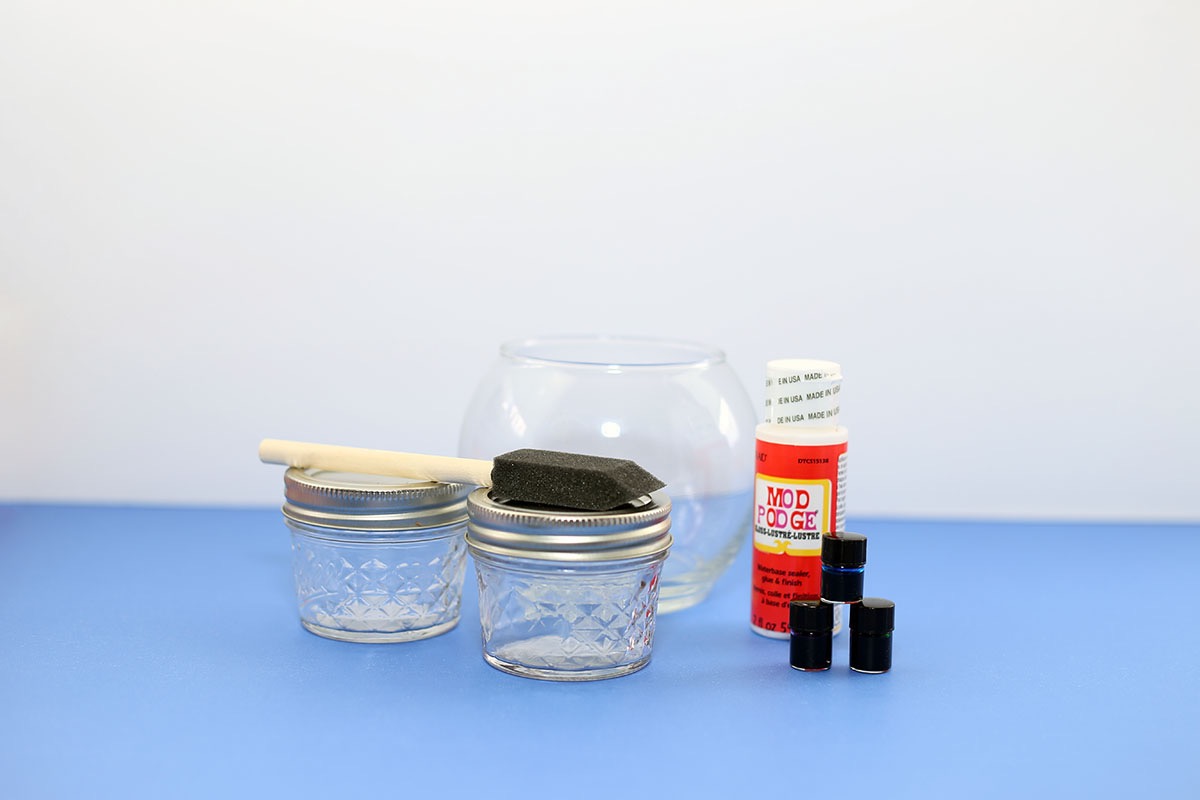 The main ingredients are food dye and Mod Podge. And the Mod Podge can be replaced with 1 part Elmer's Glue and 1 part water.
I used the same food dye to make DIY Sea Glass Paint as I did to make these DIY Mermaid Bath Bombs. That's why these tutorials fit so perfectly together into the July Craft in Style Subscription Box!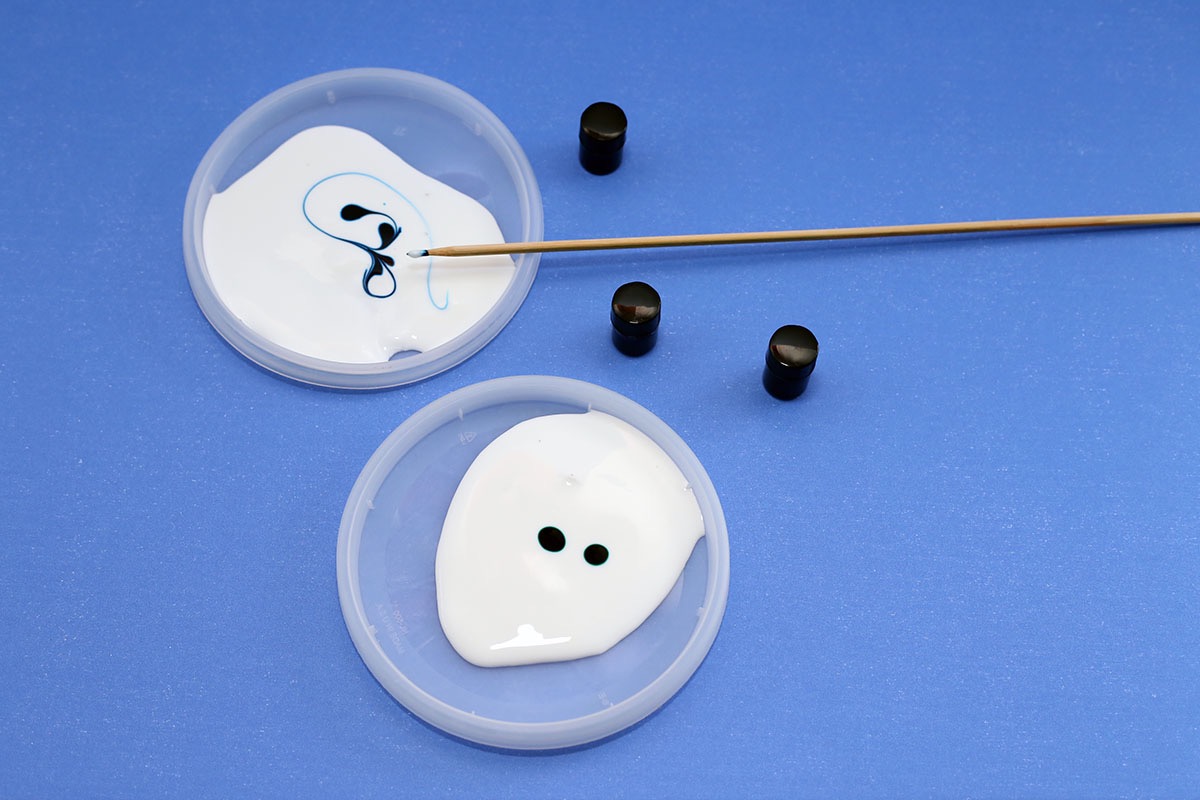 Supplies to Make DIY Sea Glass Paint:
July 2020 Craft in Style Subscription Box
-or-
Mod Podge or
1 Part Elmer's Glue & 1 Part Water
Food Dye in Ocean Colors like Blue, Turquoise, Sea Green, and Purple
Foam Brush
In Addition to: Glass Objects to Paint
This diy doesn't need a specific recipe and can have some variations. First of all, your sea glass paint can be light, dark, or somewhere in between. This will vary the amount of food dye you use.
It also depends on the density of your food dye. For example, if you are using gel food dye, you need significantly less than liquid food dye.
A basic recipe is add 1 drop of gel food dye or 2-5 drops of liquid food dye to 2 oz Mod Podge (or 1 oz Elmer's glue and 1 oz water.) Mix the ingredients thoroughly and completely.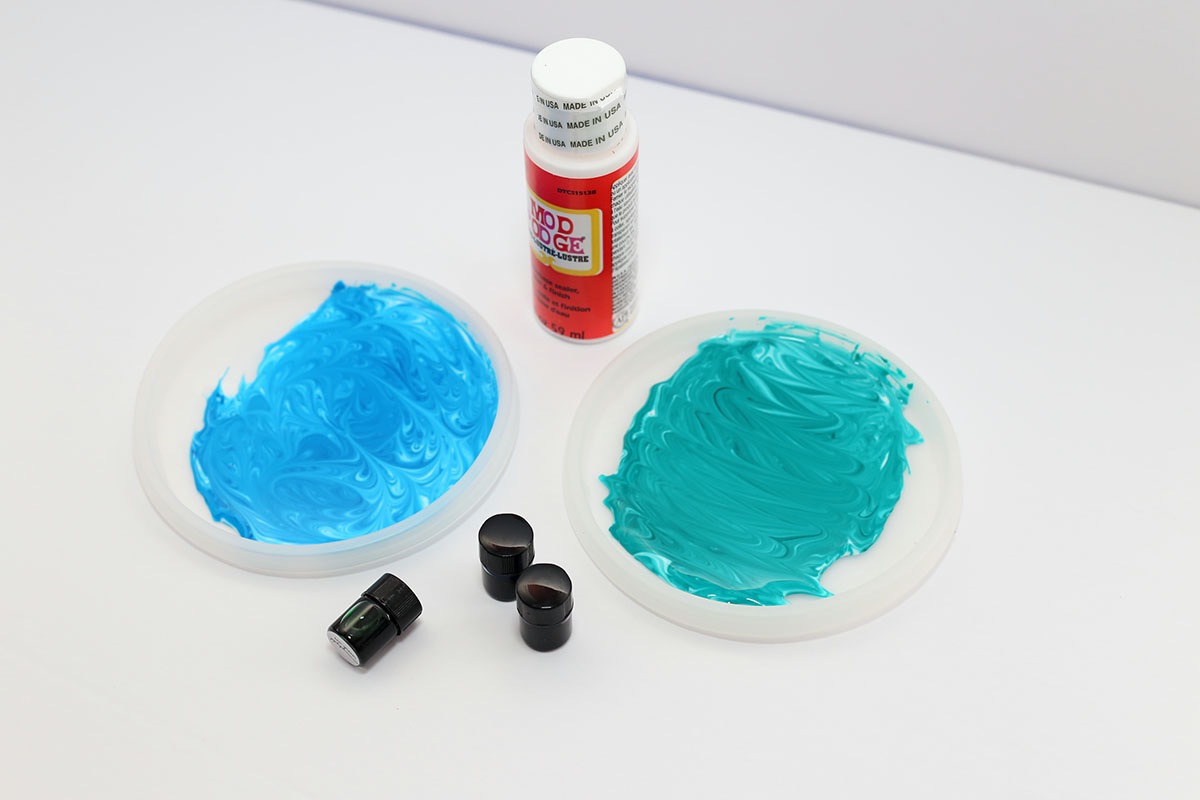 How Much Food Dye Should You Add
When wet, your sea glass paint will look more opaque and darker then how it will look dry. This makes it tricky to get your color right at first. Since it's easier to add extra layers of paint than to take the color away it's best to start lighter in color and add more food dye only if you need.
Again, I have found it best to add 1 drop of food dye gel or up to 5 drops of liquid food dye for every 2 oz of Elmer's Glue + water or Mod Podge. I used liquid food dye, because I find it easier to control the color. In almost all cases, when I am using food dye gel, I break it down into a liquid food dye.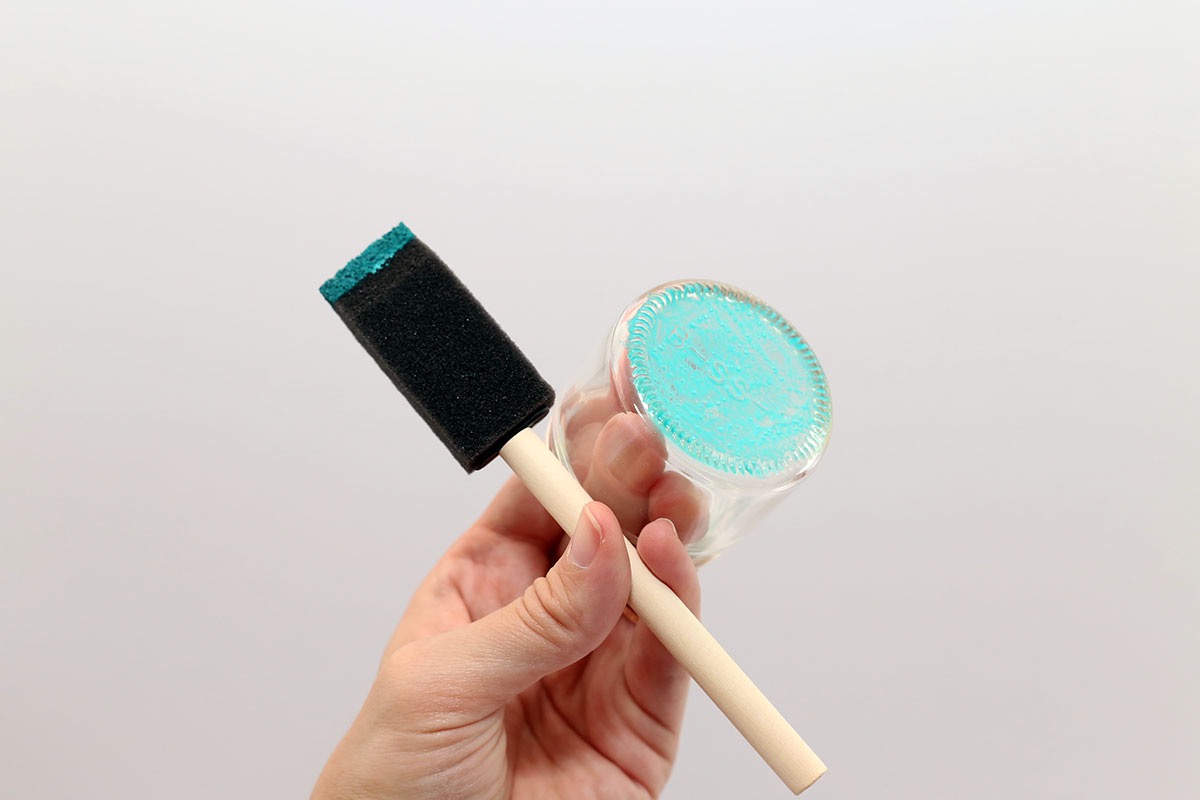 Elmer's Glue vs. Mod Podge
Although Elmer's Glue can easily be made into a more Mod Podge like consistency, they are still different. Mod Podge is a decoupage liquid that's perfect for adding paper to other material. It contains ingredients that help give it a finish. And it can be found in matte, gloss, and glittery too!
To make DIY Sea Glass Paint, there is no difference between using Elmer's Glue and Mod Podge. Just use whichever you prefer or use whatever is available. If you are using Mod Podge, matte and gloss are both fine, but I would skip the glittery Mod Podge.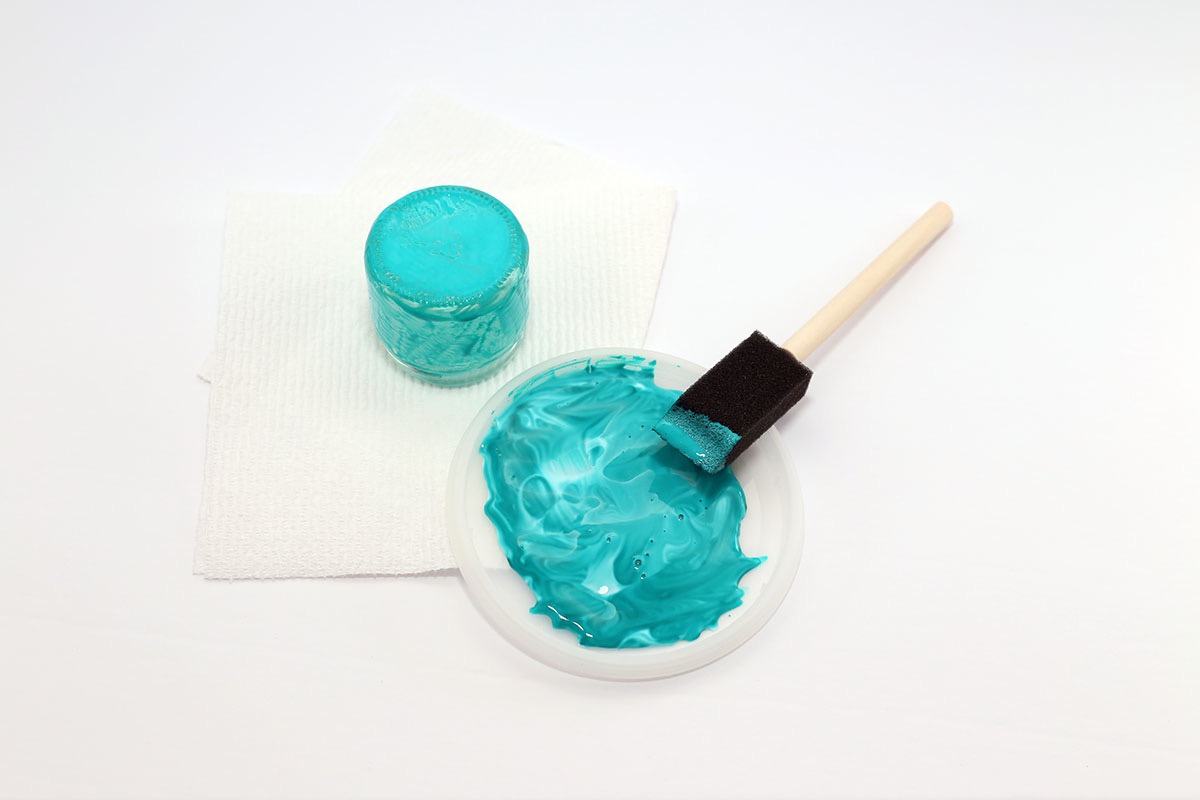 How to Apply Sea Glass Paint
When you are ready to apply sea glass paint to surfaces, use a blotting technique. Do not use brush strokes. Brush strokes will create lines in the paint. Blotting the paint will give it the look of worn and warbled sea glass.
I painted the exterior, and in most cases I recommend doing the same. Be sure to cover all sides, including the bottom and any places that will show. Set your wet glassware upside down on a paper towel or a safe surface to allow the sea glass paint to set.
Allow the paint to dry completely. This will take several hours or even overnight. After several hours the paint will become translucent. You can add additional layers as needed until you get your desired color.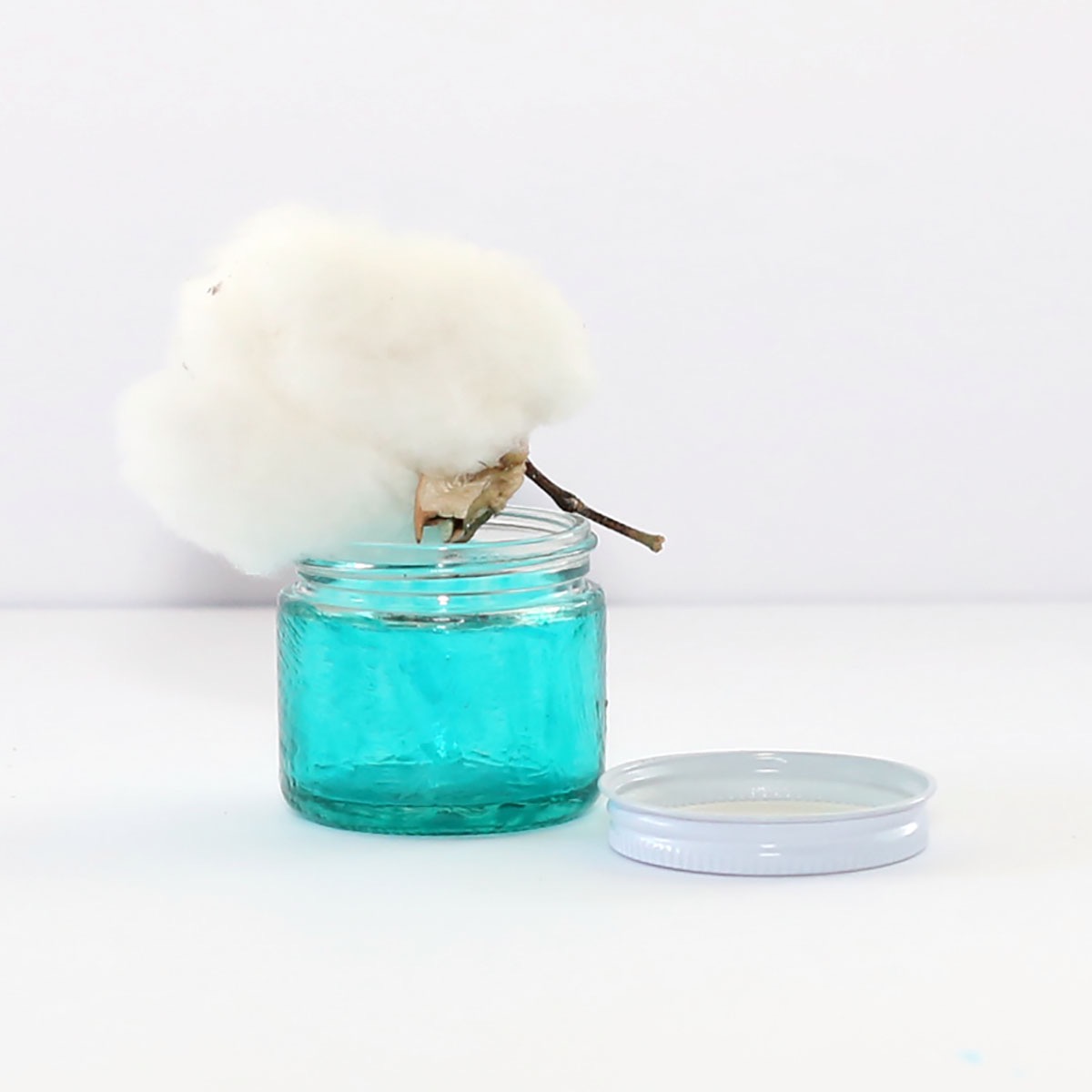 How to Store Sea Glass Paint
If you have miniature paint pots, or glassware that's air tight, you could save your sea glass paint to use another time. But I find it easiest to mix fresh sea glass paint anytime you want to use it!
Ready to use your Sea Glass Paint? Find out more about what I made with it in our next post! And tell us how you are going to use your sea glass paint in the comments below.
If you want to make your own Sea Glass Paint and get all the supplies, don't miss the July Craft in Style Subscription Box where you can get everything you need! Craft in Style features new projects every month and every month is so much fun.
Let's Be Friends!
Insta | Pinterest | Enews | TikTok