Stylish candles, like these, are some of the best crafts to make. First of all, they are irresistible. Candles make lovely housewarming gifts or gifts for aunts, cousins, or other people that are oh so hard to shop for.
Candles are useful and practical. It's important to have in an emergency. Honestly, the possibilities are endless which is why I just can't make enough!
These Fresh Herb Water Candles are a fun play on a floating candle. Although it's not exactly floating, in incorporates water and thus uses some of the most gorgeous supplies (water, glass, greenery, and light) all in one stylish piece of home decor! So let's make them.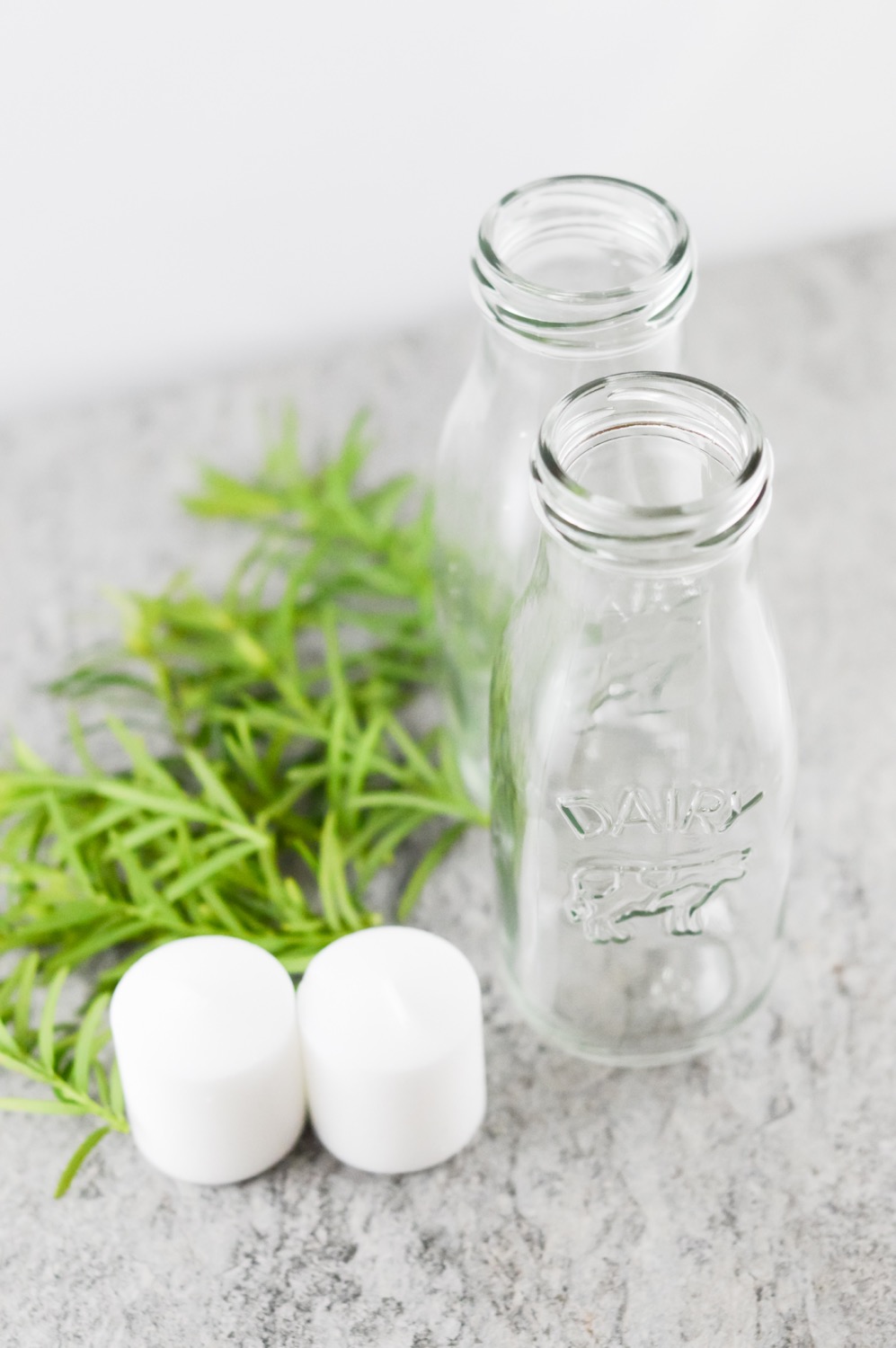 Supplies to Make: Fresh Herb Water Candles
Sprigs of Hearty Fresh Herbs (I used Rosemary)
Clear Glass Milk Bottles
White Votive Candles
Water
Plus You Will Need:
A Knife
A Cutting Board or a safe place to cut
First, clean your milk jar thoroughly and fill it with water. Distilled water is best or even filtered or spring water. But any water will do. The clearer and cleaner the water, the longer your herbs will live inside the bottle.
Fill to just where the milk jar begins to taper in. Remember that adding the herbs will make the total volume higher.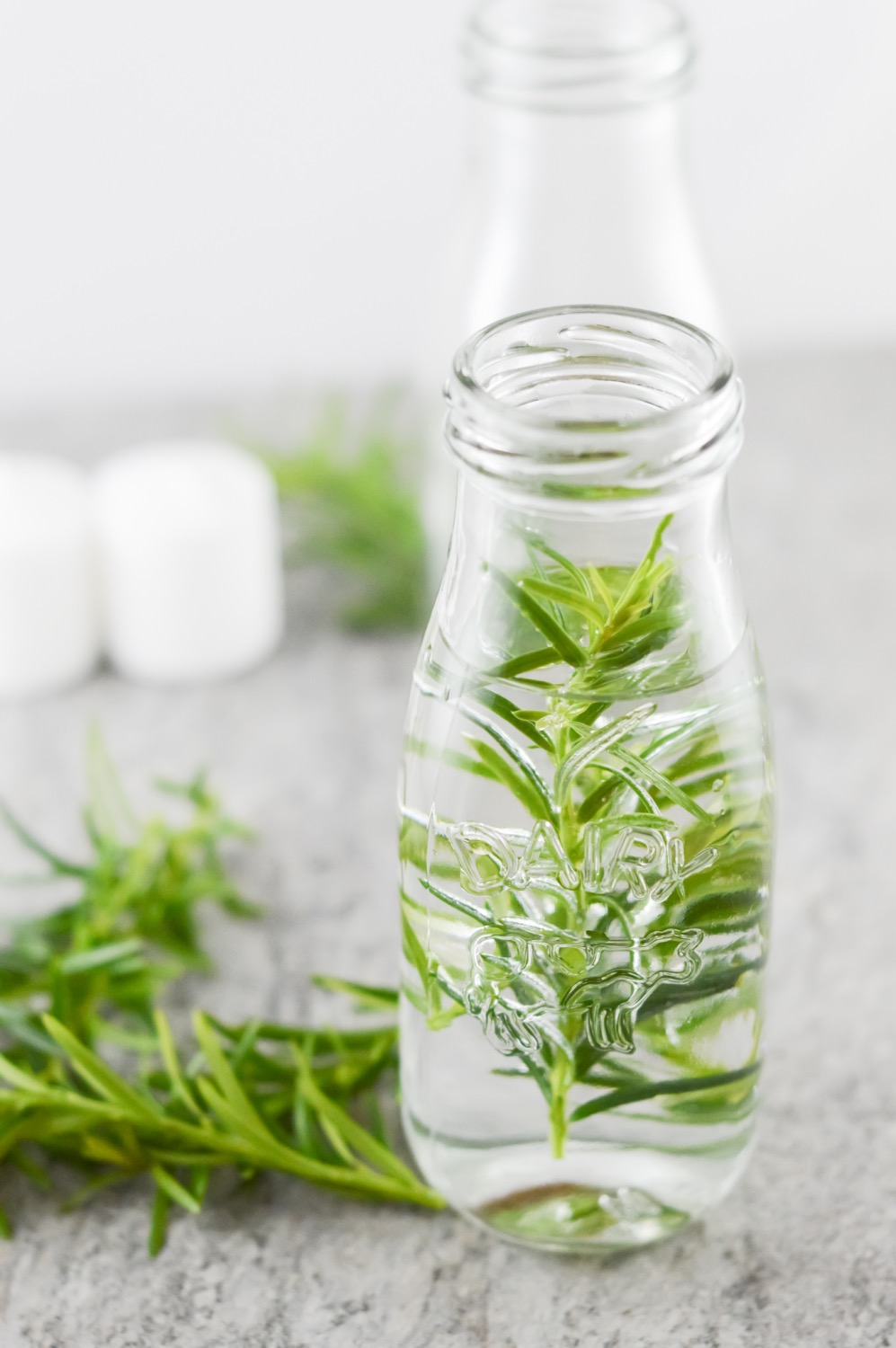 Then add your fresh herbs next. It's important to use hearty fresh herbs like rosemary. Fresh bay leaves would be gorgeous too! These herbs are beautiful to work with and smell amazing as you are putting them together. But of course you will not be able to smell them after the herbs are placed in the water.
If you are not concerned about scent while you are working, you could use any fresh greenery from your yard. Or if you want these candles to live much longer, you could even use faux plastic green plants too.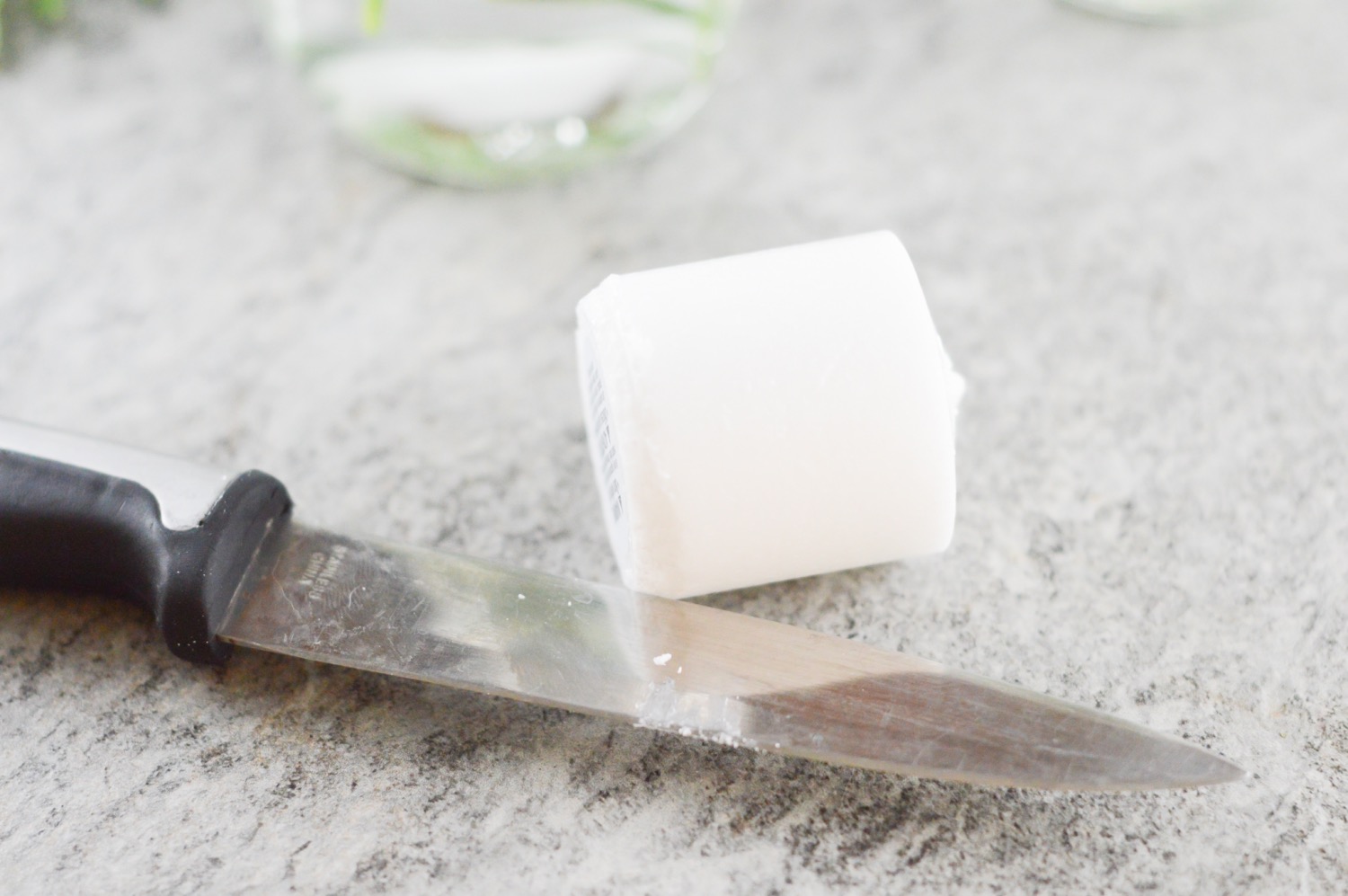 Next, you will need to fit the candles into the milk bottles. I used a standard small votive candle from Amazon. These almost fit perfectly, but just needed a slight shave around the edges.
If you need to shave yours, use a kitchen knife but be extremely careful. Usual shapes make knife handling a bit more dangerous. Always hold the knife away from you and cut slowly. You may even be able to use a butter knife, which is much safer.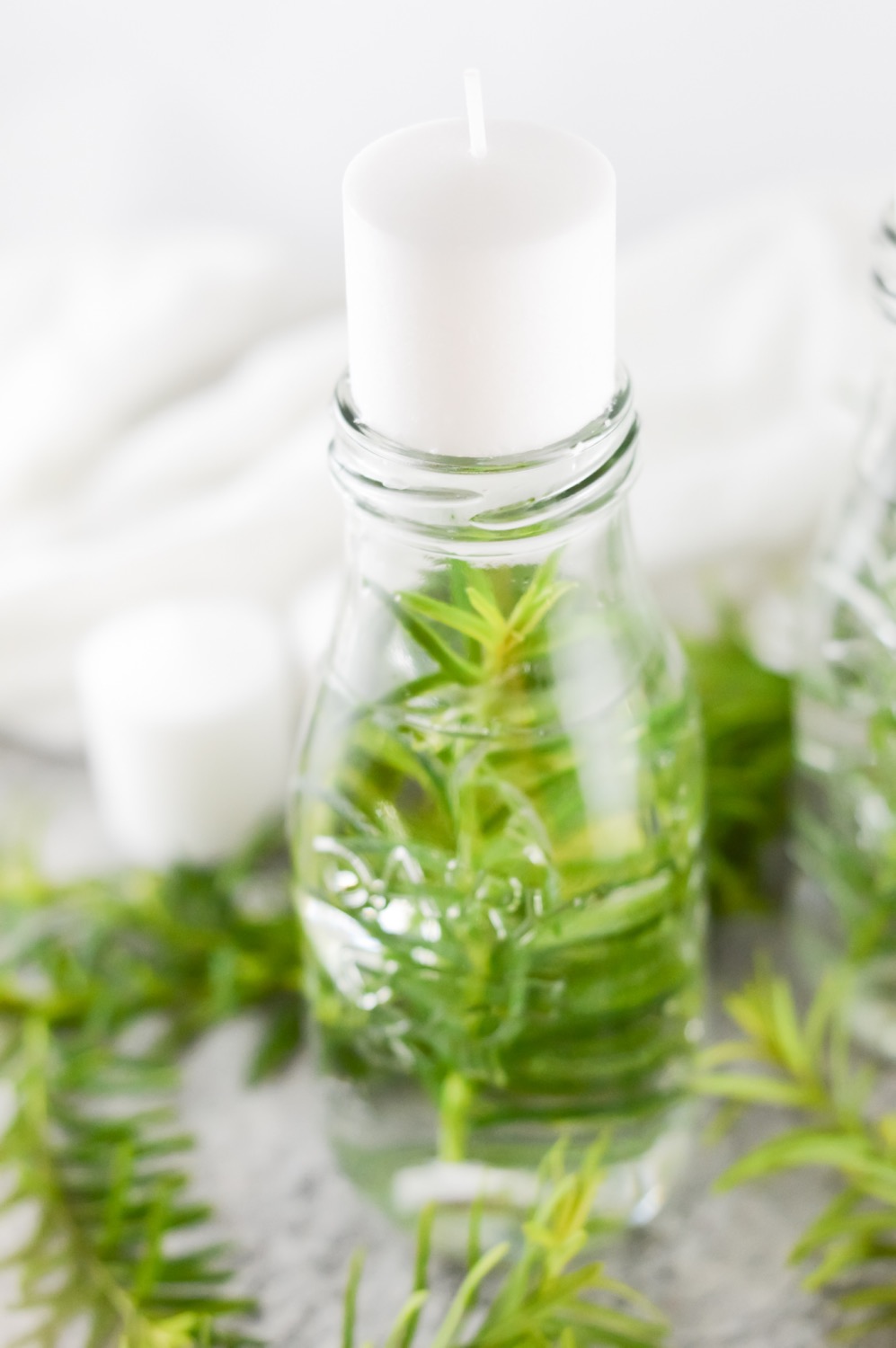 Once you candles are shaved to fit in the glass milk jars, place them around 1/8 of an inch into the milk jar, just to hold it in place.
If you have any wax flakes, use a paper towel or cloth to wipe them away. And viola! Now you have gorgeous Fresh Herb Water Candles!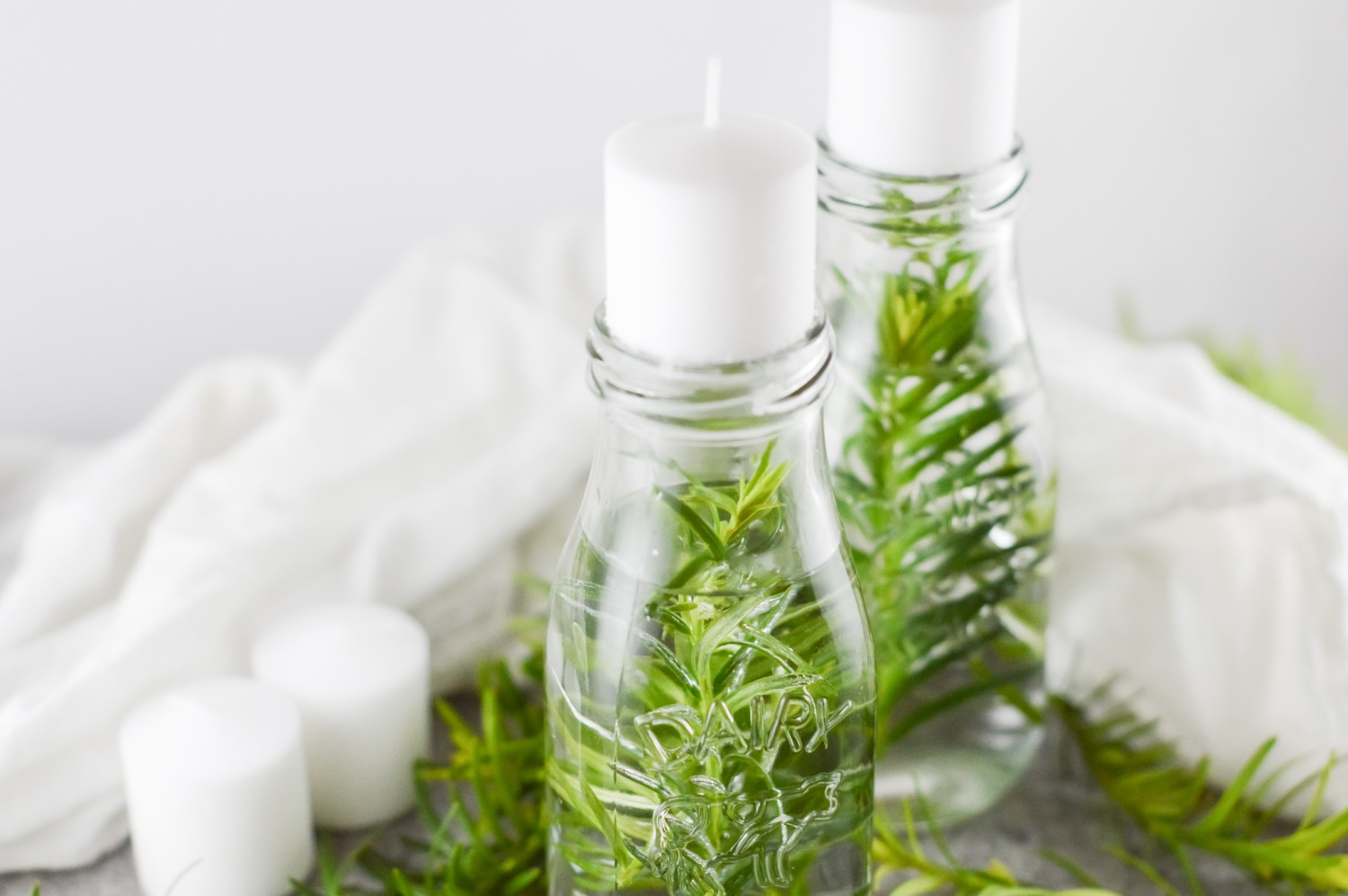 Now aren't these Fresh Herb Water Candles just stunning?
I made two candles instead of one to make this into a gorgeous set and make them into a display.
They make a lovely green centerpiece, rivaled only by this. These would be perfect at any outdoor patio dinner. They are perfect for anyone into farmhouse decor and would fit in nicely as a display for a farm to table style dinner.
And they would make a lovely gift for anyone special in your life! You could even give them the pieces separately like a diy kit! Since this craft is simple, most people could follow it.
What's great about this candle diy is that it doesn't require the melting of wax and placing of wicks like a full candle making tutorial. Instead it's a fun way to use already made candles. You could even use candles that have been lying around – scented candles, something leftover from a party… you get the idea!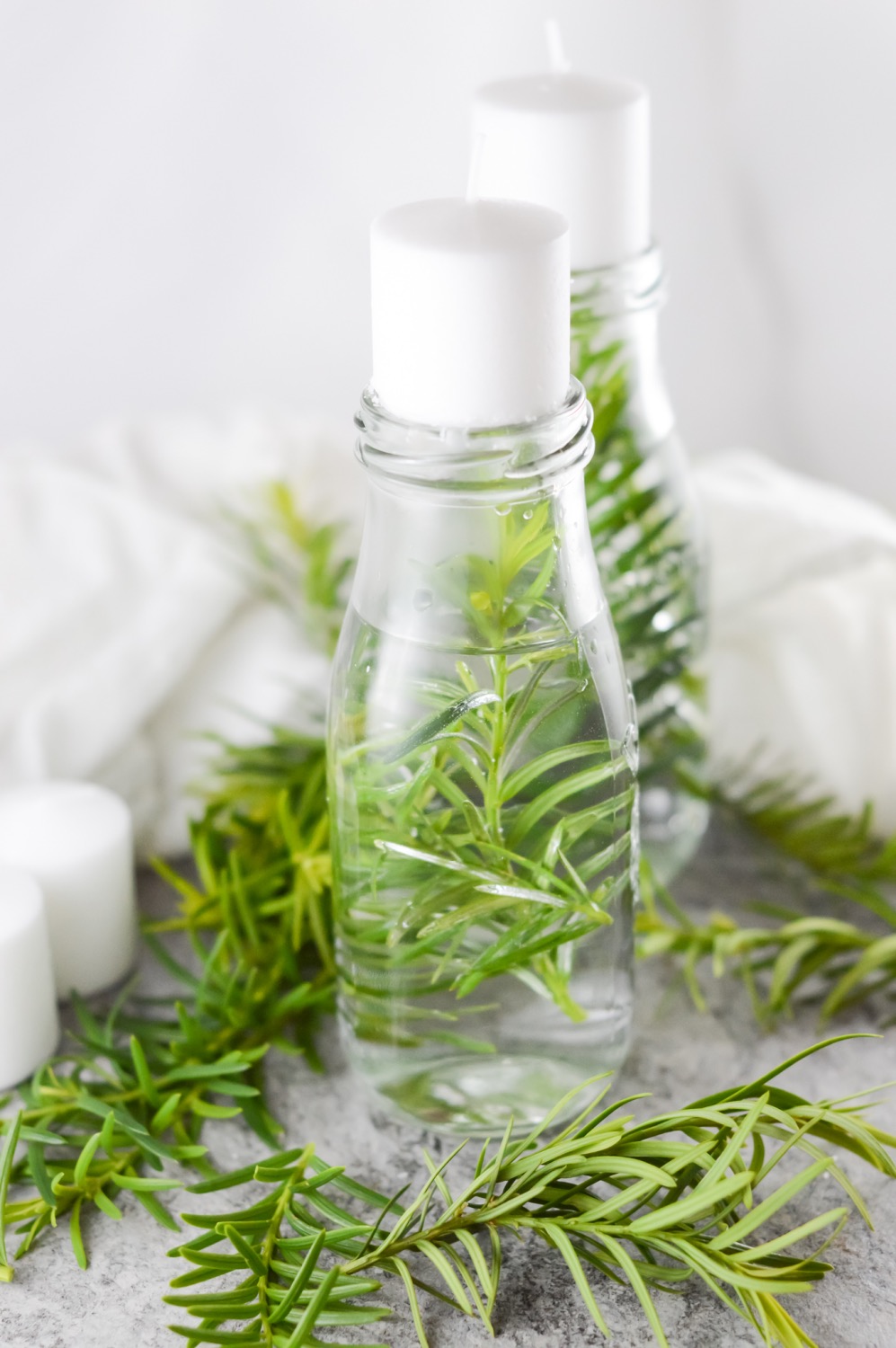 These candles will last just as long as your fresh herbs remain healthy looking in the water. That can vary based on the herb, how clean your glass and water is, and how hot or cold you home is.
As your herbs begin to brown, get gummy or turn the water milky, clean the milk jars thoroughly and replace them with fresh herbs. Whatever you do, don't leave the water murky as the longer the murk sits, the harder your milk jars will be to clean.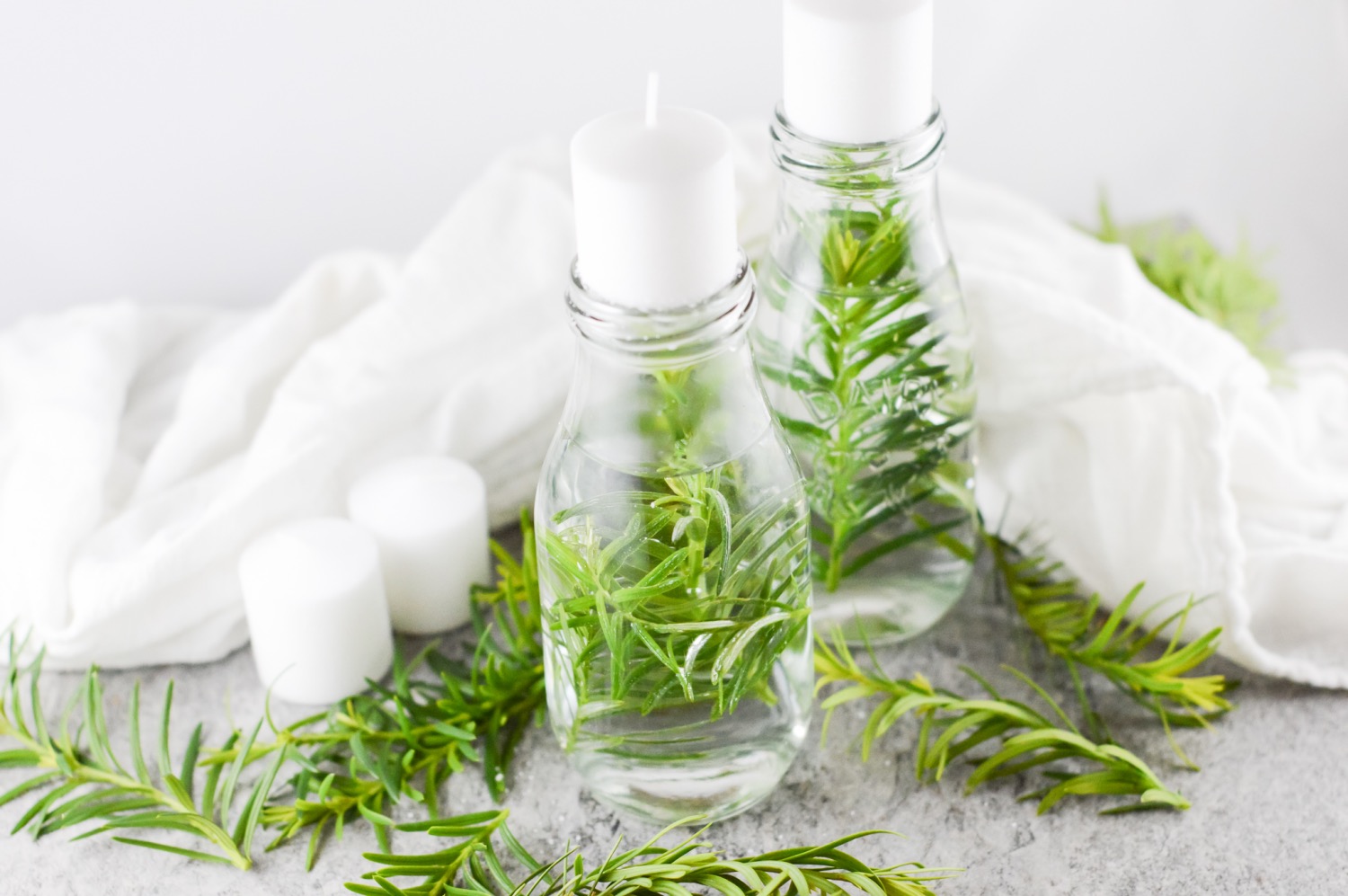 But with good care and fresh herb replenishment, you can keep using these candles for quite some time!
Need more stylish candle tutorials? How about these gorgeous Gilded Seashell Candles here. Or if you are all about the scents, I live this Grapefruit & Beeswax Candle tutorial here.
Let's Be Friends!
Insta | Pinterest | Enews | TikTok