If you are ready for a season change, show it! A new door wreath is the best way to freshen up your front door and make your home feel so cozy and inviting. The purple and yellow, gives this wreath a fresh and fun pop of color.
Best of all it's so easy to make. All the supplies to create this Simple DIY Lemon Door Wreath can be found at Dollar Tree which means the supplies to make it are so affordable.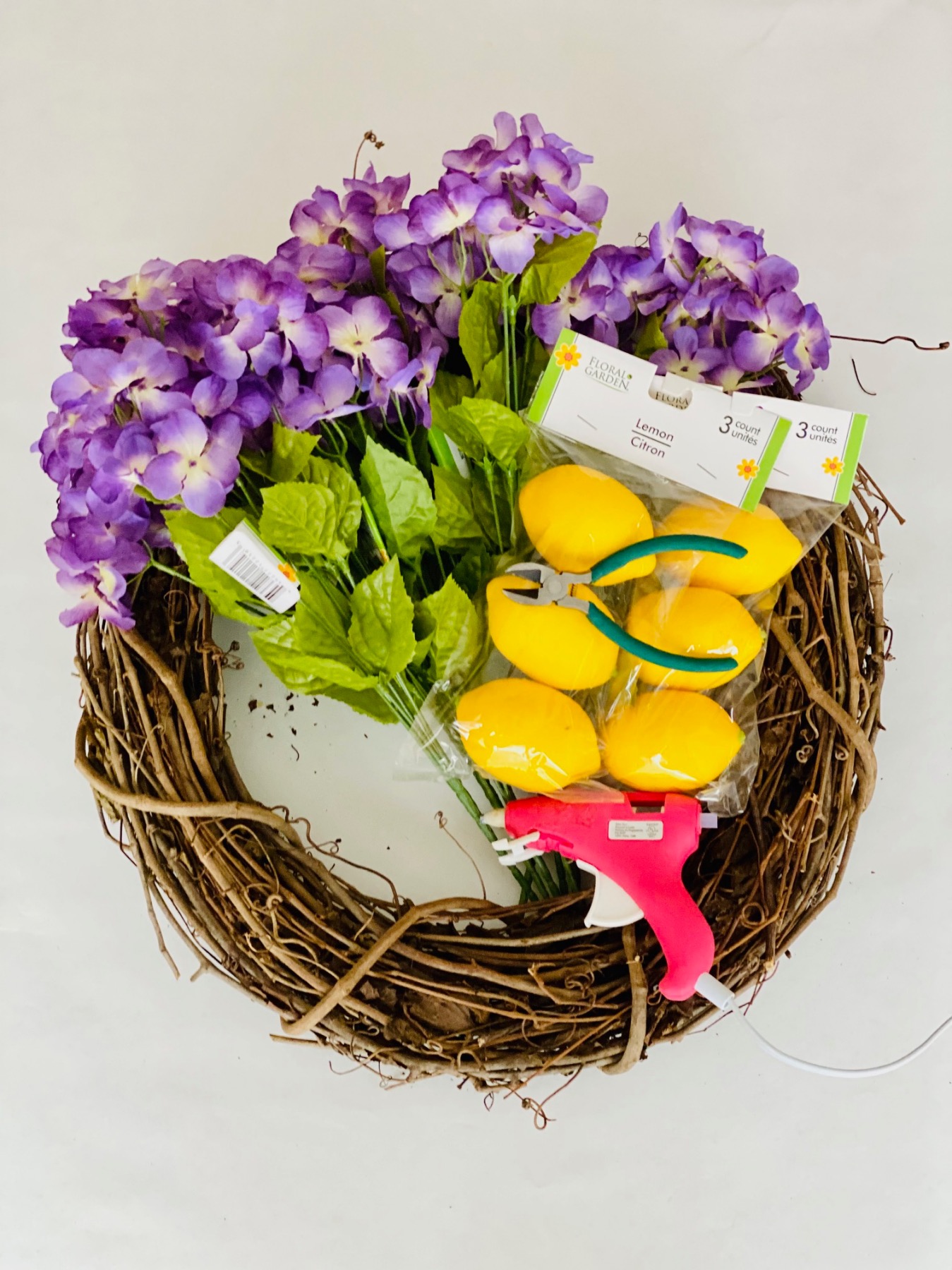 Supplies to make a Simple DIY Lemon Door Wreath:
12 inch Grapevine Wreath Base
2 Packs of Faux Lemons
5 Bunches of Purple Hydrangeas
Wire Cutters (or Heavy Scissors)
Hot Glue Gun
A hot glue gun is best, but craft glue could work as well. It will just take take longer to dry. You can also use heavy scissors in place of wire cutters. Just any that can cut through the thin wire inside the faux flower stems will work.
Plus, of course you will want a door hanger, nail, or any way to hang this on your front door or anywhere on your wall!
Start with a Gorgeous Wreath Base
My favorite type of wreath base is a grapevine wreath like this. You can find them in lots of different sizes and they smell amazing. I used a 12 inch.
They are absolutely stunning on their own, so you don't need to worry if any parts of it show. That's why it's my favorite wreath base to start with.
How to Make a Simple DIY Lemon Door Wreath
Start with your faux flowers. Use your wire cutters to cut the individual stems of hydrangeas apart. Cut low on the stem to leave as much stem connected to the flower as possible. Include your leaves with the flowers as well if you want them in your wreath like mine!
With the flowers I used, I ended up with around 15 sections of hydrangeas.
Next, create 5 evenly spaced sections on your wreath. Loosely place 3 bunches of hydrangeas in each section. Don't use hot glue yet – just place them so that you can still make adjustments to the placement as needed. Angle the flowers so they face outward in slightly different directions and look like 5 miniature bouquets.
Once you get the hydrangeas into the right spot, bend the stems and wire into the strands of the grapevine wreath to hold the flowers in place. You can add a tiny touch of hot glue if you like, but you won't need much! The wire will do most of the work.
Next, add a few drops of hot glue to the lemons on their highest part in the very center. Place them evenly between the bouquets of hydrangeas and press the glue while it's still hot into the wreath. Make sure the lemons are evenly spaced both between the hydrangeas around in a circle and evenly spaced between the interior and exterior edges of the wreath.
Hold the lemons in place for a few seconds, until the hold and the glue starts to dry.
My lemons worked out perfect because they were size to fill the space! Of course that depends on the size of wreath you use.
Once you have your lemons and hydrangeas in place, take a step back and look at the placement of all your objects.
Do any look uneven? Do any need to move? Do any flowers need to be angled differently? It's normal to make adjustments to even all the pieces!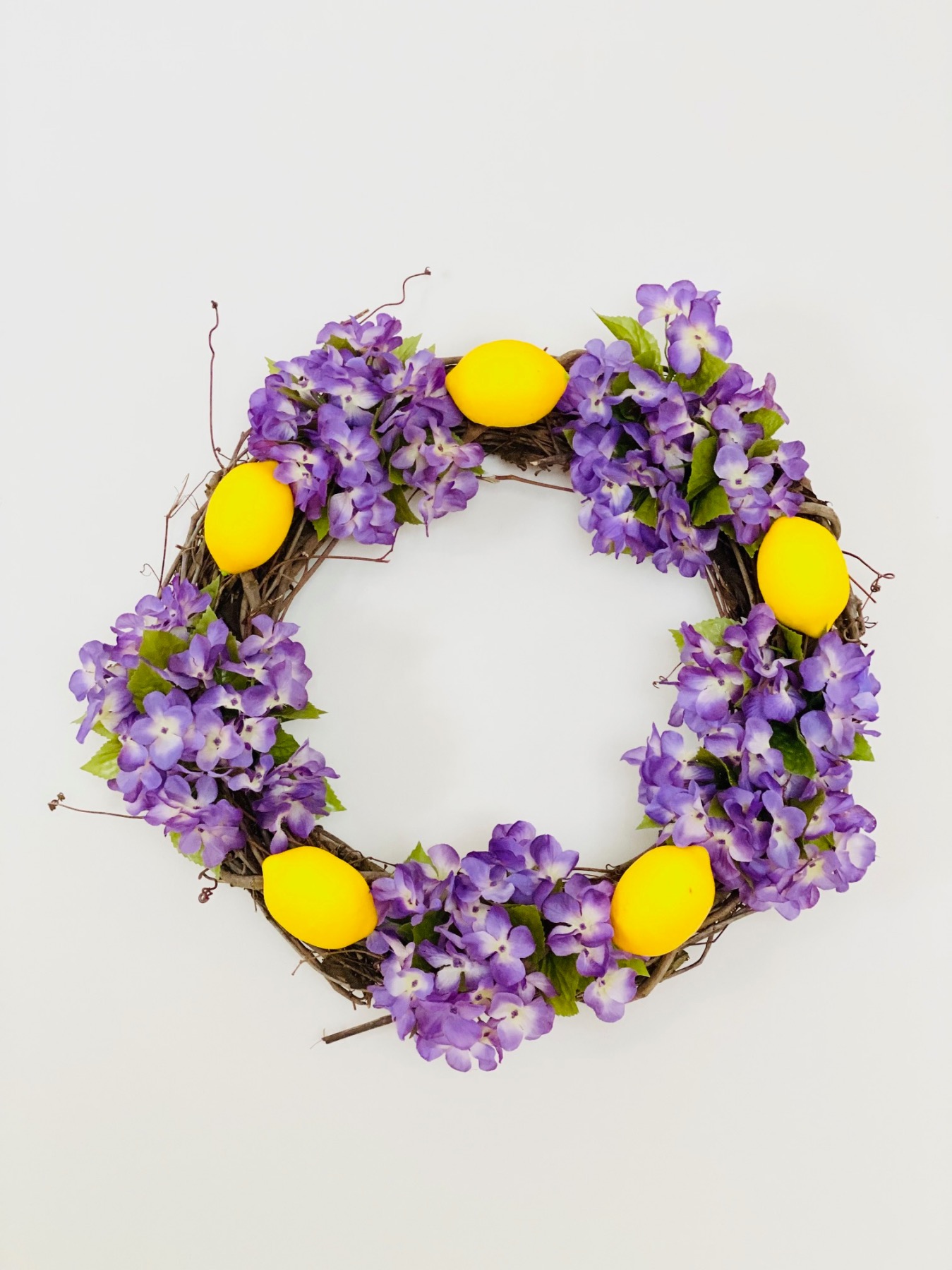 If you need to make any adjustments, hot glue is easy to remove once it's completely dry and hard! Just give your lemons and twist with a firm grip and peel any excess glue with your hands. Then try your placement again.
Although hot glue is my favorite, using another craft glue can have some benefits because it will dry slower. Although you will need to hold everything in place longer to make sure it doesn't sink, droop, or drop as it's drying, it will give you time to make adjustments without having to pull the hot glue off and then try again.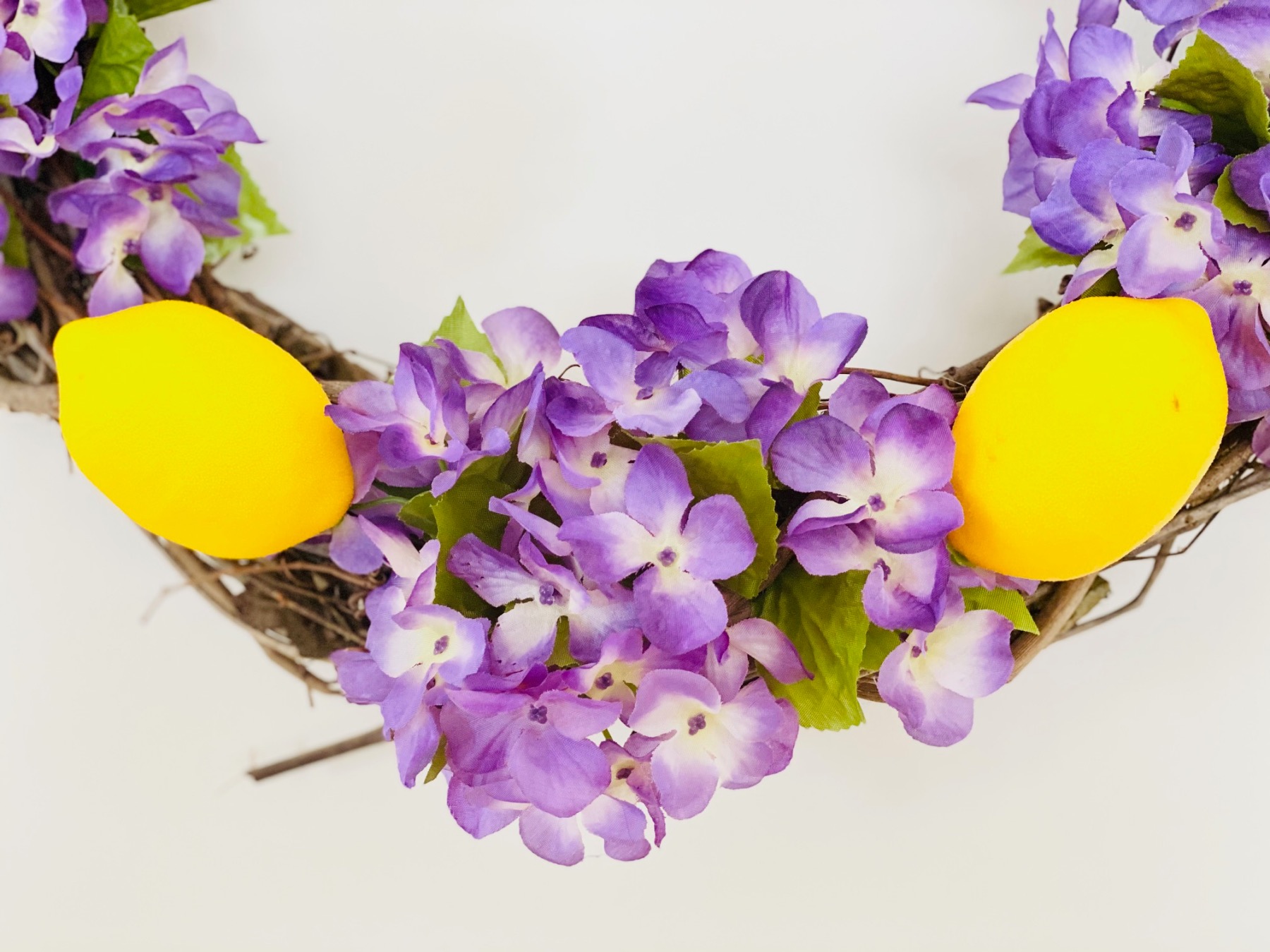 Now you may notice, that you are finishing your wreath, how much of grapevine base shows. That's the beauty of using a wreath base that's so pretty.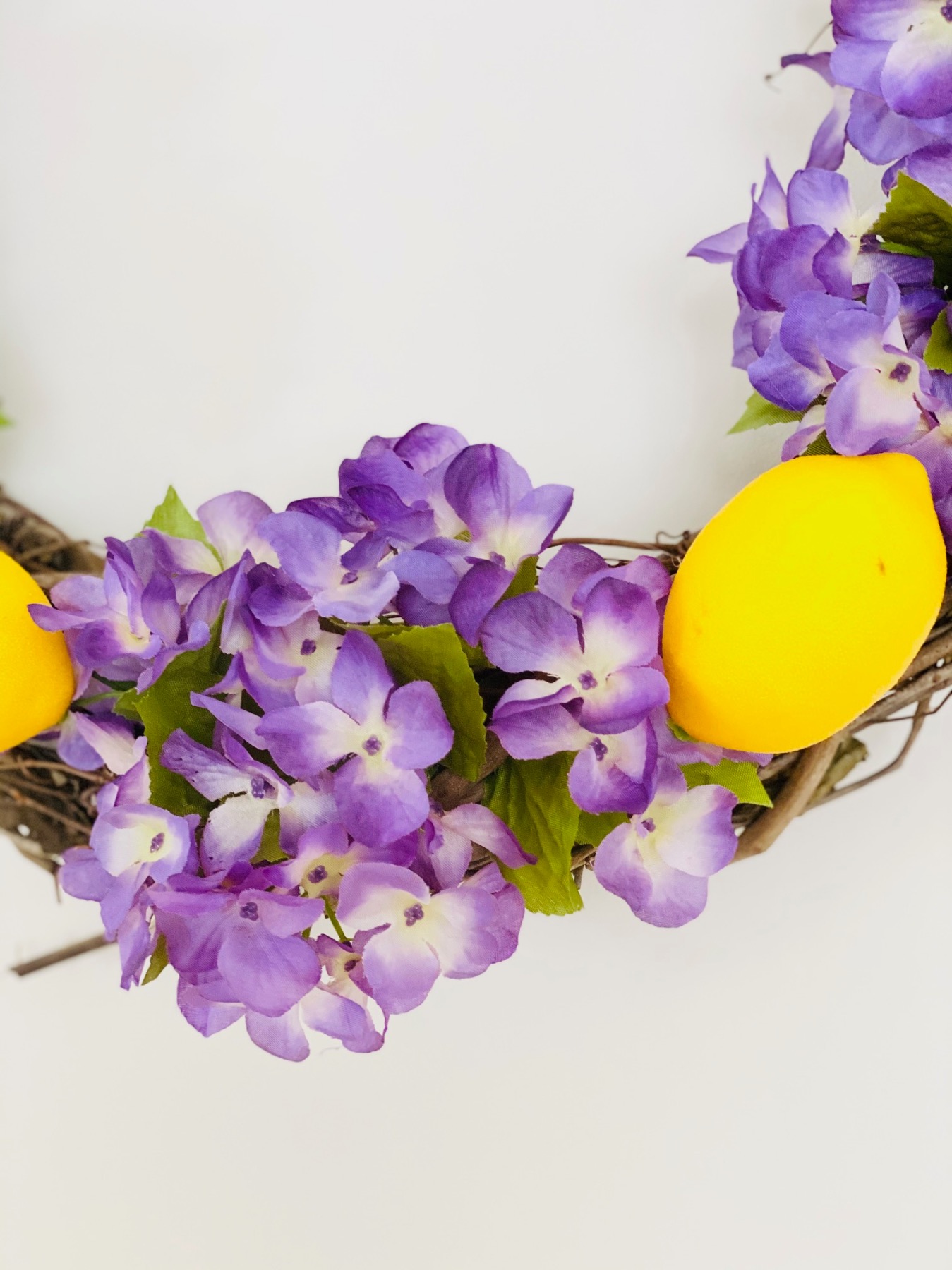 And viola! A Simple DIY Lemon Door Wreath! I love the bright colors which make this wreath perfect for spring or summer and look great on any door! Looking for other Spring Party Inspiration? Try this. It's full of decor, flowers, and so much fun!
Making this wreath for yourself? Tag us on social so we can see and share it! Or leave us a comment below if we can help you make yours. Happy crafting.
Let's Stay Friends!
Insta | Pinterest | Enews | TikTok